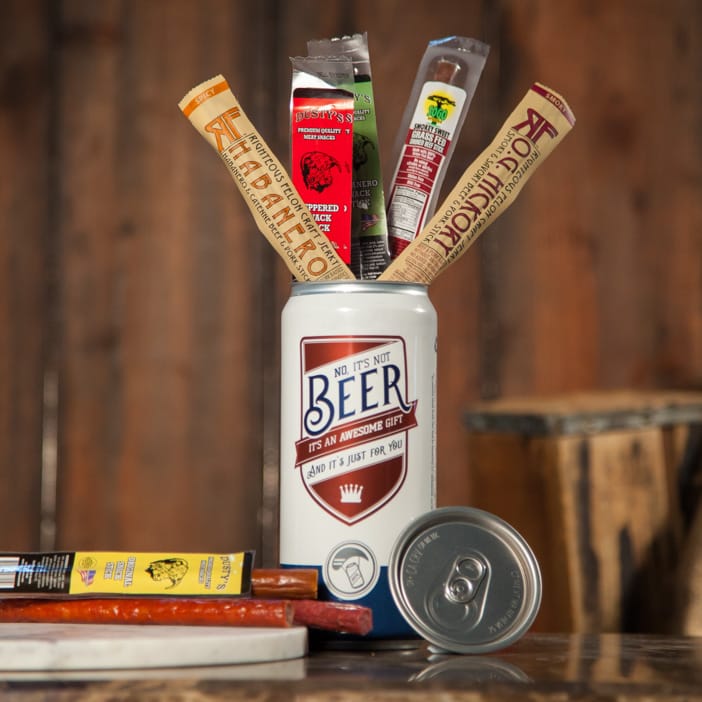 Oh no! Looks like Meat Stick Crowler is out of stock
Click below to get notified when it's back in stock
Notify Me
In The Box
Dusty's Snack Stick - Peppered, 1oz
Dusty's Snack Stick - Original, 1oz
Dusty's Snack Stick - Habanero, 1 oz
Original GrassFed, 1oz
Jalepeno Grass Fed, 1oz
Smokey Sweet Grass Fed, 1 oz
Chimichurri Grass Fed, 1 oz
O.G. Hickory, 1 oz
Chipotle, 1 oz
Habenero, 1 oz
Crowler Opener
Crowler
Note: Products may contain beef.
How It Ships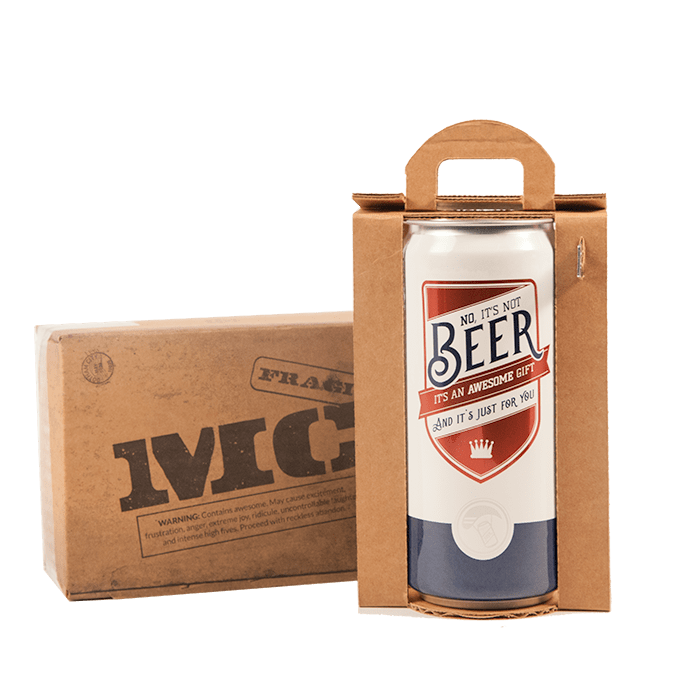 In a sealed, pressurized can along with a military-style P51 can opener.
---
Orders placed by noon PST will ship out same day

Choose your delivery date at checkout
Story
Hungry, Hungry Humans
Adulthood is hard. One day you wake up and suddenly it's frowned upon to pour a giant bowl of cereal for dinner or hit up a matinee in your favorite onesie. But when it comes to foregoing afternoon snack time, we're putting our foot down.
After a hard days work, give him the gift of cracking open a cold one… of meat.
Introducing the Meat Stick Crowler. It's stuffed to the brim with delectable sticks of delicious meat. It's like a Lunchable. For grownups.
Note: This gift comes cleverly disguised as a large beer can, but it's actually the latest in gift wrap technology. And getting at what's inside won't be easy.
Diabolically designed to be cut open with an old-timey can opener, the crowler provides a totally unique opening experience. Did we mention it makes a satisfying whoosh sound when it's cracked open?
Customer Reviews
Hilarious and tasty gift!

My boyfriend loved the presentation of this gift and you CANNOT beat their customer service! Would buy again in a heart beat!

Perfect! Gifts for every occasion

I ordered the smoke grilling crate for my dad's birthday and he loved it! After opening, everyone started looking at the Man Crates site to see what crates they would want to have or send to others. I knew I had to check out Man Crates again for Father's day. I thought to myself "Whats the Father's day equivalent to Mother's day flowers?" and this is it! I cannot wait for it to be delivered to my dad.