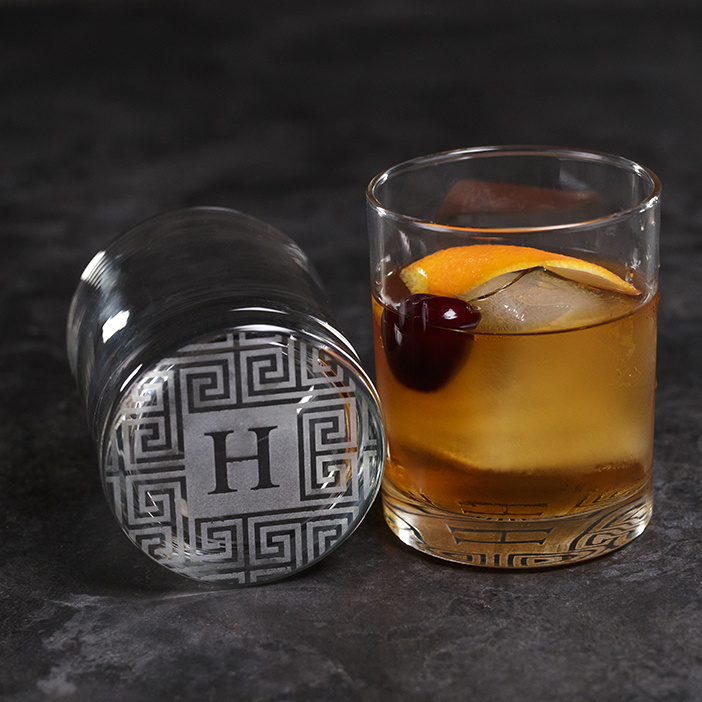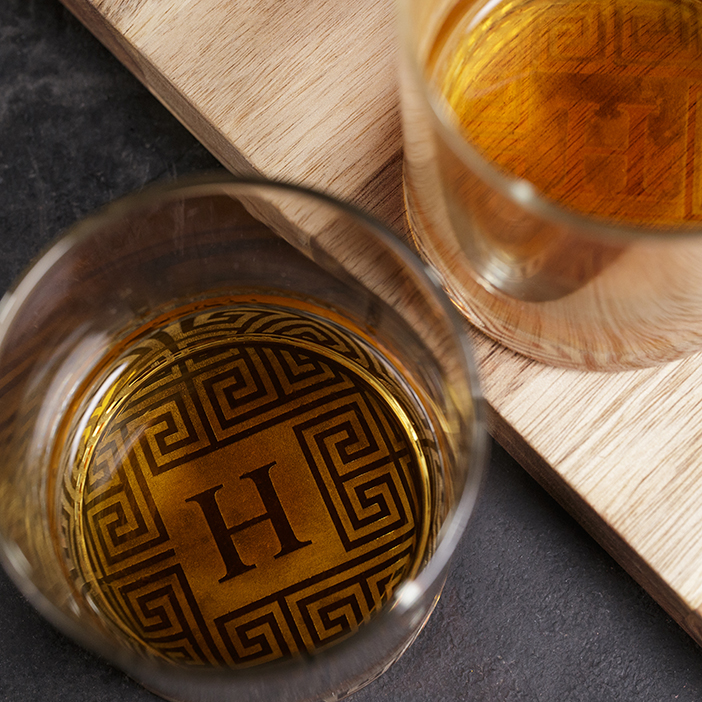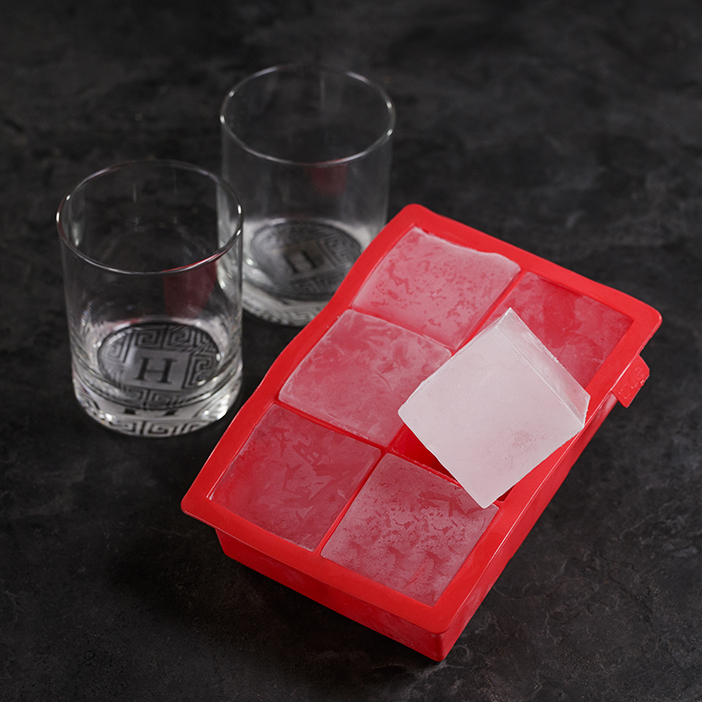 Personalized Smokin' Old Fashioned Crate
In The Box
Pecan Wood Smoked Maple Syrup (250 mL)
2 Personalized Old Fashioned Glasses (12.5 oz)
Colossal Ice Cube Tray
Jack Rudy Aromatic Bitters
Crate
Crowbar
How It Ships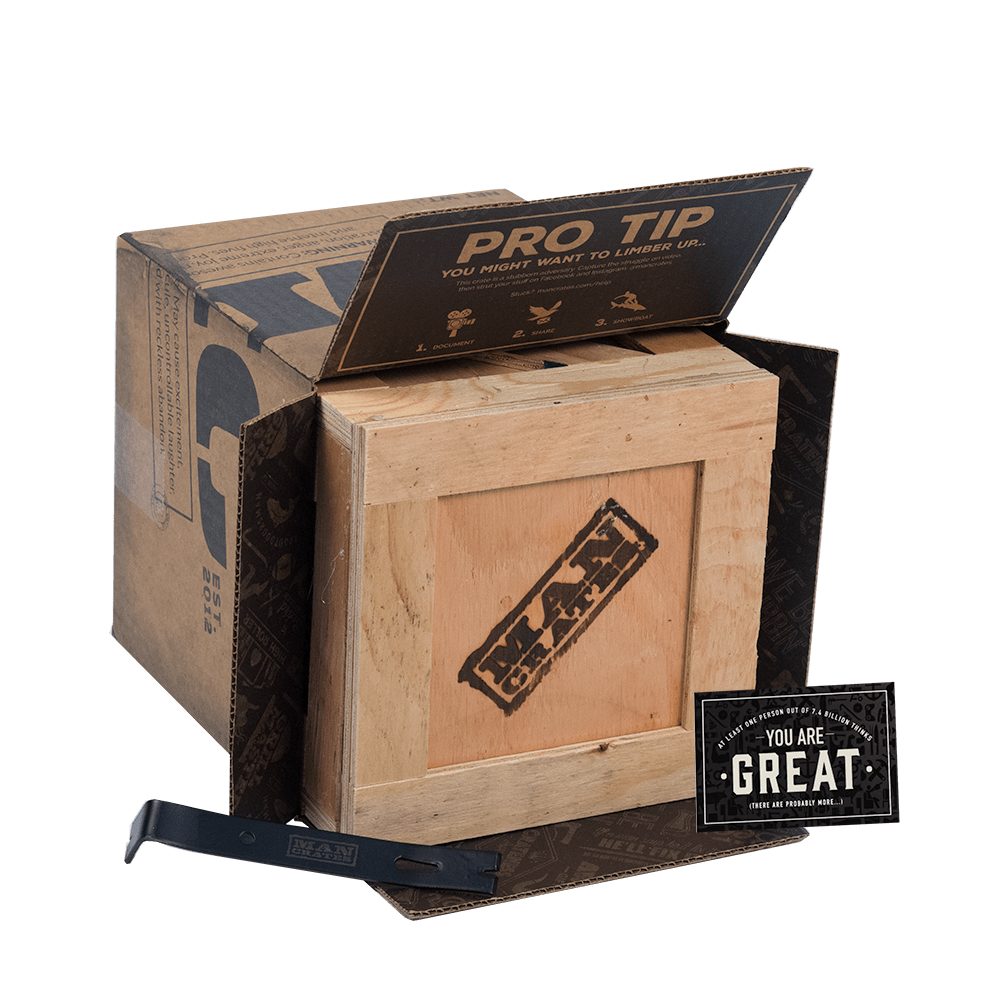 In a sealed wooden crate with a laser-etched crowbar.
---
Some shipping restrictions apply

Choose your delivery date at checkout
Story
Party Like it's 1879
The Old Fashioned Cocktail is a classic drink. It was already old when Thomas Edison ordered it in 1879, almost a decade before the 19th state joined the union. Shortly afterward, he invented the light bulb. Coincidence? You decide.
Of course, there's always room to innovate. So because our taste buds have evolved to enjoy more than just sugar and water, we ditched the simple syrup in favor of some delicious pecan smoked maple.
The Smokin' Old Fashioned Crate is a tasteful tribute to the very first bartenders who were knocking it out of the park before there were actual parks to knock it out of.
Cocktail Contents
Runamok's Pecan Smoked Maple Syrup is tapped from pure, authentic Vermont maple trees that are probably as old as the Old Fashioned itself.
Jack Rudy Cocktail Bitters are made from burnt cane sugar syrup. He'll detect nuanced notes of citrus, winter spices, and the distinguished air of a saloon older than his grandfather.
Colossal's large silicone tray ensure the ice cubes melt slower, so his drink stays stronger, longer.
Customer Reviews
Great idea for Father's Day

My husbands favorite drink is an old fashioned, so this just stood out and I had to get it! He loved opening it and enjoyed everything all around. Will definitely recommend to others about the man crate! Perfect gift for the men in our lives. Shipping was fast. I had an issue with my first buyers coupon but it was cleared up pretty quickly. Thank you !

Fantastic gift!

Got this for my man for Valentine's Day. He loves it! The smokiness of the maple syrup adds a whole new dimension to an old fashioned! He couldn't wait to share with his friends either. It's a great gift! The packaging is super fun, the glasses are quality, the ice cube tray is definitely a great addition! Thanks for starting off the holiday with a terrific cocktail!!

I'm Hooked

I got this as a Father's Day gift and wow did I think it was the most thoughtful gift I have gotten in a long time. I am a bourbon guy, normally I like it neat or with one large ice cube but I do enjoy a good old fashion too. I am not a big smokey flavor guy, I don't like scotch very much because of the heavy smokey peaty taste so I wasn't sure how I would like this because this maple syrup is incredibility smokey smelling. But when I made it and tried it, wow, it was awesome. I am seriously hooked on smokey old fashions now and others are now pretty boring. You don't need a good bourbon for one of these because the syrup will over power it but this is seriously a great drink.

As far as the glasses, they are great, very heavy crystal and look great. The ice cubes are cool and easy to make but I actually prefer a bigger cube for my drink. I use these for other drinks where the glass can't fit the bigger cubes.

The crate was a really cool thing to get so I definitely would recommend this if you are looking for a unique gift for a guy, or gal, who loves old fashions. Thanks again PTT I love this gift.

Delicious and nutritious

I'm not an old fashioned expert (just a regular expert..) but I can definitely say this kit makes a great tasting drink!! My husband and our friends really enjoyed it. The ice mold is super cool (so punny) and the syrup has an amazing smell. The bitters really makes the taste smooth. Love the concept of the wooden box and crow bar. I would definitely recommend this box for someone that likes drinking old fashioneds or is into mixology, for sure makes a thoughtful gift.

Amazing

I've given Man Crates to friends and family many times before but this was the first time I've received one and it was an amazing experience.

Just opening the crate is a gift-worthy experience in itself. Cracking open a wooden crate with a steel crowbar is something you'll never forget. When I opened the crate, I was half expecting to find the crate filled with straw like the Major Award from A Christmas Story, but instead it was very well packaged using expanded foam perfectly cut to hold the fragile pieces in place during shipment.

The first thing I noticed was the heft of the glasses. They have a very good feel to them and are clearly high quality. The etching in the glass is also a very nice touch reminiscent of old fashioned style glasses from the 50's and 60's with the starburst motif.

The maple syrup came in a rather substantial bottle that will definitely last a long time. I was expecting a small, travel sized bottle, but this one was regular sized. When I opened it to smell it, I was very surprised as well. Instead of the normal, cloyingly sweet smell you normally get from maple syrup, it smelled more of Mesquite than of sugar which was intriguing. It also was less viscous than normal maple syrup having no problem being poured into the cups without making a mess.

The bitters bottle was pretty much exactly what I expected except that the glass pipette was detached from the rubber top. It wasn't much of an issue getting the pipette out of the bottle and pushing it into the rubber top, but it was a bit of a needless pain. I realize of course that this is par for the course when it comes to these, but it'd be nice if I didn't have to go through the minor inconvenience.

The ice cube tray is especially cool. As you can see from the pictures, the tray is filled through small holes in the top of the blue silicone piece which snaps into the grey plastic tray with some force. The tray was leak proof and easy to fill. When the ice was fully formed and I took the icosahedrons out of the mold, I was surprised at how clear they were. They were like little sculptures in my glass. My wife was so amazed that she said that this was going to be her go-to ice cube tray from now on.

The crate came with everything I needed to make an Old Fashioned except the Whiskey (of course) and the sugar cubes which are traditionally used in Old Fashioned cocktails. The included recipe didn't call for sugar cubes but I had some anyway.

The way I made my first Old Fashioned was that I took two small sugar cubes and put them in the glass. Then I dripped some bitters directly onto the sugar cubes (about 2 drops per cube). After that I put about a teaspoon of the smokey maple syrup into it and a dash of water. I crushed the sugar cubes with a spoon as I didn't have a pestle on hand and mixed it all together until all the ingredients were combined. Then I took one of the ice-cohedrons and put it into the glass and then poured about 2 ounces of Whiskey over the ice, stirring everything together. I then cut a slice of lemon peel and put it on top. It was one of the best cocktails I've ever had. The drink had a very nice smokey taste to it with subtle fruity hints from the lemon peel which helped even out the flavors. I don't drink much, but this was definitely something I could drink every night.

The greatest gift of Man Crates isn't necessarily the things you get with it. I could've easily picked up all these items from stores within walking distance of where I live. Instead, what you get from it is the priceless gift of an amazing experience. Things come and go; experiences stay with you for the rest of your life and I'll never forget making my first Old Fashioned thanks to Man Crates or taking a steel crowbar in my hands and cracking open a wooden crate.