The Bacon Crate
local_shipping
Eligible for Free Shipping
In the Box
Carnivore Candy Jalapeno Bacon Jerky, 2 oz
Carnivore Candy Old Fashioned Maple Bacon Jerky, 2 oz
Bourbon Bacon Seasoning Grinder, 3.7 oz
Sir Francis Bacon Peanut Brittle, 3 oz
Terrapin Ridge Farms Hot Pepper Bacon Jam, 11 oz
About the Crate
This is our classic crate that comes sealed with glue and requires the included crowbar to open.
How It Ships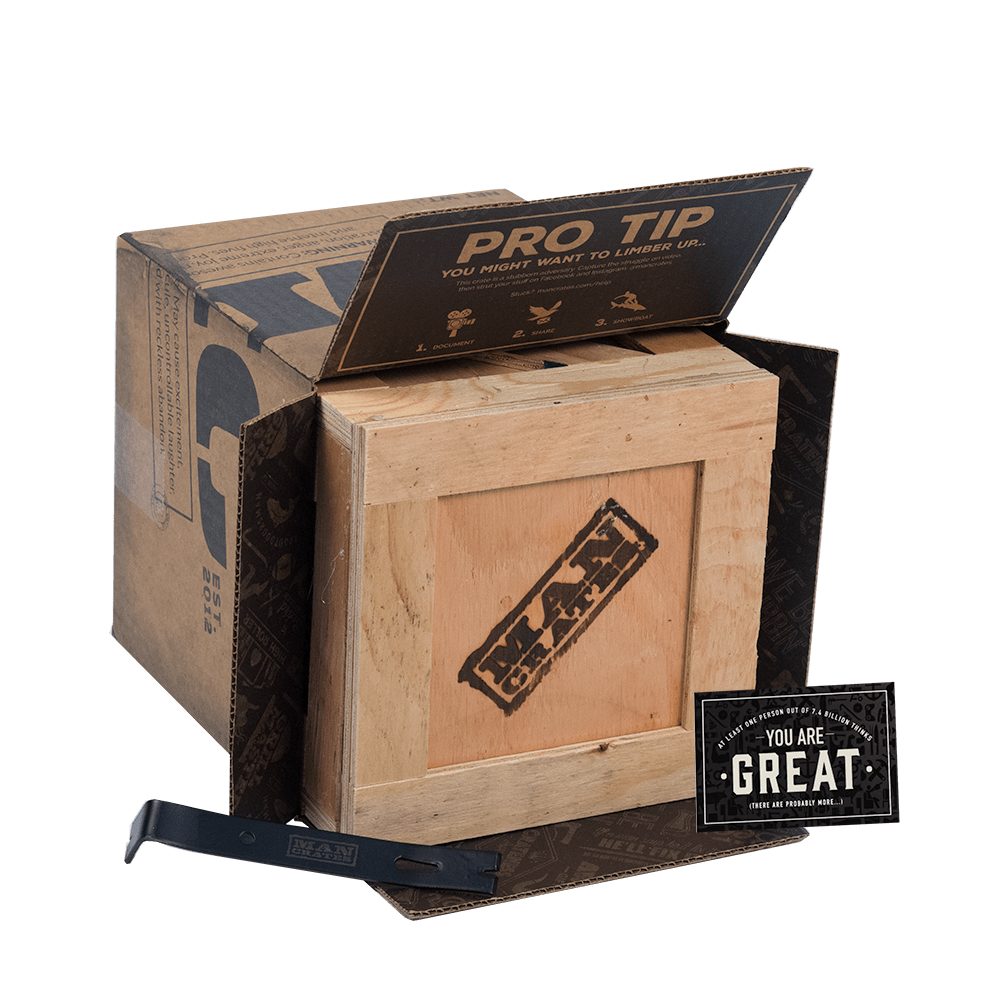 In a sealed wooden crate with a laser-etched crowbar.
---
Order in the next 6 hours and it ships today

Choose your delivery date at checkout
100% Satisfaction Guarantee
We think our products are awesome, and we guarantee you will too. If you're unhappy with your purchase or experience for any reason, we'll make it right and give you the kind of service you'll want to high-five us for.
Seriously, just call or text us at (866) 902-7260 or shoot us an email at guys@mancrates.com.
Story
We Love You, Bacon
"Love" is a strong word that's sometimes hard for men to say. Entangling, complicated emotional loops in our male brains can choke us up when we're trying to form that simple syllable, unless the next word is "Bacon".
There is no easier, more joyous pronouncement for us to make than to declare, unequivocally, that we love bacon.
50 Shades of Bacon
We're not ashamed to say our love is untraditional. We love bacon in ways your parents might not approve of. We use bacon in ways that might not have crossed your mind. If you share our passion, then let this crate open your mind to seven new ways to express your love.
Start with Carnivore Candy's Jalapeño and Old Fashioned Maple Bacon Jerky. Ready to have your mind blown? What if we told you bacon doesn't have to just be a staple at breakfast and on your sandwich? Bacon can be a portable, dangerously habit forming companion at your fingertips, 24/7. You might start hoarding and stashing. You might tape packs of Bacon Jerky below the conference room table, sew pockets into the inner lining of your long johns, and fill the side panels of your car with bacon jerky in case you ever break down.
Just Add Bacon
You can get your bacon fix from the bacon flavored snacks. This flavoring is the culinary equivalent of getting a tender, pen-written love letter on artisanal bacon-scented paper. Temporarily separated by space and time, carry this and bacon is with you, wherever you are.
Surprise! It's Bacon
Bacon has always made straight A's for 'plays nicely with others.' We've gathered an assortment of awesome bacon-enhanced snacks. Want to impress your date with something better than chocolates? Sir Francis Bacon Peanut Brittle. If it doesn't work they're probably not a keeper.
Share our love, don't judge us.
Customer Reviews
BACON…. It's not just for breakfast!

Got a bacon crate from my daughter and son-in-law for Fathers Day - OH MY! Heaven in a crate

Bday Gift

I received this as a surprise bday present. I have no clue who it came from but I love it. Had no clue this even existed.

Christmas for Birthday

I always like to make Christmas Gifts hard to open. My daughter turned the table on me with this one. Opened the first box to find a box wrapped in duct tape. After cutting thru this I came upon the Mancrate and pry bar. Had to get a hammer to help! After disassembling the box to get to the inside [about 15 minutes]. The products inside were individually boxed. This was the best birthday present ever. Could not wait to call her and tell her job well done

Fun and Delicious

A bit challenging to open (suspect that is what is intended) for this manly man but worth the wait for some delectables. Who is so insane as to not like bacon! Will be ordering myself for family and friends in the future.

Bacon Man crate

OM!!! This was fantastic!!! It was a little pricy but it was exciting to see my husband struggle to get it open! We all laughed when he checked the website to see how to get into the crate easier and the site mentions to "try harder!" It was definitely a unique gift!