Oh no! Looks like World Tour Jerky Crate is out of stock
Click below to get notified when it's back in stock
Notify Me
In The Box
Carne Asada Beef Jerky (3 oz)
Sriracha Style Beef Jerky (3 oz)
Korean Style BBQ Beef Jerky (3 oz)
Saki-Teri-Yaki Beef Jerky (3 oz)
Ol' School Hickory Beef Jerky (2 oz)
Smoked Biltong Beef Jerky (2.25 oz)
Tikka Masala Beef Jerky (3 oz)
Montreal Spicy Maple Lager Beef Jerky (2.25 oz)
How It Ships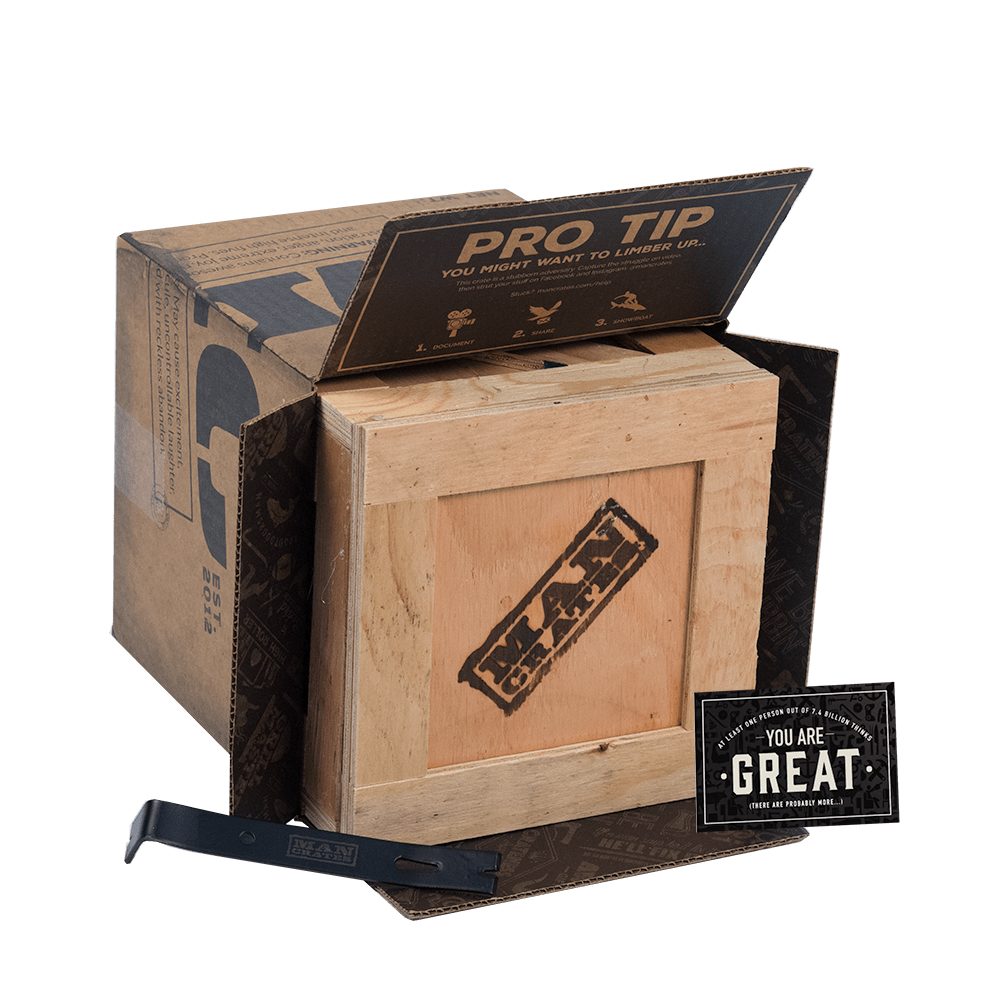 In a sealed wooden crate with a laser-etched crowbar.
---
Orders placed by noon PST will ship out same day

Choose your delivery date at checkout
Story
FLAVOR FROM ANOTHER MOTHERLAND
It's no surprise tongues get bored, what with being stuck in the same mouth processing the same flavors over and over. In fact, it was a tongue that coined the phrase, "variety is the spice of life."
Give him a break from meaty monotony, and take his tongue on the journey of a lifetime. The World Tour Jerky Crate unites the best beef jerky flavors from around the globe. It's like an epicurean Epcot Center with representation from eight nations spanning four continents.
Do him and his tongue a flavor favor with jerky from abroad—and broaden his beefy horizons.
JERKY JOURNEY
Kick things off with some Asian infusion featuring Sriracha Style from Thailand, Korean BBQ, Japanese Saki-Teri-Yaki, and Tikka Masala from India.
Then, it's down to Latin America for Carne Asada Beef Jerky. Muy delicioso!
The next leg of the tasty trip will take him through South Africa for some Smoked Biltong Jerky.
Finally, it's back to North America for some northern neighbor's Spicy Maple Lager Jerky and Whiskey Hill Original Ol' School Hickory from the good ol' U.S. of A.
Customer Reviews
It's a hit!

I bought this for my husband as a birthday present and he absolutely loved it! The challenge to open the crate was really fun for him and all the different flavors of meat really impressed him. He is already telling all his friends about it how cool it is.

Taste the quality a real jerkey

I live in Klamath falls Oregon I have 10 stores that sell lots of jerkey the sroundin towns small towns are Medford Ashland and forty to fifty outher towns each one sell 2. to 3 cases a month that's a lot of sales if you you want ther business let me get them or send me a price sheet and I can go from there thank you

My son loved it!

I got this for my young adult son and he said it was the best jerky he has ever had!

It's a gift inside of a gift!

Man Crates were the BEST gifts this season! Once I had purchased the gift card block I was hooked! I had to get the crates - and I didn't discriminate just for the guys! I actually got crates for my daughter and daughter-in-law as well, and EVERYBODY LOVED them! The girls had a great time opening their crates too! I know that the business is "MAN" Crates, but I think it would be a great idea to do the same kind of things for women too! The girls loved the crates just as much as the guys - I gave them the "GREAT INDOORS" Crates, and they were a huge hit! I was so glad that I gave them crates too, because I could see the look on their faces when they saw the guys opening theirs - they were envious! Keep up the great work Man Crates! These are special!!!

Go to gift

I've gotten my husband a jerky crate for Christmas the last two years, he's informed me that he now wants nothing but crates! The prices are high, but the quality is unmatched. My husband and father in law are both incredibly hard to shop for so man crates are my go-to now.
If you're hesitant because of the price, give it a try. You won't regret it!