In The Box
Shawnee Skinner Blade (Knife tang may vary slightly from photo.)
Maple Handle Scale Set
Brass Bolster Set
Leather Pouch Sheath
Mosaic Pins
Man Crates Knife Making Guide
2-Ton Syringe Epoxy
Rasp & File Set
Graded Sandpaper Set
Bench Vise
Wood Finish
NOTE: Knife Making Kit does not ship in a crate.
How It Ships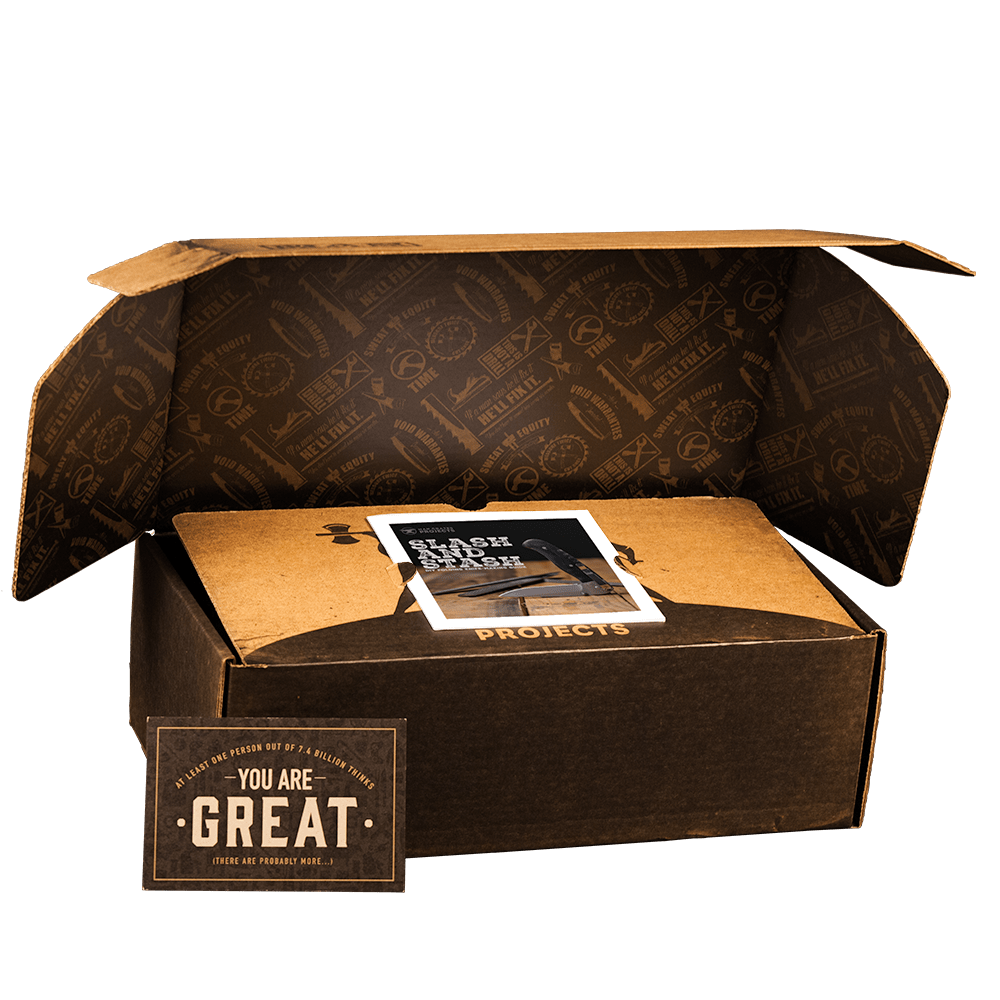 In an awesome cardboard box. Corrugated C Flute cardboard with regular slotted style... told you it was awesome!
---
Orders placed by noon PST will ship out same day

Choose your delivery date at checkout
Story
The Knife Life
We don't know much about the guy who wrote, "the pen is mightier than the sword," except that he probably wasn't using his sword right.
Ask any honest farmhand, Japanese chef, or the two most dangerous ninja turtles, and they'll tell you a sharp blade is the most virtuous and versatile tool a man can wield. A trusty, fixed blade won't bend, break, or stray from its owner's side; when the going gets tough, the tough get cut.
But unlike men and Socialist paychecks, not all knives are created equal. We've found that the knives guys trust the most are ones they make themselves. The Knife Making Project Kit gives every guy the opportunity to design, craft, and perfect his new best friend.
Shanks For The Memories
The Knife Making Kit is fronted by a 440c stainless-steel Shawnee Skinner blade crafted in Japan, home of the samurai. This hollow ground blade features a thumb notch for comfortable handling and easy maneuverability, and is manufactured with the durability to outlast its maker.
We've blurred the line between trendy, polished tools and dangerously sharp fashion accessories by including curly maple handle scales, classy brass bolsters, ornately-designed mosaic pins, and a top-grain, vegetable-tanned leather sheath. The knife will develop its own unique character through the process of shaping and staining.
Handle With Care
A dependable knife should instill fear and apprehension into its foes, not its handler, so we've included all the tools needed to rid it of stray splinters and extraneous wood.
Like the chisels of Michelangelo, a gamut of rasps and files, graded sandpapers, and a portable bench vise will give birth to a precision carved masterpiece. And for final touches, a wood finish to pull out the unique grains of the maple burl handle.
The Knife Making Kit contains everything needed for hours of knife crafting in the garage, and a lifetime of handling out in the world.
Customer Reviews
Mom for the WIN!!

Got this for my son last Christmas. Biggest hit EVER. He had bought other kits but they did not include everything and he couldn't figure them out and threw them to the side. This kit has EVERYTHING! He made this beautiful knife and learned what he needed for the others. Mom for the WIN! THANK YOU!!!

Birthday Gift

Received the kit from my parents for my birthday and finished it over about two weeks just periodically working on it for an hour here and there. I did substitute in some walnut for the scales as the maple that came with the kit had relatively straight grain and not much character. This was my first time fitting and dyeing a sheath but used a wire brush to lightly rough the surface so it took more of the color and resealed it with the wood finish that came in the kit. I was really happy with the resulting fit and finish. The blade itself was sharper than I expected. Mine was just shy of being able to shave. I plan on sharpening and stropping the edge further.

Recommendations... give some options with the kit. I have a decent tool selection so the files, rasp and vise weren't really needed in my case. Material options for the scales, blade shape/material options... that sort of thing.

Overall, a fun kit that helped occupy some down time in this CrAzY year!

Awesome

For Father's Day my girlfriend got my this kit. Honestly had no idea at first glance what it was. But as I frequently watch forged in fire I picked it up right away. I love knives and feel naked without one, everyone in my shop frequently brings me their knives to sharpen or polish as I have an assortment of stones, and other things. But this took it to a whole other level. The blade looks superb and was very sharp out of the box. I worked on this knife and sheath for 5 days straight about 4 hours per day until it was finished. Love it. The materials were great, tools worked perfectly and good quality, and was just a blast to build. I now carry it rather than my Kershaw. Can't wait to do another. Would love to just be able to get more blades and pins instead of the whole kit, but I digress. Well worth it.

His friends are jealous

NOTE: THIS KNIFE DOES NOT COME IN A CRATE! Please read the description carefully.

Bought this for my boyfriend as a "just because" gift. I opted for the duct tape packaging — he opened it with his pocketknife! I was hoping he'd go the old fashioned way and try opening it with just his hands lol.

He's preserving the box it came in, wonderful duct taping job really!

He's most of the way done with the knife and he loves it! He said he wants another one already lol. We went to our friend's house and he brought it along to get some help for the first part of it, since he didn't want to mess anything up. Unexpectedly, one of his acquaintances was there and this guy makes knives for a living. He was very impressed with the set and praised the quality of the tools, wood, and blade.

Thank you guys so much for such a wonderful and fun project for my boyfriend! It gave him something to do instead of staring at a TV playing video games all day lol.

Definitely recommend Man Crates to everyone who's never tried them!

THANK YOU SO MUCH

I received a gift from my girlfriend, I was so excited, I discovered the threads for the bolster were a little crooked, I was disappointed I couldnt start working on it right away. I emailed. M.C. about it and 2 days later I received a whole new kit.with a note telling me to keep the other one to do with as I pleased..I've never expected such great,fast service and you mean 100% satisfaction guarantee..thank you again.now I'm getting a different knife kit for myself..