Whiskey Connoisseur Crate
In The Box
Our Lasers Take Time
Personalized items require 2 business days of processing time.
2 Raye Crystal Scotch Glasses
Personalized Whiskey Decanter (Hand-made, may contain minor imperfections)
Whiskey Stone Box Set:

Wooden Gift Box
6 Whiskey Soapstones

2 slate coasters
"33 Drams of Whiskey" a Whiskey Drinking Journal
Citrus Chili Cashews (4 oz)
Butter Toffee Almonds (4 oz)
How It Ships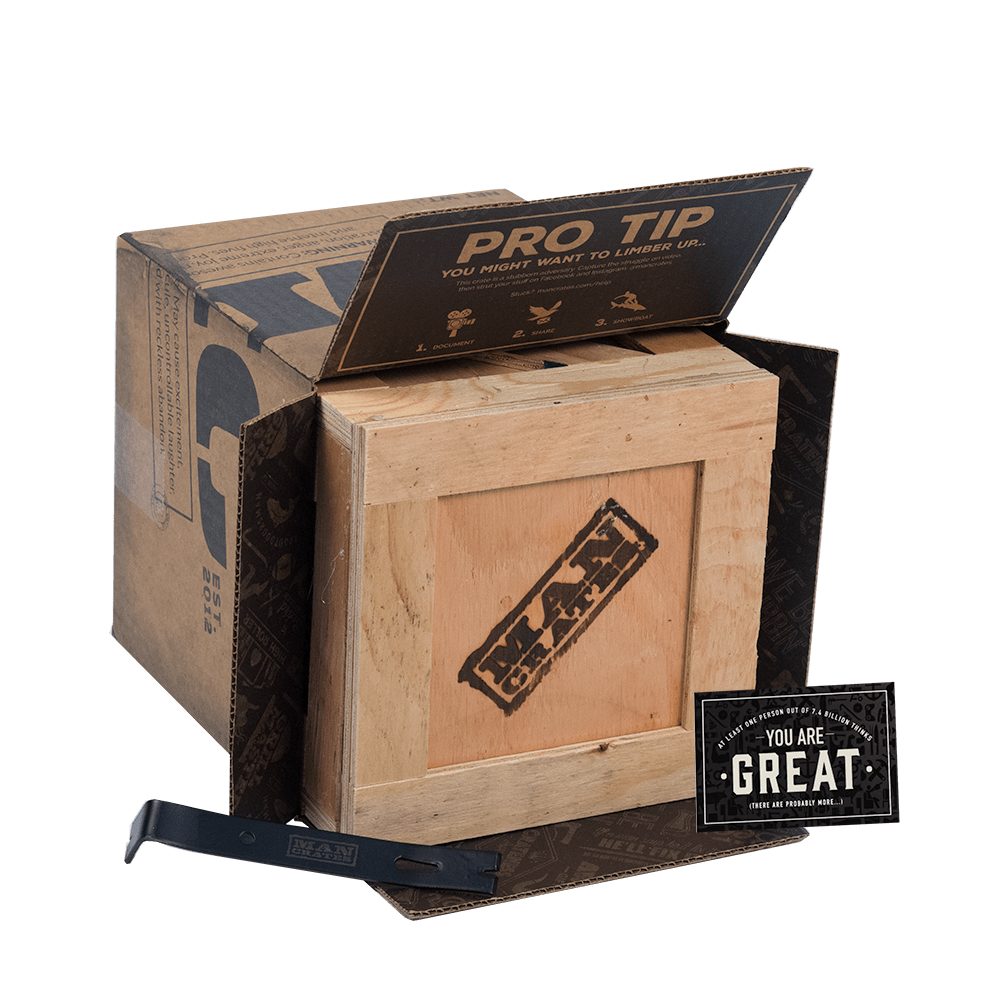 In a sealed wooden crate with a laser-etched crowbar.
---
Some shipping restrictions apply

Choose your delivery date at checkout
Story
WHISKEY'S SIDEKICK
Like the steeled lumberjack with his pick-up stuck in the snow, or the bare-knuckle boxer whose swollen eyelid needs a quick cut, sometimes even the strongest of things needs a helping hand.
Whiskey in all forms is already remarkable, but it can be even more majestic with a little assistance. The Whiskey Connoisseur Crate is the subtle touch that fans the warm whiskey burn into a full-fledged flavor frenzy.
CLASSY ACCOUTREMENTS
This hand-made, custom-engraved decanter is a masterclass in, well, class. Choose from a variety of design options.
Besides being easy on the eyes, these Raye Cystal Scotch Glasses by Viski mature your whiskey in hand and draws out the greatest of its color, body, nose, palate, and flavor.
Dilute no more! These whiskey stones will keep his drink all kinds of cool without watering down the flavor.
Also includes a pair of slate coasters for maximum extravagance, a whiskey tasting journal, and an assortment of deluxe bar snacks.
Customer Reviews
Don't Tell Santa But Thanks Mrs Claus

Dayum I Must Be A Really Good Friend. I Received The Whiskey Connoisseur Crate For Christmas And What Can I Say She Did A Good Job. P.S. Opening It Was Easy! You Just Have Think Outside The Box.

Best gift ever!

Someone gave me this for my 40th birthday. Was so cool opening the crate let alone how amazing the gift was inside! Recommend to send to anyone!

Fun

Xmas Gift for my hubby. We had three man crates under the tree and it was funny watching them each open them. I'm thankful the cards were on the outside of the crate because that way we could be sure each man got the right crate (Hubby, Son and guest).

Perfect!

My boyfriend loved every piece of this crate. As soon as he opened it he made a trip to the store for 'some of the good scotch' and then showed me a video about the awesomeness of the Glencairn glass. Give a man the perfect gift and he's just like a kid in a candy store.

Man Crates makes it right...

Ordered this crate for my husband for our 8th wedding anniversary... I'll start by saying the contents are awesome; my husband loves it. The decanter and glasses are definitely quality barware. He hasn't broken into the snacks, but I'm sure they're great, too. Now for a caveat: When ordering this, I might recommend setting it to deliver a day early, as mine delivered the day after our anniversary, which was pretty disappointing. However, Will L. stepped up and refunded the shipping costs, which was really classy and appreciated. So, thank you Man Crates for a quality gift with awesome presentation and for stellar customer service.