In The Box
GSI Javamill Portable Grinder
GSI French Press Thermos
Spoon/Clip
Alpha Coffee Beans
How It Ships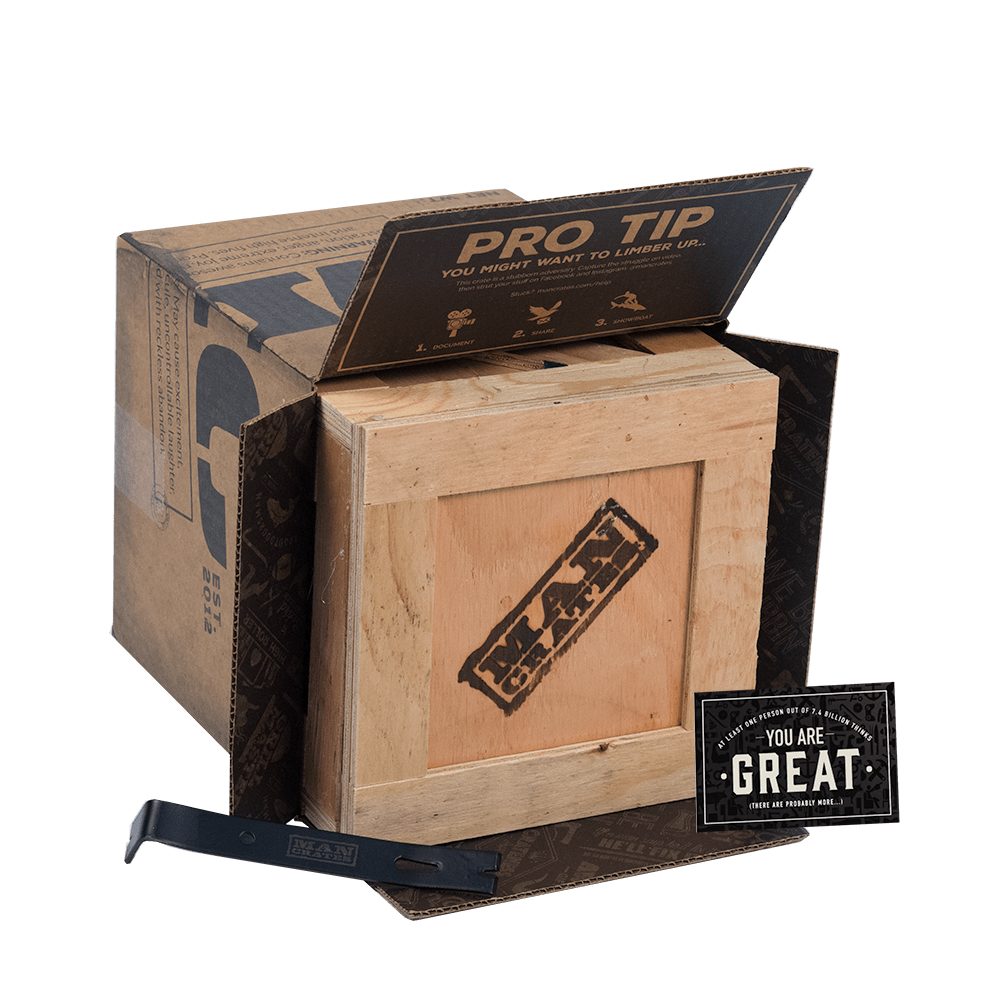 In a sealed wooden crate with a laser-etched crowbar.
---
Orders placed by noon PST will ship out same day

Choose your delivery date at checkout
Story
Grind It Up And Pound It Down
Do you know a man who's been struggling lately?
Maybe he's lost his vigor when jet skiing through active volcanoes? Or maybe the shark occasionally wins now when he wrestles Great Whites in the octagon? These may be signs of a "serious" "medical" "condition" called DECAF (Decreased Excitement and Caffeine-Associated Fatigue) that plagues millions of men around the world.
But fear not, there's hope! Man Crates Pharmaceuticals, a wholly owned and legally dubious subsidiary of Man Crates, is proud to offer the Caffeine Fiend Crate, the single best treatment for DECAF since our green tea steeped blood transfusions.
Administer As Needed
The Caffeine Fiend secret is a proven, potent elixir known as COFFEE, or Caffeinated Oral Fix For Enhanced Energy. Start with a heaping scoop of Lock & Load Java, wonderbeans roasted in small batches by combat veterans and packed with the all-natural, life-giving powers of Caffeine, aka the Better Vitamin C.
Drop the beans into the GSI Javamill Portable Grinder and tremble at the strength and precision of its powerful blades. He's just a few power cranks away from coffee grounds fit for the gods.
For Oral Use Only
To administer, drop that payload of crushed black diamonds into the GSI French Press Thermos, add hot water, and push slowly to complete the brewing process. The press is portable and insulated, so COFFEE can be administered anywhere, anytime. Repeat process until life is again enjoyable.
Talking about DECAF can be uncomfortable, with the main symptoms including headaches; sensitivity to lights, sounds, and hurtful comments; aggression; and "Ugly Tired Face". But if you care about your male friends and family, you'll get them the DECAF treatment before it's too late.
The Caffeine Fiend Crate from Man Crates Pharmaceuticals. Now there's hope for a better tomorrow...morning.
Customer Reviews
Perfect Gift!

My boyfriend lives for coffee. He's a mechanic, ice fisherman, and a camper. Knew this would be perfect for him. I requested this to arrive on Monday, December 23rd. It ended up arriving early that Saturday, which worked out great! He had so much fun strategizing how to open the crate while preserving it still. He plans to put hinges on the crate and re-use it. When he dug into the contents, he got the biggest grin on his face and said thank you at least a half-dozen times. Within a few minutes, he had messaged his friends with a picture of his gift, and started making a cup to try. We both respect the significance behind the coffee itself, and he is so appreciative of the whole gift. My only regret is not getting the whole thing on video to capture his reaction....it was priceless how happy he was! Everything seems to be of great quality as well. Thank you Man Crates!

The whole office was thoroughly impressed impressed !

My son is an architect and received this from me for his 32nd birthday. He brought the crate to work with him and literally had a cadre of architects/engineers surrounding him as he opened it. He and his colleagues were amazed by not only the complexity of opening the case, but the contents within as well. I'm sure you're going to see more orders as a result! Thanks for letting me hit one out of the park for this birthday!

Awesome Gift!

Ordered this as a last minute V-day gift. It came while I was at work, and he sent me a pic of the unopened crate with a knife stuck in the top of it, and a "We're not worthy!" Wayne's World gif, LOL. He said I won Valentine's and he hadn't even opened it yet, LOL. He loved the contents, and was surprised by the quality. Says it's way better than his Jet Boil. And he really likes the coffee that came with it, too. He also likes the crate and wants to install a couple of hinges for the lid.

Fantastic

Got this crate for my Birthday from my girlfriend. Was a blast to open and the quality seems great. Definitely a unique gift

Perfect Gift

Sent this to my son for his birthday. He absolutely loved it!