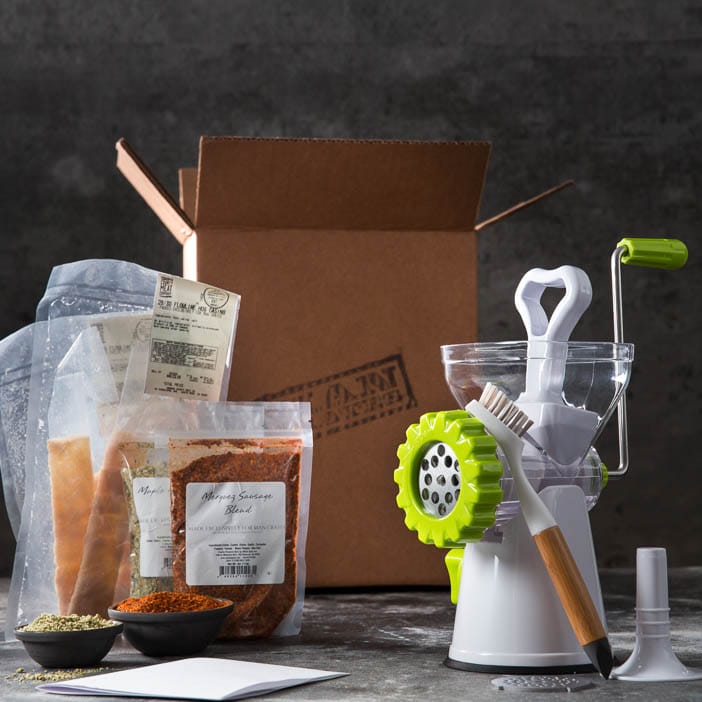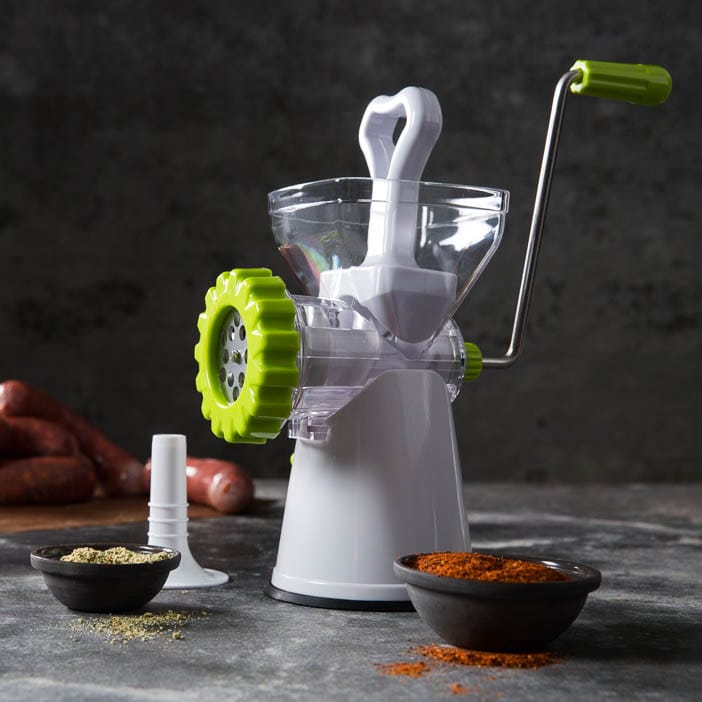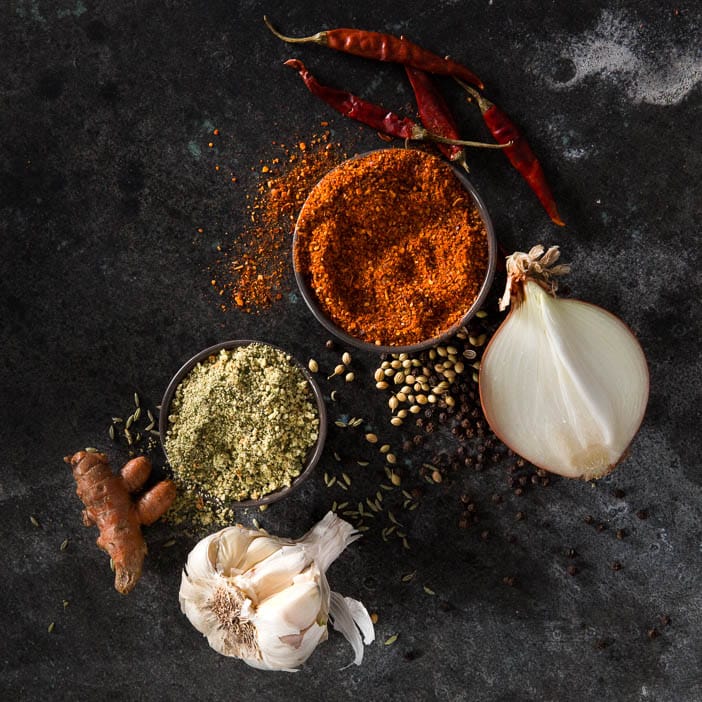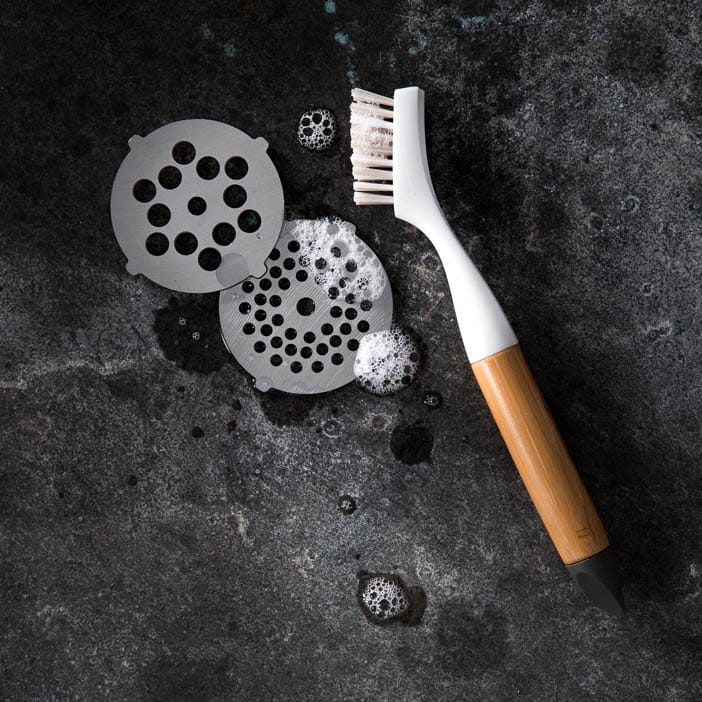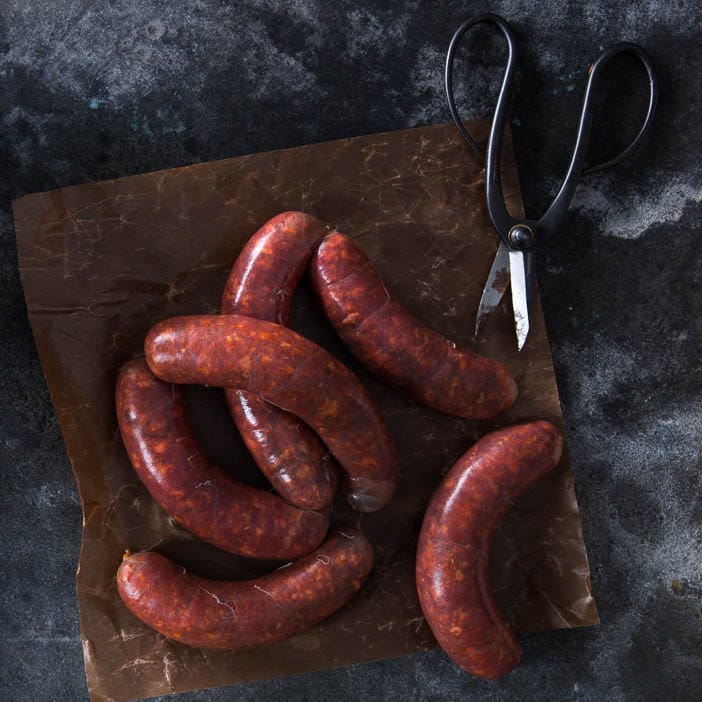 In The Box
NorPro Delux Grinder/Mincer
Maple Apple Spice Blend, 4 oz
Merguez Spice Blend, 4 oz
Full Circle Home Detail Brush
Sausage Casings
NOTE: Sausage Making Kit does not ship in a crate.
How It Ships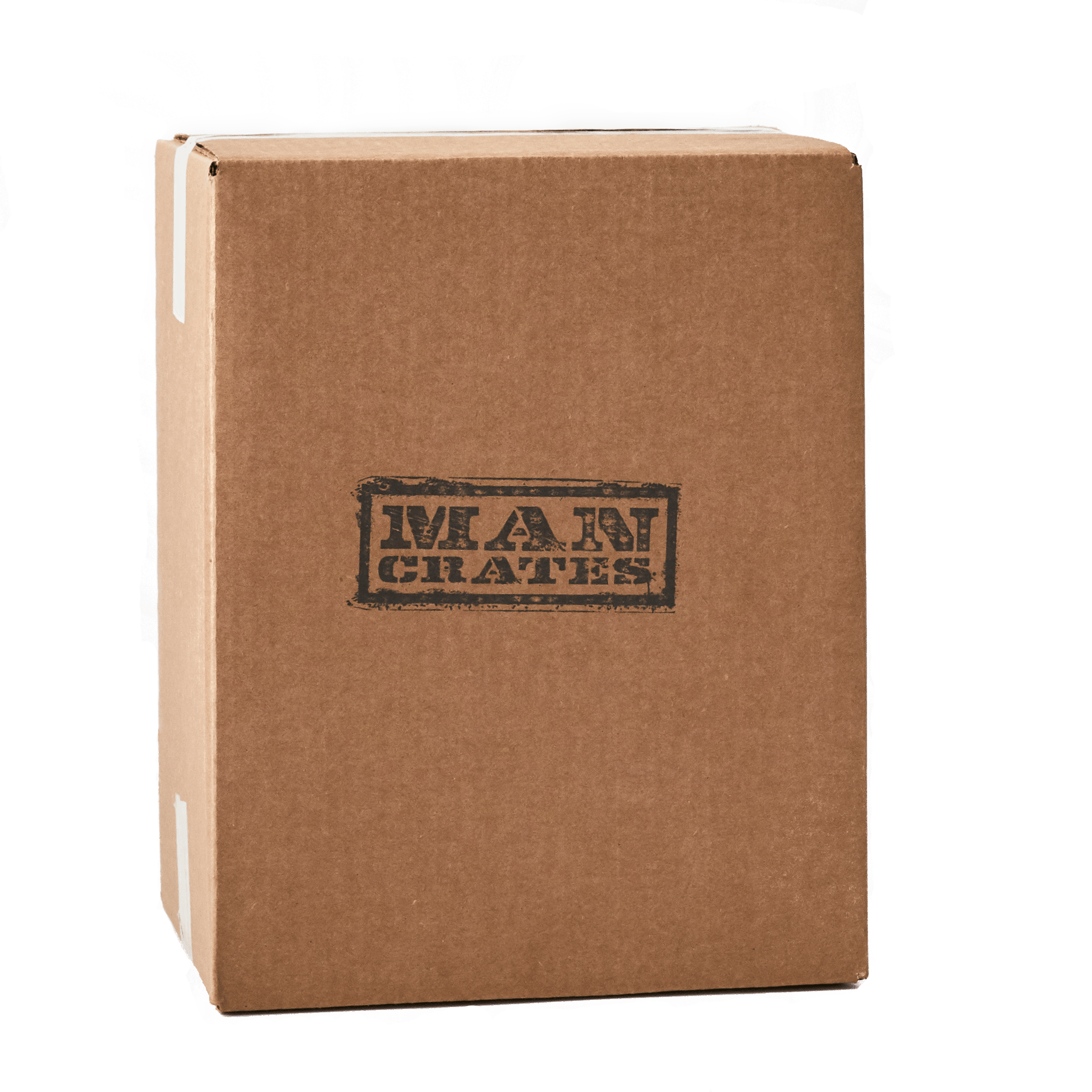 In an awesome cardboard box. Corrugated C Flute cardboard with regular slotted style... told you it was awesome!
---
Orders placed by noon PST will ship out same day

Choose your delivery date at checkout
Story
The Ultimate Cram Session
There's a certain type of guy who's just always had a strange obsession with stuffing things. As a lad, he couldn't shove enough pennies into those stripy paper coin sleeves. In his college years, he challenged the world record for most dirty clothes squished into a hamper. Today, he dances around dead set on shimmying his beefy calves into skinny jeans.
Now, thanks to not-so-modern Man Crates technology, he can pair his penchant for packing, pushing, and smushing with his love of encased meats. The Sausage Making Kit brings the age-old tradition of tubing up tasty beef, wild game, poultry, pork, and lamb right to his kitchen.
Once he starts cranking out fresh, handmade sausages, he'll have to cram "Sausage King of the Neighborhood" into his official title.
A Link of His Own
He'll be churning out chorizo like a champ with the Norpro Meat Grinder, which features a powerful suction cup for convenient countertop use. Grinding his gears is about to get fun.
Reportedly, local butchers are jealous that Whole Spice Napa Valley created the kit's Maple Apple Sausage Blend and Merquez Sausage Blend exclusively for Man Crates.
Sonoma Meat Company has supplied two packs of hog sausage casings so he can go hog wild stuffing his soft cylinders full of savory goodness.
Customer Reviews
The ones I ordered

I thought they were great. My guys enjoyed them. I had them wrapped in duct tape. Awesome, thank you

First Time Success

My Man Crate sausage experience was great. First timer here. The equipment works great. My challenges were how much seasoning per pound of protein (I used pork cushion). Bottom line...whatever you like. Test drive a little in the fry pan and adjust. The text support, Hailey, was great. She said 2-4 lbs of meat to the 4oz seasoning packet. I had 6-7 lbs of meat. I tasted and added some more salt but it was good for me as was and Haily said you can always add sauce when you break it out to grill. Solid idea! I wrestled the casing a bit. That was a unique experience. It worked out great and one of the packs in the crate held abour 12 lbs of sausage. We broke our links into 4-5 and vacuum sealed them. The twist and tie off part of the process needs practice on my end. It was a fun experience and i'm look Forward to playing with new recipes. Thanks family for the gift. Good stuff!

Deer sausage

I have ordered five crates so far and have been happy with them all in there own right. I took a chance with the sausage maker but it sounded like a fun project.

I have a friend that gave me five pounds of deer meat so I gave it a try. Easy to use, easy to grind and pack the meat into the casings. Clean up was easy as well.

I used the merguez sausage blend this time around and the result from grilling was a tasty treat for my family.

Excited to use the maple apple sausage next go around on another kind of meat.

Thanks you man crates !

Stephen B

New Food Hobby In the Works

This was a "just because" surprise project box for my husband. The recipe booklet has super helpful hints for both first time sausage makers and the more experienced.

He really likes the suction cup on the grinder as it allows for much easier stuffing of the casements.

The two custom spice blends have just the right balance for delicious creations. He is looking forward to all of the food experiments.

On of the best kits yet.

Caveman easy sausage making

The hubs whole face beamed when he saw this kit! Looked like a kid in the candy store as he ooh'd and ahh'd every item. I was terrified at the potential for a massive hurricane style mess but was pleasantly surprised at how little mess there was. The suction cup did it's job beautifully and held the unit in place! I swear I heard some caveman grunts as he cranked away happily making sausage. He was more than happy with how easy it was to use and even happier with the construction quality and sturdy design. I however was happiest with the easy clean up! Thank you mancrates for another awesome gift!