In the Box
Whiskey Straight Jerky (3 oz)
Oregon Cabernet Jerky (3 oz)
Caribbean Rum Jerky (3 oz)
Dark Ale Jerky (3 oz)
How It Ships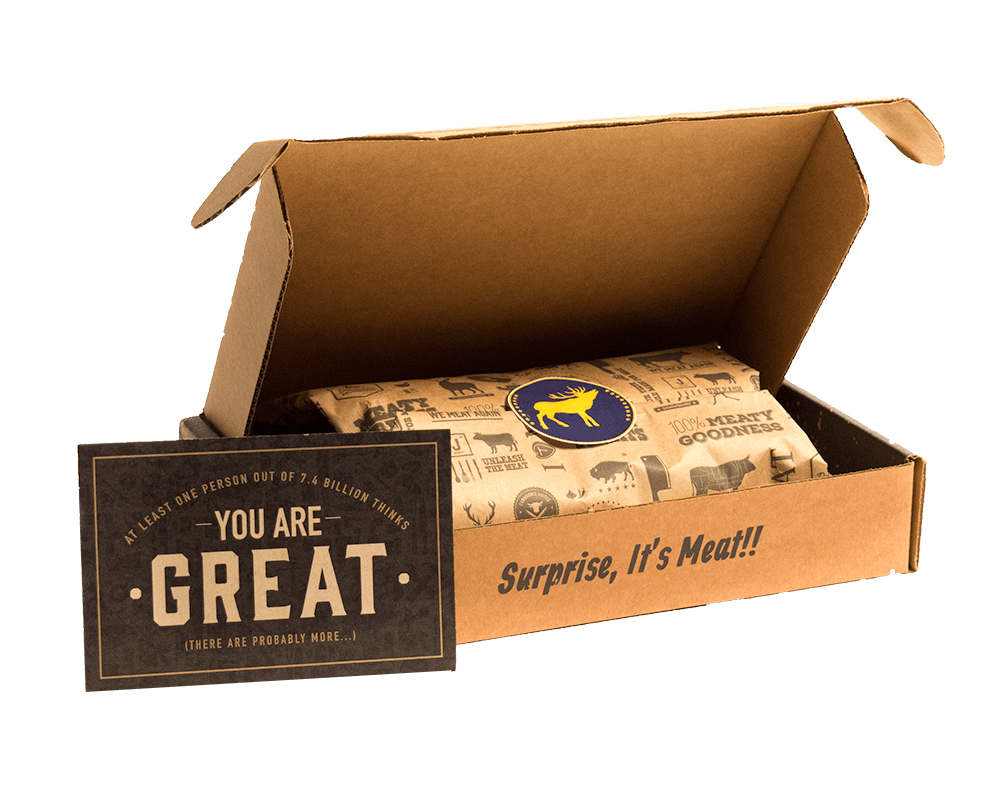 Your meats will arrive in an awesome cardboard box that says, "Surprise, it's meat!"
---
Some shipping restrictions apply

Order in the next 7 hours and it ships today

Choose your delivery date at checkout
100% Satisfaction Guarantee
We think our products are awesome, and we guarantee you will too. If you're unhappy with your purchase or experience for any reason, we'll make it right and give you the kind of service you'll want to high-five us for.
Seriously, just call or text us at (866) 902-7260 or shoot us an email at guys@mancrates.com.
Story
The Best Of Both Worlds
Beef jerky and alcohol are the twin pillars of human sustenance, which is why our underground survival bunker is lined floor to ceiling with the two...exclusively. But during our most recent nuclear explosion-proof test, shockwaves thrashed through the bunker walls, flipping beer barrels and overturning supply shelves like a mild Gary Busey outburst.
The result was a bunker full of beer-soaked beef jerky that, once we removed the wooden splinters, was absolutely delicious. We'll admit, we were skeptical at first, but when we tasted our third favorite thing marinated in our second favorite thing, it instantly became our first favorite thing (sorry, family). The Booze-Infused Jerkygram was born.
The Booze-Infused Jerkygram features the best of buzzed beef, from bourgie to boozy. Indulge in the satiating succulence of inebriated meat: Dark Ale, Cabernet, Caribbean Rum, and Whiskey Straight jerky, all without the hoof marks, bruised shins, and PETA protests of trying to force feed a cow your liquor cabinet's finest.
Customer Reviews
Booze Infused Jerky

My husband tried it as soon as he got this one opened! This was a Valentine Gift! But I also got him the Bouquet! Wrapped in Duck Tape the video was Hysterical! But he absolutely loves all the meat! He might take some Ice Fishing to share with his friends!

Love it

So great. Bought it for my husband for father's day. And the diabolical duct tape was the perfect touch.

Amazing

Bought this for my brother for father's day. He called me excited and said it was such an amazing gift. Jerkey was super good and packaging was on point. He then texted me later and said "Totally perfect! The jerky came with dental floss. Haha"
That was sooo smart and the icing on the cake. Glad he loved the gift. Definitely will be ordering again

Good, but not good enough

I wanted a crate. Hahaha. I really was looking forward to my dad getting to pry open a crate to reach this treasured gift. That's my only complaint. (1st world problems, I know)

Man Crates Response: Hey there,

Thanks for your feedback, we're sorry to hear you were disappointed in your order! While we love sealing up great gifts inside wooden crates, we understand that not every recipient appreciates the sweat and struggle that can go into liberating them. That's why we've added a variety of items to our spread that ship out in other ways. Your gift could arrive in one of a few forms depending which item(s) you order, and if you'd like that gift wrapped in our Diabolical Duct Tape Cocoon.

If you're in the market for our namesake crates, keep an eye out for anything on our site that has "Crate" in the title. We've included a photo on each Product Description Page as well as just inside your Shopping Cart, letting you know this item is a crated one, and that it comes with one of our Man Crates crowbars.

We do our best to let you know how the item is shipping by showing a photo on the product's page and in your cart of how the item ships. We also let you know how the item is packaged in the product description itself.

That being said, we're happy to work with you to make this right by offering a discount or to arrange a cost free and hassle free return pick-up at the location of your choice if you just want a full refund. Give us a call at 866-902-7260 and we'll do our best to make you happy, thanks!

-Team Man Crates

My brother loved it

I ordered this for my brother for his birthday. He said the jerky was delicious and was really impressed by the overall package.