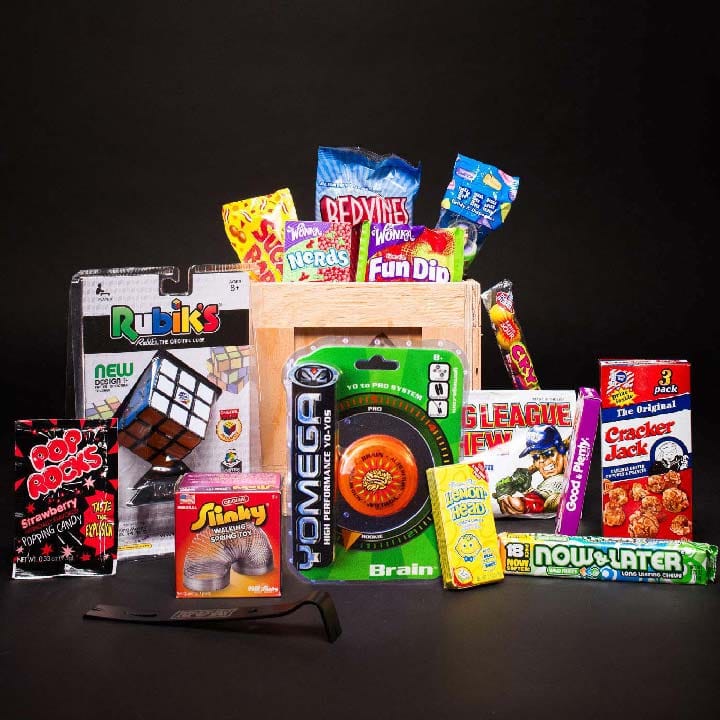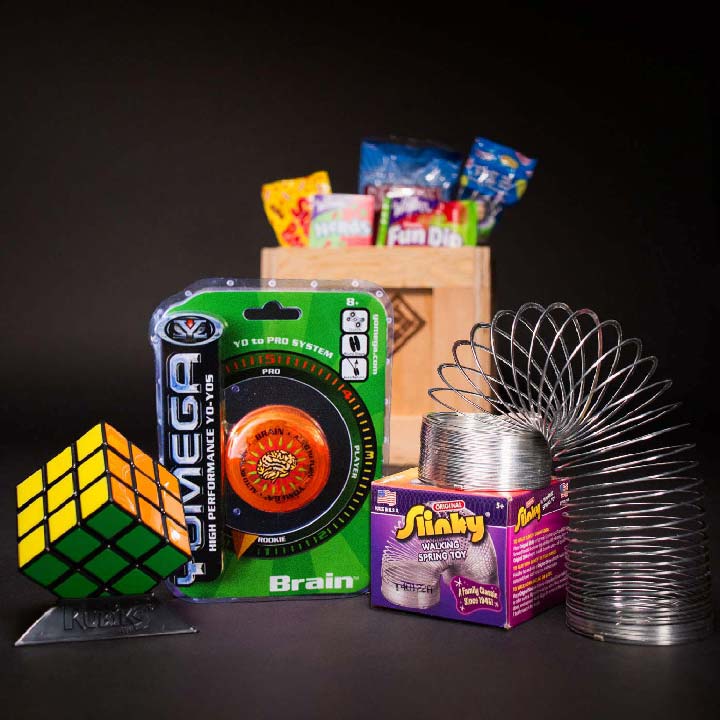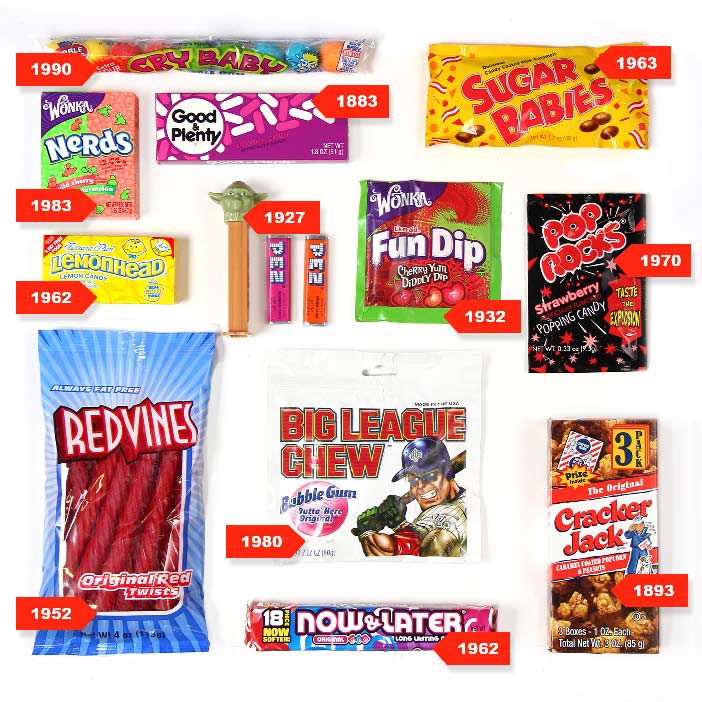 Oh no! Looks like Old School Crate is out of stock
Click below to get notified when it's back in stock
Notify Me
In The Box
Nostalgia Tokens
Slinky
Rubick's Cube
Yomega Yo-Yo
Pez Dispenser
Candy Through The Years
Good & Plenty (Introduced 1883)
Pez Candy (1927)
Red Vines (1952)
Now & Later (1962)
Lemonheads (1962)
Sugar Babies (1963)
Fun Dip (1932)
Pop Rocks (1970)
Big League Chew (1980)
Nerds (1983)
Cry Babies (1990)
Pistachios
How It Ships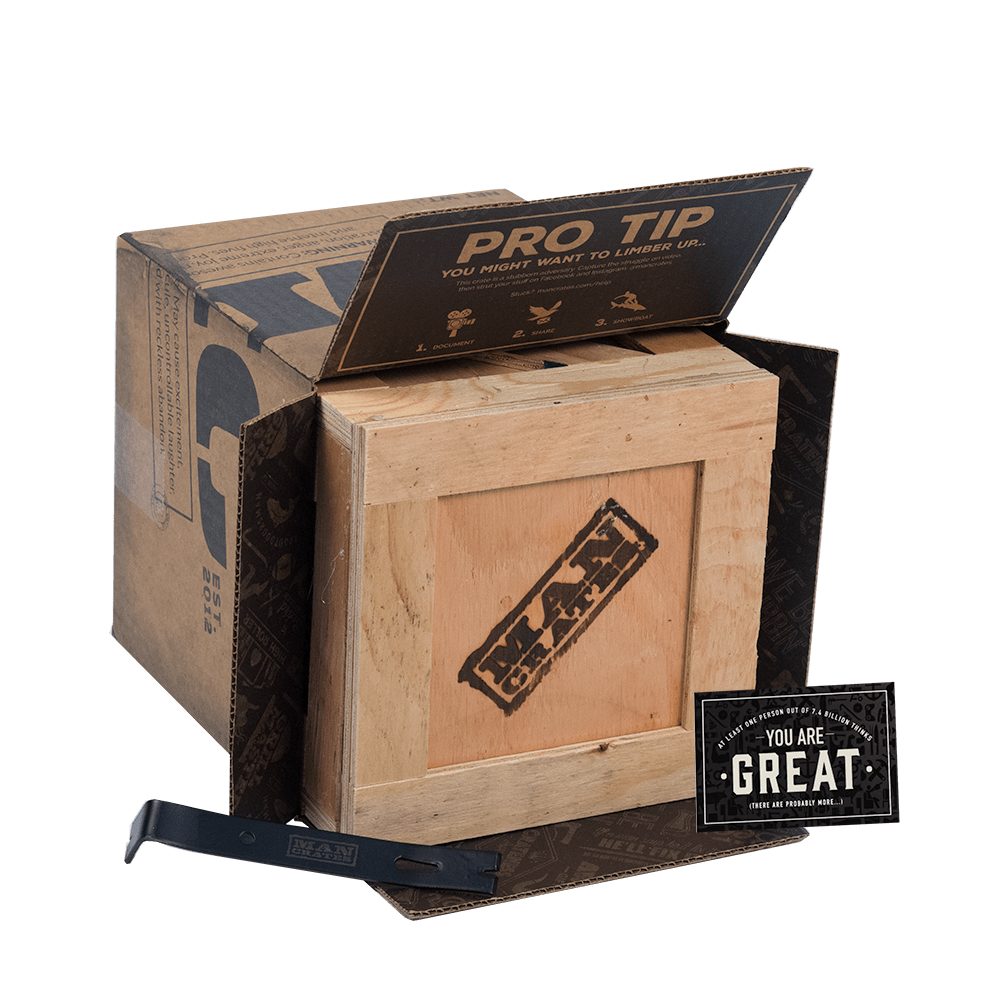 In a sealed wooden crate with a laser-etched crowbar.
---
Orders placed by noon PST will ship out same day

Choose your delivery date at checkout
Story
Never Outgrow Fun
Growing up is optional. Maybe nobody told you that you had a choice, or maybe you just woke up one day and realized that it had happened to you. The good news is that it's reversible.
More About 'Fun'
You've had fun before, why not have fun again?
If it's been a while, don't sweat it- this kit has everything you need to relearn the basics: a classic metal Slinky, the original stultifying Rubik's Cube, a Yomega Yo-Yo, and a Pez Dispenser (with reloads). Could it be the greatest assortment of retro gear ever assembled into a wooden crate? It is Decidedly So.
Let's Take it Back
This crate is like an archaelogical dig through Willy Wonka's factory. We travelled back in history and catalogued layer after layer of candy to create a timeline of candy stretching back past the 1893 Chicago World's Fair.
So pry this crate open and forget about that mortgage payment. There's a Rubik's Cube to solve and some serious life choices to shake out.
Customer Reviews
He loved it!

I bought this for my special someone and when he opened it his smile on his face was all I needed. He loved the games. His reaction to the candy wasn't what I expected. All the candy that was included brought back memories for him. He told me about eating some of the candy with his dad (who's been gone for a long time) and it made him smile to eat candy from his childhood

Great gift

Got this for my hubby last year and he loved it. Was lots of old school fun

I'm impressed

I'm impressed this managed to cost north of $70.
I received this case and all joy was immediately extinguished when it was opened and the loot revealed. Cheap toys and marked up candy sold as "old school". I'm just sad that someone I know paid this much for cheap goods when some of the other crates contain non-useless knick-knacks.

Happy kid!

We got this for our twelve year old and he loved it!

Army strong

Bought this for my stepson who is in the Army and had to spend Thanksgiving away from the family...just as a pick me up. He loved it and the games and whatnot are always great-no matter what age you are. I will continue to purchase Man Crates for all the men in my life.