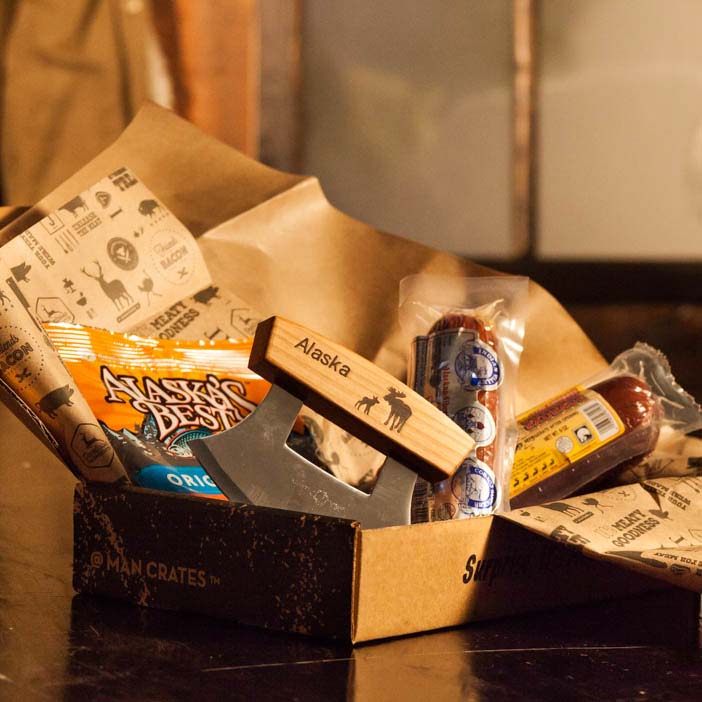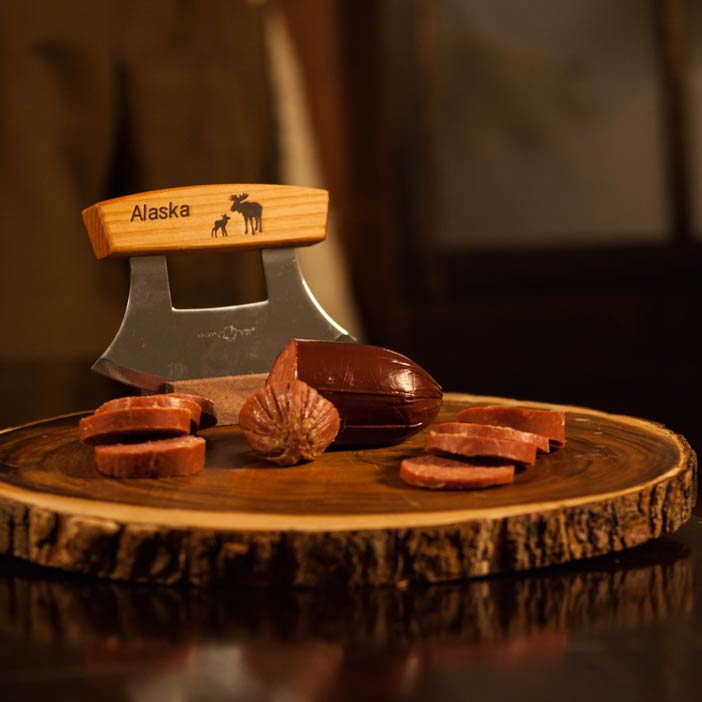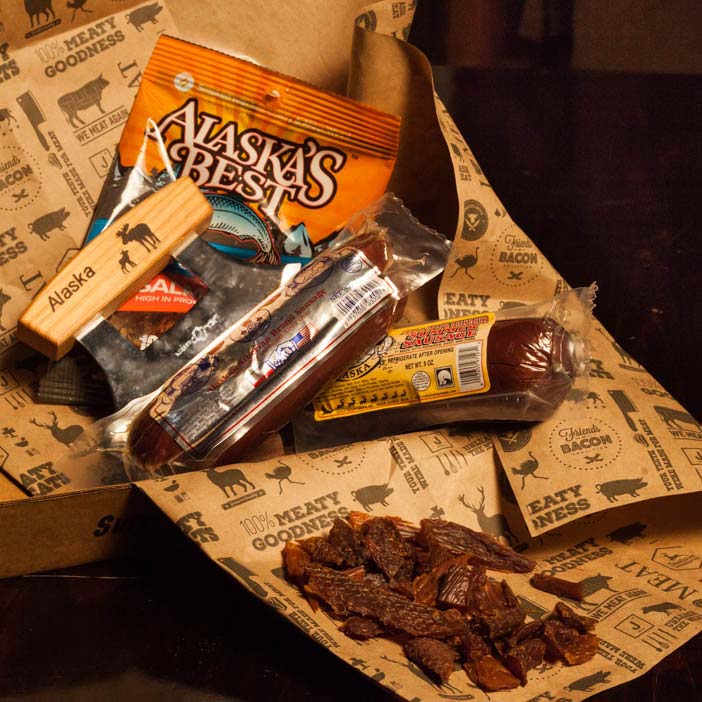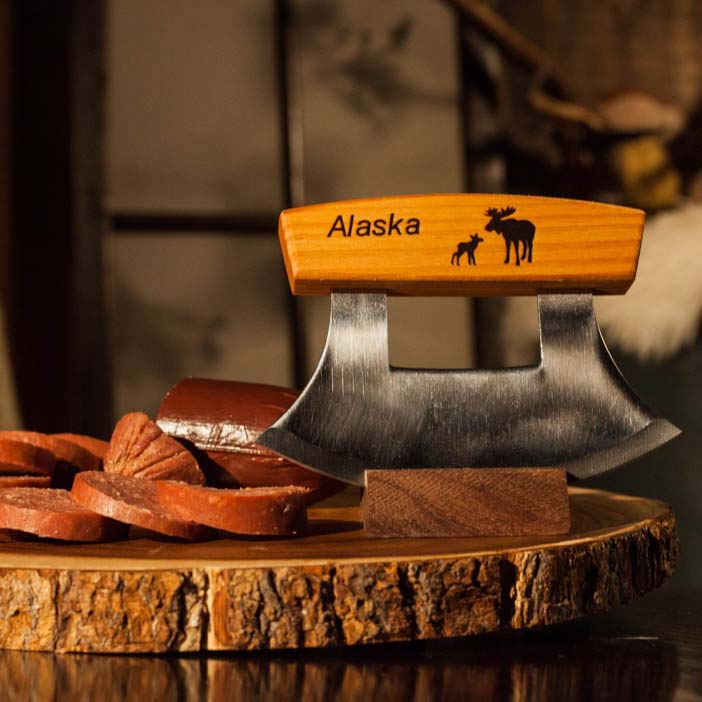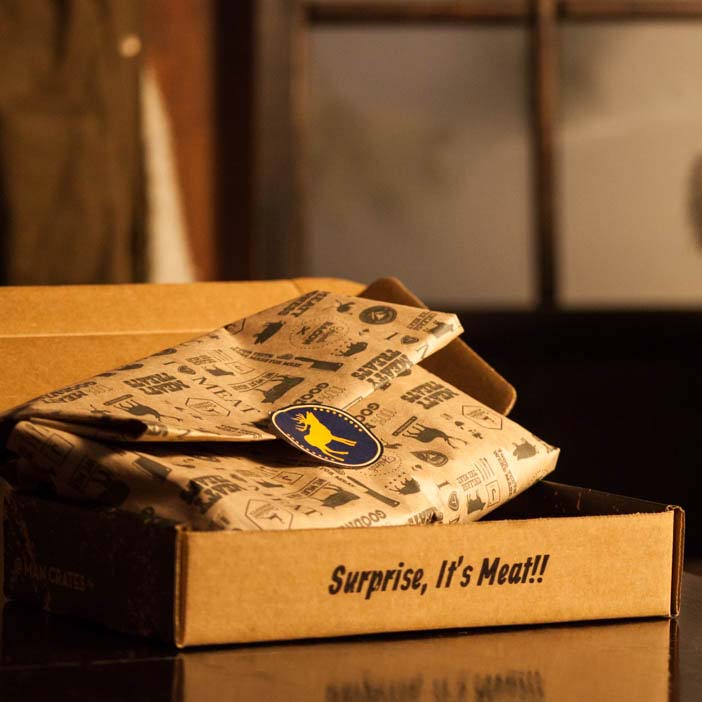 Oh no! Looks like Wild Alaskan Jerkygram is out of stock
Click below to get notified when it's back in stock
Notify Me
In The Box
Alaskan Cutter
Tastes of the Tundra
Reindeer Summer Sausage, 9 oz
Caribou Summer Sausage, 9 oz
Alaskan Salmon Jerky Original, 3 oz
How It Ships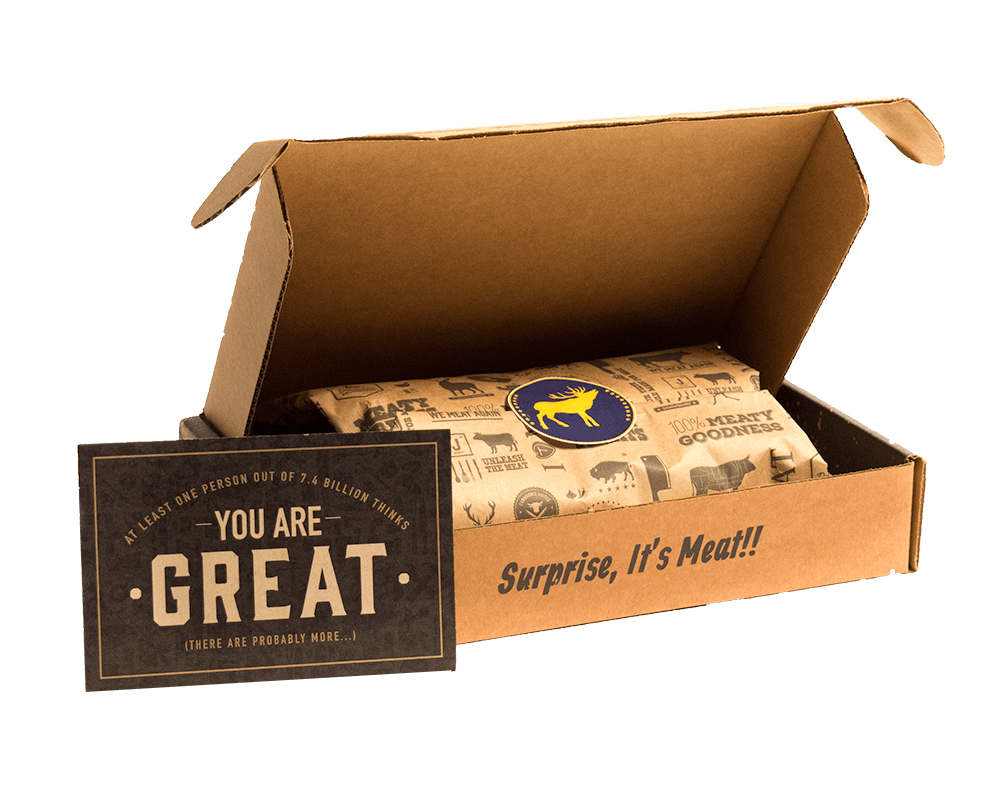 Your meats will arrive in an awesome cardboard box that says, "Surprise, it's meat!"
---
Some shipping restrictions apply

Orders placed by noon PST will ship out same day

Choose your delivery date at checkout
Story
Beasts of the Northern Wild
Some of the tastiest meats on the planet are stockpiled in Mother Nature's Freezer, the Alaskan wilderness. This magical meat land is teeming with herds of free-range, free-graze caribou and reindeer and schools of red salmon marinated and massaged in the rolling rapids of the Kenai River.
While these exotic tundra treats have remained relatively untasted due to Alaska's well known frostbite/bear attack/total isolation tourism nightmare, the Alaskan Jerkygram is bringing the Alaskan backcountry to the forefront.
Along with two summer sausages of quality caribou and reindeer and a pack of intentionally fishy salmon jerky, the Alaskan Jerkygram includes an Ulu, a classic Inuit knife. Traditionally this knife is handed down from generation to generation, so start brainstorming an elaborate backstory of Alaskan ancestry.
The Alaskan Jerkygram braves the elements and brings back the finest flavors of the Alaskan Wilderness.
Customer Reviews
holder for ulu?

Son liked the jerky & sausage even though a wooden crate would have been better. Also, the example shows a holder for the ulu but none in kit. Was a holder for the ulu supposed to be included?

My dad absolutely loved it and ate it in one night!

I was originally unhappy due to confusion with the shipping, but once by dad received it, he loved it! He and my mother ate it all that night. And the knife was a huge bonus, he is still using it!

Perfect little thank-you gift!

My boyfriend visited Alaska and sometimes talks about going back to live there. I found this gem and thought it'd be the perfect thing for him in the meantime, and I was right! He loved it. I'm a vegetarian so sometimes he sacrifices having meat in his meals to eat with me. This was a great compensation and the perfect gift.

Good but not good.

I sent this to a friend for his 79th birthday. He was very pleased with the cool knife and the yummy sausages, and the fun packaging, but the salmon jerkey was very dry and hard. Hoping they will send him something to replace it, kinda pricey for being so bad.

Great

Yes I receive it for my 70 th birthday, i love the salmon jerky and the Alaskan Siberan Brand Saausage