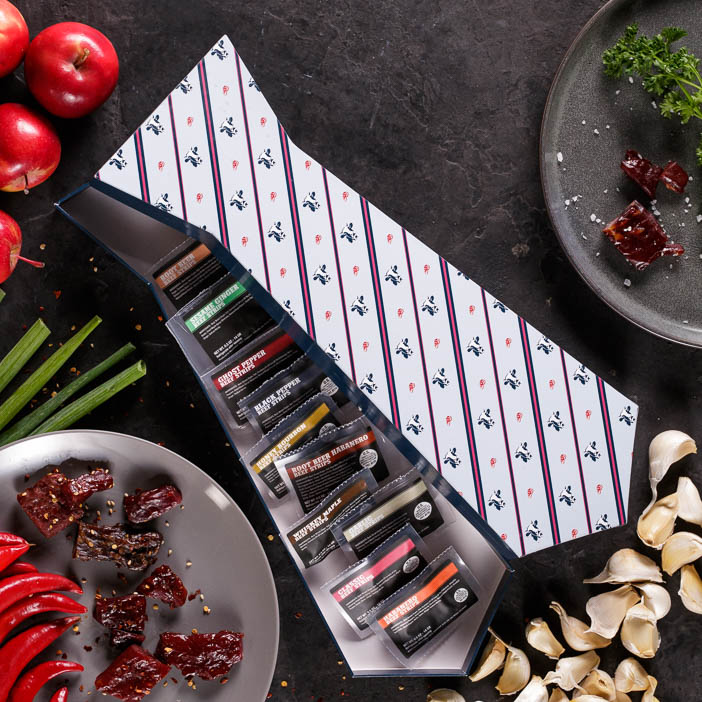 In The Box
10 Man Crates Exclusive Beef Jerky Bits, 5 oz
Habanero
Root Beer
Whiskey Maple
Root Beer Habanero
Ghost Pepper
Black Pepper
Garlic
Honey Bourbon
Sesame Ginger
Classic Flavor
How It Ships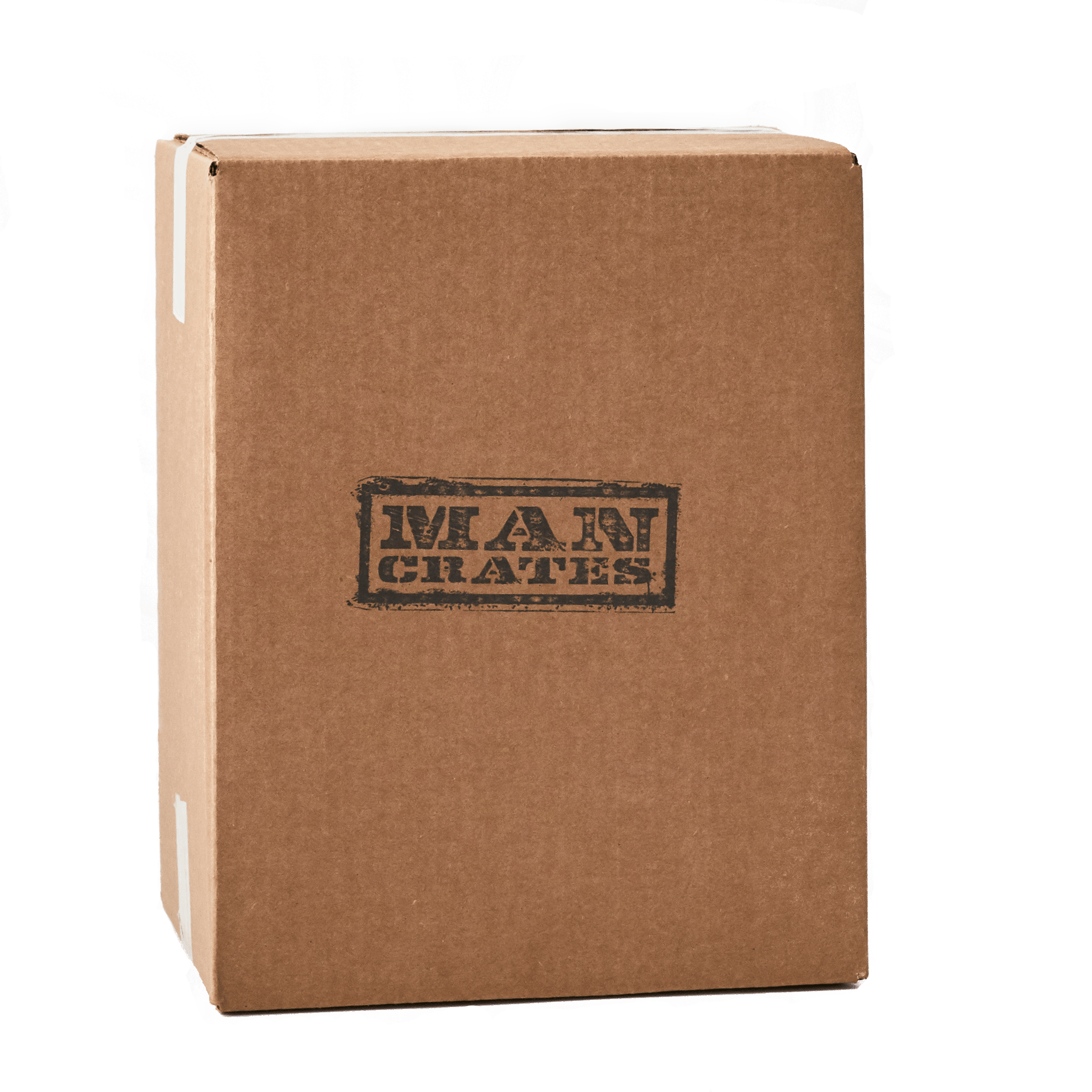 In an awesome cardboard box. Corrugated C Flute cardboard with regular slotted style... told you it was awesome!
---
Orders placed by noon PST will ship out same day

Choose your delivery date at checkout
Story
The Classy Carnivore
We're a lot of things, but "formal" and "fashionable" don't exactly top the list. So when people asked for "tasteful looking ties" as a gift, our brain went one direction with it...jerky!
Give him this stylish and deceptive tie-box, stuffed with delectable, bite-sized meats. We've packaged unique flavors like Root Beer Habanero along with favorites like savory Garlic Beef to tantalize and treat his taste buds.
Class up his jerky game with the Jerky Tie Box, a fun gift that's classier and tastier than most actual neckwear.
Customer Reviews
They loved the ties

Ordered this for my father and father-in-law for Father's Day and both absolutely loved it. So much so that they are interested in finding out where they can get more jerky if it's available for purchase separately. That was some great quality jerky!

Father's day Gift

My dad loves this gift. He wants more of the beef jerky. He said they tasted like little pieces of steak! Love ordering from Man Crates.

Jerkey tie

For $40 you get 10 bite size pieces of jerkey and to me it was kind of a rip off as I was expecting a little more than that for the price.
However the jerkey itself was incredibly tasty nonetheless

Man Crates Response: Hi there,

Thanks for your feedback, I'm so sorry to hear you were disappointed in the Jerky Tie Box you received. We do our best to offer a great value for the price and I'm sorry to hear we missed that mark for you!

We offer a 100% satisfaction guarantee on all of our products, so when you're not happy, we're not happy! We'd be glad for the opportunity to work with you to make this right by offering a discount or to arrange a cost free and hassle free return pick-up at the location of your choice if you just want a full refund. Give us a call at 866-902-7260 and we'll do our best to make you happy, thanks!

-Team Man Crates

Great Product, Unreliable Shipping

Dad loved the gift! Thought it was very clever. Unfortunately it arrived 3 days after my selected delivery date. I ordered this product on 6/8 and selected 6/20 delivery, but it was delivered today 6/23. I called customer service and they were quick to reach out to the shipping company, however after admitting to a delayed delivery, they gave me the incorrect new delivery date of 6/22. When it still wasn't delivered I checked the tracking info and it was pushed back another day. Mancrates did refund the $13.09 shipping cost which I am appreciative of, but man it was a bummer not being able to surprise my dad with this on Father's Day. Still a cool gift though!

Man Crates Response: Hi there,

We are so sorry to hear about your order! I've looked into your order and your contact with us and am disappointed to see that there was an unavoidable delay caused by our shipping carrier. We'd love to deliver all of our products by hand, especially when such important days are on the line, but we're unable to.

Unfortunately delays do happen while packages are in transit, and when those unavoidable delays happen we do our best to try and help make things better. We feel awful that your order was delayed in shipment, and we're happy to work with you to resolve this issue to your satisfaction. If there's anything we can do to help make this right, please give us a call at 866-902-7260. Thanks!

-Team Man Crates

Product description needs to be clearer.

My dad is a big lover of jerky and spice so when I saw this I thought it would be perfect for him 10 5 oz things of jerky with several being spicy. The issue came when I saw him unwrap and open the tie up. The product description says "10 Man Crates Exclusive Beef Jerky Bits, 5 oz" I took this to mean each individual package of jerky was 5 oz not the total amount of jerky adds up to 5 oz. I would suggest changing the description to something like "10 Man Crates Exclusive Beef Jerky Bits, 0.5 oz A Bit". I will admit he did like the taste of the one jerky bit he has tried so it will get a star for that, but for $40 I think there are much better alternatives.

Man Crates Response: Hi there,

Thanks for your feedback, I'm so sorry to hear you were disappointed in the Jerky Heart you received. We do our best to offer a great value for the price and I'm sorry to hear we missed that mark for you!

We offer a 100% satisfaction guarantee on all of our products, so when you're not happy, we're not happy! We'd be glad for the opportunity to work with you to make this right by offering a product replacement, discount, or we can arrange a cost free and hassle free return pick-up at the location of your choice if you just want a full refund. Give us a call at 866-902-7260 and we'd be happy for the opportunity to make this right ASAP!

-Team Man Crates