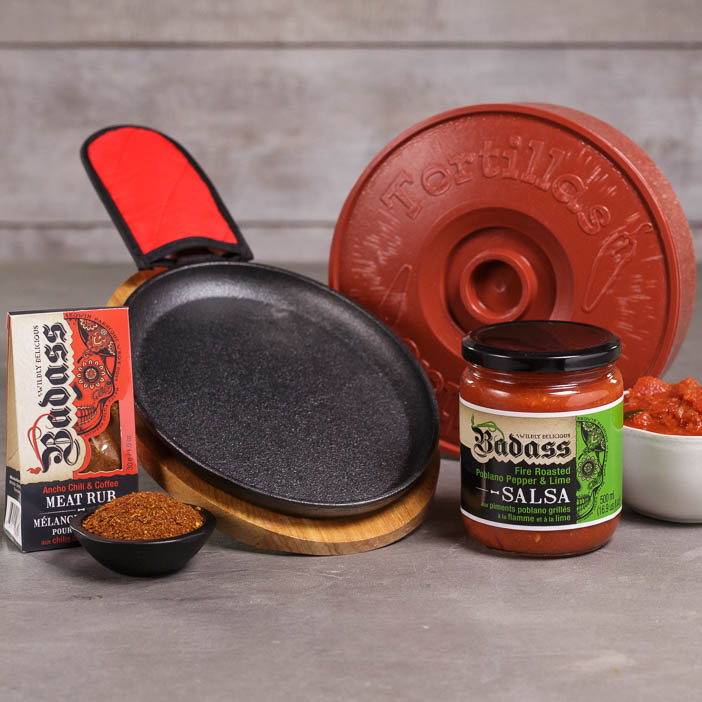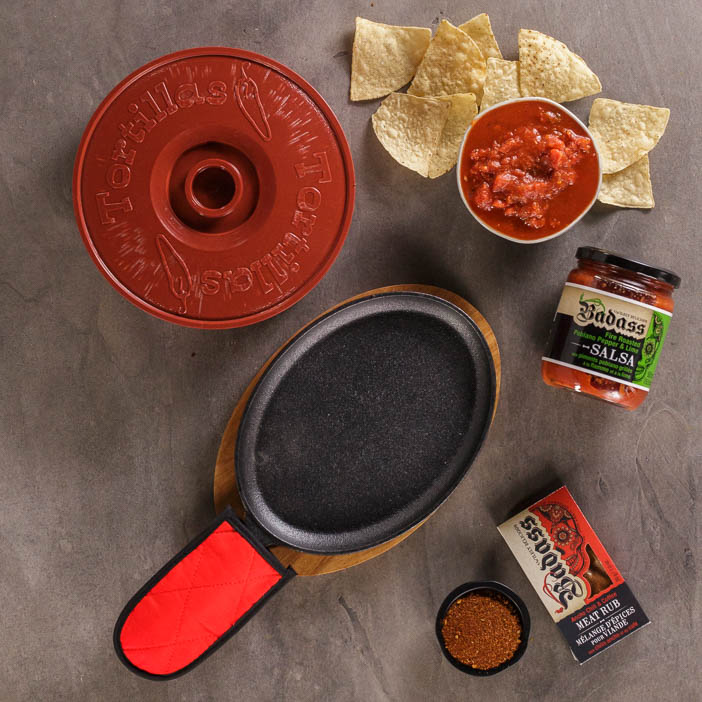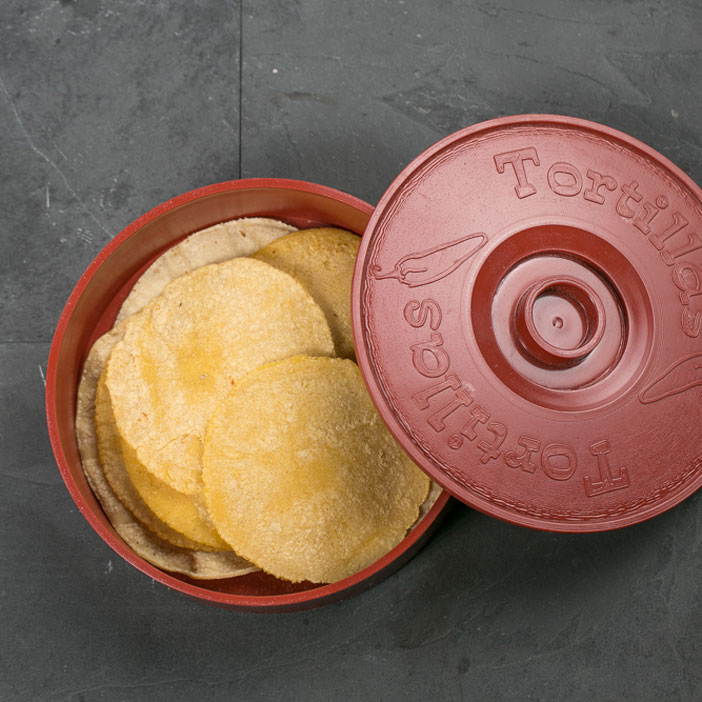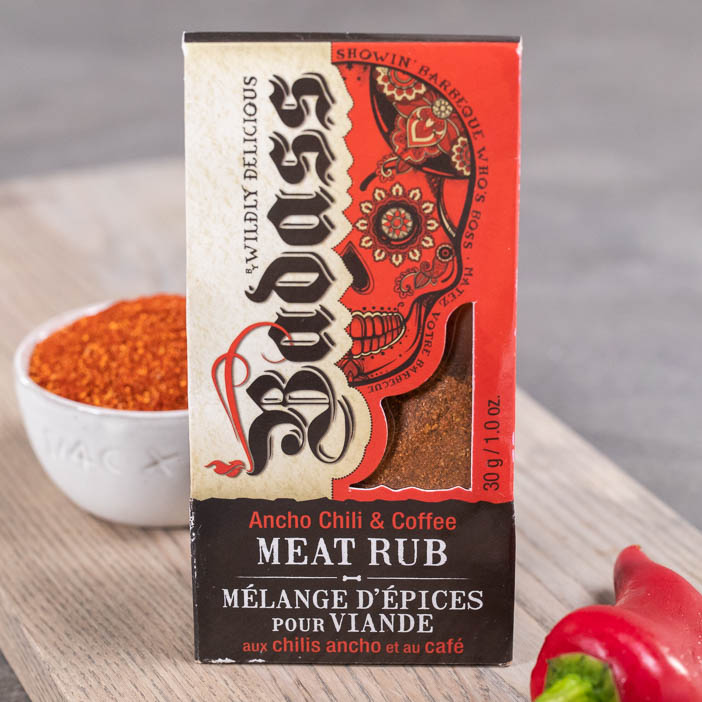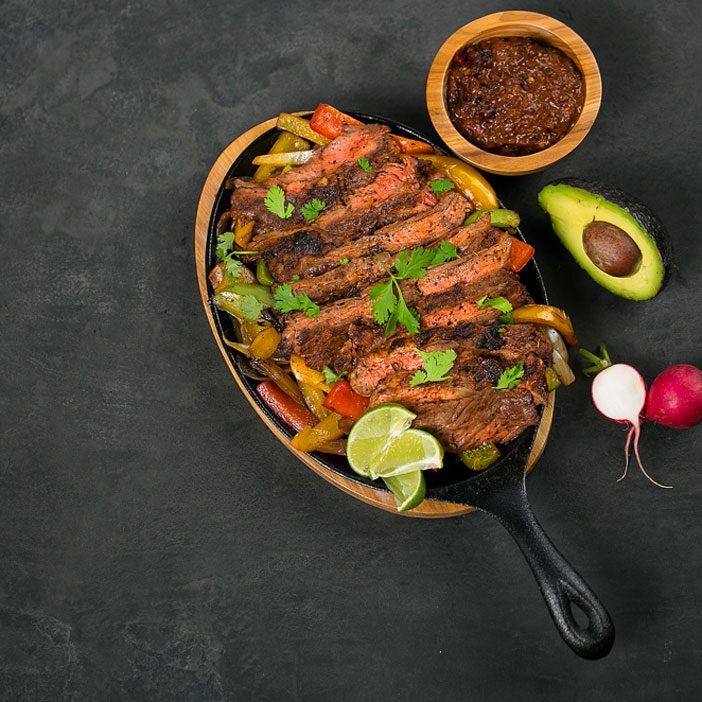 In The Box
Cast iron Fajita Pan
Wooden platter
Handle mitt
Tortilla Warmer (9")
Badass Ancho Chili & Coffee Rub, 1 oz
Badass Fire Roasted Poblano & Lime Salsa, 16.9 fl oz
How It Ships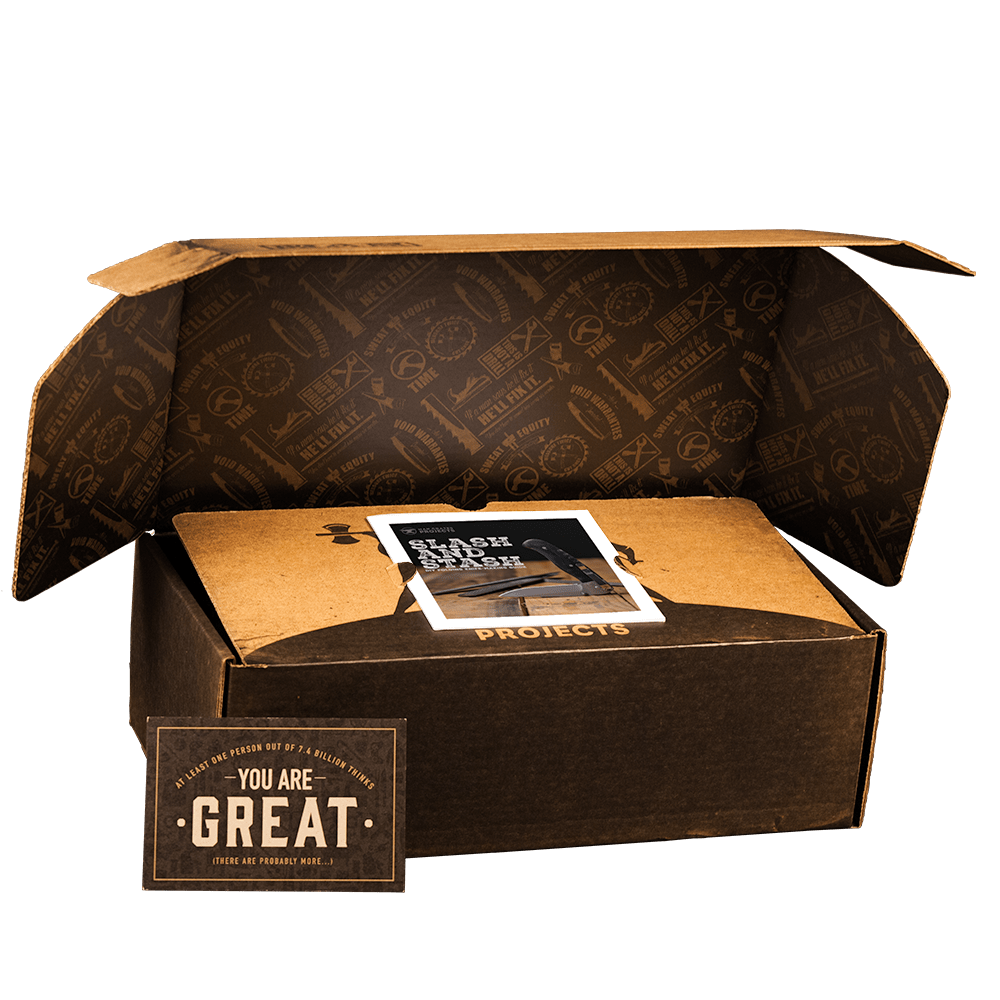 In an awesome cardboard box. Corrugated C Flute cardboard with regular slotted style... told you it was awesome!
---
Orders placed by noon PST will ship out same day

Choose your delivery date at checkout
Story
Tex-Mexcellence
There's just something mesmerizing about fajitas. The way they come out of the kitchen, fully demanding your attention. Dancing plumes of steam and splashy sizzles so intense, even the most engaging dinner conversations come to a screeching halt as heads turn, eyes gaze, and mouths drool.
Now he can experience that same culinary phenomenon right in his own kitchen with the Fajita Making Kit. It comes with the cast-iron cookware, south-of-the-border spices, and recipes he needs to prep a fajita fiesta that will have taste buds around the table doing the Cha Cha.
Once the cantina down the street catches a whiff of his fajita ferocity, they'll try to recruit him to join their cocina.
Fare with Mucho Flare
The Old Mountain Fajita Pan Set includes cast-iron cookware, a wooden platter, and a handle mitt. Because an authentic fajita must slide onto the plate in style.
Subtlety is not a good quality in rubs and salsas. That's why we've included Badass Ancho Chili & Coffee Rub and Badass Fire Roasted Poblano & Lime Salsa.
A fajita chef is only as good as his last tortilla. The classic 9" Tortilla Warmer holds in the heat to keep the whole stack fresh, fluffy, and ready to roll.
Customer Reviews
Great, delicious

Got this for my father-in-law for father's day mostly for the kit and hoping the seasoning and salsa would be good. It was delicious and everyone loved it. We're now looking for a place to buy that rub separately.

I misunderstood...

I realize that it clearly says that it ships in a cardboard box, but I was still expecting a crate inside the box. This doesn't come in a crate. I'm really bummed. I thought the whole point of Man Crates was for the recipient to break into the crate. This was surprisingly disappointing.

Man Crates Response: We are so sorry to hear you are disappointed that your order did not come in a crate. We do have a few items that we sell which do not come in crates. The crates are our the base of our brand and excellent gifts. However, we choose not to limit such glorious gift-giving to just wooden boxes. We offer other legendary gifts such as our: fresh-from-the-front-lines Ammo Cans, or our insanely-delicious JerkyGrams, and most recently our line of (If-You Want-Something-Done-Right-You-Have-To-) DIY project kits.

We do try our best to make it clear that certain items do not come in crates. Repeatedly on the site we make mention of this, specifically under the "add to cart" button we have written "This product ships in a box (NOT A CRATE) " as well as including a picture of how the item ships. In the product description we also have listed "Delivered: In an awesome cardboard box (NOT A CRATE)" shown on the page. On the cart page before you process your order we have also included this message and another picture of how the items ships as well. Sorry if you missed any or all of these signals, we've done our best to try and give you a heads up!

We're sorry for any confusion resulting from the purchase that was thought to be coming in a crate. As always, we have a very generous return policy and if you wish you can return the item for a complete refund for any reason.

The bottom line is, we're not happy until you're happy, please let us know if there's anything I can do to turn this around! Also, please let us know if you would like to start up a return or if there is anything else I can help with. Feel free to give us a call at 866-902-7260 or drop us a line at guys@mancrates.com. Have a good one!

-Team Man Crates