In The Box
Great American Rubs
George Srirachington
Thomas Jeffersalmon
Aburgerham Lincoln
Theodore Roastevelt
How It Ships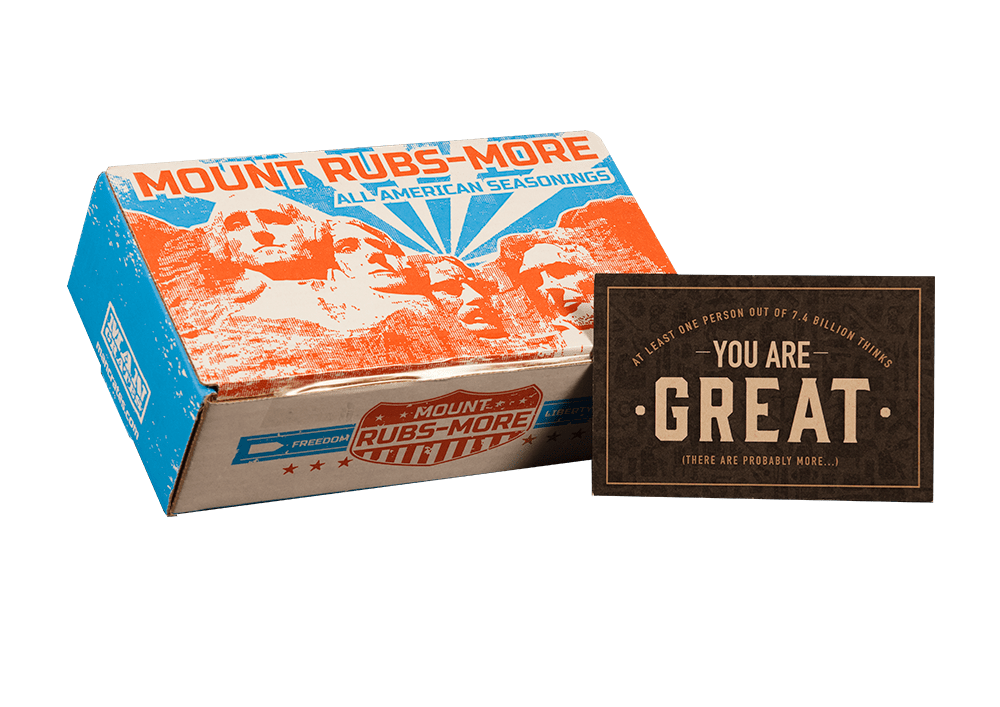 In a patriotically presidential cardboard box.
---
Orders placed by noon PST will ship out same day

Choose your delivery date at checkout
Story
This Blend was Made for You and Meat
Sure, Stonehenge and the Pyramids are impressive...if you like shapes a toddler can draw.
Only American artistry could carve the intricate contours of Mount Rushmore with handfuls of dynamite and elbow grease. Yet, too many take the granite for granted, so we're bringing the patriotic pilgrimage to you.
Mount Rubsmore honors our homeland heroes with the most noble and satisfying accolade: All-American Seasonings.
The Faces of Freedom and Flavor
George Srirachington: Hail to the Chef
When he wasn't sending Redcoats packing or raining down destruction upon cherry trees, George Washington was perfecting the zestiest chili spice of the new free world. Even when mass chili consumption melted his teeth, he whittled himself wooden dentures so he could keep snacking down that sweet, spicy goodness.
Thomas Jeffersalmon: Long Tom Silver
President Jefferson solidified his reputation as a devout sea-foodie when he ponied up a cool 15 million to purchase New Orleans, the Seafood Capital of America. Sure, he had to unexpectedly double the size of the country and make a deal with the French, but love and appetite will make a man do crazy things.
Aburgerham Lincoln: The Gettysburger Address
Four score and seven beers ago, our forefathers laid down this great seasoning, conceived in liberty, and dedicated to the proposition that all burgers should be tasty. We solemnly dedicate this grill and strongly resolve that these cows shall not have died in vain.
Theodore Roastevelt: The Rub Rider
Teddy Roosevelt preserved over 230 million acres of land because he unabashedly loved animals...especially covered in his signature meat rub. A cattle rancher, taxidermist, and safari hunter, he was famously known to "speak softly and carry a big stick" so he could surprise, hoist, and roast whatever dinner dared cross his path.
Customer Reviews
Husband loved!

We love the spices! The box came in perfect condition & love the "Mount Rushmore" theme.

Love these spices!

Bought these last year back for more. Fantastic packaging and tasty spices!

Great Flavor and Labeling

Got this for a close friend for his Birthday the first time around, and now bought it for my sister in law for Fathers Day since shes a single mom who likes to grill. The seasonings are great rubs, and well packaged. A perfect last minute gift for anyone.

And Mom Gets - The Thumbs Up!

I was looking for an Easter gift for my son, who is in the
Air Force. And it's very apparent that he's past the Easter basket phase of life! Lol .. He loves to cook and this set of rubs was the perfect find! When he received it, I got the thumbs up and a huge thank you from him! I'll look forward to shopping again with ManCrates!

delicious

love the package love the spoof on the Presidents but most of all love the spices! My husbands Christmas gift for my son is a total winner. They are all really good but the Theodoroastavelt is my favorite! Definately gonna have to restock our supply.