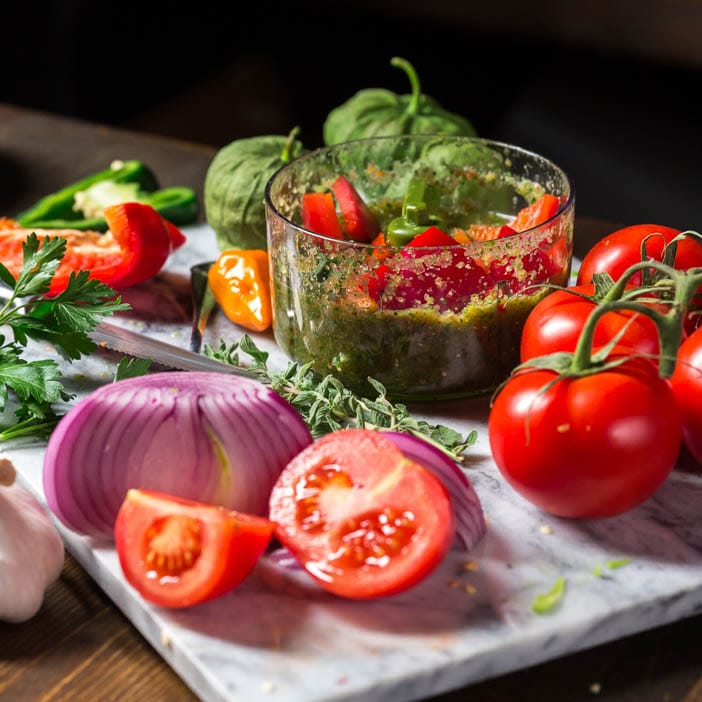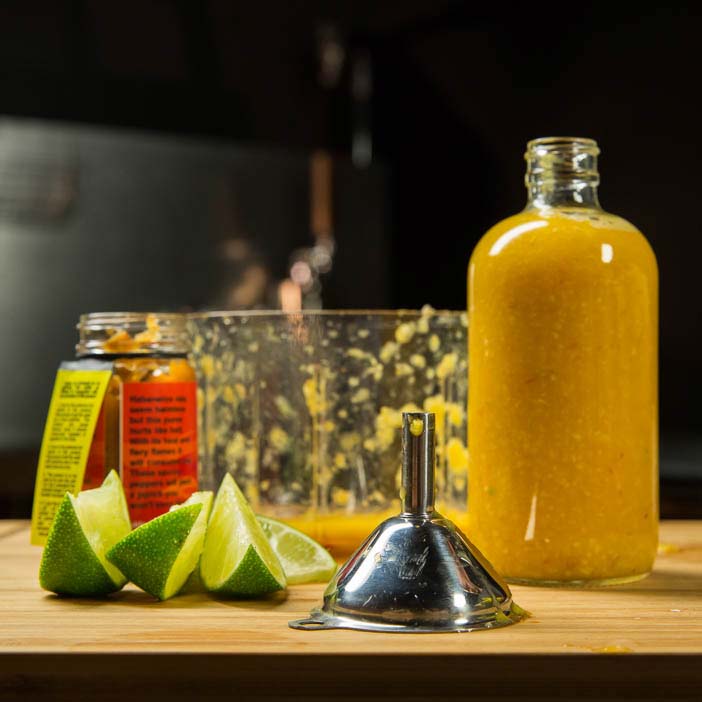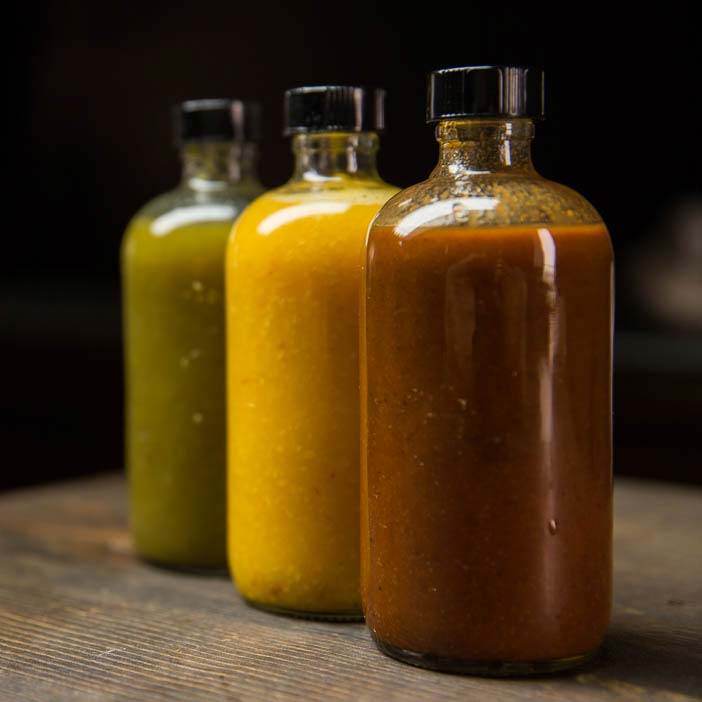 Oh no! Looks like Hot Sauce Making Kit is out of stock
Click below to get notified when it's back in stock
Notify Me
In The Box
Carolina Reaper Pepper Puree, 2 oz
Naga Morich Pepper Puree, 2 oz
Habanero Pepper Puree, 2 oz
Pull-Handle Food Processor
Stainless Steel Funnel
Chemical Resistant Gloves
3 Boston Round Bottles, 8 oz
Official Man Crates Instruction/Recipe Book
NOTE: Hot Sauce Making Kit does not ship in a crate.
How It Ships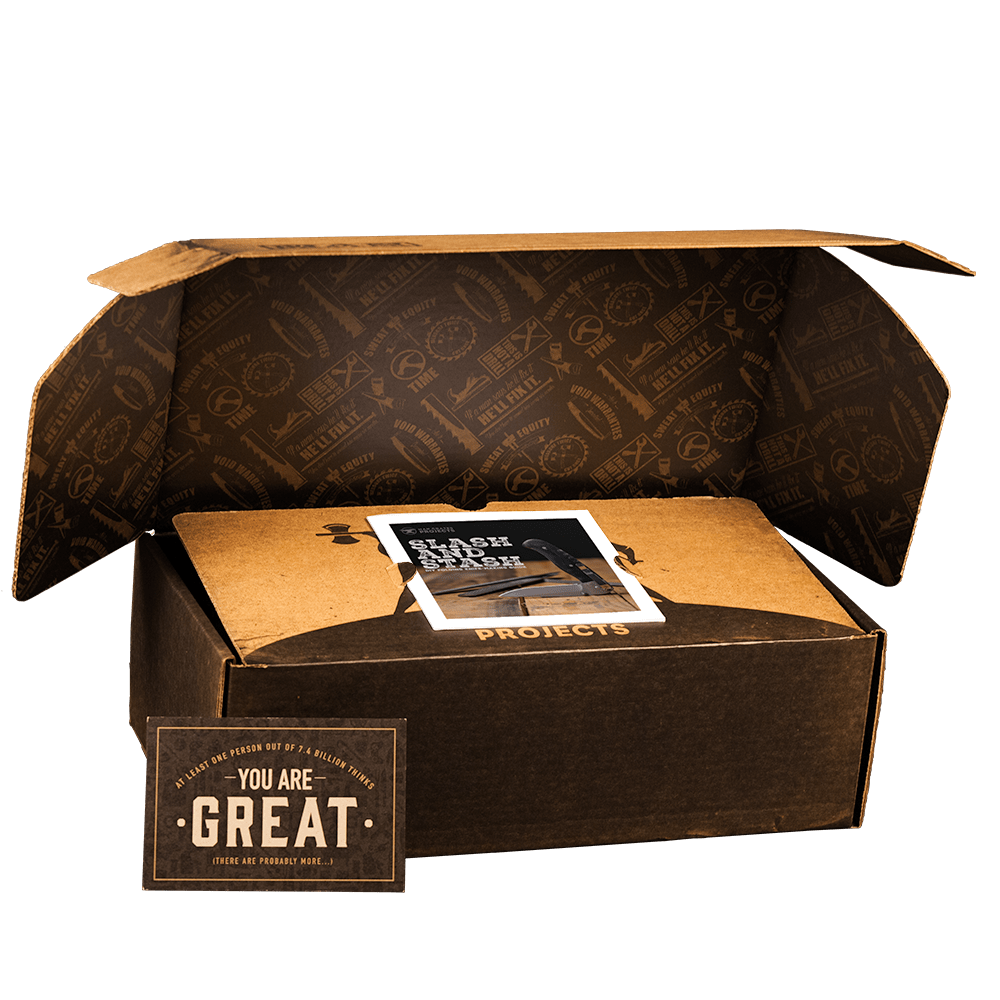 In an awesome cardboard box. Corrugated C Flute cardboard with regular slotted style... told you it was awesome!
---
Orders placed by noon PST will ship out same day

Choose your delivery date at checkout
Story
His Own Worst Enemy
Men are a peculiar type of proud.
A man could ravage the top few layers of his tongue with blistering heat and devolve into a mess of sweat and tears on the kitchen floor, and still, the most painful part of that experience would be knowing it was another man's hot sauce that put him there.
The Hot Sauce-Making Projects Kit is a do-it-himself, gloves-on experience for the high-stakes heat-seeker who refuses to let any other man get the best of him. He may scorch his tastebuds into oblivion, but at least he'll have his dignity.
Hell's Garden
The heavy-hitting hell-raisers in these hot sauce concoctions are god-forsaken pain pepper purees known as the Tasty Trifecta of Terror:
The Carolina Reaper (avg. 1.6 million SHU): This devilish crossbreed of the Ghost Pepper and Red Habanero is the hottest pepper in existence and tastes like tropical fruit covered in military-grade pepper spray.
The Naga Morich (avg. 1 million SHU): This Bangladesh badboy is related to the Bhut Jolokia Ghost Pepper and exhibits a tart flavor, smoky undertones, and blistering heat.
The Habanero (avg. 0.5 million SHU): One of the hottest peppers in the world features a sweet, fruity flavor accompanied by a harsh, swelling inferno.
Get To The Chopper!
Our chopper of choice is the hand-pull food processor. It combines streamlined Swiss engineering with all those years of starting his dad's old lawn mower, resulting in smooth, smoldering hot sauce.
We've included a corrosion-resistant funnel and chemical proof gloves for safety, and three Boston Round Bottles for style. The Official Man Crates Hot Sauce Making Guide is a culinary masterclass, complete with three superb starter recipes and slightly patronizing instructions.
For the man brimming with hot sauce hubris, put the fiercest peppers on the planet in his hands and let him fix up his own fate with the Hot Sauce Making Kit.
Customer Reviews
Hot Sauce Making Kit

My daughter gave me this hot sauce kit for my birthday and it is awesome. I love hot sauce, the hotter the better, but the sauce must have flavor not just heat. This kit was the perfect balance of heat and flavor. The recipes included taste great and you can adjust the heat to your liking. You can easily modify the recipes by substituting other fruit like apricots. I would highly recommend this kit for anyone who loves hot sauces.

Perfect!

For starters, I ordered this admist corona virus and thought my order would be late. In fact in arrived a day early. Nothing was broken as it contained glass. It was all packed very nicely. Got it for my fiancé's birthday and I know he will be excited because he loves hot sauce. I even added a cute note to it and it arrived on a nice card! Definitely worth the money!

Hubby says I'm the Best wife

Bought this for my husband for Christmas. It arrived on time no delays or damage to packaging. It took him and his coworker to open the crate. Both of them sweating. Hubby loves his crate gifts. He took the jerky samples to work to share with his coworkers. They think I'm the bees knees! Hubby got mad at the crate and threw it away but I have the video. RIP Man Crate! Great gift!

Mango mint super hot

I was going to a New Years Eve party and I needed to bring something. I said I would bring my own homemade hot sauce. Mangos were in season and I got mint , peppers and lime. I made a tropical mango hot sauce with habanero and scorpion heat. It was awesome. I brought some pineapple salsa and people could heat it to their likening. Kit is easy to use and the products and ingredients are top notch.

I love it

My order has arrived just in time and in perfect condition, thank you very much