In The Box
Dash Mini Waffle Maker
Central Milling Buttermilk Pancake & Waffle Mix (2 lbs)
Runamok Syrup Set of 4

Sugarmaker's Cut (2 oz)
Bourbon Barrel-Aged (2 oz)
Merquen (2 oz)
Smoked Pecan Wood (2 oz)

Whistle Stop Chicken Batter Mix (9 oz)
Bacon Press & Egg Ring Set
How It Ships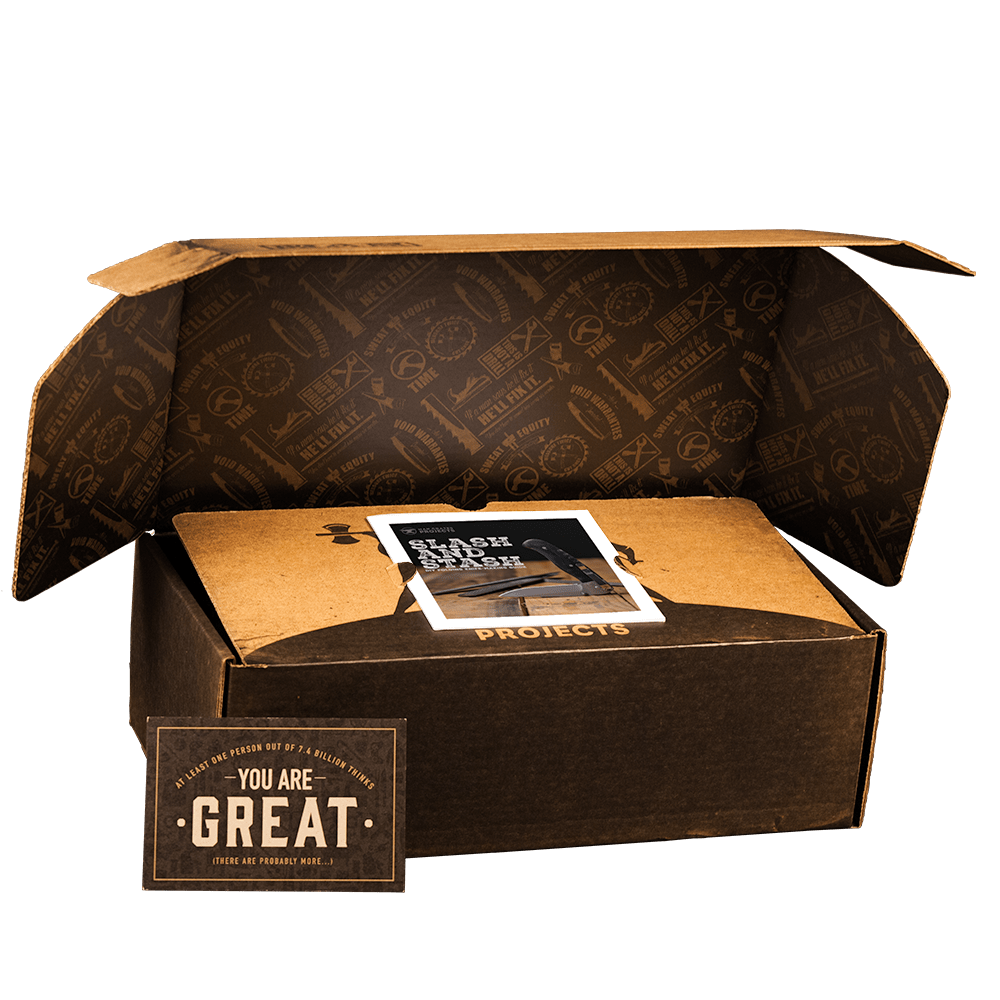 In an awesome cardboard box. Corrugated C Flute cardboard with regular slotted style... told you it was awesome!
---
Orders placed by noon PST will ship out same day

Choose your delivery date at checkout
Story
WAFFLE HIM UP
Breakfast is the only meal that can be eaten any time of day without question. Ever heard of brunch? Breakfast for dinner? Breakfast is the most important meal of the day, and sometimes it's the only meal of the day.
Boasting a mini waffle-maker, waffle and pancake mix, four delicious syrups, and a heaping bag of chicken batter mix, the Breakfast Making Kit has everything a guy needs to pound down a protein-packed breakfast for every meal.
Get him the Breakfast Making Kit to satisfy his sweet tooth. And his savory tooth. And all the other teeth, just to be safe.
Bullet Points:
Created custom for Man Crates, this syrup collection from Runamok was designed from the ground up to complement the ultimate breakfast.
Made of organic 100% wheat flour, organic sugar, and organic buttermilk powder, this Buttermilk Pancake and Waffle Mix is totally GMO free, and organically delicious.
Crafted in the south with just the right amount of spice, this chicken batter mix from Whistle Stop is perfect for chicken, country fried steak, and anything else you can fry. Which is pretty much everything.
This miniature waffle maker is stylishly compact, making it easy to store, and easier to use. It heats up in mere minutes, so his waffles will be ready whenever he is.
Customer Reviews
5 stars for customer service

The initial kit is very adorable! Thought it would make the best Father's Day when it did not come as satisfactory as I had liked, I called customer service and the gentleman immediately took action! I feel so secure and re-ordering with this company! I am now eagerly awaiting my new kit could not be more excited thank you again man crates!

Awsomesauce

I sent this to my cousin and her husband as a quarantine treat. They raved about it. Said the waffles made with the included batter and the chicken cutlets they fried with the chicken coating were the best they've ever had. They loved it. The box was missing the egg cookers, but they said the rest was so good they didn't care.