In the Box
Make Your Own Wine Kit Includes:

A Guide to Making Wine
Funnel
Racking Cane
Rubber Stopper
Transfer Tubing
Tubing Clamp
Airlock
1 gallon glass jug (carboy)
Cabernet Sauvignon Juice with Yeast, Oak and Additives
5 Zork Bottle Closures
Sanitizer

NOTE: Winemaking Kit does not ship in a crate.
How It Ships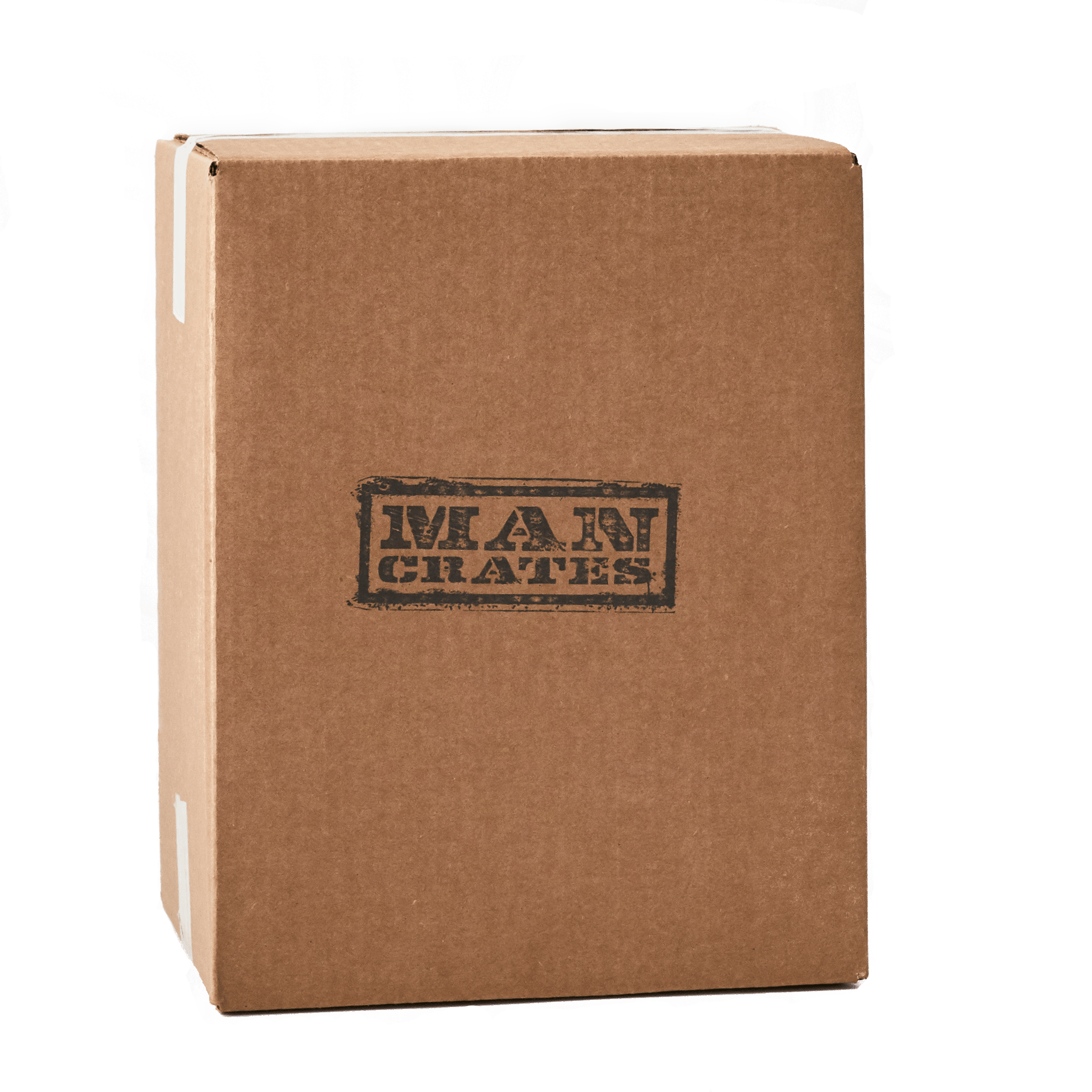 In an awesome cardboard box. Corrugated C Flute cardboard with regular slotted style... told you it was awesome!
---
Some shipping restrictions apply

Order in the next 6 hours and it ships today

Choose your delivery date at checkout
100% Satisfaction Guarantee
We think our products are awesome, and we guarantee you will too. If you're unhappy with your purchase or experience for any reason, we'll make it right and give you the kind of service you'll want to high-five us for.
Seriously, just call or text us at (866) 902-7260 or shoot us an email at guys@mancrates.com.
Story
Make Wine All the Time
Confession #1: We were wrong about wine. Turns out, it's not just "a waste of perfectly adequate whiskey barrels." It's actually pretty good.
Confession #2: We don't know how to explain that drinking it makes us feel like sophisticated grown-ups and giggly schoolkids at the exact same time, so we just use words like "opulent" and "austere" and hope nobody asks any follow-up questions.
Confession #3: The only reason we're confessing all this publicly is because we're a little loose-lipped from drinking wine all day. See Confession #1.
Confession #4: We learned firsthand that there's a lot more to making your own wine than just stomping on grapes and not cleaning up the mess for a month. Who knew? Well, the genius fermenters at Craft A Brew know, and that's why we're trusting them to supply the expert equipment and education for making deep, full-bodied, small batch wine at home.
Fermentation Favorites
This glass carboy makes one gallon of wine at a time. That's approximately five 750 mL bottles, which can last over two weeks of dinners or two episodes of The Bachelor.
The kit features vineyard-pressed cabernet sauvignon juice with yeast, oak, and select additives. It'll smell like his kitchen moved to Napa Valley.
The included Guide to Making Wine is easy to follow, even if he's spent the day making wine disappear.
Customer Reviews
Awesome Wine

I ordered this for my daughter for Christmas since she makes her own wine. She loved it but when I went to ship to back home to her the cost was almost as much as a new crate so I kept it and sent her a new one directly. I just finished bottling my wine and it was awesome! Took it to a party and it was enjoyed by all.

On a side note, I have ordered several things from ManCrates. Some come in crates, some do not and when you read the description, it is clear. Best gift so far had to be the pinata with the wheel of weaponry. Such a man thing.

Crate or no Crate its the love and thought behind it

I ordered two of their items for my husband for x-mas this year. He is one of those that is extremely hard to buy for. I let him have his items early where it was just the two of us. One was in a crate and the other was not. I didn't order his presents based on whether or not it comes in a crate. I ordered based on his taste. He was extremely happy with the knife kit(with NO crate) and the decanter set engraved with his name and initials(with crate). It didn't matter to him that he only got one crate. It was the idea and love behind the gifts and the actual order that he was so excited about. HE LOVES HIS GIFTS crate or no crate. That is just petty that people are upset about not getting a crate instead of the gifts itself. I would definitely buy from this site again.

Man crates not in crate

Wow!! How disappointing! I ordered this for my husband for father's day, he even hinted to wanting it because of the fun of the crate. How embarrassing and disappointing toboth of us to open this and there be NO CRATE! I would have just ordered a wine making kit on Amazon... how does a website called MAN CRATE have items not in a crate??? Thanks for ruining my surprise for my husband... :(

FANTASTIC FATHER'S DAY GIFT!

Sent it for Father's day to a dad that is VERY hard to please. When he called to thank me he sounded like a gitty school boy who couldn't wait to get this project started. He always loves drinking LOTS of wine...now he can't wait to try to make it. Guess we will find out in 2 weeks how it taste...fingers crossed.

Disappointed!!!

I expected this gift to come in a crate! That's half of the fun of ordering from Man Crates. Read the entire description. Very deceiving!