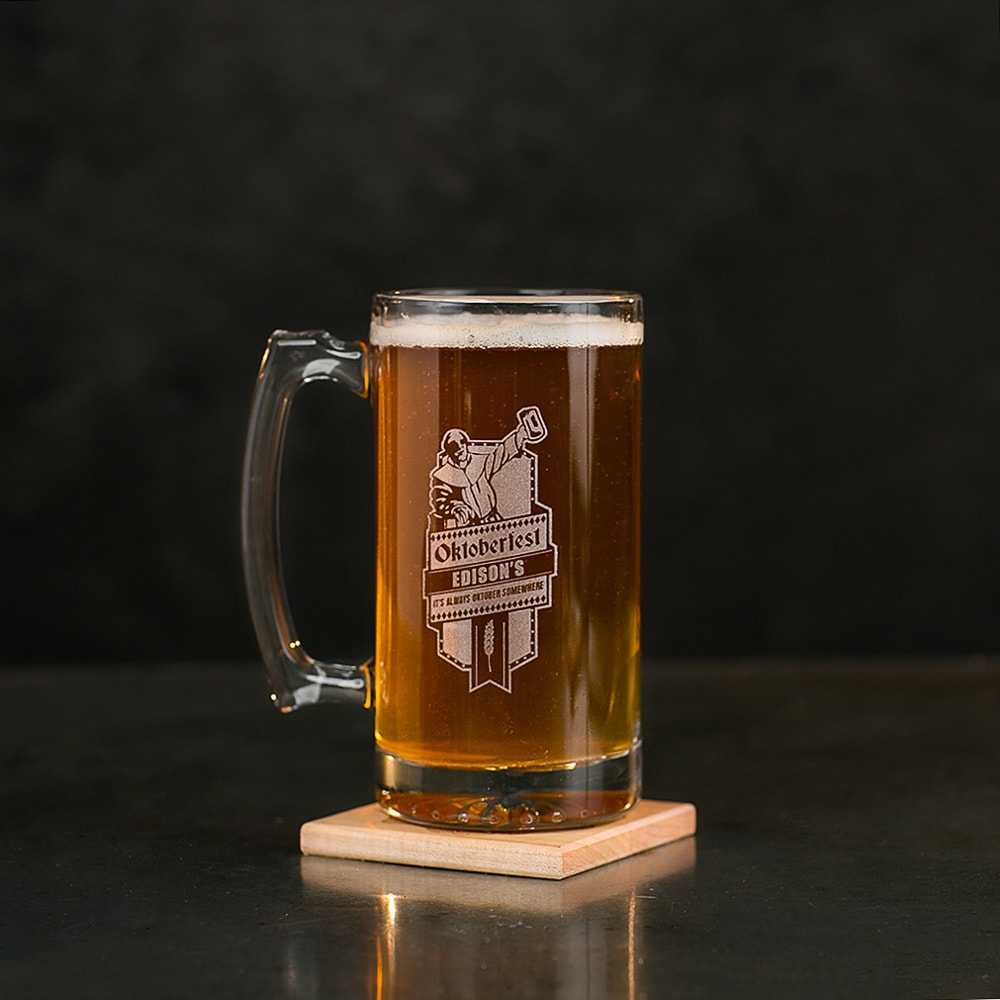 Personalized Oktoberfest Stein
In The Box
Personalized Oktoberfest Stein
2 Oktoberfest-Themed Coasters/Bottle Openers
Saverne Artisanal "Craft Beer" Kraut (16 oz)
Bison Holsteiner Summer Sausage (8 oz)
Inglehoffer Stone Ground Mustard (10 oz)
East Shore Pretzel Bites
NOTE: Personalized items require two business days of processing time.
How It Ships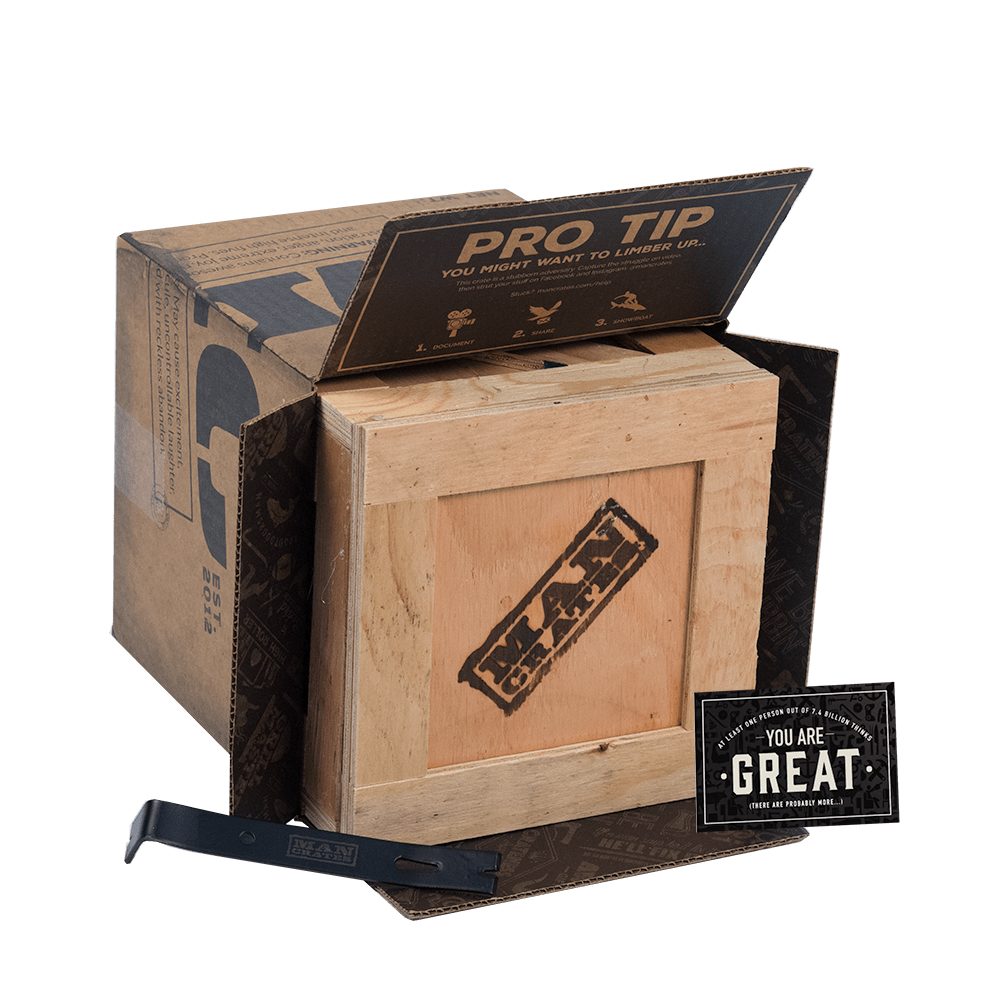 In a sealed wooden crate with a laser-etched crowbar.
---
Some shipping restrictions apply

Choose your delivery date at checkout
Story
Oktober State of Mind
Oktoberfest, the 17-day stein-clanking, pretzel-munching pride and joy of Germany, is actually very American when you think about it. Nothing screams "Freedom!" louder than gorging one's self on another culture's delicacies while drinking liters gallons of beer in a foreign land with friends and festive strangers.
In true American fashion, we've decided to do Oktoberfest better than the people who invented it by making it last longer--much longer. The Oktoberfest Man Crate is America's greatest innovation: 365 Days of Oktoberfest.
Der Biermeister
Say what you will about Germans, their outlandish haircuts, and complete inability to comprehend sarcasm (and believe us, we do), but those Deutschlanders sure know how to appreciate a good brew. The glass stein is reserved for the no-nonsense beer drinker.
Forever unite yourself with the Spirit of Oktober by etching your name into a glass Oktoberfest stein. And for the record, just because this mammoth of a mug can hold enough beer for two does not mean you're obligated to share. Your name is permanently engraved on it for a reason.
The crate also contains two Oktoberfest stein-sized coaster/bottle openers. One to rest underneath your personalized stein, and another to get your reload primed for pouring.
Snacktober
It's not Oktober unless you're importing Germany's finest traditional foods like Bavarian salami and summer sausage, pretzels, and Inglehoffer Stone Ground Mustard straight into your chomper chamber. And if you're looking for "authentisch Sauerkraut", Saverne's Artisanal "Craft Beer" Kraut is as authentically German as a jolly mountaineer prancing around in Lederhosen yodeling David Hasselhoff's "Looking for Freedom".
Keep Oktober as your state of mind all the time with the Oktoberfest Crate.
Customer Reviews
Hard to buy for...

I love my husband but he is very hard to buy for. He likes practical gifts. He is obsessed with the mustard that is in this crate and he went ABSOLUTELY Wild for the stein. He hasn't stopped thanking me for it. When he opened it, his eyes lit up like I had never seen before. This is the best gift I cold have ever gotten him. He loves the sauerkraut. I ate the pretzels before he could get to them...ok I gave him a few but he just loved everything about this gift, including the crate. Which he has found a way to reuse (which makes him even happier) and he has even gone on the site and bought something for his brother-in-law for his birthday. Which by the way he loved.

It's a gift inside of a gift!

This was the BEST Christmas thanks to Man Crates! My Husband and my Kids all LOVE them! I have so much to say about these gifts - and this company - they are so incredible! Hailey is amazing, and Customer Service is the BEST!!! Here are a couple of suggestions that I would like to make if I may: first, make crates for women too! Several of the items that you already sell are great for girls too - especially the cooking ones! But I could think of lots of fun things that you could put in crates that women would love! Also, it would be really nice if mancrates.com would give a discount to military/veterans and/or first responders. And again, PLEASE give Hailey a big raise - she's awesome!!! Thanks for all of your help!!!

Best Xmas gift ever!!

Just received the Oktoberfest stein and Exotic meats jerky for Xmas!!!! I'm a mechanic and fabricator by trade and I wasn't prepared to use the Blunt -tipped crowbars at 9am..hahah. Besides creating a weld-encrusted box to get to the goodies, I'm very impressed with the simple construction! I mean, it doesn't even say "open here" hahah. Having no hammer or any other leverage save for the crowbar, I hammered it with my fist and found a very well packed gift! I even want to order one for myself!!!!!! Thank you for providing a great experience for both myself and my girlfriend!!!

Just Amazing!!!

Well I ordered this last week on Friday for my dad to get some for Father's Day and he did just received it today which is June 12th. It was so funny to see him open the box and see that there was a wooden crate inside with a crowbar for him to open it. He struggled with it for about 10 minutes and said "Screw this I'm getting a hammer!"
He even got a hammer and used it to hammer in the Crowbar in order to finally open the box. He read the card and he immediately dovinh to see what he got because he was so curious. All I can remember is in having the biggest smile on his face and saying this is the best gift he's ever gotten! He loved the Oktoberfest Stein inseam that his name was on it. He loved the sausages as well as the pretzels with the mustard. He told me that he was all set for when the football season starts!

"Best gift ever" was the reaction

Let me first say, I ordered this and paid for it to arrive on Valentine's Day and it didn't make it. I had to rush for a backup gift. But even with that info I can't rate this thing with anything less than 5 stars. (I also got my shipping refunded)

He got it the day after and videoed himself opening it. He laughed and struggled and just LOVED every second of it. His exact words were "best gift ever!" And that's after using the GoPro I bought him for his birthday a week earlier to take the video (Ha!) When we talked about it later he said whoever came up with this concept is a genius but beyond that, "the execution was FLAWLESS."