In the Box
2 Copper Mugs (with Stainless Steel Lining)
Cock N' Bull Ginger Beer 4-Pack
Tovolo Perfect Cube Silicone Ice Tray
16 oz. Cocktail Shaker
Jigger
How It Ships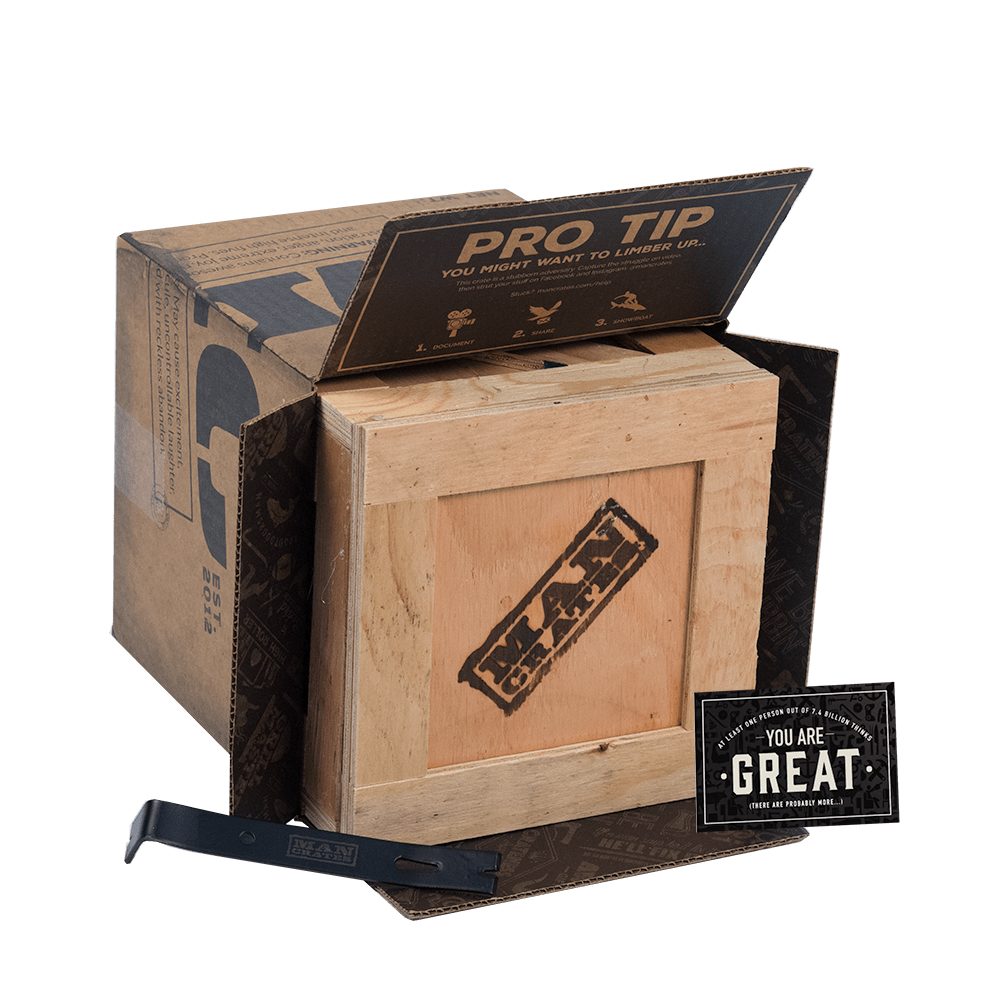 In a sealed wooden crate with a laser-etched crowbar.
---
Order in the next 6 hours and it ships today

Choose your delivery date at checkout
100% Satisfaction Guarantee
We think our products are awesome, and we guarantee you will too. If you're unhappy with your purchase or experience for any reason, we'll make it right and give you the kind of service you'll want to high-five us for.
Seriously, just call or text us at (866) 902-7260 or shoot us an email at guys@mancrates.com.
Story
Kicks Like A Mule
We love mixed drinks almost as much as we love America, so we were extra relieved to learn the Moscow Mule was very American and not, as we initially suspected, a delicious brainwashing potion created by a certain shirtless, horse-riding Russian overlord.
Our research shows the Moscow Mule went from cellar dweller to celebrity socialite overnight by combining ginger beer, vodka, lime, and good ol' American moxie.
The Rise and Fall of the Moscow Mule
In 1941, Vodka was unknown and unwanted in America. Smirnoff owner John Martin had to store his unsellable alcohol in the Cock N' Bull, a bar owned by Martin's equally bland-named friend Jack Morgan. In an effort to clear out the basement, the bartender began mixing Smirnoff with Morgan's unpopular ginger beer in mugs from his girlfriend's failed copper factory.
It was a risky move to toss a bunch of undesirable things together and re-sell it (scientists call this The Hot Dog Phenomena), but the strategy was an overwhelming success. Soon, every trendsetter in Tinseltown was posing for the Polaroid paparazzi with a copper mug in hand.
Sadly, nothing copper can stay, and when the Cold War hit in the 1950's, true blue Americans began boycotting vodka, aka "Communist Tap Water". The Moscow Mule faded into obscurity.
Three Cheers for Diplomacy!
But today, over half a century later, the United States and Russia share a giant orbiting timeshare in outer space, and the only thing remotely Communist about vodka is how freely Smirnoff Ice bottles get shared on college campuses. The world is ready for the return of the Moscow Mule.
In addition to the original Cock N' Bull ginger beer, the Moscow Mule Crate includes a pair of authentic copper drinking mugs, Tovolo ice cube mold, 16 oz. mixed drink shaker, and measuring jigger, so you can enjoy one of America's finest, definitely-not-Russian mixed drinks.
Mix it up the classy way, and taste the kick of the Moscow Mule.
Customer Reviews
Mule Crate

I ordered the Moscow Mule Crate for one of my boyfriend's Christmas gifts. FedEx said they delivered the package to my front door. Not true, I live in a rural area and on a private road. I'm retired and I am home every day. FedEx did not deliver anything to me on a front door delivery. I called Man Crate, they are so awesome, they immediately without hesitation replaced my order. A really great company with astonishing gift ideals. This is my fourth purchase and will continue to purchase from Man Crate.

Sent This as a Gift

We wanted to thank a remote colleague for working over their wedding anniversary weekend. I had never met or spoken to this colleague, so I had no clue what to get them. I found this site and this crate looked like a good idea.

Little did I know that they were going to be out of the country when the crate arrived. I spent a couple of weeks wondering and worrying that the crate would have grown legs and walked off.

Once I noticed that they were sending out emails, I reached out to him. Not only did he get the crate, but they opened it up that night and enjoyed a few mules by the fire.

Great Gift!

I got this for my husband for Christmas and he loved it!! The entire process was seamless/easy and my hubby loved the crate concept!! I will be a repeat buy for sure!!

Kicked by a MULE

What and incredible gift idea(s). I was blown away by your website which I thoroughly perused after spending over an hour opening my "crate" and an accompanying more simpler "puzzle" box. I can promise you I will be "gifting" from this in the future. Incredible unique idea and to the review about "cheap"; well if was a gift..I heard a thumop in the road..

Couldn't Be Mule Perfect

I received this box consisting of the dreams of all men for Christmas, as a gift from my girlfriend. The duct tape was a nice touch. I had never seen one of these dream-filled wonder boxes before, and I am highly impressed. If someone says "gift" and it is not one of these, then it is not a gift - It is nothing. This is the best invention since fire. Good day.