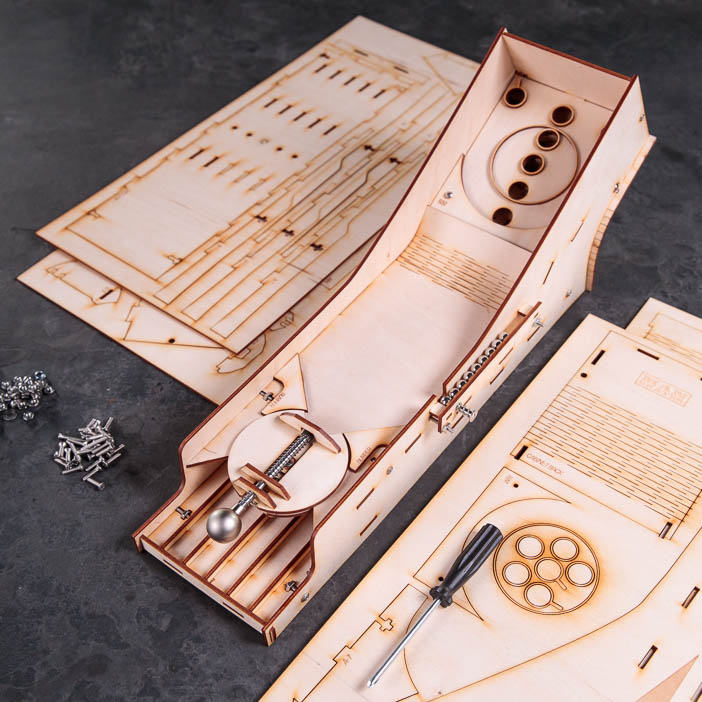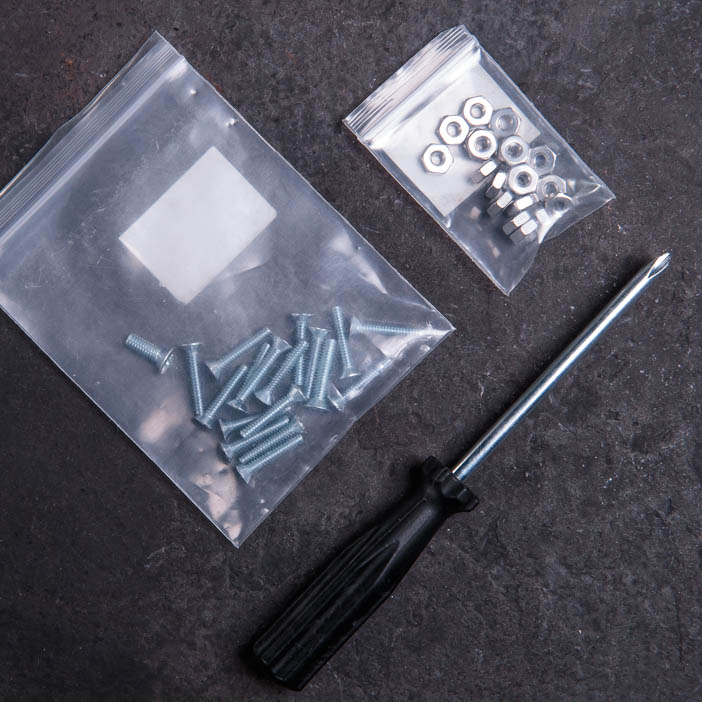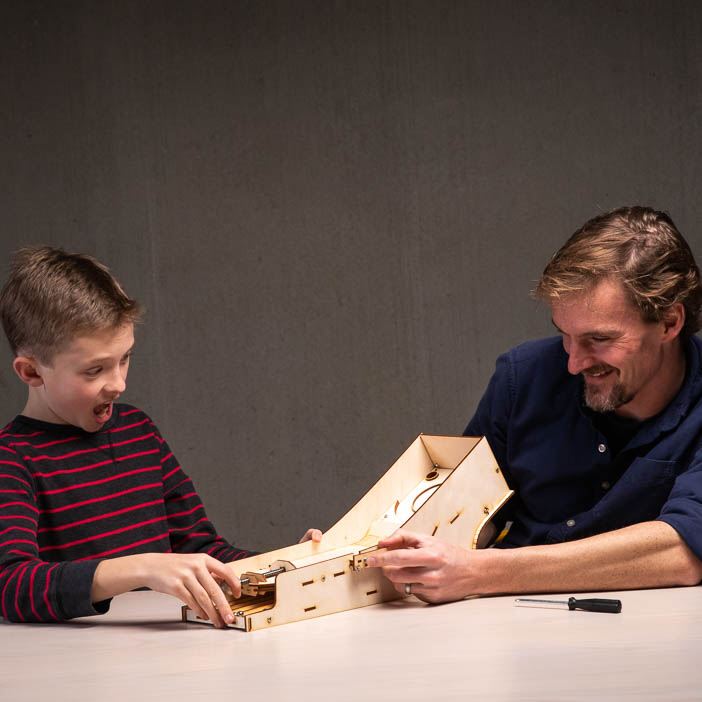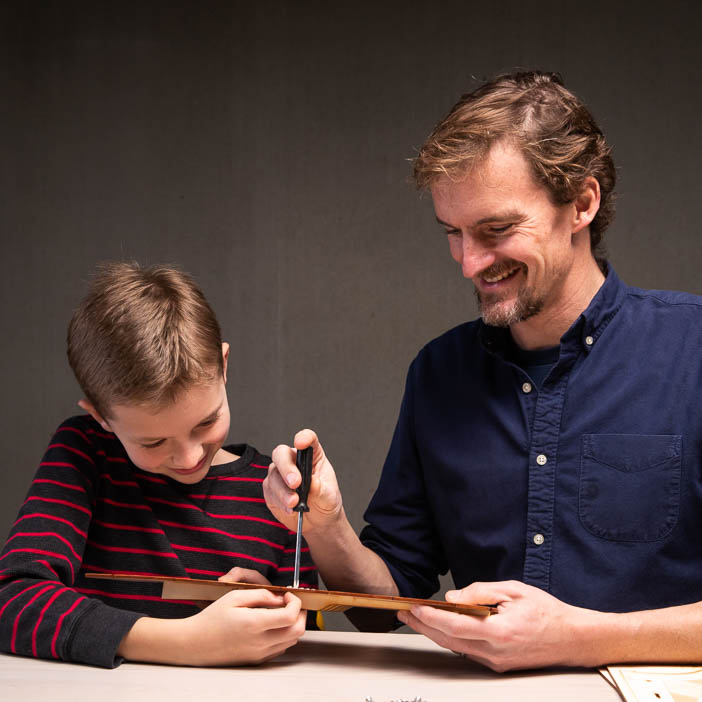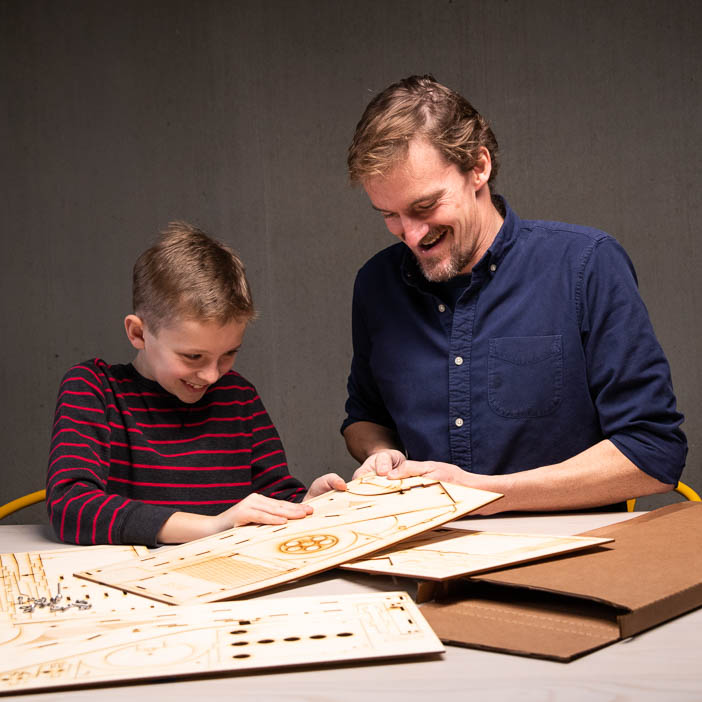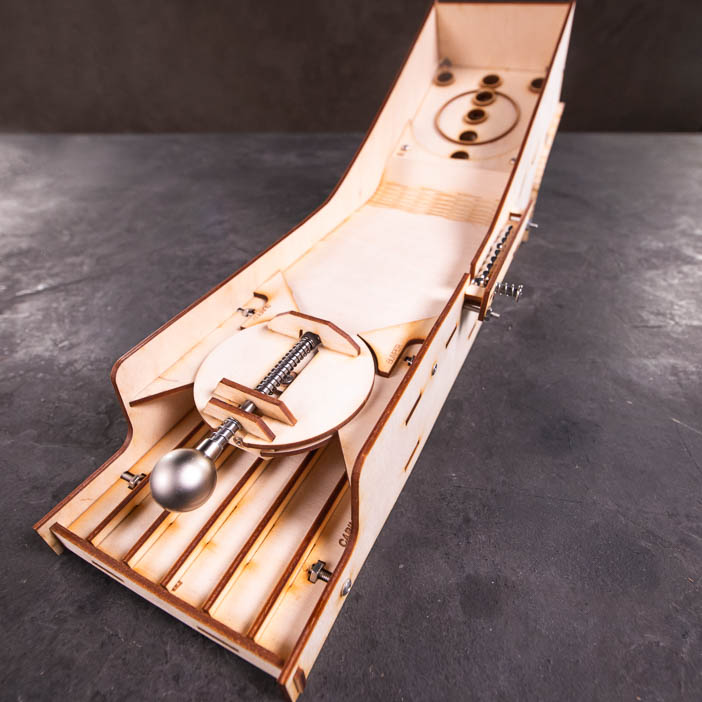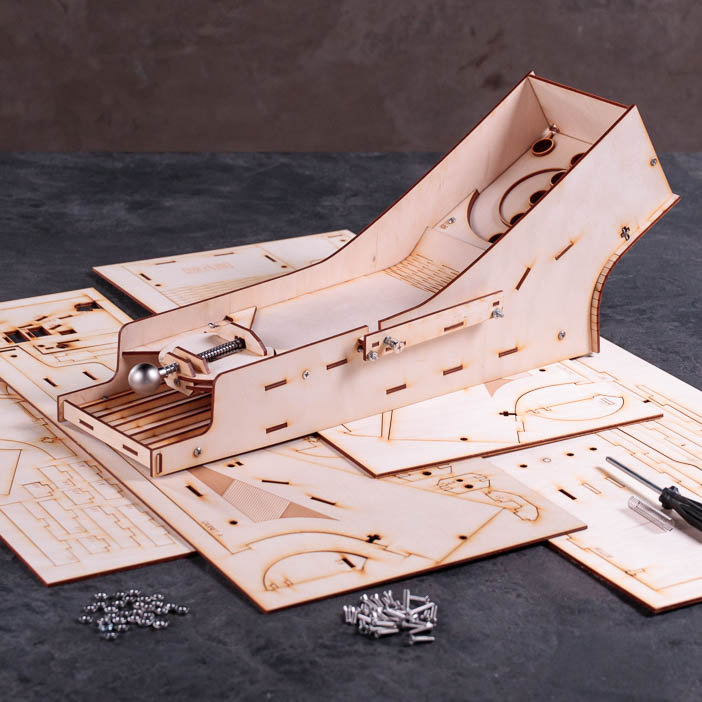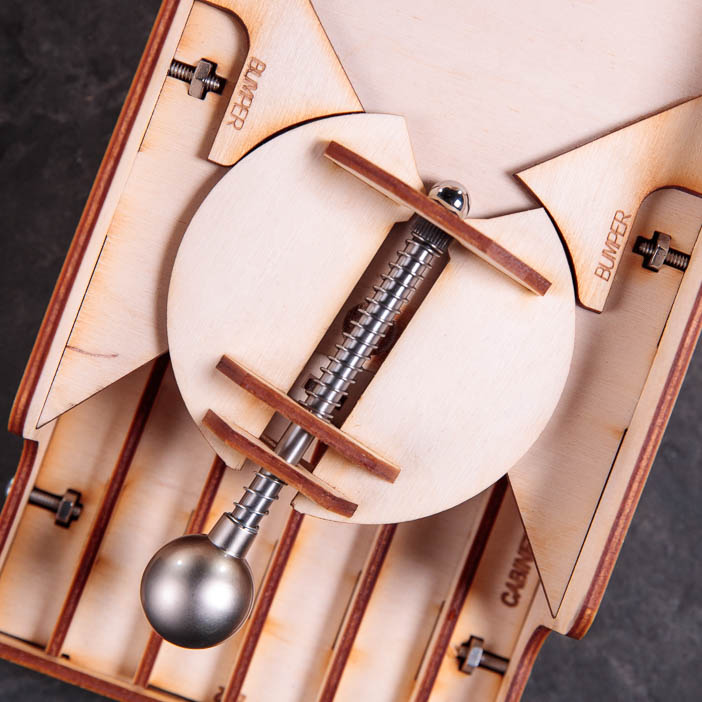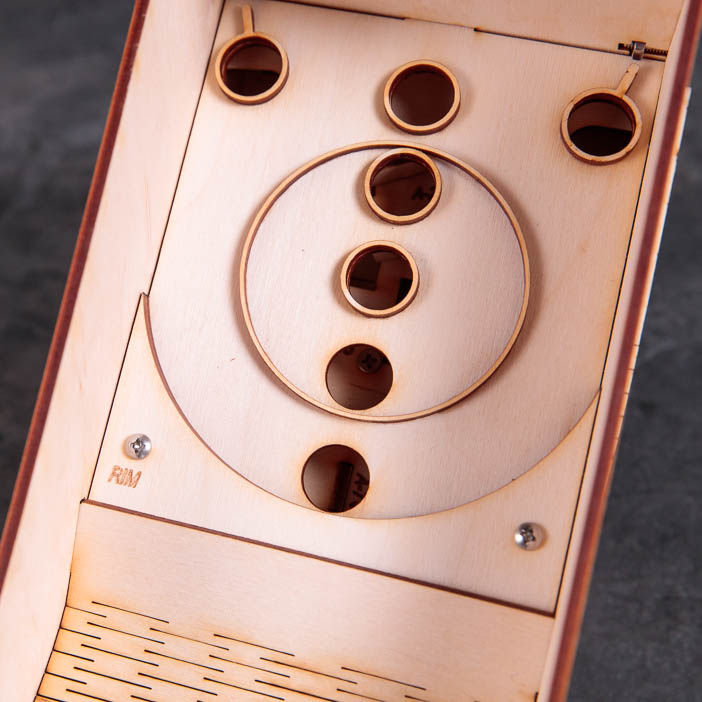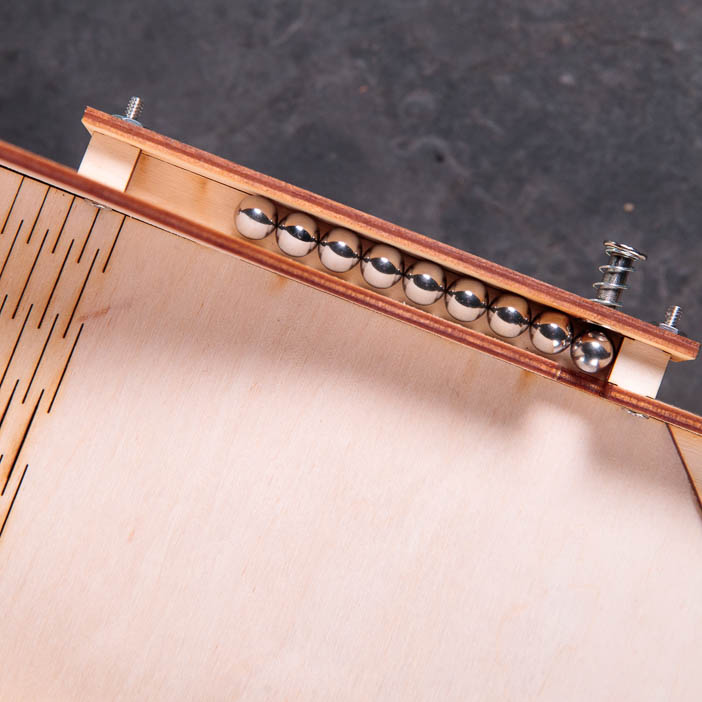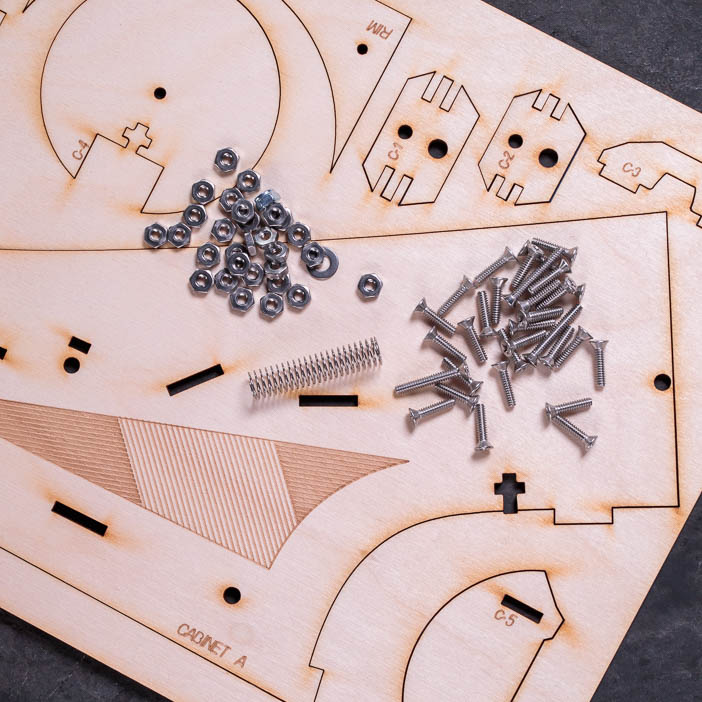 In The Box
Laser Cut Wood Pieces
Hardware Set

Assorted Screws and Nuts
Assorted Springs
Additional Assembly Components

10 Metal Balls
Sandpaper
Screwdriver
Instruction Manual
How It Ships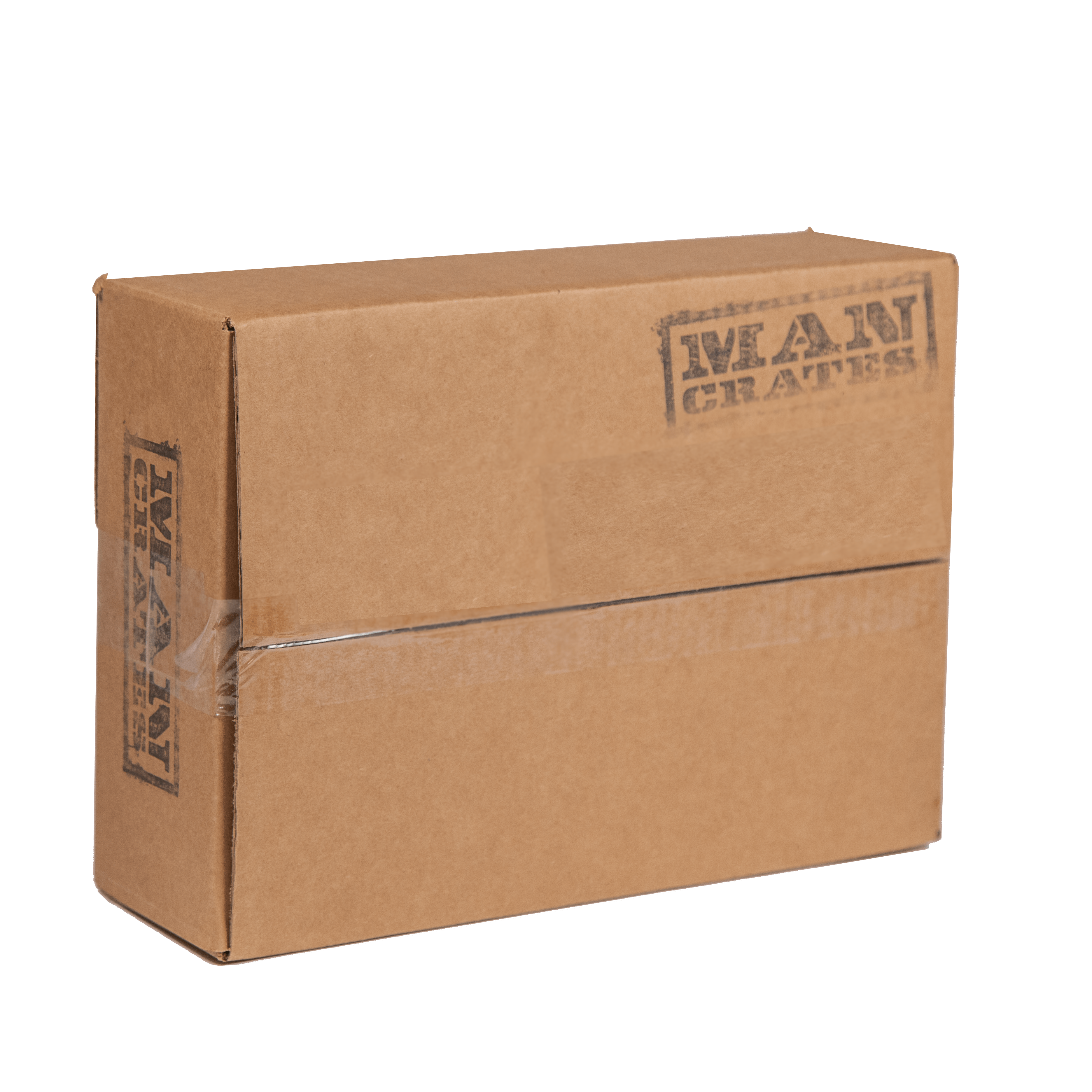 In an awesome cardboard box. Corrugated C Flute cardboard with regular slotted style... told you it was awesome!
---
Orders placed by noon PST will ship out same day

Choose your delivery date at checkout
Story
A Hole New Ball Game
Some families are fueled by competition. Whether it's weekly board game nights or another cutthroat round of "Who gets the last tater tot?" winning is half the fun.
With this portable, DIY Arcade Game kit, the whole family can build the latest arena for spirited competition. From building the kit together to dominating the scoreboard, it's family fun from start to finish.
Keep the competitive fire alive, and set a new high score in Family Bonding with the Arcade Game Making Kit.
Bonus Points:
We've included all the hardware, sandpaper, and laser-cut plywood he'll need to make his own desktop ball shooting game by himself or with a child.
Assembling the kit is a low-stress, simple and fun activity for the whole family.
The game is cleverly designed with a spring launcher to set the ball in motion, because dominating the game requires peak finger fitness!
A unique scorekeeping mechanism takes the hassle out of competition, so he can keep his head in the game and not on his notepad.
Customer Reviews
My dad loved it

It was fun to make and play with

Fun, Quick, Easy. IF you follow the directions !

Pieces popped out extremely easy. Most fell out while removing the restraining paint tape. Only a couple bound up while removing. A simple pass with an Exacto knife solved that. Force it, yeah, you'll damage it, it's relatively thin wood. Use common sense and take your time. I had planned on staining the wood on mine before assembly, but impatience took over. It's still bare wood.

But it's fun and easy to assemble. I would recommend it to anyone that can follow instructions and not do the "this should go here" method of assembly and rush things.

Kids (and adults) of the "instant gratification" mindset that want it finished NOW should skip this kit. To do it proper does take some time. But you'll enjoy the results.

Awesome

Took about 3 hrs to create and has been a blast to play with!

Yikers

So....the kids got this for dad for Father's Day. Well, it's Fathers Day and they've been working on it. They are a semi-handy adult, and 13- and 10-year old kids. There has been a lot of frustration. Hoping the finished project is worth the tension. Some of the pieces are not popping out easily, a piece cracked in punching it out, and they have found the instructions sometimes confusing. Still holding out that the finished project redeems itself.

Fragile and bad tolerances

Cool idea, but everything was so brittle, and tolerances too tight leading to frustrating breakages and tedious sanding. Was not fun, do not recommend