In the Box
Seagull TY2806 Movement
Screwdriver Tool
Brass Movement Holder
White Dial and Hand Set
Blue Dial and Hand Set
Hand setting tool
Exibition Case Back with O-ring
Crown/Stem Combo
Case Back Tool
Watch Case with Crystal
2 Strap Springbars
Blue Leather Strap
Brown Leather Strap
Hole Punch
Screw Rivet
Man Crates Watch Making Guide
How It Ships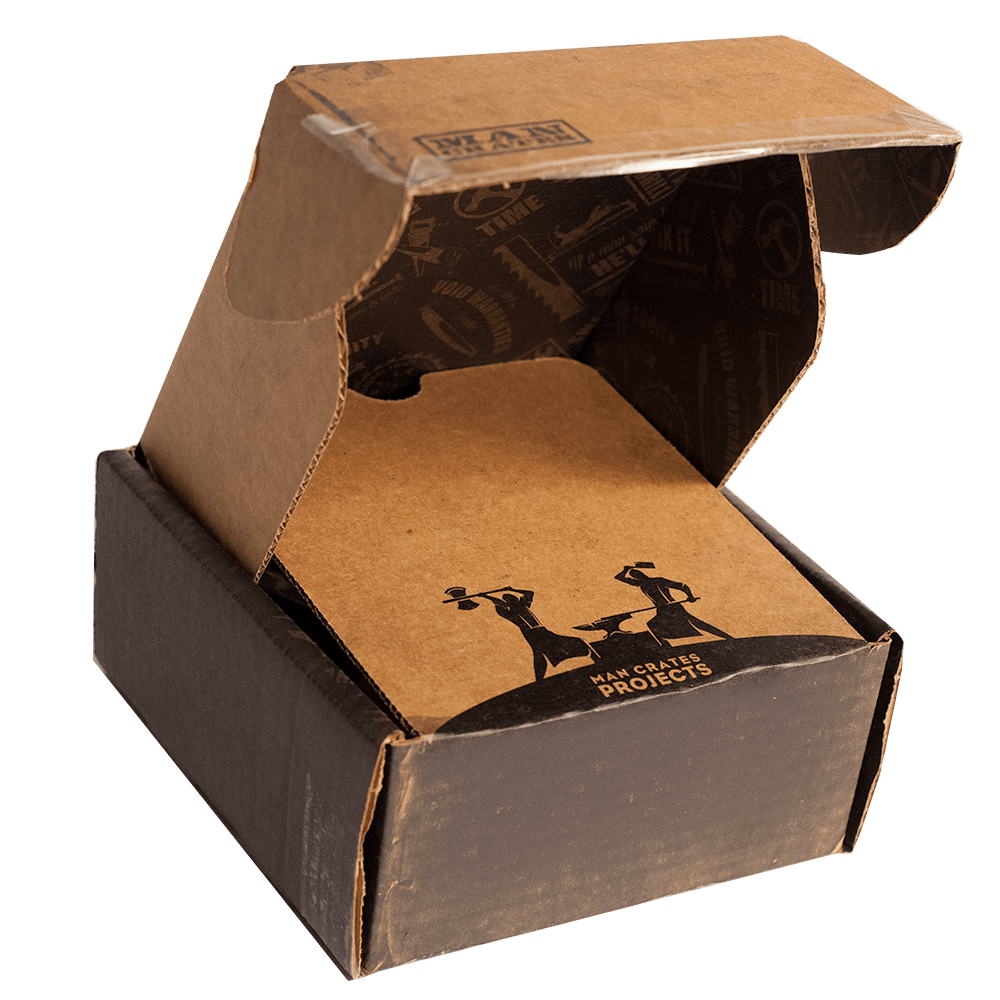 In an awesome cardboard box. Corrugated C Flute cardboard with regular slotted style... told you it was awesome!
---
Orders placed by noon PST will ship out same day

Choose your delivery date at checkout
100% Satisfaction Guarantee
We think our products are awesome, and we guarantee you will too. If you're unhappy with your purchase or experience for any reason, we'll make it right and give you the kind of service you'll want to high-five us for.
Seriously, just call or text us at (866) 902-7260 or shoot us an email at guys@mancrates.com.
Story
A Matter of Time
Time is a fickle thing. It supposedly flies when you're having fun, but crawls during the last few hours of the work day? What, did it lose its wings or something? And our new-agey friends keep telling us time's "just a construct, man" but when we explain that to the driver of the morning bus we almost missed, he laughed in our faces.
If only there was a way to measure time, conveniently and accurately, with some sort of instrument dial on our wrist. Just kidding, everyone knows about watches. But did you know that making one doesn't require knowledge about nano-sized gears, cogs, or even quantum mechanics?
Now any man can build a handsome watch with just some concentration, a little elbow grease, and our new Watch Making Kit. With a project this unique, even the busiest man will happily make the time to...make the time. Or at least measure it.
Precision Points
The movement of this watch is self-winding. That means he'll keep his watch in time just by wearing it. Unfortunately, this technology hasn't yet reached TV remotes.
We've included two different sets of dials, hands, and straps so he can build a watch that perfectly suits his suits.
The finished watch will be water-resistant up to 50 meters, so he won't even have to remove it in the shower. Of course, the smell might indicate otherwise.
Customer Reviews
Lots of fun. Some pain.

All in all, I had a great time assembling this watch. As others have mentioned, there were some pain points.

I spent hours trying to affix the second hand. From the reviews, I see that a lot of folks gave up and went without it, and I don't blame them. There was a lot of cursing on my part. Most of the problem was that the loupe (magnifying glass) supplied with the crate has a focus point about two inches in front of the lense, so you basically have to hunker down with your face almost touching your workspace, your eye socket squinched shut to keep the loupe in place, and then figure out how to wedge the hand setting tool in there too. Once I broke down and grabbed a head-mounted loupe with a more distant focus point, I had the second hand in place within 5 minutes.

The next roadblock were the ears that hold the movement to the case. Threading those teeny tiny screws into the earholes and then trying to screw them into the movement holder caused a lot more cursing. Ultimately, I scrapped the recommendations in the instructions and set the screw facing threads-up on my workspace and lowered the ears down onto it with a set of tweezers. Be careful with the tweezers, though. If you put too much pressure on a screw or the ear, it'll pop right out of the tweezers and fly across the room.

One other issue I had was that mine didn't come with a temporary stem/crown, so I just used the permanent stem/crown while setting the watch. No big deal. The problem I ran into was that pressing the stem release button was a bear. I know they recommend this being a two man job to release this, but I found that was just too many fingers stuffed into a watch. What I wound up doing instead was to put the movement face-down into the case (with something soft under the crystal so it doesn't scratch) and then press the stem release button with the smallest Phillips screwdriver I could find (which for the record doesn't look anything like the picture in the instructions). The button has a recessed face, and the tip of the Phillips fit snugly into it, not slipping like everything else I tried.

One last tip: before you clamp the ears down to secure the movement into place, turn the watch over and make sure the second hand is still spinning. I had the entire thing secured with the caseback on before I checked and found that some time in the hours of messing around trying to get the hand in place, that I'd bent it upwards, and it was pressing against the underside of the crystal, not allowing it to move. I had to take the whole thing apart (more cursing) and straighten the hand.

I know it looks like I'm bashing the product, but I'm really not. Yeah, I'm old so my neck hurt for a week after craning down over this thing for so long, but it really was fun. I have about 30 or so watches, and this one jumped right to the top of my most worn list. I smile at the work I put into it every time I look down at it. 5 stars and would recommend to friends.

Think Twice

First Mancrate - disappointing. The second hand does not stay in-place. Have seen where there are other complaints with the second hand. I believe it is a flaw with the design of the product. It does seem like a neat idea. Have placed the watch aside - most likely will just toss it.

Man Crates Response: Hey there, thank you for your feedback! Apologies that you were disappointed in the kit you received! We do our best to offer a great experience and value for the price and we're sad to hear we missed that mark for you. Give us a call at 866-902-7260 and we'd be happy to work with you to make this right.

-Team Man Crates

Date ring to dial spacer ?

Great kit, didn't really like the band selection and design. I did have a problem installing the dial too close to the date ring causing it not to move to only find out there is an available spacer to prevent this. Why does this kit not come with the required spacer?
Thank you,
DevCav

Man Crates Response: Hey there,

Sorry about that missing spacer. Give us a buzz at 866-902-7260 and we'll get you hooked up!

-Team Man Crates

DIY Did it myself!

I am a watch collector. This awesome diy gift with options of how you would like to build it was Christmas gift from my wife.

Fathers Day gift.

This is one of the best gifts I have received. I had so much fun assembling the watch. My wife knows I like tinkering and making things work and thought this would make a good gift. She was right!