Oh no! Looks like Cast Iron Cooking Kit is out of stock
Click below to get notified when it's back in stock
Notify Me
In The Box
3-in-1 Cast Iron Skillet Set

Cast Iron Deep Dish Skillet, 3 qt
Cast Iron Skillet, 9.5 in

Montana Creekside Classic Chili Mix, 6.25oz
Cornbread Mix, 1 lb
Organic Durum Semolina Penne, 16 oz
How It Ships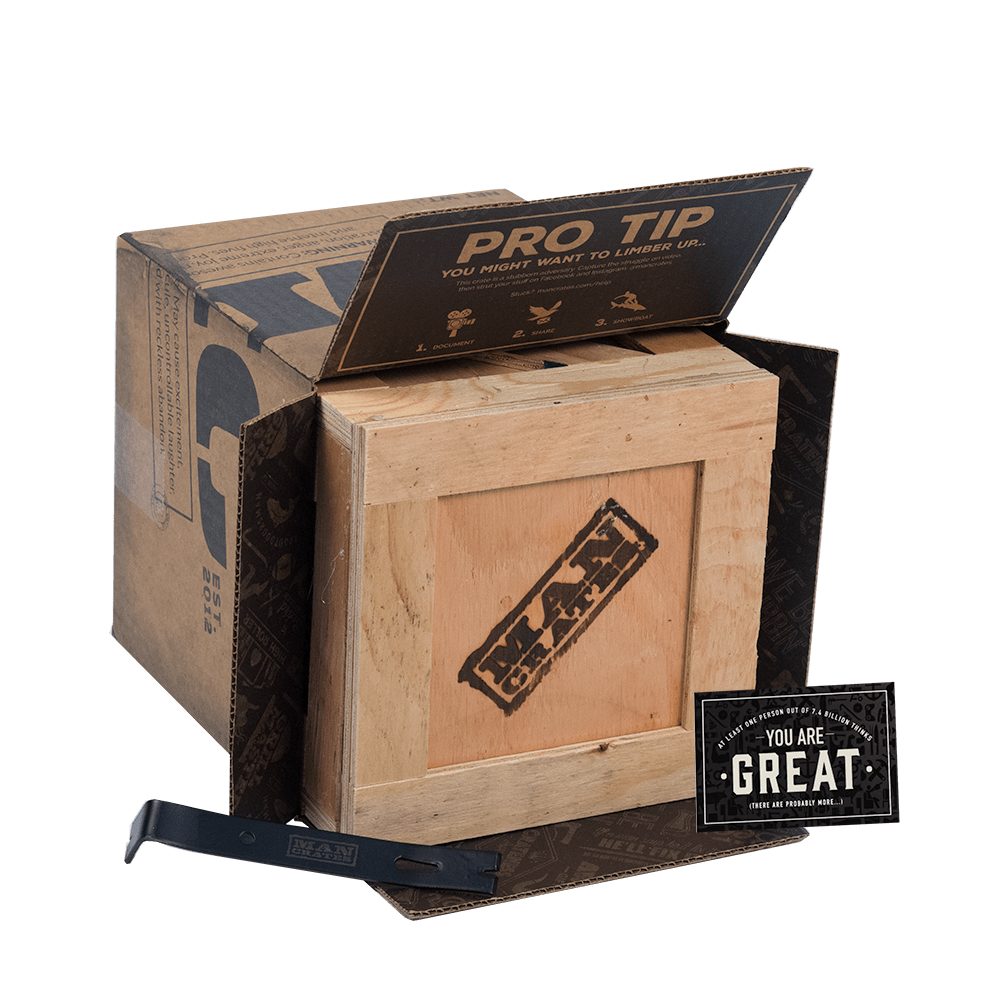 In a sealed wooden crate with a laser-etched crowbar.
---
Orders placed by noon PST will ship out same day

Choose your delivery date at checkout
Story
Five Star Flavor
If there's one thing we love about cooking with cast iron, it's how evenly the heat gets distributed. And also, that we can move it between the oven and stove top, no problem. Oh ya, also that it's naturally non-sticky. And then there's the seasoning that—ok, turns out we love a lot of things about cooking with cast iron.
This clever combination of cast-iron skillets merge seamlessly to form one unstoppable, super-skillet: The Dutch Oven. Whether he's whipping up chili and cornbread or a healthy helping of pasta, the Cast Iron Cooking Crate boasts all the ingredients, spices, and seasonings he'll need to prepare the perfect meal.
Take his kitchen game to the next level, then season it to perfection, with the Cast Iron Cooking Crate.
Food Facts:
When not assembled into its final form, the pieces of this Dutch Oven set serve as a perfect deep-skillet and griddle.
These classic chili and cornbread kits combine to create a no-compromise, nostalgic meal, just like mom used to make.
Need some inspiration? The included original recipes will have him sizzling up supremely-seasoned, delicious dinners in no time flat. Okay, maybe a little time flat.
Customer Reviews
These times call for comfort food!

Gave this to my hubby for Christmas. The cast iron skillets are great! Both of our grandparents had them. Had fun sharing memories, and have definitely used them constantly! Oh, and it was soooo much fun watching him trying to open the wooden crate. Ha ha! Wish I would have had a video!

Happy Grandson

Gave the Cast Iron Cooking Crate to College Grandson, he had Corn Bread baked in the top skillet the day after Christmas.
Waiting on our new Naval Officer to arrive and open his ...
Thinking of Ordering for youngest Sons B'day

Great gift

Bought this for my dad for Christmas. Though it was an Olympic event to get the box open, he likes it. I'm typing this 2 days after Christmas and he is currently seasoning the cast iron in his oven. They will be added to his collection of cast iron items and be well used.