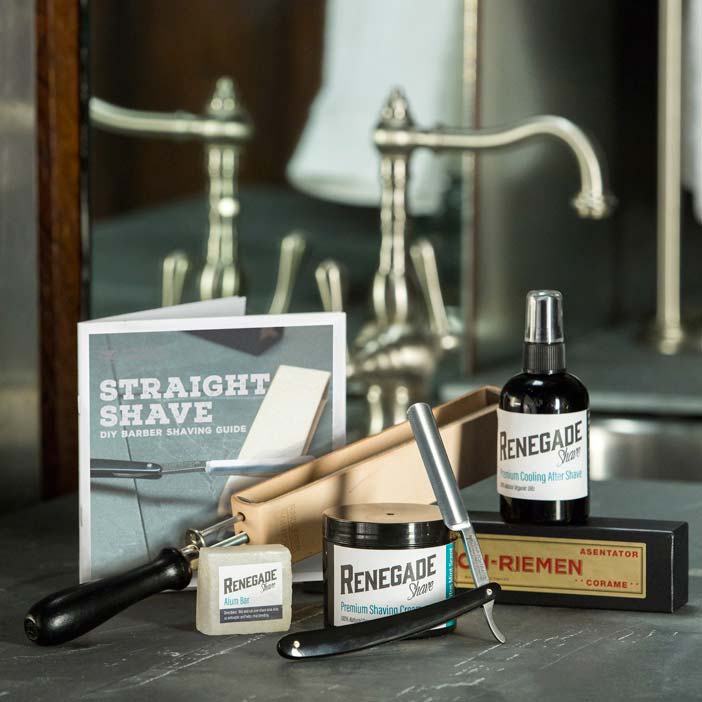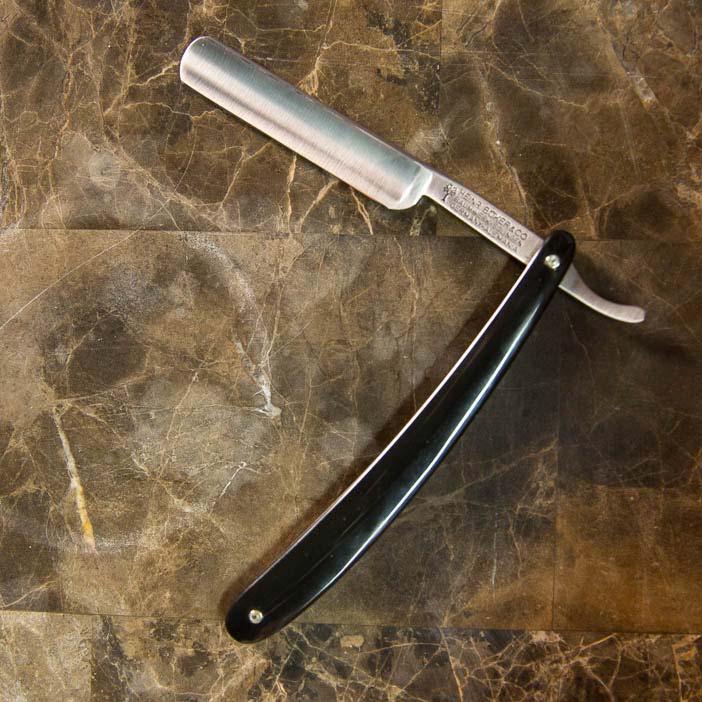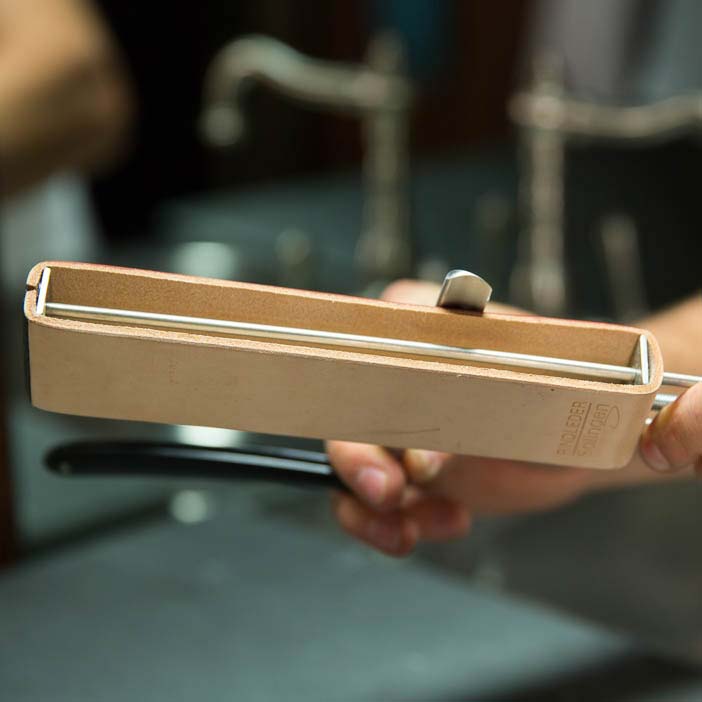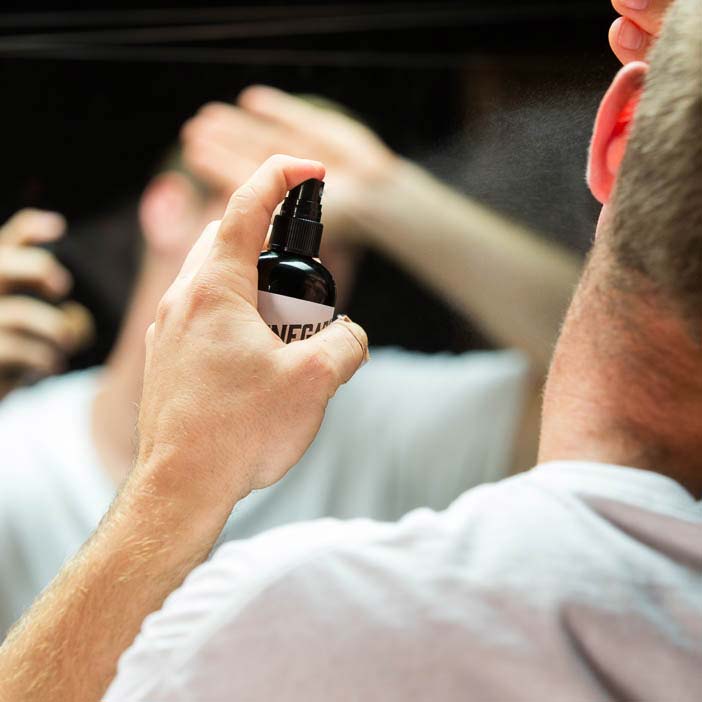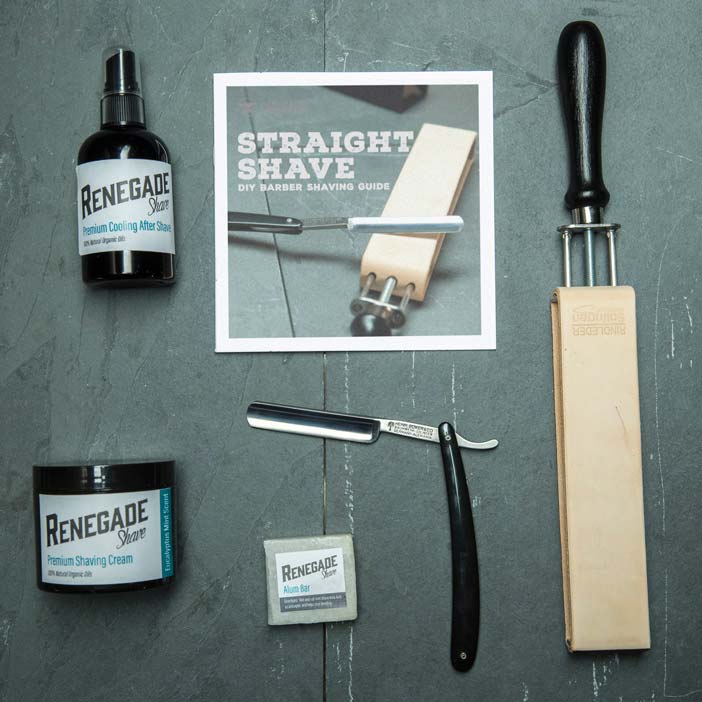 Straight Edge Shaving Kit
Oh no! Looks like Straight Edge Shaving Kit is out of stock
Click below to get notified when it's back in stock
Notify Me
In The Box
Böker 4/8" Classic Anthracite Razor
Böker Leather Span Strop
Renegade Shave Cream, 4 oz
Renegade After Shave, 4 oz
Alum Bar, 45g
Man Crates Shaving Booklet
NOTE: Straight Edge Shave Kit does not ship in a crate.
How It Ships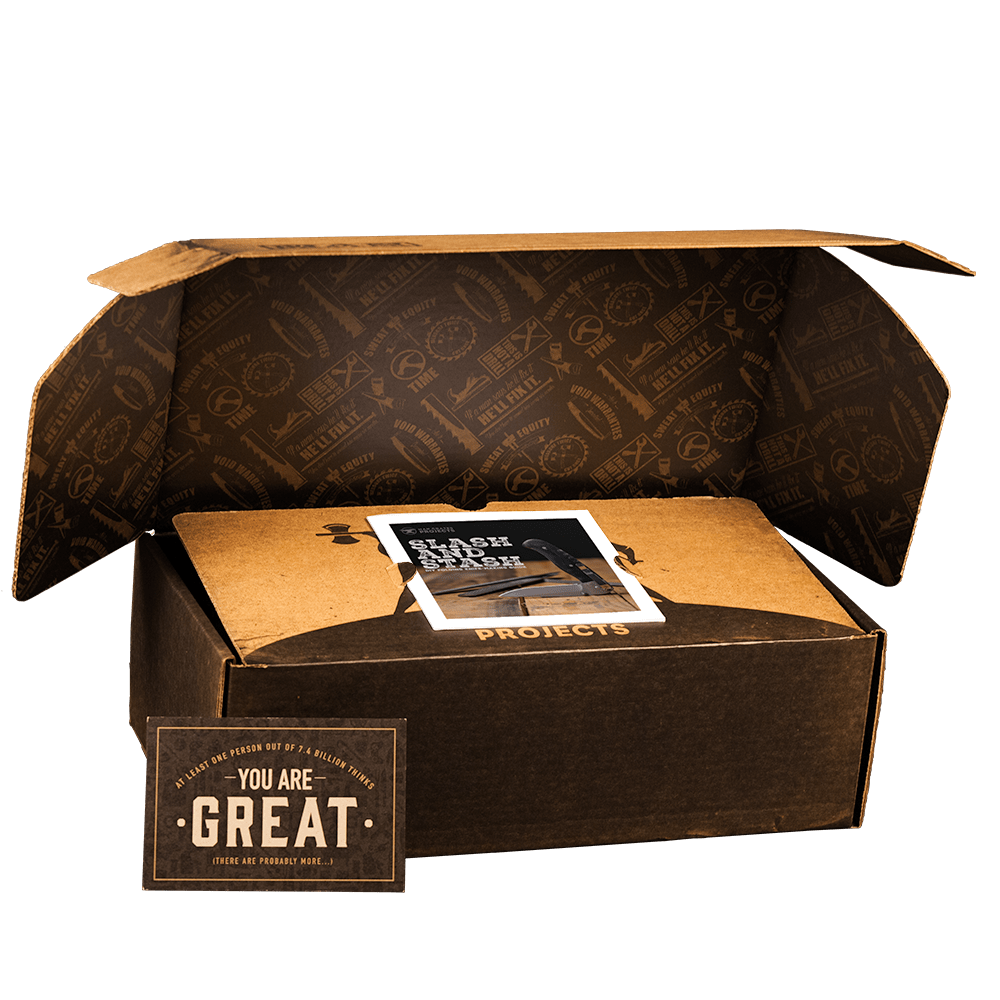 In an awesome cardboard box. Corrugated C Flute cardboard with regular slotted style... told you it was awesome!
---
Orders placed by noon PST will ship out same day

Choose your delivery date at checkout
Story
Life on the Edge
Men are like diamonds; they have certain attributes that can only be revealed through intense pressure, and a rough careless cut can rob them of all charm and attractiveness.
And while any quality razor can make a man feel smooth like a baby's bottom, only a straight razor will make him feel "smooth" like a '50s greaser. There's just something exhilarating about expertly dragging an extremely sharp blade across the face, staring danger straight in the face with a smooth, straight-shaved face to show for it.
For generations, a trusty straight razor has brought out the best in men, both inside and out.
Solingen for the Win
The Straight Shave Project Kit features a handmade 4/8" Böker straight razor forged in Solingen, Germany, the revered City of Blades. The esteemed "made in Solingen" title is strictly reserved for blades made in and subjected to that region's rigorous quality standards, just like Scotch Whiskey, Champagne Sparkling Wine, or Hidden Valley Ranch.
This top-notch face scraper boasts Anthracite handles and a carbon steel blade with extra hollow ground for extreme sharpness and edge retention. It can be aligned and sharpened against either side of the Böker leather span strop, the paste composite for rough stropping or natural leather for fine stropping.
Refined Renegade
While we're not always the most selective about what we put on our face, we exercise major discretion regarding what gets on our razor. Renegade Shave products make the cut.
Renegade shave creams primes the face for a close, comfortable shave, and the Alum Bar and After Shave soothes any wounds and face nicks made from the shaky hands of straight razor excitement. The result, a clean shave and an amazing smelling 6-8 inches between the nose and shoulders.
The Straight Shave Project Kit is giving men a sleek new handle on the sensation of old-fashioned shaving.
Customer Reviews
Awesome shave

Bought this as a gift for myself.
Always wanted to try a straight razor.
This blade is intimidating. With a steady hand I get a shave have good as any other razor I've used.
I was disappointed that it didn't come in a crate but the content more than make up for it.
I read the negative review and have no idea what that person's expectations were, this kit supplies everything for a quality shave with a straight razor.

I finally feel like a Man

I had bought this for myself because I've always wanted to try out a straight razor, and wow was I impressed! This straight razor is one of the best purchases of my life. It makes me wonder why we ever switched to the vastly inferior safety razors that we use today. The quality of everything was very impressive, not at all what I was expecting from such a great price. This razor is a must buy for sure, and with about 5 minutes of supplementary videos from YouTube I knew everything I needed to know! I honestly don't understand how that one other reviewer could possibly give one star, I really don't.

I will definitely be purchasing from Man Crates again, and if the quality of the other crates are HALF as good as this I will be very, very pleased!

Super awesome

Got this for my husband for Father's day and he loved it! But the after shave bottle leaked. We lost about an eighth of a bottle, but that was the only negative thing about it.

Ignore the One Star Review

I got this for my boyfriend for his birthday and first I have to note the convenience of the shipping options-you can choose what day the package should arrive...had I ordered it and not been able to dictate that it arrive on his birthday I would have definitely given it to him sooner and had nothing for his birthday.
About the product: amazing. The blade itself just LOOKS beautiful and pristine-and it comes with all it's specifications so you know exactly what you're holding and working with. Go to sharpen it on the leather strap and it makes the most lovely, clean, smooth sound that good metal should make. My boyfriend regularly shaves his entire head and calls it his "Zen Time" so he immediately took the blade and went to "Zen Out" briefly and shave the prickles around his head (he had shaved the day before and had very little to shave off again but bless his sweet heart for trying). Without shaving cream or even water (he was too excited about the blade to take the time), the blade shaved his little hairs clean off without a snag or anything. He was ecstatic. He's never used a straight razor before but has always wanted to so he's been watching videos about the proper way to do it-there's obviously a learning curve if you're used to using BIC razors which are designed for a quick and easy shave. The book the razor came with gives you the best starter knowledge though-how to sharpen properly, how to use each sundry that the blade came with...It was great. My boyfriend loved it all. Ditched me on his birthday to play with his blade and run around holding it like a kid with a lollipop to show people...demonstrating by shaving hair off people's arms and everything...my boyfriend just turned 28...he's not 16, but every time I order him a crate from this website he acts like it :P

One Star

I got this kit for Christmas. It seems like a cool idea, however I wish they had given this kit to 10 guys before they actually released it and witnessed the results. There is a reason why 9/10 guys walk by those high end shaving stores in the mall, comment that it would be cool to do, and then keep on walking. The reason being that we know in our heart of hearts that this will only lead to bloodshed.
The kit itself comes with the blade, sharpener, shaving cream, and antiseptic bar (for when you cut yourself, which will happen a lot). The blade is very sharp but the handle is cheap plastic. Unless this is the most expensive shaving cream in the world I can't imagine it taking more than $40 to produce everything. Speaking of the cream, I can't get this stuff to lather. It smells nice but I quickly went back to my own cheap stuff from a bottle. They should include a brush if you are expected to use the cream instead of opening it for the pleasant aromas. The antiseptic bar creates a miasma of doom
The instructions are mostly beard jokes, Mancrate style. I appreciated the humor more in another kit I got which wasn't trying to hurt me. Instead I went online to watch videos of people using these. Herein lies the problem, I do everything they ask but the blade still pulls each individual hair out instead of cutting them. I was able to do about 1 inch in the side burn area which should be the easiest area of the face. Unless you have a professional barber in the family to personally walk you through shaving I would guess you aren't getting past this point. I suggest you purchase one of their other, less painful, kits.

-----------
MAN CRATES EDIT:

Thanks for your feedback Aaron. I'm sorry to hear that you were dissapointed in your Straight Edge Kit. Straight edge razors certainly aren't for the faint of heart, and there definitely is a learning curve to using them.

All of our products are tested thoroughly before they're released, and this product is no exception. The folks that participated were novices, and were able to learn how to get a good shave going pretty quickly, and were able to work up a pretty good lather with the soap included that was also tested for use with the blade we include. As for the septic bar "miasma of doom", we've never once encountered a pleasantly scented Alum Bar and would think that rubbing perfume into a shave cut would only make things worse.

As for the blade itself, it is a german made Böker 4/8" with a carbon steel blade. A quick search on the internet reveals that the blade we include is extremely high quality. Böker is renowned for producing great razors and retails for a pretty high price (close to what we're selling the crate for) without all the extras we've thrown in. These extras include the sharpening strop, also made by Böker, which reveals high quality reviews and a decent retail price if searched as well.

Switching from a disposable or electric razor to a Böker straight edge is like switching from an automatic to manual transmission when driving. In the beginning it can be hard to find the gears and make the car run smoothly, but after some practice and mis-starts you'll be shifting like a pro. We've had quite a few guys try these out since they were released and we've found that it does indeed take some time to adjust to shaving this way, but we've also heard that once these guys got the shaving process down that they were hooked. For the record these men did use our instructions paired with some internet research as well.

Overall, we're not happy until you are, and we're sorry to hear that this product wasn't a great fit for your needs. Feel free to reach out and let us know if there's anything else we can help you with. Our number is 866-902-7260 and our email address is guys@mancrates.com.

Cheers,
Team Man Crates