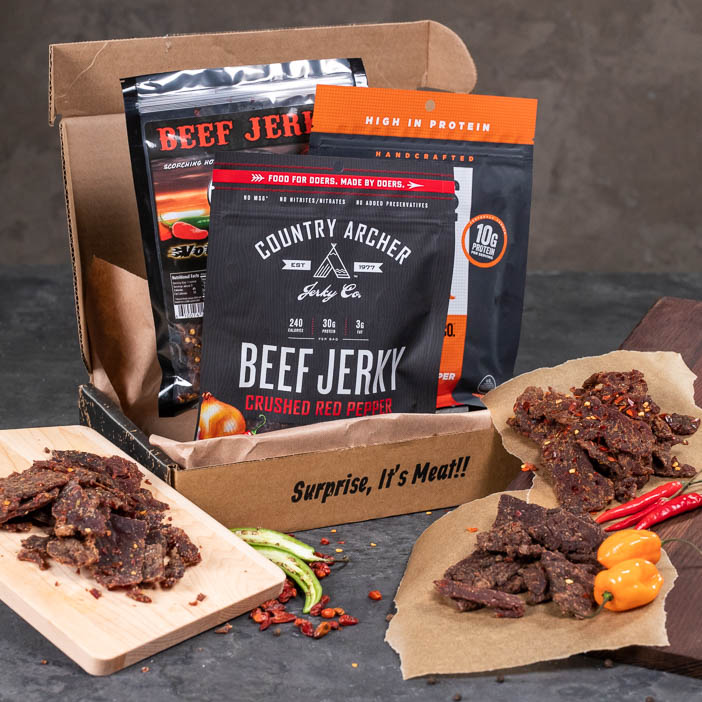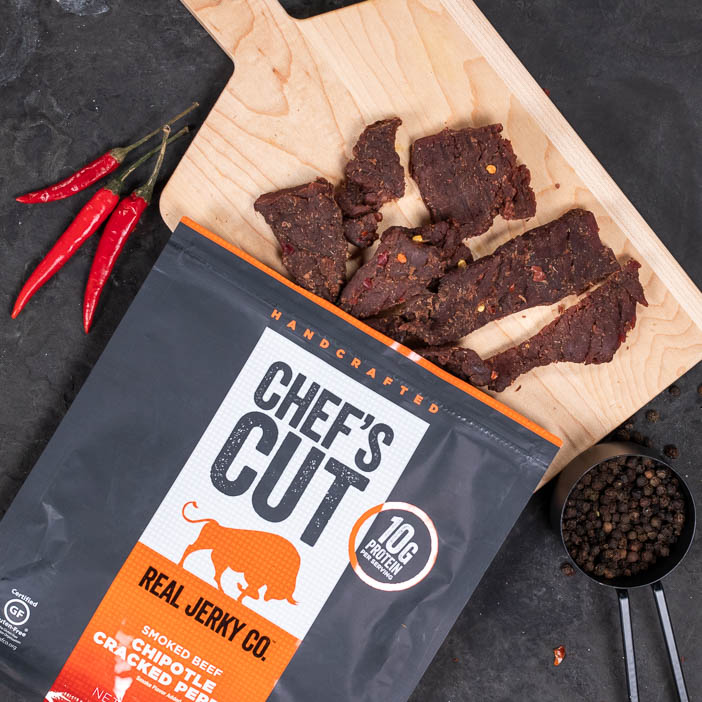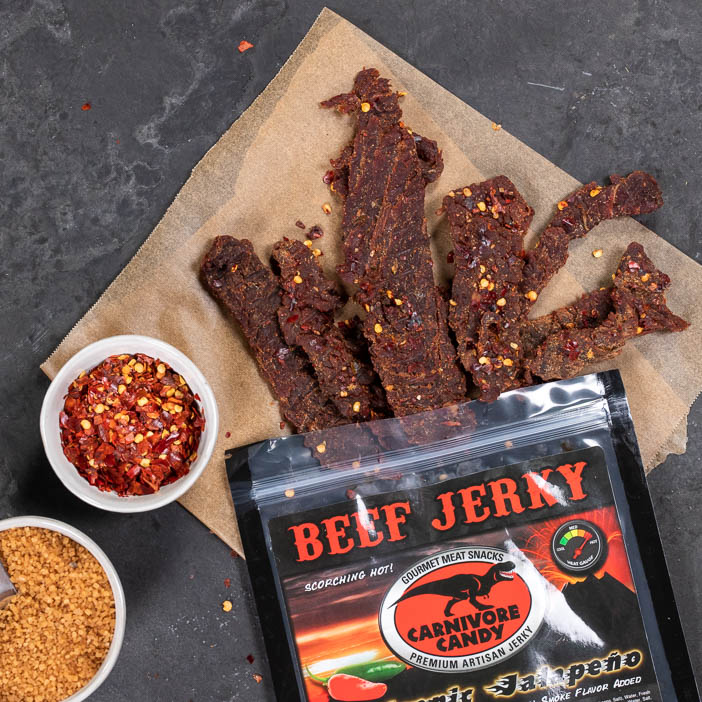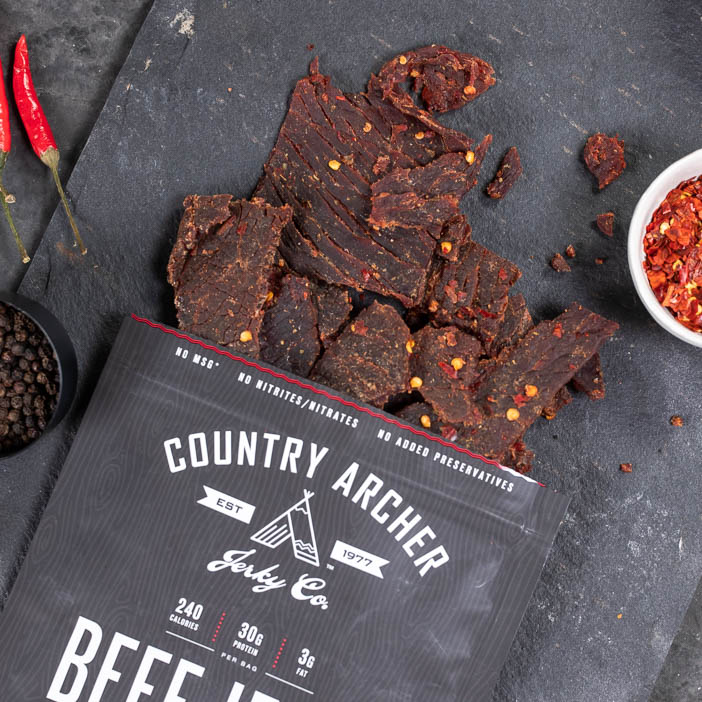 Oh no! Looks like Spicy Jerkygram is out of stock
Click below to get notified when it's back in stock
Notify Me
In The Box
Flame-Scorched Jerky
Three packs of mouth-incinerating jerky:
Chef's Cut (2.5 oz)
Country Archer (3 oz)
Carnivore Candy Volcanic Jalapeno (3 oz)
How It Ships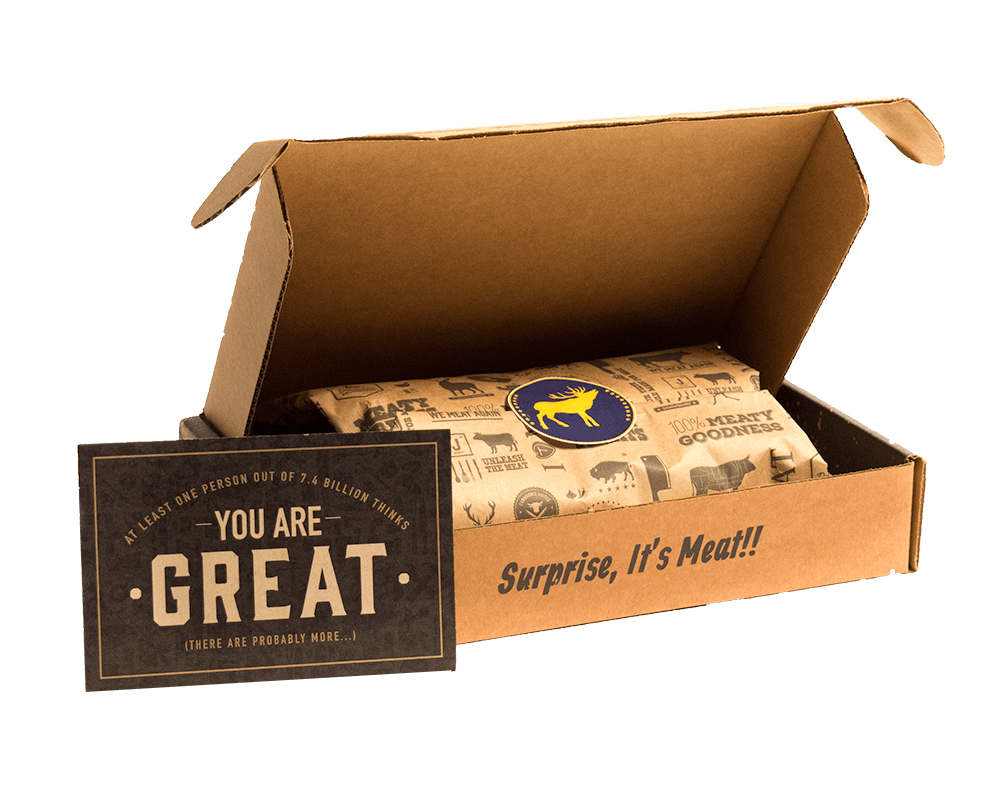 Your meats will arrive in an awesome cardboard box that says, "Surprise, it's meat!"
---
Orders placed by noon PST will ship out same day

Choose your delivery date at checkout
Story
Meat Plus Heat
Even though jerky is widely recognized as the Michael Jordan of foods, some guys still want more. Yeah, we know your type. Discontent with the sweeter things in life, you guys want to feel the heat of habaneros, jalapenos and other tongue-searing, perspiration-inducing flavor bullets dance on your not-so-delicate palates. Fortunately, the Spicy Jerkygram is just the thing to keep you gastro daredevils happily on fire.
Antacids in hand, we've combed the US jerky-making landscape for the perfect blends of heat and meat and have packed the best of the best into our new Spicy Jerkygram. Tender, hand-cut strips of steak marinated in a devilish cocktail of habaneros, chipotle peppers, jalapenos and a wicked blend of fiery spices - a powerful combo that'd make lesser men announce that they'd suddenly gone vegan.
So put on your flame suit, grab a cold one and bring on the burn with a Spicy Jerkygram from Man Crates.
Customer Reviews
Amazing

I got this for my boyfriend for Valentine's Day and he loved it! I needed to e-mail customer service and they e-mailed me back right away. I was very happy with customer service and I will definitely be a future customer again!! Thank you!

Girls Represented!

I ordered the Valentines Day Beef Jerky sampler for my wife and she LOVED it! She is the ultimate "connisour" of beef Jerky. The flavors and tenderness exceeded anything she has had in the past! Also enjoyed the personal card!

Great customer service!

I ordered this to be delivered to my boyfriends house on the 9th, but when I tracked the order it wasn't going to be delivered until the 13th! I called customer service and the awesome lady I spoke to contacted fed ex to get the order expedited, and we received it on the 10th. I was also given a full refund due to the error, which was only because fed ex decided to change the delivery date. They have amazing customer service and my boyfriend loves his jerky!! He got 3 large bags.

Perfect gift

I got this for my dad for his 50th birthday and he absolutely loved it. He let all his friends and my boyfriend try it at his party he was so impressed with it. He even loved the personalized card with my note that it came with. Of course he had to try the spiciest one first (he was choking up!) and he was very impressed. May get this for my boyfriend for a random gift since he loved it so much too! Thanks again ManCrates!

Amazing

My girlfriend suprised me with this, I absolutely loved it! She had it sent to me at work. Everyone here tried it and loved it!