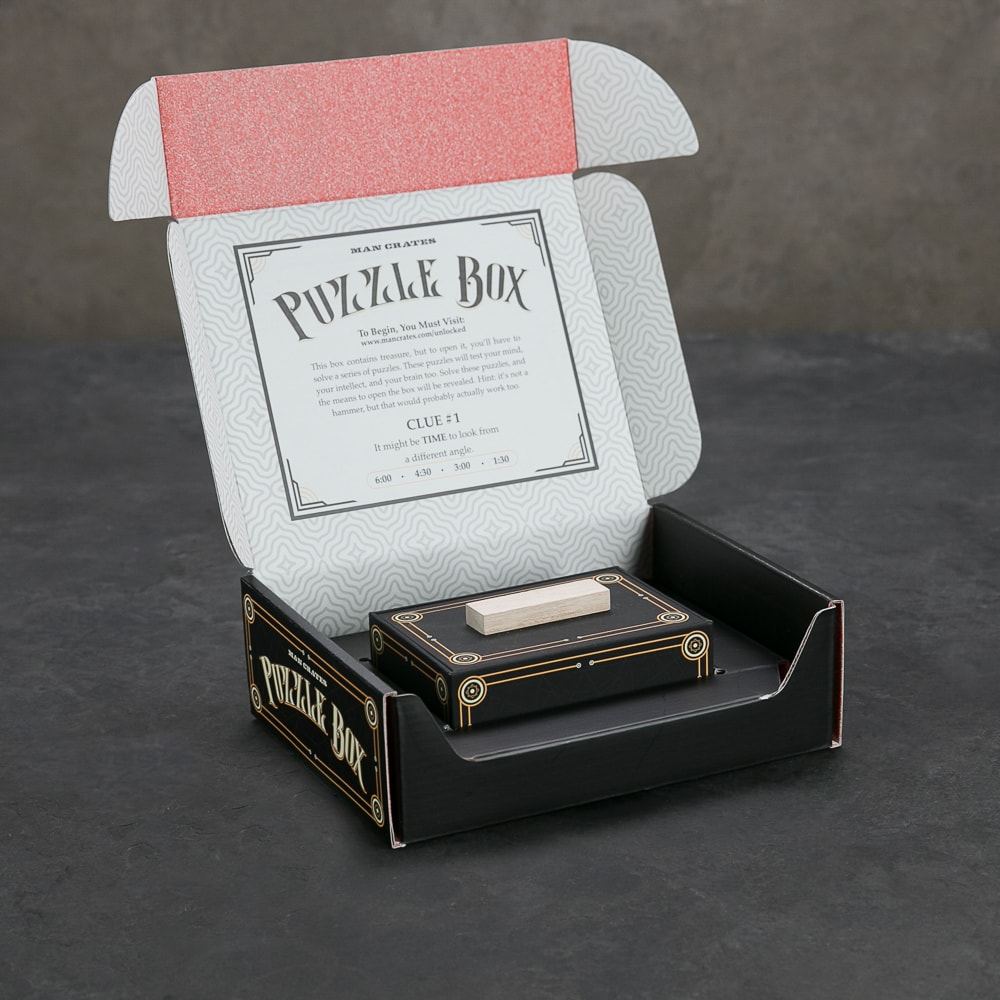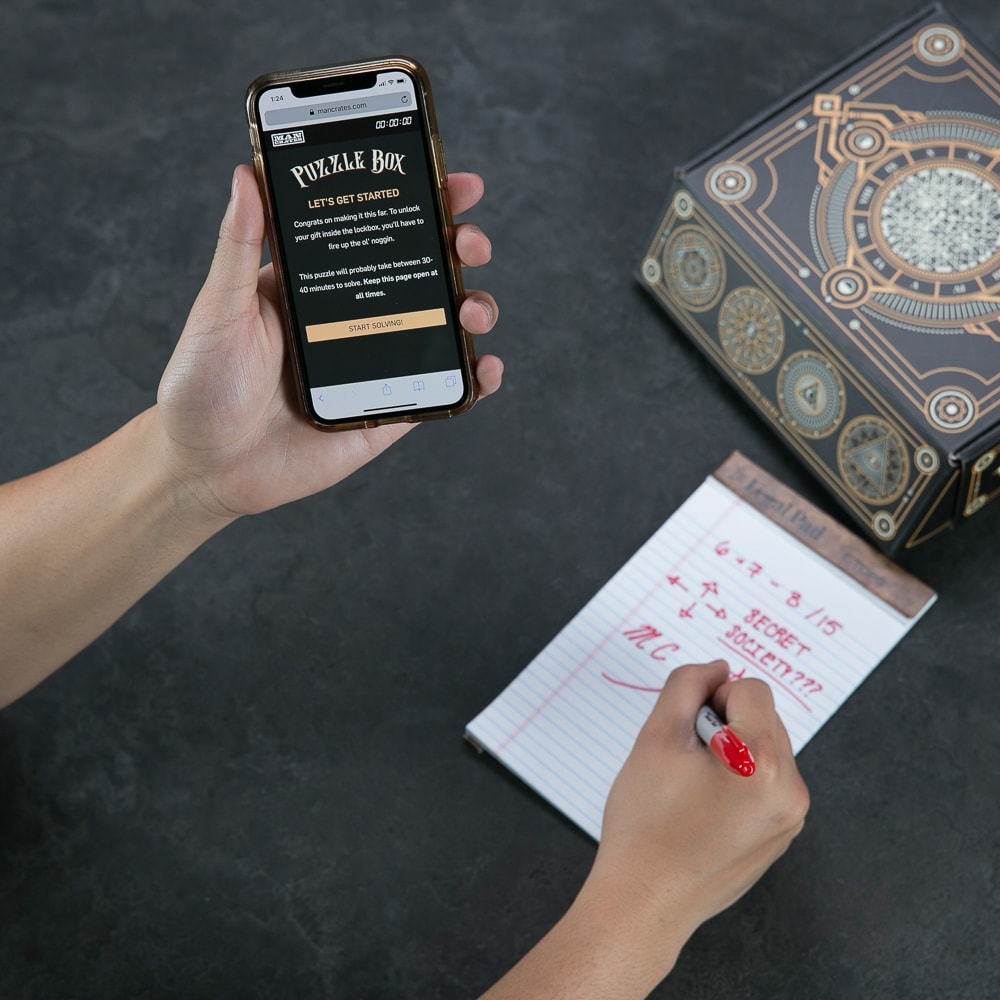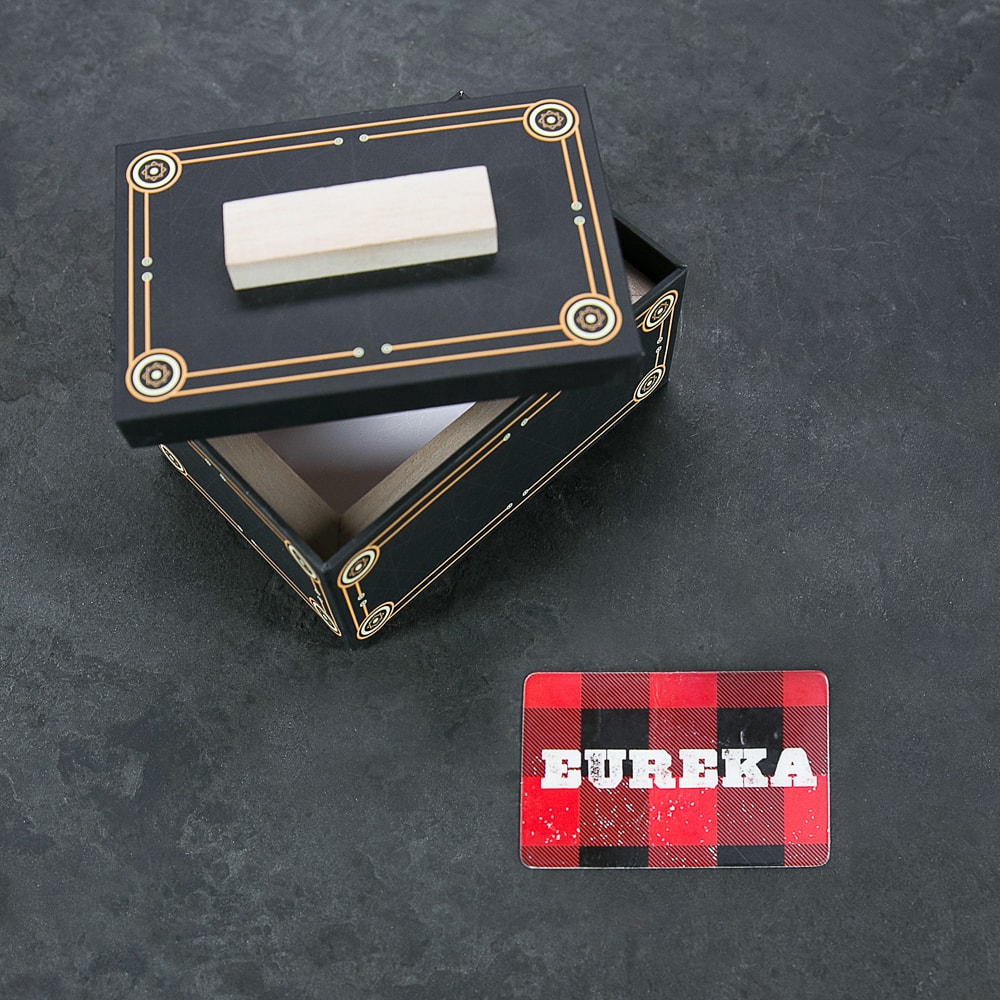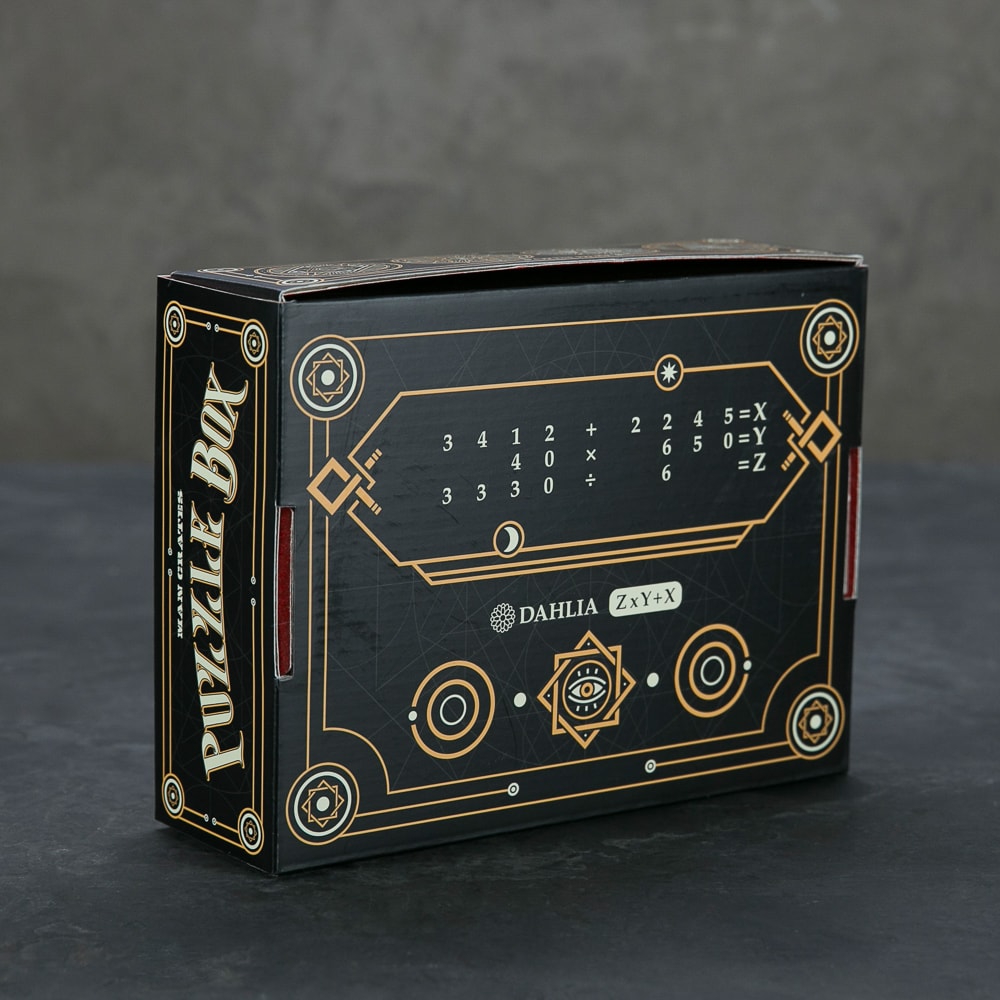 Puzzle Box - Escape Artist
In The Box
His Mission
Solve the box to extract the code. He'll use the code to redeem his digital gift card (sent by email).
Headscratchers
1 Puzzle Box
1 Locked Box
Reward Options (choose 1)
$50 Gift Card
$100 Gift Card
$150 Gift Card
Whiskey Stones (x6)
Thunderbird Torch Lighter
Gift Card Choices*
Bass Pro Shop
Buffalo Wild Wings (available in $50 and $100 only)
Amazon
Home Depot (available for use in USA and Canada)
Columbia Sportswear (available in $50 and $100 only)
Gamestop
Nike
Morton's Steakhouse (available in $50 and $100 only)
REI (available in $50 and $100 only)
*Full retailer redemption subject to change due to availability.
Note: Smartphone or computer required (not included).
How It Ships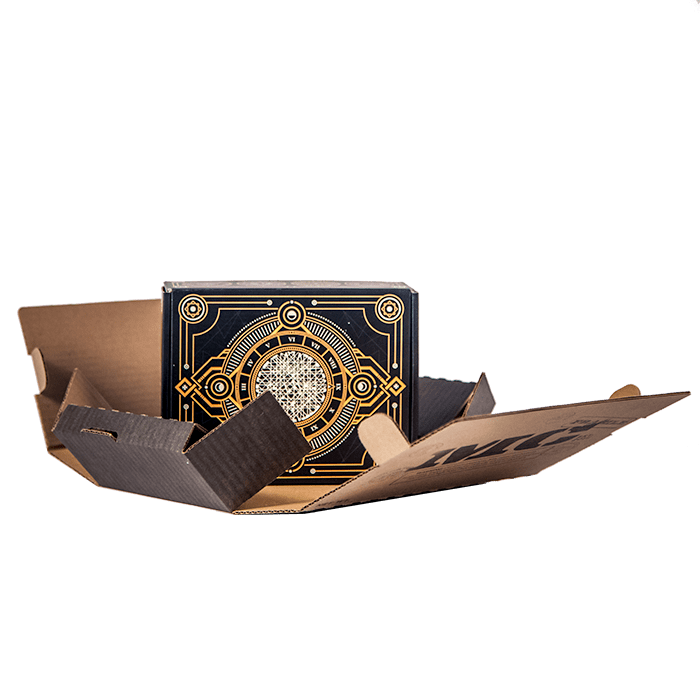 In a Man Crates branded cardboard box.
---
Choose your delivery date at checkout
Story
"Look at that Big Ol' Brain!"
How much a man can bench press is completely irrelevant if he's pushing against a door that reads "pull." The brain is a muscle too, and it's arguably the most important one, despite the claims of your local gymrat who won't share the squat rack.
Rather than doubling down on physical strength when dreaming up tougher-to-open gifts, we opted to test the intellect. There's no smashing or prying to retrieve his reward. In fact, his big ol' muscles will only be good for scratching his noggin.
Introducing, the Man Crates-exclusive Puzzle Box - Escape Artist, a fully interactive, brain-teasing experience with a worthwhile reward.
Unlocking the Fun
The Puzzle Box - Escape Artist is a surprise mission swathed in secrecy and bathed in bewilderment. He'll receive a mysterious box that can only be opened with some intense brain flexing.
He'll spend the next 30 to 1,000 minutes uncovering clues to solve a handful of expertly designed riddles. He'll discover clues hidden within anti-forgery ink, and these "keys" will help him solve the accompanying interactive digital experience accessed through his smartphone or computer.
Once he cracks the lockbox, he'll be rewarded with whichever item you select.
A gift card redeemable at tons of online retailers.
A Thunderbird butane torch lighter.
A set of 6 whiskey stones.
The Puzzle Box - Escape Artist will have his head spinning and give him a chance to exercise his cranius maximus.
*Coupons and promotions do not apply to this product.
Customer Reviews
Perfect

My boyfriend absolutely loved it and enjoyed the gift thanks

He Love It!!

I bought this for my Dad for Father's Day and he absolutely loved it! Being in his late 70's it's hard to find him unique gifts that he can get a kicked out of but this gift kept him guessing and then the gift card was just a little something to top it off. Great gift for a great Dad!

Really Fun!

I was skeptical at first, but it turned out to be really great. I thought the puzzle was the entire gift, but got a gift card too!

Awesome gift!

This game was such a hit, it was played and solved five times at my house on Christmas! After the initial recipient received his gift card, we refilled it with chocolates and various members of my family had an absolute blast with it! Great puzzles, wonderful group activity!