Personalized Whiskey Crate
In The Box
2 Personalized Heavy-Bottom Rocks Glasses, 9 oz.
2 Tovolo Ice Sphere Molds
2 Slate Coasters
33 Drams Whiskey Drinking Journal
Wonderful Salted Pistachios
Mixed Nuts
NOTE: Personalized items require two business days of processing time.
How It Ships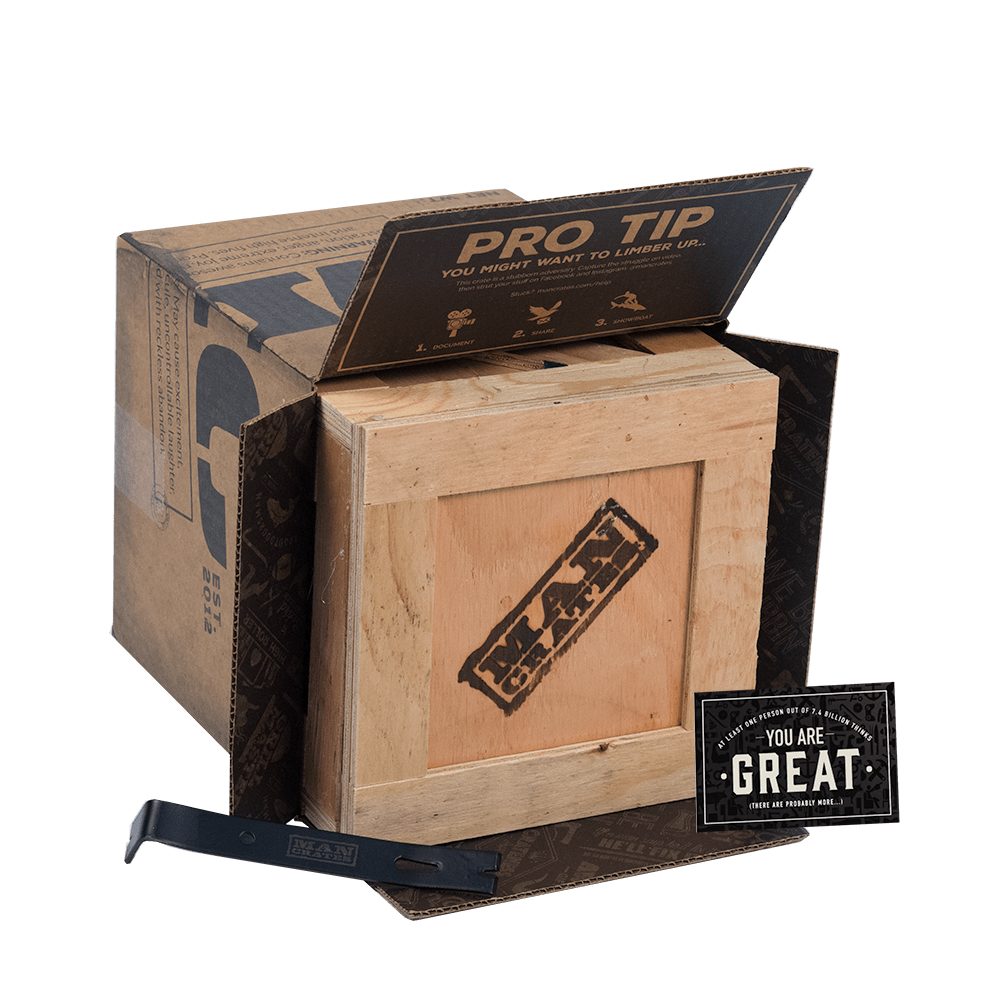 In a sealed wooden crate with a laser-etched crowbar.
---
Some shipping restrictions apply

Choose your delivery date at checkout
Story
The Sophisticated Man
Men aren't born dressed in a sharp tailored suit with a Cuban in hand. Even Frank Sinatra, before he was the suave sultan Frank Sinatra, was once young Francis Albert, captain of the chess club with enough barbed wire lining his teeth to fence off a Toluca cattle ranch.
The transformation into manhood, like most worthwhile ventures in life, begins with a strong drink.
Bold Bravado
Handing a guest a drink is like demonstrating a firm handshake in a job interview or warming up with one-fingered push-ups before an underground kung-fu death showdown. It's a functional maneuver to establish a relaxed, confident presence.
This set of square whiskey glasses are intentionally bottom-loaded to flaunt your gravitas. And we'll laser etch your name into the thick glass so no one will forget whose sophisticated jazz flute skills they were admiring all night.
Science bests nature once again with the Tovolo ice molds. These pristine ice crystal spheres have a slower melting rate, keeping your whiskey chilled longer and tasting stronger. And aesthetically they pair perfectly with the solid slate coasters, the marble floors of the coaster world, to give your whiskey experience a more rugged, natural ambiance.
Cultured Accompaniments
Whiskey is a flavor bully, and your childish gas station junk foods will get knocked over in its bold wake. These salted pistachios and mixed nuts are the perfect compliment to any whiskey.
And use the drinking journal to scribble notes for the whiskey blog you're thinking about starting, or just let it peek out of your pocket so people think you have a whiskey blog. Just as rewarding with much less work.
The road to classy refinement is not for the weak of taste, and it begins with the Personalized Whiskey Man Crate.
Customer Reviews
Killer Man Gift

I purchased this gift to send to a friend in Germany. You cannot send alcohol through their customs- but items related to alcohol are approved. An American product received in their country is coveted. He was ecstatic that his name was engraved as well. What an awesome gift. Took a month to move through customs- but eventually got through- it was worth the wait!!

A HOME RUN FOR MY HUSBAND

This was a Christmas gift and his first Man Crate gift. (We have gotten other gifts for our five grown sons). He carefully took the crate a part, was happy for the crow bar to add to his tools. Then could not quit saying "How Cool" with the personalized square whiskey glasses which he waited to use until the round ice sphere were frozen. He kept saying how perfect it made the whiskey taste! Everything in the kit was perfect for the experience. Also my husband's first name is Dave....so the Dave's Meats and Nuts bags were a huge bonus. Thank you for what you do. Quite a "guy" experience. I cannot remember the last time he was this excited about a gift.

Exceptional

I bought this gift for my son-in-law's birthday. Having a personalized gift was the perfect touch. What a hit!!!!

Man Crate's Customer Service is outstanding. I made a mistake with the order. I used the text option and had a terrific turnaround. They not only corrected my error but they did in within 30 minutes.

I will continue to buy from Man Crate an will definitely suggest this to all who I know.

Father's Day gift from daughter LaTonya

Never had such a creative gift, its presentation, and contents...
so simple but WOW

Excellent

My husband loved it and now he has the ice cube ball in the freezer. And he loved the whiskey glasses!! Thank you Mancrate