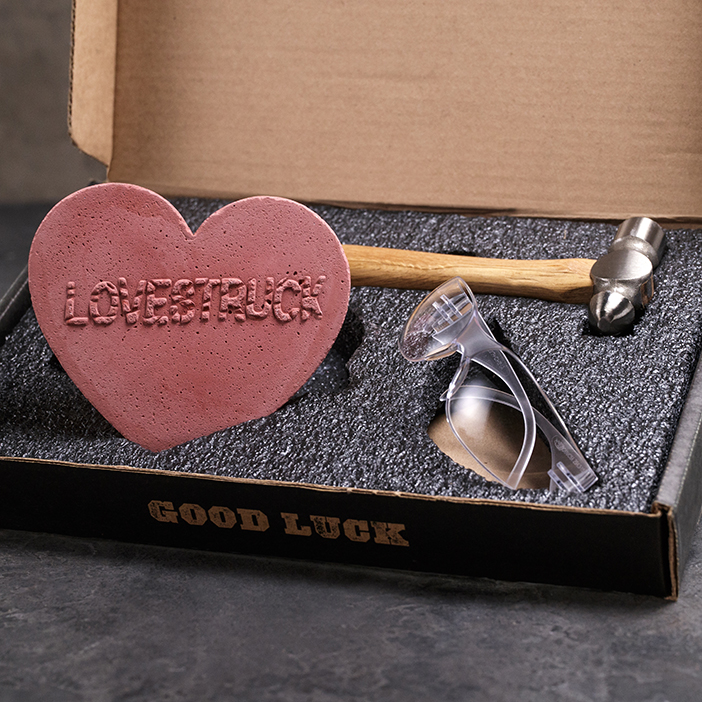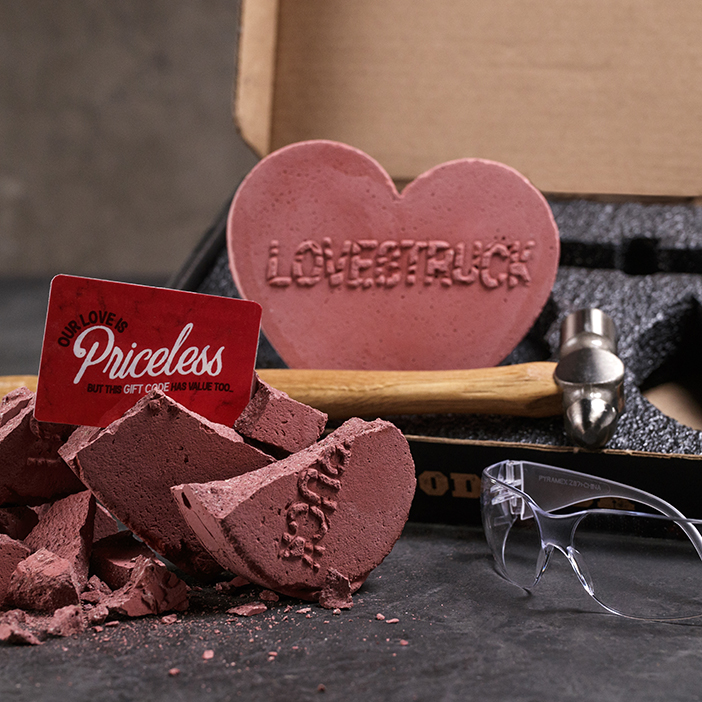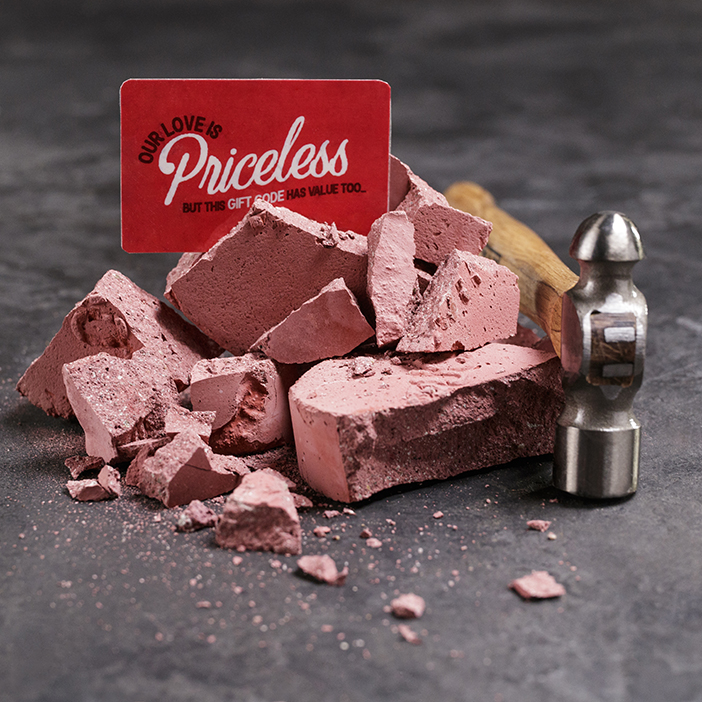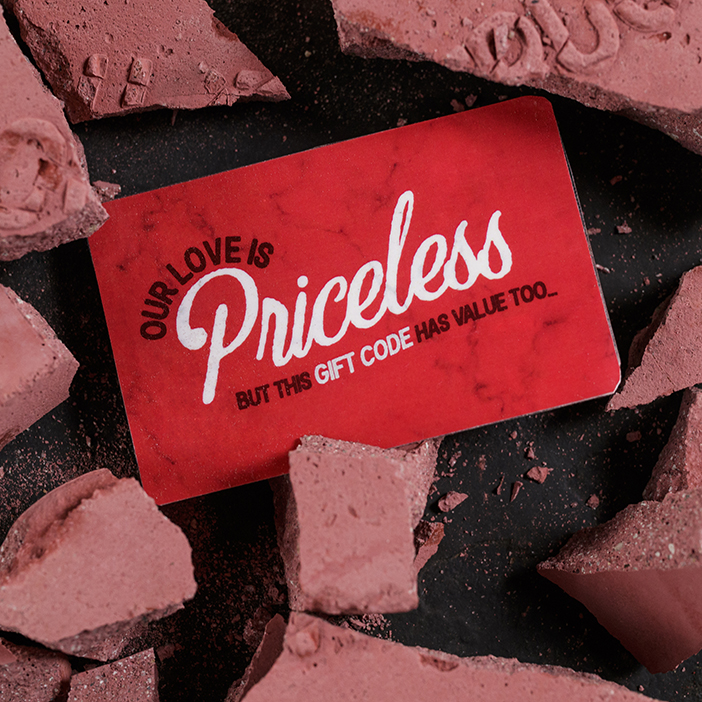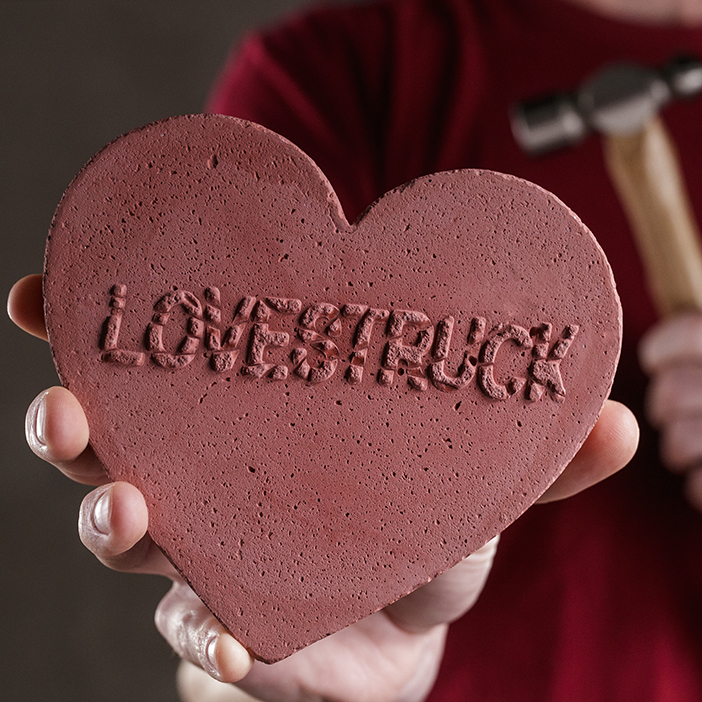 In The Box
His Mission
Destroy the brick to extract the code and redeem a digital gift card.
His Choices*
Bass Pro Shop
Buffalo Wild Wings (available in $50 and $100 only)
Amazon
Home Depot (available for use in USA and Canada)
Columbia Sportswear (available in $50 and $100 only)
Gamestop
Nike
Morton's Steakhouse (available in $50 and $100 only)
REI (available in $50 and $100 only)
*Full retailer redemption subject to change due to availability.
Agents of Destruction
Concrete Heart Brick (Gift card inside)
Ball-Peen Hammer (Style by availability)
Safety Goggles
How It Ships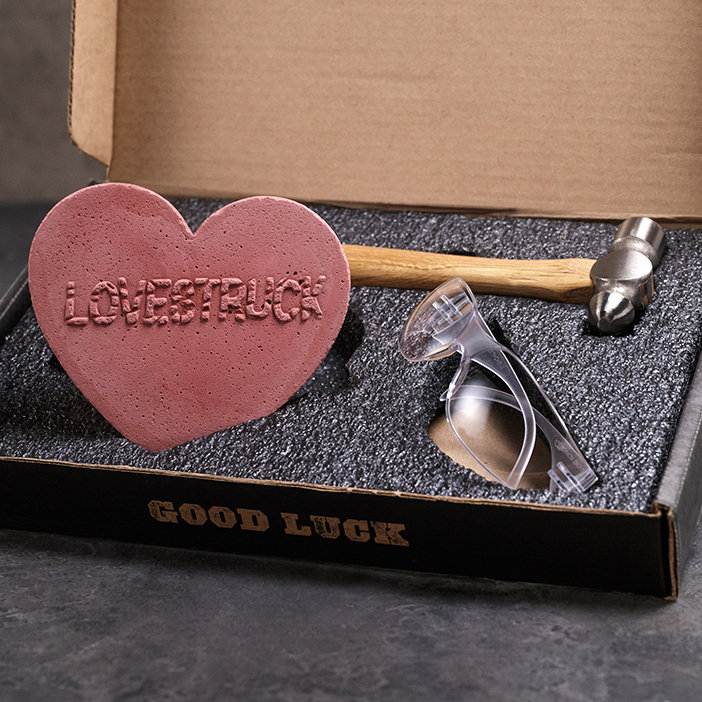 In a ManCrates branded cardboard box.
---
Choose your delivery date at checkout
Story
Achy Breaky Heart
Even though heartache has given us some of the best rom-coms and love songs of all time, we'd never, EVER want to break a heart…unless…
If that heart was made of concrete and there was a gift card hidden inside redeemable at dozens of retailers, well, consider us lovestruck.
Arriving complete with a shiny new hammer and a pair of safety glasses, the Lovestruck gift card is a heart-shaped concrete brick just begging to be broken. Once he crushes, shatters, and otherwise obliterates the concrete casing, he'll be rewarded with a code redeemable for his choice of gift card.
Share your love and make Valentine's Day a smashing success with the Lovestruck Gift Card.
*Coupons and promotions do not apply to this product.
Customer Reviews
AWESOME!

THIS WAS SO GREAT! MY HUSBAND ABSOLUTELY LOVED IT! IT ARRIVED ON THE EXACT DATE IT STATED IT WOULD BE!

Unique!

My husband LOVED this! I love that it's not your normal Valentine gift; cologne, candy, etc. He was smiling the entire time he was trying to crack it open! He then said "that was so cool" at least 4 times after he got the card out! Lol I would definitely recommend!!

Keeping it fresh!

My wife gave me mine to crack open today and I was like.. hmm, interesting. I honestly didn't wanna crack it open cause it was pretty cool. But alas, I did and she filmed it. Was a pretty cool gift - changing it up and keeping it fresh. I salvaged some of the pieces as a keepsake. Thanks honey!

Amazing amazing gift!

My husband opened his Valentine's gift early. He loved all the care put into the box and how it came together he said it was the perfect Man gift and he thought having an option for where to redeem the gift card was even better. He loved breaking open the heart, wearing the glasses and all

Unique gift

This came exactly when it was expected and is a very unique gift. However, my husband decided to rip the heart in two with his hands rather than using the hammer. I was hoping it would be a bit harder to open, but I still think this is a good gift. (Maybe just for someone else in my family.)