In the Box
Gin Making Tools
2 Glass Bottles, 375mL
2 Personalized Labels
2 Bartop Corks
Gin-Fusion Instructional Recipe Booklet
Gin Flavor Enhancers
Juniper Berries, 1.4 oz
Coriander Seeds, 0.6 oz
Angelica Root, 0.6 oz
Lavender, 0.2 oz
Citrus Peel, 0.6 oz
Grains of Paradise, 1.4 oz
Star Anise, 0.4 oz
Chamomile, 0.2 oz
Cardamom Pods, 0.8 oz
Allspice Berries, 1 oz
NOTE: Gin-Fusion Kit does not ship in a crate.
How It Ships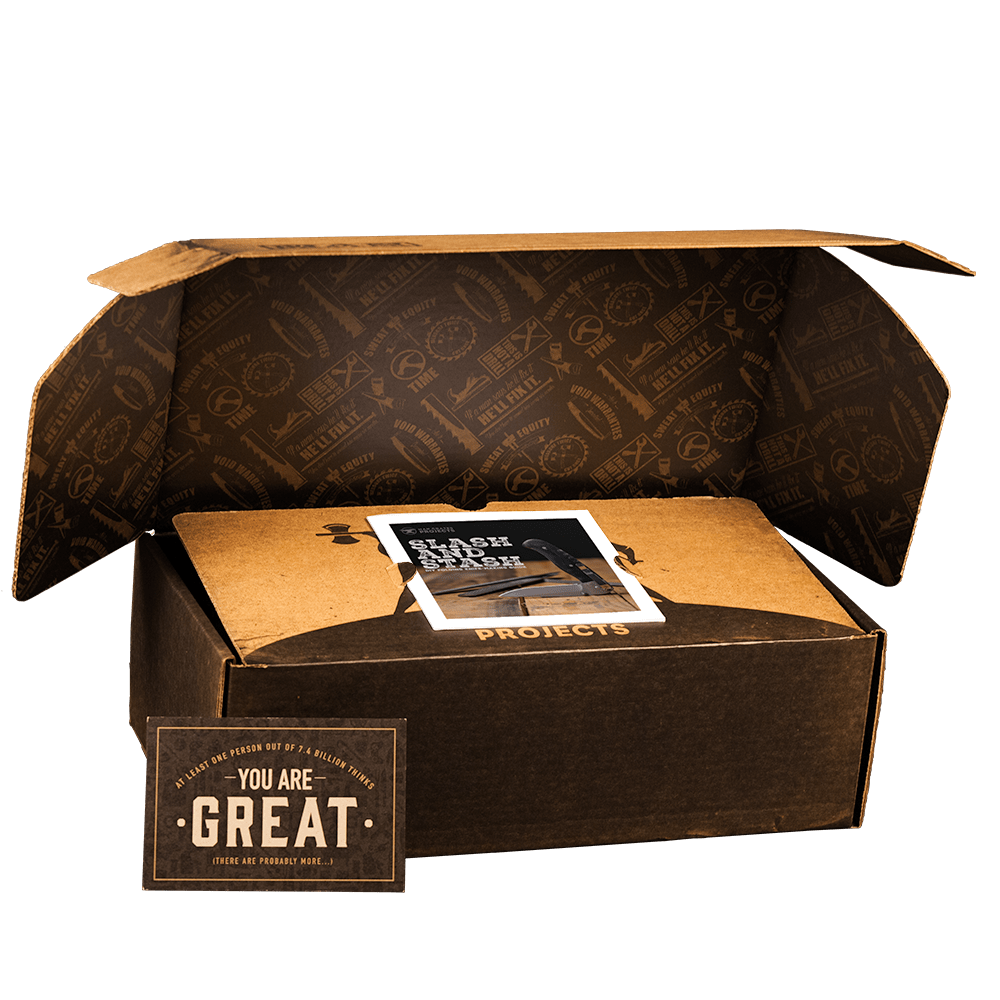 In an awesome cardboard box. Corrugated C Flute cardboard with regular slotted style... told you it was awesome!
---
Some shipping restrictions apply

Order in the next 8 hours and it ships within 2 business days

Choose your delivery date at checkout
100% Satisfaction Guarantee
We think our products are awesome, and we guarantee you will too. If you're unhappy with your purchase or experience for any reason, we'll make it right and give you the kind of service you'll want to high-five us for.
Seriously, just call or text us at (866) 902-7260 or shoot us an email at guys@mancrates.com.
Story
Gin For the Win!
As much as we enjoy the idea of distilling our own gin, we moreso enjoy keeping our eyesight, bathtubs, and status as mostly law-abiding citizens intact. And while DIY spirit distillation isn't as mischievous as Prohibition-era propaganda paints it, it'll still earn a modern-day moonshiner a few free nights in the county lock-up.
Thankfully, we've found a way to get in on gin without also getting a visit from Johnny Law or his lesser known siblings Jimmy Firefighter and Jenny Emergency Ocular Surgeon.
Compound gin is our legal loophole. It infuses the spirit after distillation and is an easy entry into the world of producing excellent, custom cocktail spirits. The Gin-Fusion Kit is the perfect DIY process for the true gintleman.
The Heart of Gin
Juniper berries make up the base foundation for any gin, so we've included a healthy amount in the Gin-Fusion Kit.
We've also assembled a botanical dream team, nine flavor muses to infuse the gin with a unique personality. These botanicals are the active ingredients responsible for every gin's unique aroma and flavor.
The Man Crates-exclusive gin-making instruction book comes with three recipes for a surefire success. It also strongly encourages experimentation.
Bottles on Bottles
Good news! Making compound gin doesn't require slowly stealing lab equipment from a community college chemistry class the way distilling gin does. These fancy glass bottles should do the trick.
We're including two 375mL bottles for flavor infusion, which we hear can split a 750mL bottle of vodka evenly. We can't know for sure since we were forcibly removed from that community college chemistry class before fractions were covered.
The Gin-Fusion Kit puts the fun and freedom of gin infusion into the hands of the everyman.
Customer Reviews
Excelente

Second time buying the same kit 😬

BEST GIN EVER

My son got this for me for Christmas (or birthday - one week apart) and I happily made it. Best Gin ever - I'd sip it with a (small) cube of ice and enjoy it. I'd love to buy refills of just the Juniper/herb packs as I don't need multiple sets of the hardware. (NOTE TO MARKETING DEPT)

Such a great gift for a gin lover!

Got this for my husband for his birthday. He made 3 batches from the included recipes and now has branched out doing his own touches. He has made at least 15 different varieties. He has a spread sheet on the computer with the different names and ingredient lists for each one. He is really enjoying this. He has his friends doing it with him and has made some for gifts. Best money I ever spent!

Vodka martinis anyone?

So I was excited one year to get my dad his favorite vodka for his Martinis. Turns out he's a gin martini guy. So the following year I got him a small bottle of his favorite gin as a joke and a large bottle of vodka for his real present. Again I switched it up the wrong way.

Well this brings us to this past Father's Day. In front of my family I gave him yet another bottle of vodka to my family nicely making jokes at me. Luckily the base for gin making at your house is vodka. So after the laughs were done, actually while they still were happening I went over to a shelf in the room and grabbed the gin making kit. Salvation!

So my dad just made three batches and honestly the first one did not turn out as well as it could have. The second was perfect as well as the third. All different.

Thanks again man crates !

Great Fathers Day Gift

Have made two of the recipes and loved them both. Anxious to try more. GREAT IDEA