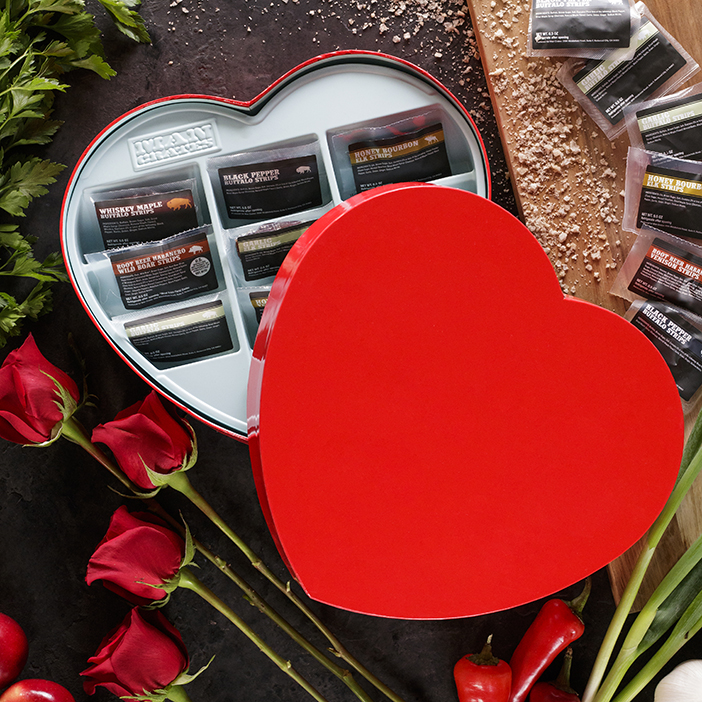 Exotic Meats Jerky Heart is temporarily unavailable
Alas...
Notify Me
In The Box
Love At First Bite
1 Buffalo Jerky, Black Pepper, 0.5 oz
1 Buffalo Jerky, Garlic, 0.5 oz
1 Buffalo Jerky, Whiskey Maple, 0.5 oz
1 Elk Jerky, Black Pepper, 0.5 oz
1 Elk Jerky, Garlic, 0.5 oz
1 Elk Jerky, Honey Bourbon, 0.5 oz
1 Wild Boar Jerky, Honey Bourbon, 0.5 oz
1 Wild Boar Jerky, Root Beer Habanero, 0.5 oz
1 Venison Jerky, Honey Bourbon, 0.5 oz
1 Venison Jerky, Root Beer Habanero, 0.5 oz
How It Ships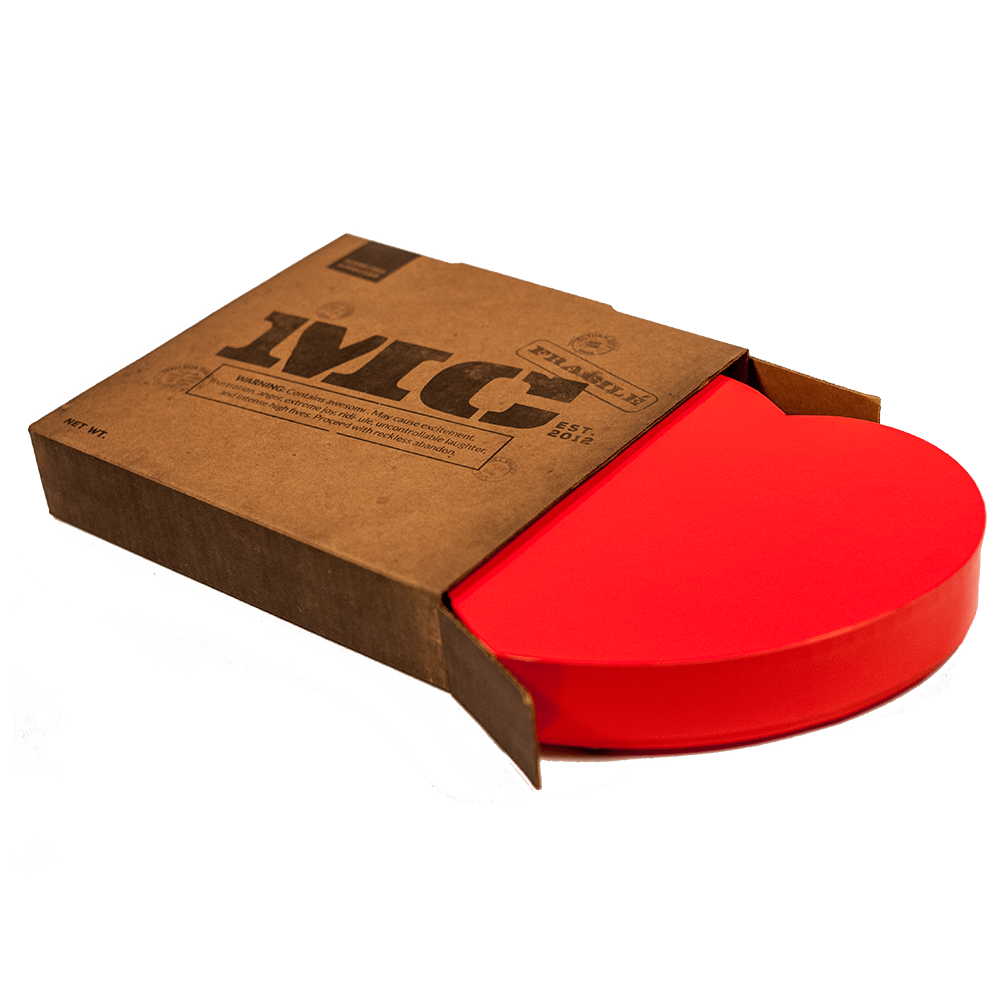 Packed inside a heart-shaped box and shipped in a cardboard box.
---
Some shipping restrictions apply

Orders placed by noon PST will ship out same day

Choose your delivery date at checkout
Story
On Exotic Romance
Some have called love a many splendored thing, others a battlefield. We call it confusing.
It's not that we don't get romance; the thrill of being showered by sweet nothings and also actual swoon-inducing gifts and makes total sense. It's just, we don't get anything we find romantic. Truth be told, a tub of bubbles and a pocketful of fancy chocolates doesn't really kickstart the ol' emotion-maker.
But the tides of tender affection are turning, and the male heart can now be cut loose from where it's been hanging high and dry all these years. The romanced man has a new champion in the Exotic Jerky Heart.
The Art of Meaty Romance
The Exotic Jerky Heart is a wholly-savory, hyper-sensual meat surprise of affection and flavor.
Spring the perfect romantic rouse with a sappy, heart-shaped box suggesting the tiresome chocolates of every year. But upon opening, his humdrum expectations and coarse, emotional exterior will be melted away by a passionate gesture of jerky.
There's no sentiment words can convey that exotic jerkies can't, but we'll still print your blush-worthy message of tender affection inside the box--right next to ten knee-weakening flavors of tender exotic animal strips like Honey Bourbon Elk, Black Pepper Buffalo, and Root Beer Habanero Venison.
Put the "man" back in romance with a total heart-sweller that charms him in his most fluent language: savory, seasoned beef jerky!
Customer Reviews
Great Jerky but a little costly

My wife got this for me for Valentines Day and it was a nice surprise. She knows I love jerky so the different flavors being individually wrapped and in the heart shaped box was nice. There isn't much jerky for the price but it was a thoughtful gift that I enjoyed.

Best gift ever

I was the recipient of a jerky heart. After years of bad ties goofy socks and unfashionable wallet. I finally received a gift I loved. The quality of the jerky was amazing. The variety of flavors was incredible. My only complaint is that I had to fight off my four kids for who ate white

Great product and customer service!

The delivery company gave my package to someone else the first time, but Hailey's customer service was so helpful and quick! She got a replacement order shipped as soon as possible and made sure this one got to me! I know my boyfriend will be very happy and love this for valentine's day!

Bring on the (exotic) meats!

These savory little nuggets of joy were just what my husband wanted. Never satisfied with the traditional cured-meat-in-a-tube he always goes for the weird flavors and textures, so this fit the bill perfectly. The best part was the surprise when he thought it was going to be a boring box of chocolates and then - surprise! - crazy cured meats instead. :)

Shock and Awe

Gave one of these to a buddy to see what his reaction was. Definitely shock and awe. Jerkies were tasty and lots of good stuff he never tasted before. Made an impressikn on him cause he thought it was chocolate.