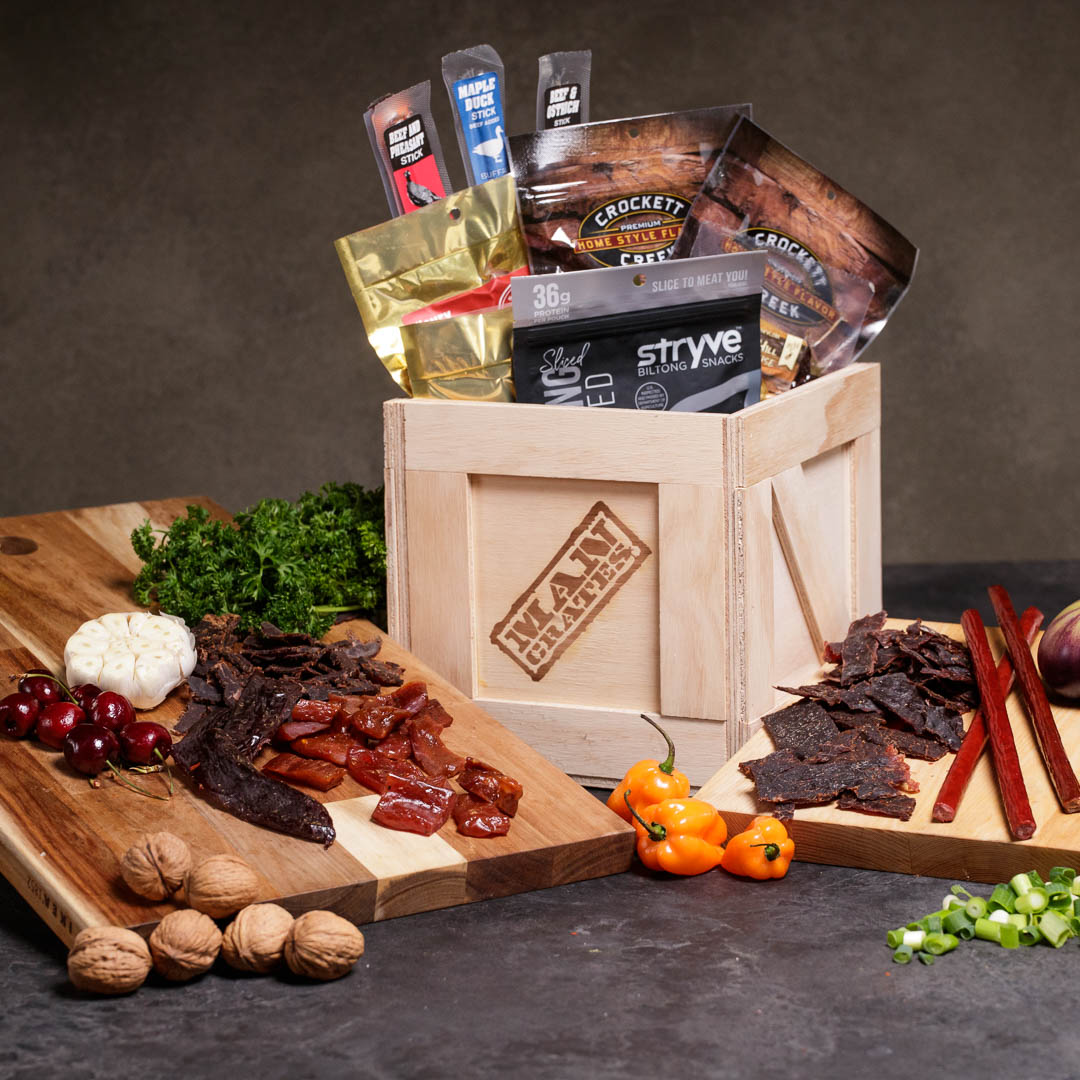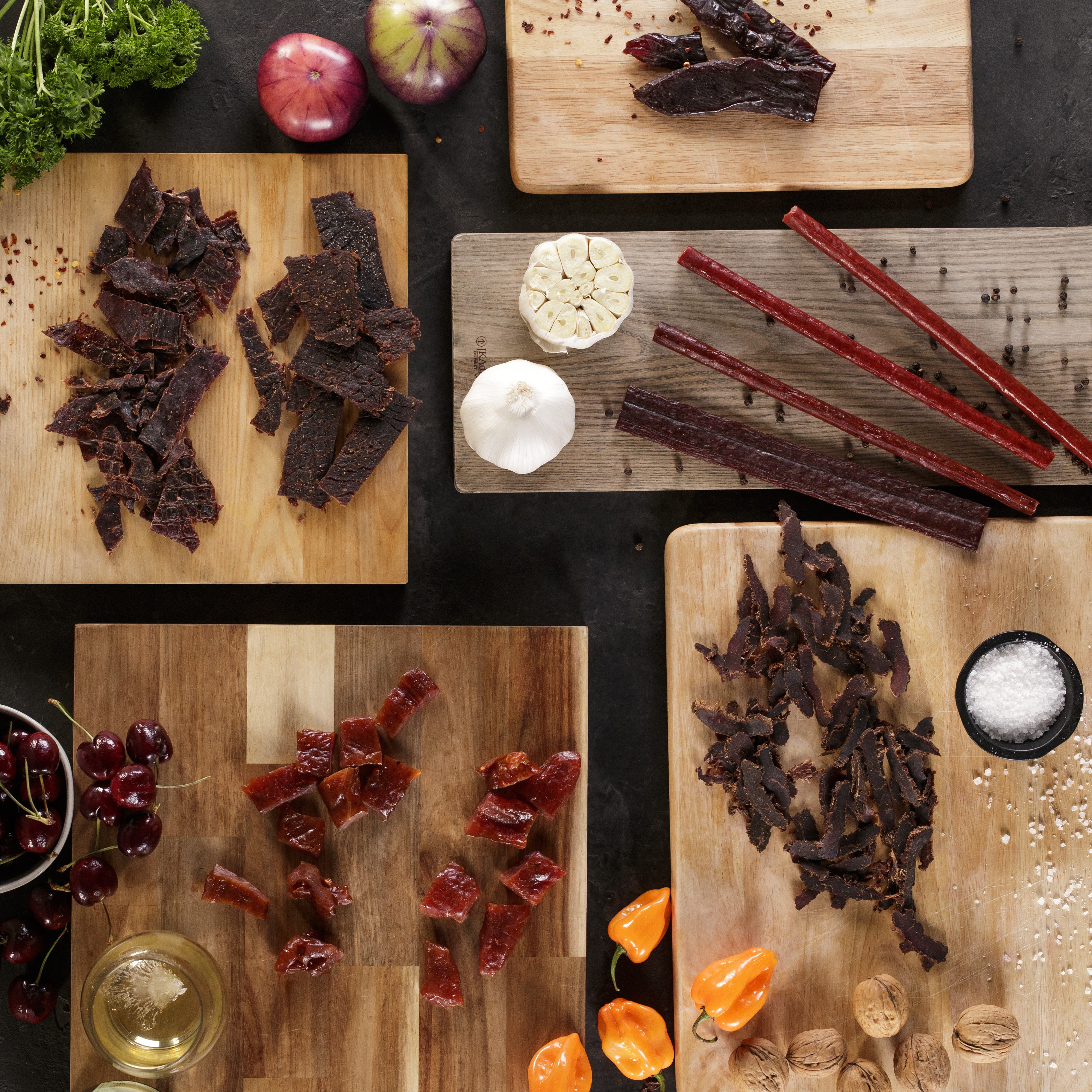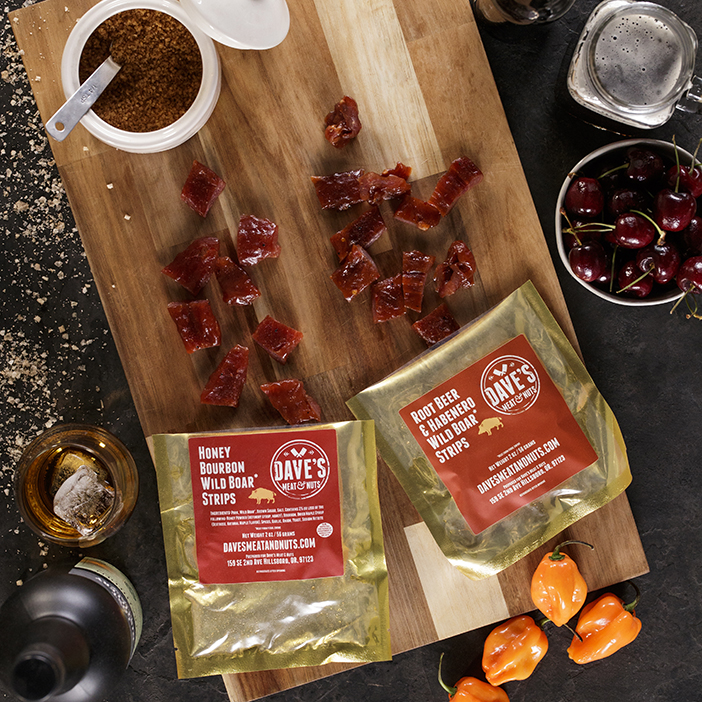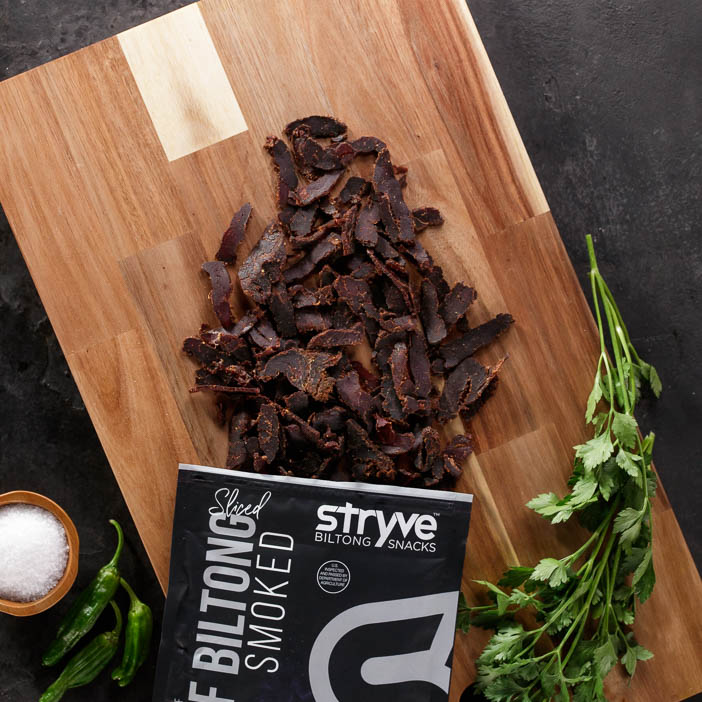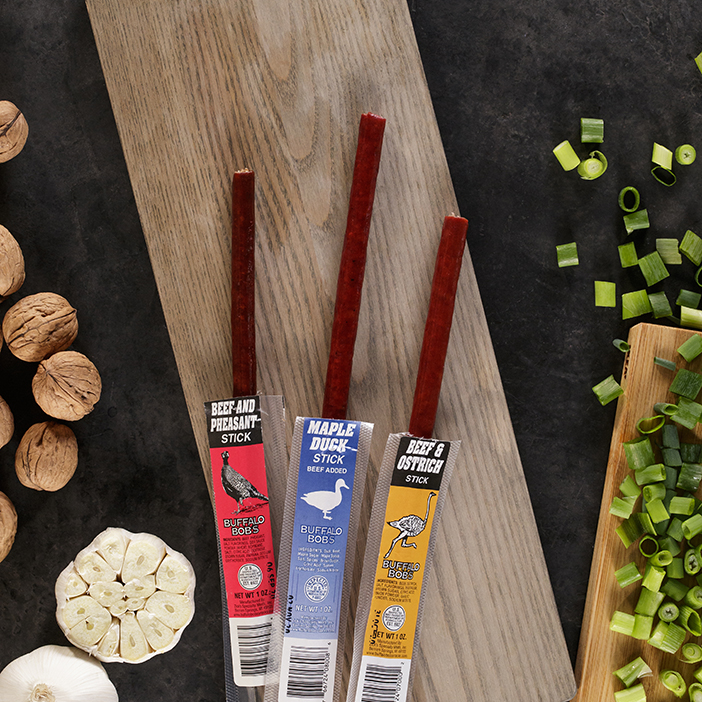 In The Box
Smoked Biltong Beef Jerky, 4 oz
Elk Jerky, 2 oz
Venison Jerky, 2 oz
Wild Boar Honey Bourbon Jerky, 2 oz
Wild Boar Root Beer Habanero Jerky, 2 oz
Pheasant Jerky Stick, 1 oz
Duck Jerky Stick, 1 oz
Ostrich Jerky Stick, 1 oz
Elk Jerky Strip, 0.75 oz
NOTE: Some products may contain beef. Due to Buffalo unavailability, we included a larger bag of Biltong.
How It Ships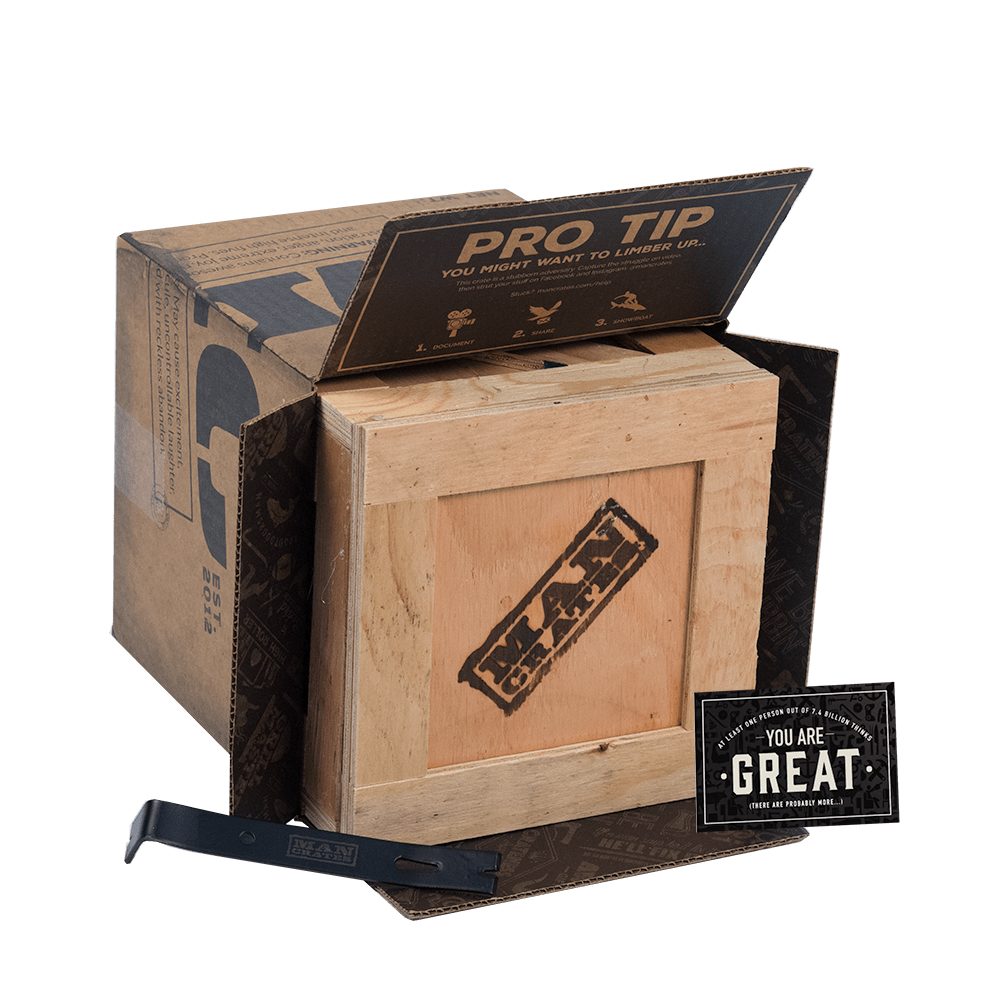 In a sealed wooden crate with a laser-etched crowbar.
---
Some shipping restrictions apply

Orders placed by noon PST will ship out same day

Choose your delivery date at checkout
Story
The Feast of Beast
We've already compiled the pinnacle selection of meat samplers from three continents in the Exotic Meats Jerkygram, and we didn't want to reinvent the wheel. No, we wanted to snag three more wheels, toss 'em in a Lambo, and burn victory lap donuts in the parking lot of every non-exotic meat factory in the land.
The More, The Meatier
The Exotic Meats Crate has so much deluxe animal poundage that we could legally register it as an official safari park. We're talking enough spiced ostrich, elk, duck, pheasant, and boar meat to make El Chupacabra wave his claws in surrender, screaming, "No mas, no mas!"
And this premium meat parade will fly first class to your doorstep in a sturdy wooden Man Crate.
The Most Interesting Meat in the World
We've also expanded the curation process to include Biltong, South Africa's treasured method of preserving delicious meats. This thin-cut beef treat is the Meat Supreme in the dried animal kingdom, and it literally means "rump tongue" in Dutch. Drop that knowledge bomb on your friends and they'll swoon over your intelligence. Swoon, we say!
Select this Feast of Beast and prepare to sample the safari!
Customer Reviews
Best Christmas Surprise

Discovered this site from a Facebook ad and thought it would be a different and unique Christmas gift. It did not disappoint. The husband enjoyed everything about this crate. Will definitely be ordering more from this site in the future.

Exotic Meats Crate = Awesome!

My husband absolutely loved this! He enjoys all jerky and was exciting to try these different kinds. It made a great Christmas present! Will definitely order from ManCrates again in the future.

Happiest Grandpa on the planet

I ordered this for my 89 year old grandpa for Christmas. He's always been a lover of jerky and used to big game hunt back in the day traveling all over the world. Due to age and Covid, he's been stuck at home. My grandma passed away last year and my dad (his son) passed 2 years ago. He's had a rough few years and he's been quite lonely. I wanted to get him something to brighten his day. He just called and was over the moon thrilled with his gift. Said it took him 15 minutes to get it opened but he was just beyond happy which made my week and my heart beyond happy! He's so excited to try all the jerky! Thank you for having this available. You've made my 89 year old grandpa's Christmas!

AMAZING!

I been ordering there stuff for 5 years every Christmas and valentines now! Always on time and never disappoint. It looks just like the photos and my boyfriend says it taste the best jerky he's ever had. I'm definitely a customer for life with this company!

Crate is awesome

The nut crate I got my husband last year made our Christmas. Getting inside the package was a riot. We had teenagers, oldsters, everyone trying to get it open (I wrapped it just as it came to the door.). He loved it, the nuts, the jovial good time. Plan to do same now.