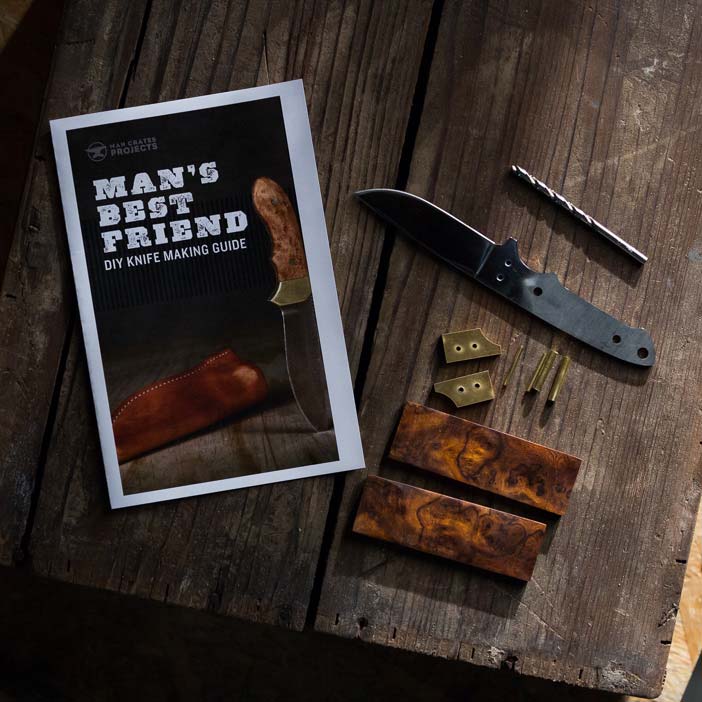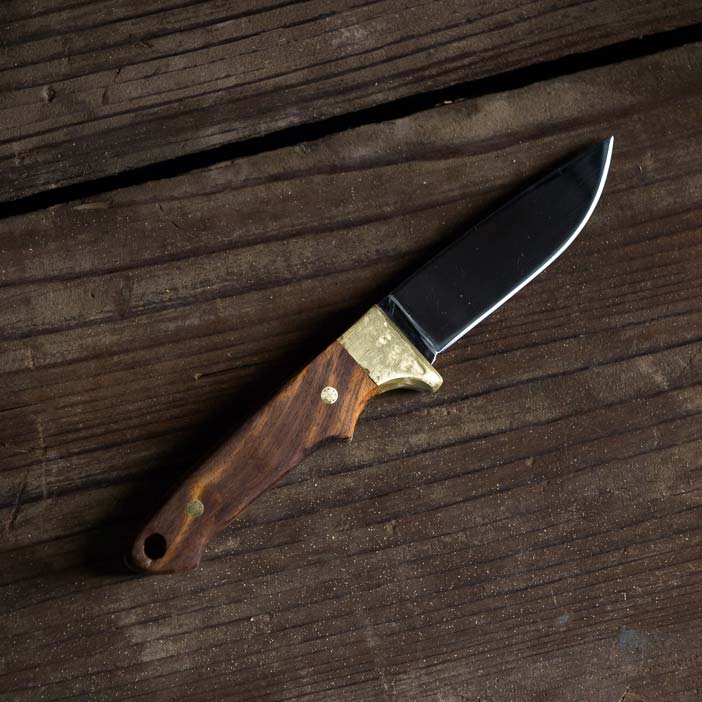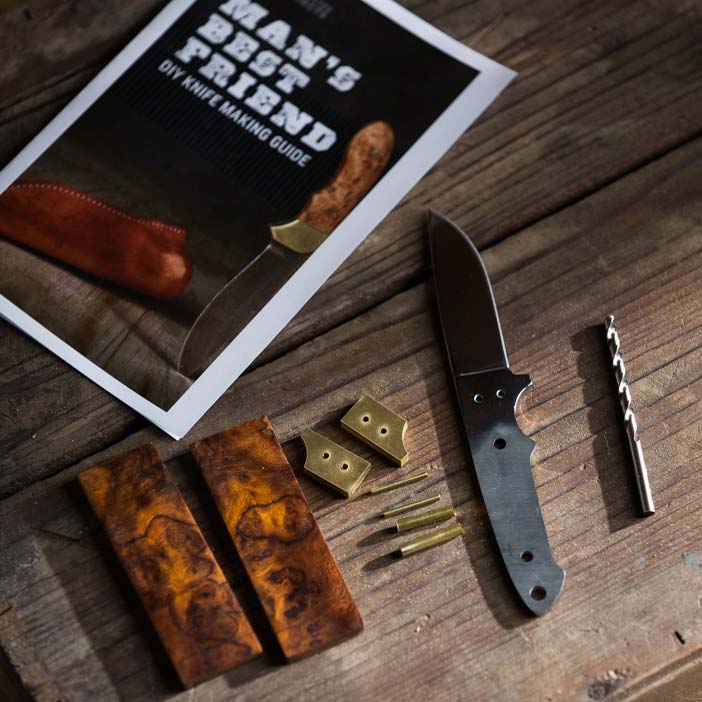 Oh no! Looks like Knife Making Refill Kit is out of stock
Click below to get notified when it's back in stock
Notify Me
In The Box
Project Reinforcements
Man Crates Knife Making Guide
Idaho Hunter Blade
Ironwood Handle Scale Set
Brass Bolster Set
Mosaic Pins
#12 Drill Bit
NOTE: Knife Making Refill Kit does not ship in a crate.
How It Ships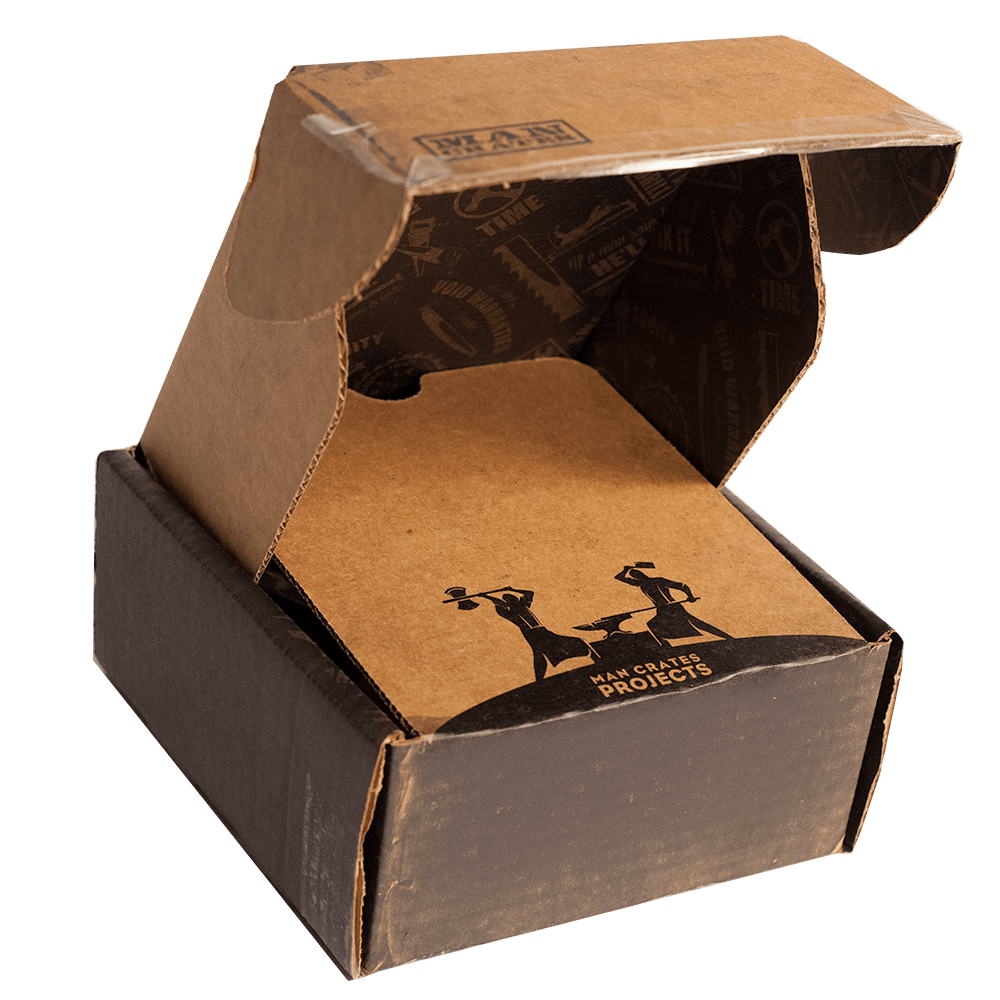 In an awesome cardboard box. Corrugated C Flute cardboard with regular slotted style... told you it was awesome!
---
Orders placed by noon PST will ship out same day

Choose your delivery date at checkout
Story
Knife-Making Kit 2: The Sequel
Ask any artist, engineer, or parent with multiple children and they'll confess: no one gets it totally right the first time.
Mastering any new skill involves humble expectations and a high patience for imperfection. It's perfectly normal to learn through trial and error...with a major emphasis on the error.
But what do we do when we fall off the horse? We buy a new horse and hope for the best.
Stay Sharp
The Knife Making Refill Kit is the restock every newfound blade shaper needs to gain a new edge on the craft. Creating this high carbon stainless steel blade is a very similar process to the previous knife, but hopefully with more expertise and less band-aids.
This refill kit utilizes the tools from the previous Knife Making Project Kit, and also includes a #12 drill bit and the mosaic pins, brass bolster set, and Desert Ironwood scales needed to shape a trusty and true 7.5" knife.
Customer Reviews
Great project

My son gifted this to me for my birthday. I love to work with my hands, and this was perfect for me. I have to admit, I was intimidated with a fear of messing it up. I knew my son would want to see the finished work. After staring at the pieces on my bench for a couple weeks, I finally decided, it's now or never! Every step carefully processed. I knew there were no "do overs". Slow and deliberate steps, but once I got started it was an obsession. It came out great.

No sheath?

My husband loved the original kit and really liked the refill. The only glitch was the refill kit does not include a knife sheath like the original project kit.

Great gift but

I bought this refill kit for my husband for Christmas since the original kit was a huge hit for our anniversary. He absolutely loved it. The only downfall is it didnt come with a sheath like the original one did which is the only reason it is not getting 5 stars.

Fun Project!

My son gave me this kit for Father's Day. What a great little project. In an effort to save sanding work, I tried to shape the handles prior to affixing them....which was a mistake. I had some spare pieces of oak, which worked perfect. Finished product looks good!