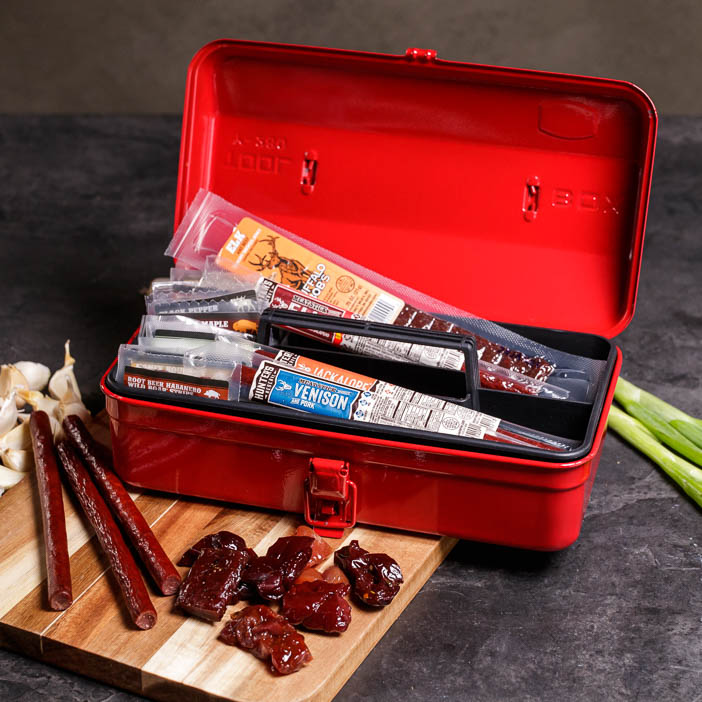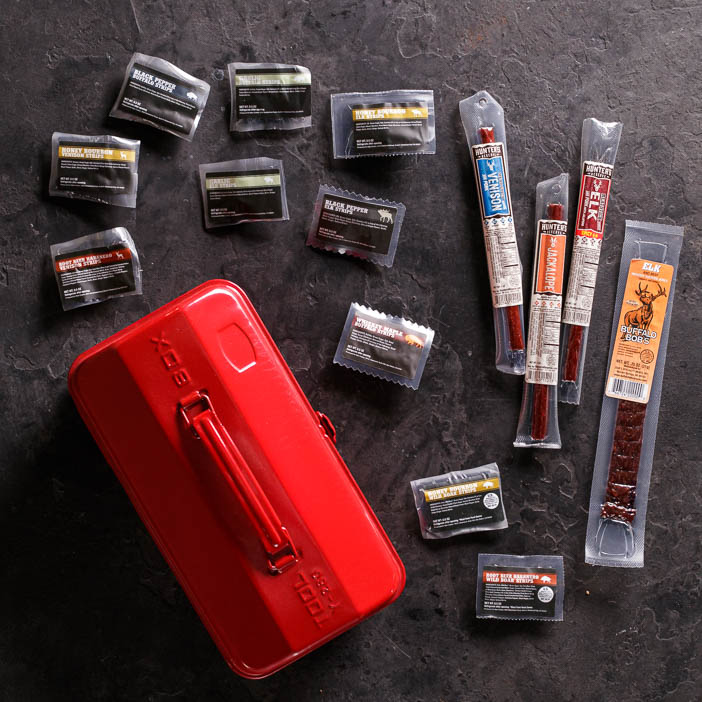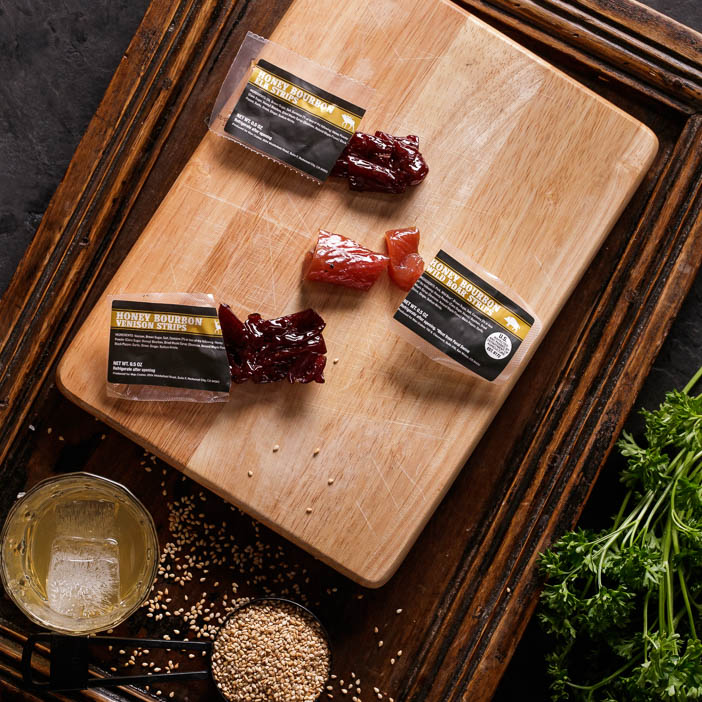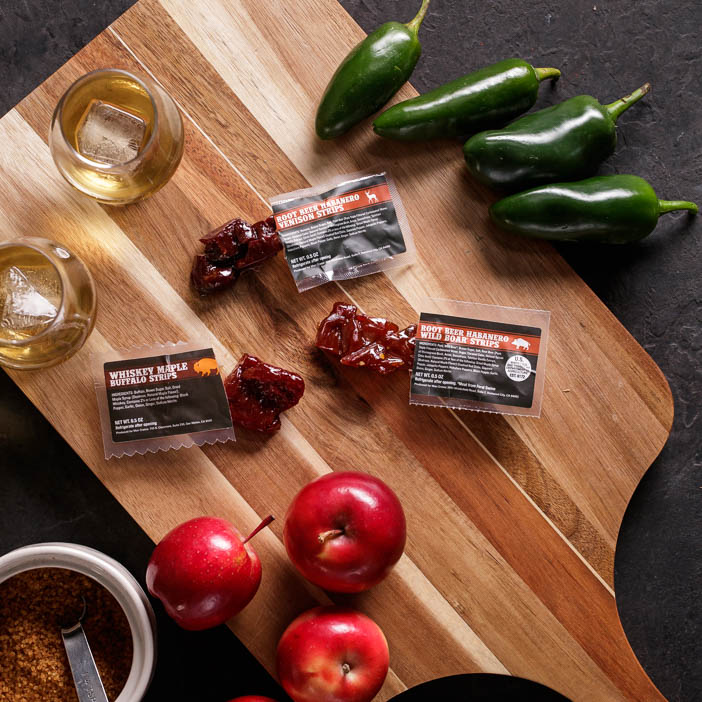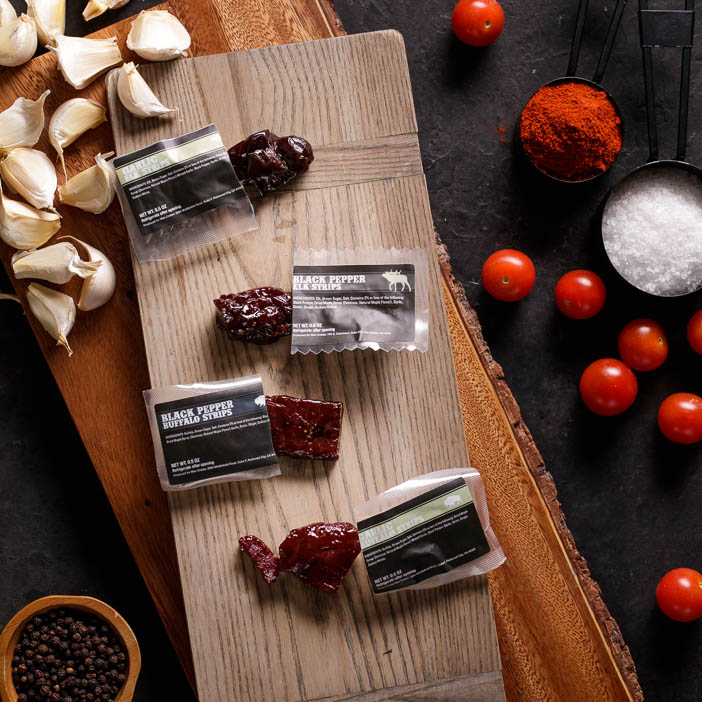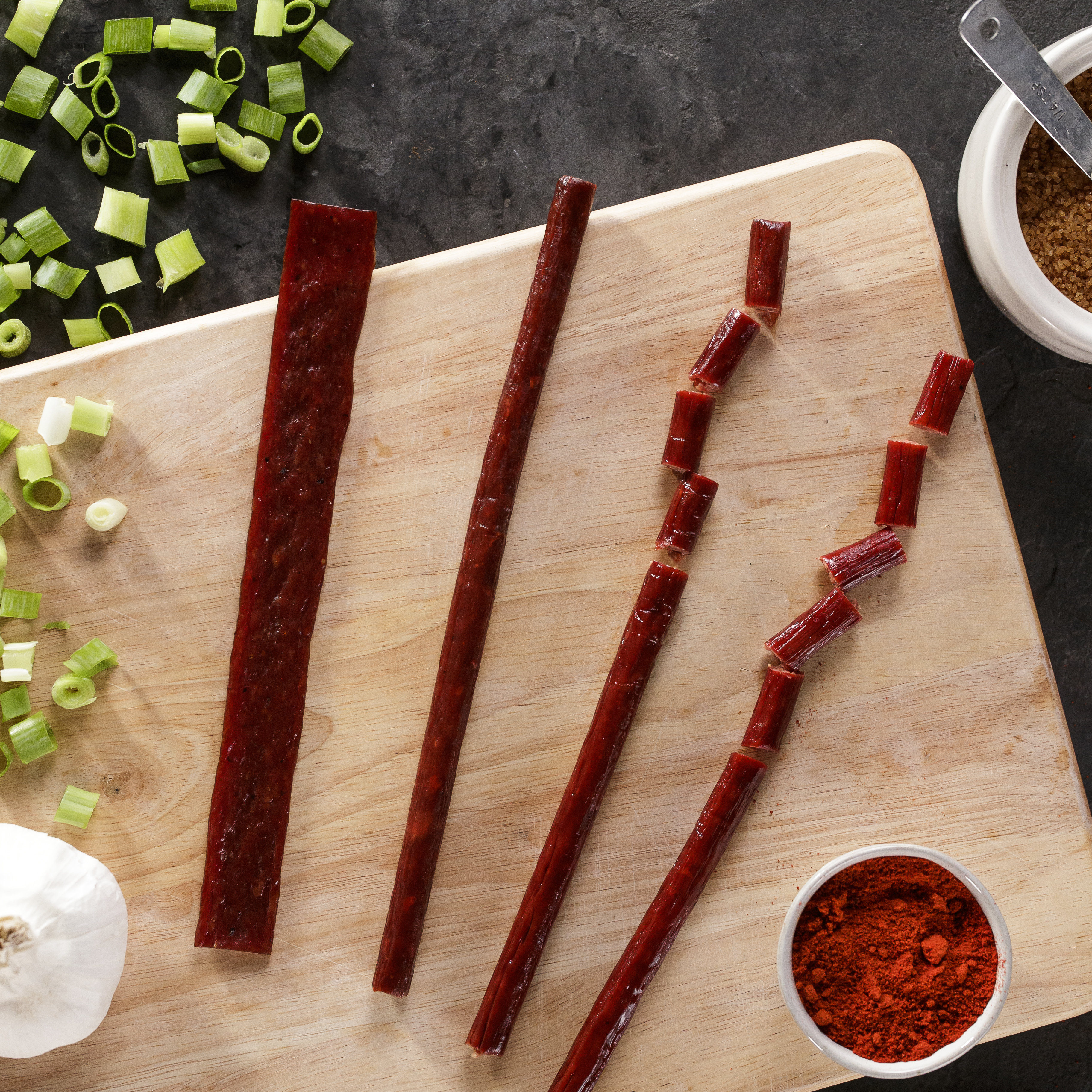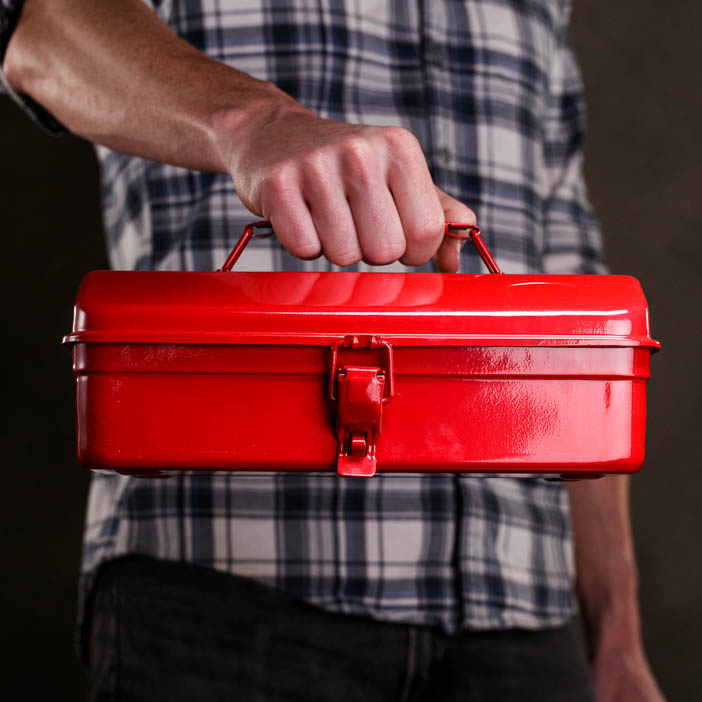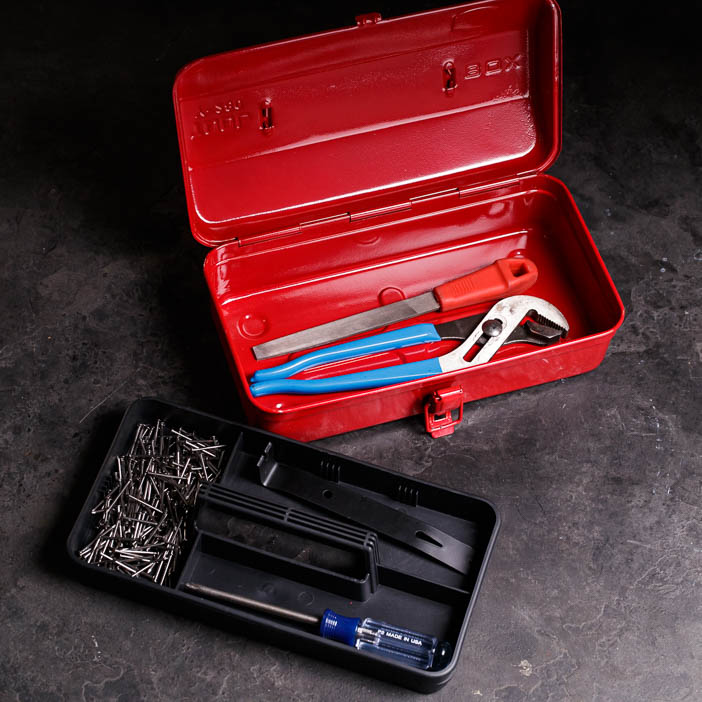 In The Box
Red Metal Tool Box with Tray
Exotic Jerky Snacks, 8.75 oz

10 Jerky Bites:

Buffalo Whiskey Maple
Buffalo Black Pepper
Buffalo Garlic
Elk Garlic
Elk Honey Bourbon
Elk Black Pepper
Wild Boar Honey Bourbon
Wild Boar Root Beer Habanero
Venison Honey Bourbon
Venison Root Beer Habanero

4 Jerky Sticks

Contains either: Elk, Venison, Jackalope, Alligator, Ostrich, Pheasant, or Duck
How It Ships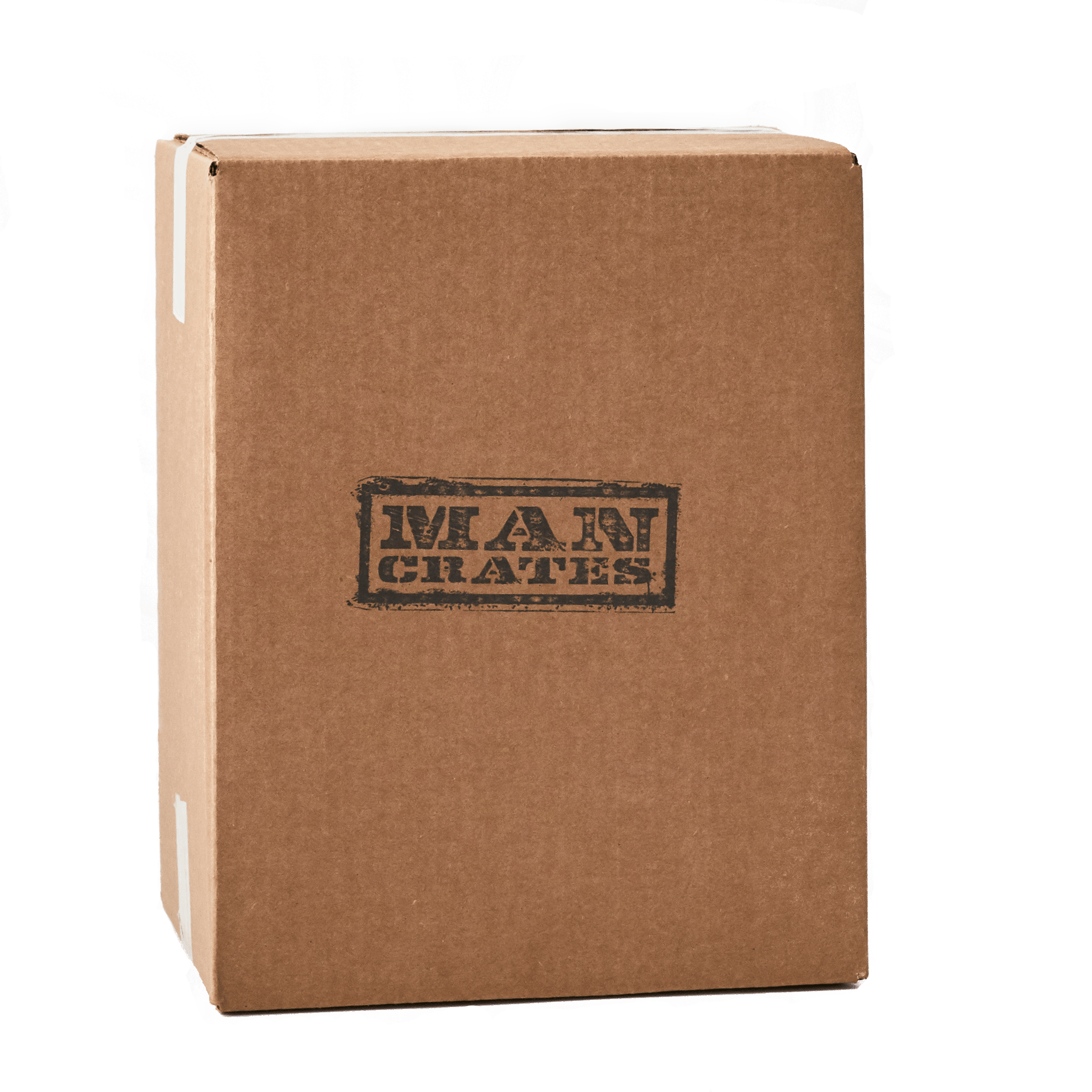 In an awesome cardboard box. Corrugated C Flute cardboard with regular slotted style... told you it was awesome!
---
Some shipping restrictions apply

Orders placed by noon PST will ship out same day

Choose your delivery date at checkout
Story
Exotic Meat Treats
From repairing the washing machine to mopping up the mess made from trying to repair the washing machine, he takes a lot of pride in fixing things. And all that fixing can build up quite the appetite.
When he's in need of a hunger fix, make sure he's got the right tools for the job: delicious, exotic jerky bites that are guaranteed to make him drool. He'll enjoy every exotic morsel, from spicy Elk Jalapeno to tangy Wild Boar Honey Bourbon.
And when all the jerky's gone, he can toss his tools into the reusable metal tool box! Give him the tools to fix his ravenous hunger pangs, the Exotic Jerky Tool Box.
Customer Reviews
Husband Blown Away!

Bought this for my husband's birthday and he absolutely loved it. He could'n believe the tool box was made from metal and not some inexpensive material. He was very impressed and of course he loves the jerky. I come here several times a year for his gifts and I (we) haven't been disappointed yet! Keep up the great work and Quality Products.

Exotic Jerky Tool Box

My kids got me this for Father's Day this year, ABSOLUTLY LOVE IT! Everything was delicious.

YAY!

My boyfriend is SO HARD to buy for. I went looking for something new and found this! I ordered the Jerky tool box and the sausage crate, and it was money well spent! Thank you ManCrates for the perfectly unique gift!

A w e s o m e!!

My husband received this for his first Fathers Day. Watching his face as he opened the tool box to all the goodies was priceless! He loved the variety!

A little disappointed

This is the first time I've been disappointed with a man crate purchase. $60 seems like a lot for 10 small pieces of jerky and 4 larger pieces. The toolbox is a cute idea but I'd rather have more jerky in a regular box for that price.

Man Crates Response: Hi there,

Thanks for your feedback, I'm so sorry to hear you were disappointed in the Jerky Tool Box you received. We do our best to offer a great value for the price and I'm sorry to hear we missed that mark for you!

We offer a 100% satisfaction guarantee on all of our products, so when you're not happy, we're not happy! We'd be glad for the opportunity to work with you to make this right by offering a replacement, discount or to arrange a cost free and hassle free return pick-up at the location of your choice if you just want a full refund. Give us a call at 866-902-7260 and we'll do our best to make you happy, thanks!

-Team Man Crates