In The Box
4 College Logo Pint Glasses
4 Bottle Opener Coasters
Pistachios, 5 oz
BBQ Corn Nuggets, 4 oz
Beer Nuts Bar Mix, 3.25 oz
CB's Ballpark Jumbo Peanuts, 12 oz
How It Ships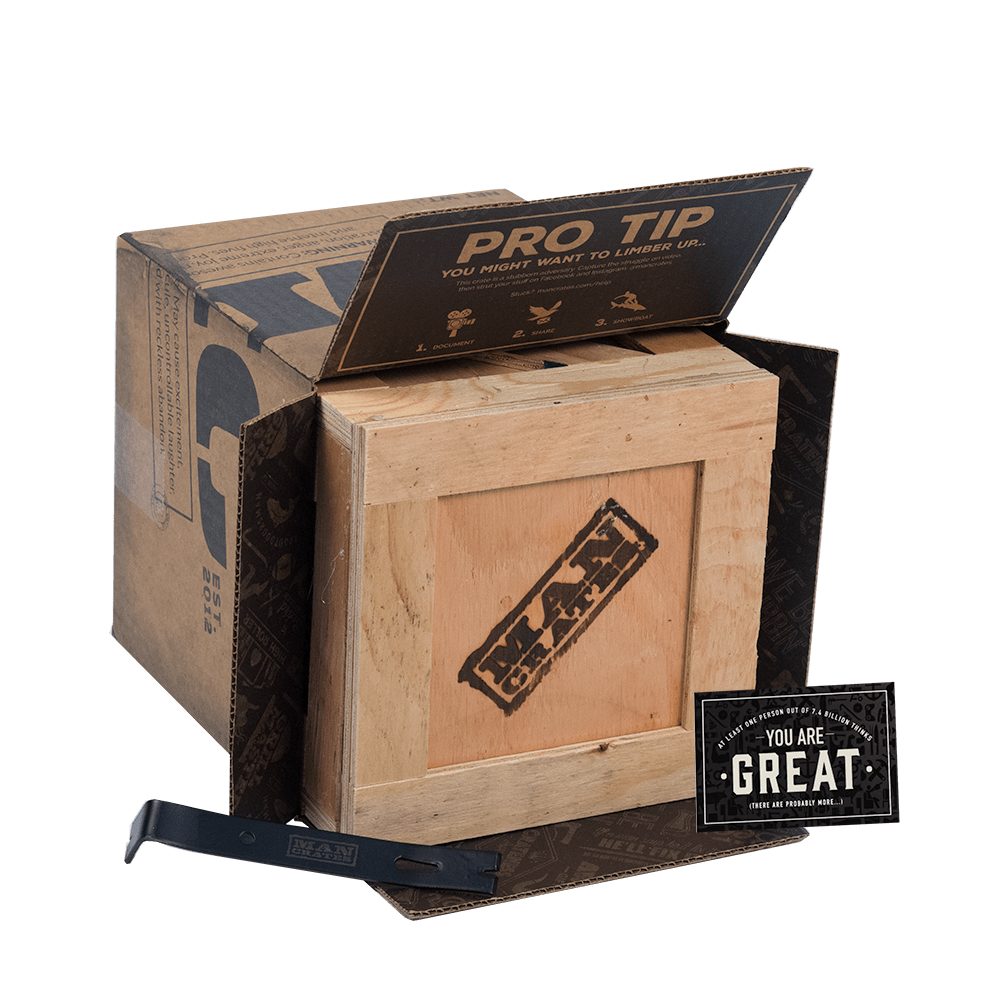 In a sealed wooden crate with a laser-etched crowbar.
---
Orders placed by noon PST will ship out same day

Choose your delivery date at checkout
Story
Four More Years
Let's take a moment to acknowledge the importance of the alma mater. Let's raise our frosty glasses in honor of the cushy bosom of higher education in America and make a toast to the four-year crumple zone that softens our crash landing into the real world.
Venerable Traditions
Only in those four, or five, or whatever, years can a man live in a tent on the sidewalk for days to get free student basketball tickets without judgment, or showering. Only in that twinkling of a cosmic instant does a man answer to the higher laws of tradition- the laws that allow him to sprint through the quad unencumbered by modesty or clothing, defile the sanctity of a home field by tearing down the goalposts, and release dozens of pigeons into the library during finals week.
Skills & Gear for Life
And where else could we have learned the life skills needed to navigate the modern world? Skills like procrastination. Home-remedies for hangovers and athlete's foot. The ability to open a beer bottle with anything that sinks in water.
The College Barware Man Crate pays homage to that special time. Dial in four officially licensed NCAA Pint Glasses, a classic bottle opener, and enough snacks to supplement a freshman meal plan. It might be exactly the gear you need to drown out the alumni fund-raising calls, forget your crushing student debt, and relive the glory days.
Customer Reviews
Love it.

Would you consider doing this as a custom personalization? I would love to get a TCU (Texas Christian University) and Purdue

What?? No Texas Tech Red Raiders?

I'd love to send this man crate to my son, who is a proud Texas Tech Alum. Will you consider adding Texas Tech to your lineup? Lots of Tech alums here in Texas.

Wildcats!

Villanova won 2 NCAA basketball championships in 2 years....but no Wildcats...

Husband loved it!

My husband loved his crate. I had read the reviews about the crate so I knew the quirks about opening it. He loved the pint glasses, the coasters, and all of the snacks. We are extremely pleased with this purchase.

Rock Chalk

I was getting all the guys gifts from this site so that they could all open a crate. However no Jayhawks!!!!!! I was left getting two of them something else............KU please