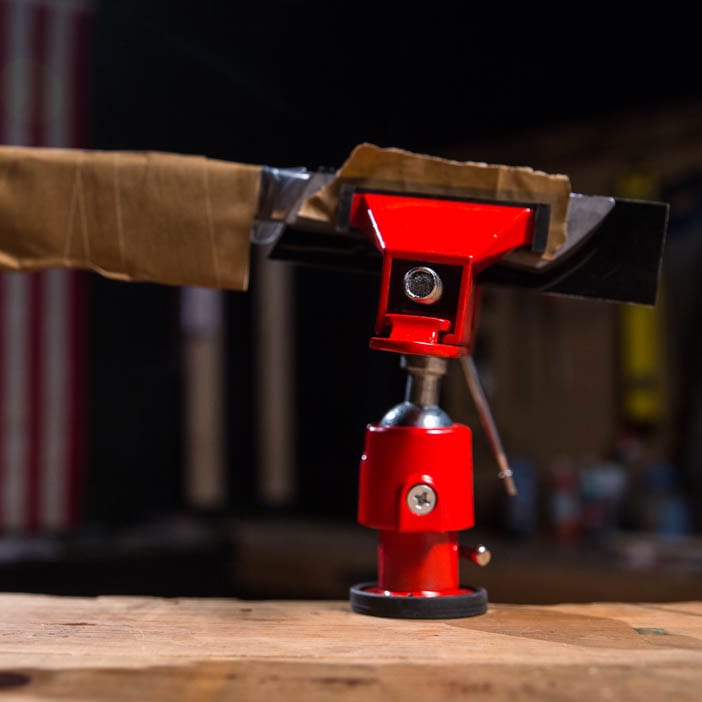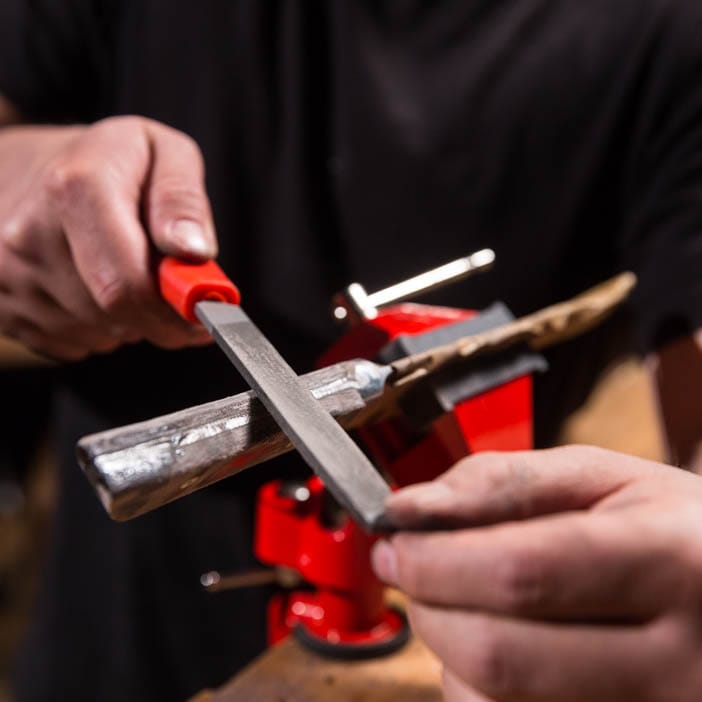 In The Box
VG-10 Damascus Chef Knife Blade Blank (Blade Length: 8.5")
Black/Red Micarta Handle Scale Set
Mosaic Pins
Man Crates Chef Knife Making Guide
2-Ton Syringe Epoxy
Rasp & File set
Graded Sandpaper Set
Bench Vise
Drill Bit
NOTE: Chef Knife Making Kit does not ship in a crate.
How It Ships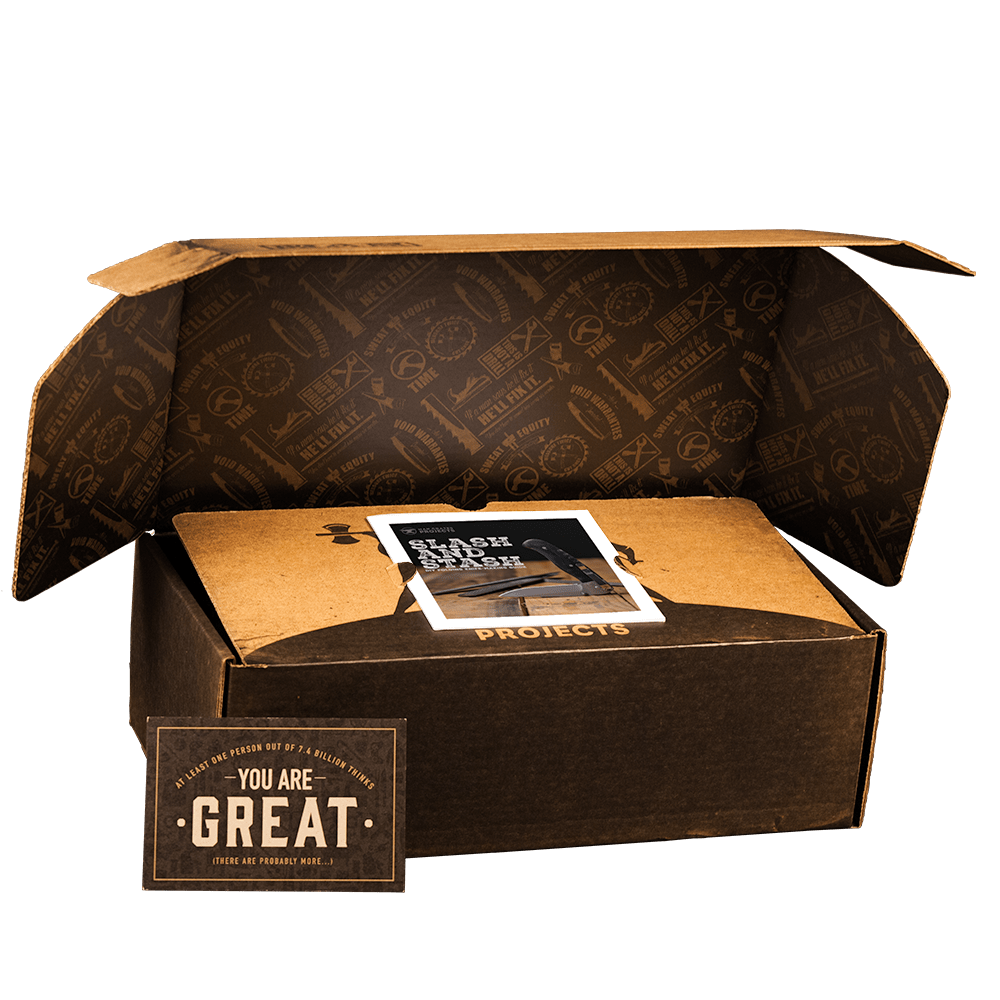 In an awesome cardboard box. Corrugated C Flute cardboard with regular slotted style... told you it was awesome!
---
Orders placed by noon PST will ship out same day

Choose your delivery date at checkout
Story
The Cutting Edge
In a world boasting "Seen on TV" Slice n' Dice Machines, Wombo Combo Fruit Juicers, and self sharpening spatulas, it can be tough to know which kitchen utensils are grade A and which are woefully undercooked.
But anyone who's seen MacGyver knows the only tools worth trusting are the ones built by hand —sometimes two trembling hands dangling from a cliff or trapped in an elevator with a timebomb.
And while most of us ditched our mullets by the late 90s, the wisdom still holds true. The Chef Knife Making Kit proves that if you want something made right, meals included, you've got to make it yourself.
Knife to Meet You
While MacGyver made do with coat hangers and chewing gum, the Chef Knife Making Kit opts for sharper, more dependable materials. Forged of VG-10 Damascus steel, the mere sight of this blade will cause a steak to carve itself out of fear.
The stylish Micarta handles are ready to be sculpted into personalized, palm-gripping perfection. The finished product will be as intricately layered as a fennel avocado bean dip, and every bit as distinctive as the chef who made it.
All Ingredients Included
The kit comes stuffed with various rasps and files, a portable bench vise, and enough sandpaper to take the green off a watermelon. It's also a great excuse to dust off the ol' power tools hanging in the garage. And with our step-by-step instruction booklet, crafting this knife will be as effortless as cooking with it.
The Chef Knife Making Kit is just what the modern day Michelangelo of meat needs to carve up the next five-star entree.
Customer Reviews
TREMENDOUS

Possibly one of the best gifts I've ever received. I'm a super hands on person and love creating. Unfortunately due to our living situation I don't have many tools on hand. Not an issue with this gift. They literally send you everything you need in one box. The only thing you need to provide is the elbow grease! Cheers guys! Thanks for the crate gift

Excellent customer service

I had a great experience with the text customer service support and I am a very satisfied customer.

Lasting Gift

I got this for my husband as an early father's day present in 2019, and it has become our favorite chef's knife well into 2020. This knife comes with quality materials and if you take care of it (sharpening/honing it and piling the handle occasional) it keeps beautifully. Even my mother-in-law who we were staying with preferred it over her other knives! We love Mancrates and their kits, especially the knife ones, and your men are sure to be pleased with them as well.

Grant

I got this gift from my daughters and Ss-I-L for my b'day. I did a lot of research to learn about professional knife-making tools, none of which I have. The "old fashioned way" - hand rasps and files - looked to be more labor intensive than a guy with power tools has patience for. I took a lot of time out of the project using my angle grinder with a flap disk to shape the mikarta, multi-tool sanding tool for fine sanding and polishing with steel wool, and Dremel tool cut-off wheel to cut the pins. The next one shouldn't take more than a couple hours to complete. The only problem was that the kit only had one mosaic pin, but Ace Hardware had suitable replacements. Power tools can make the job go faster AND screw it up really fast - here's where to spend your patience. Great knife!

Christmas gift

I got this as a Christmas present and just finished it, only getting a chance to work on it here and there. It was a lot of work to remove material from the micarta by using the files, i did have to resort to using a hacksaw to remove the bulk of it and then fine tune with the files.

I did have to keep taking apart the vise to retighten the allen head bolt that attaches the vice to the base, maybe if they used threadlocker it would stay put. I also applied some antiseize to the threads of the vice since they say its aluminum and the threads are steel.

Overall i'm very satisfied with the results. I might apply some wax or mineral spirits to the handle to make it a bit darker.