Beard Wrangler Mini Crate
local_shipping
Eligible for Free Shipping
In the Box
Man Crates-Exclusive Renegade Beard Grooming Products

Shampoo Bar, 4.5 oz
Balm, 2 oz
Grooming Oil, 2 oz

Boar-Bristle Beard Brush
100% Cotton Barber Towel
How It Ships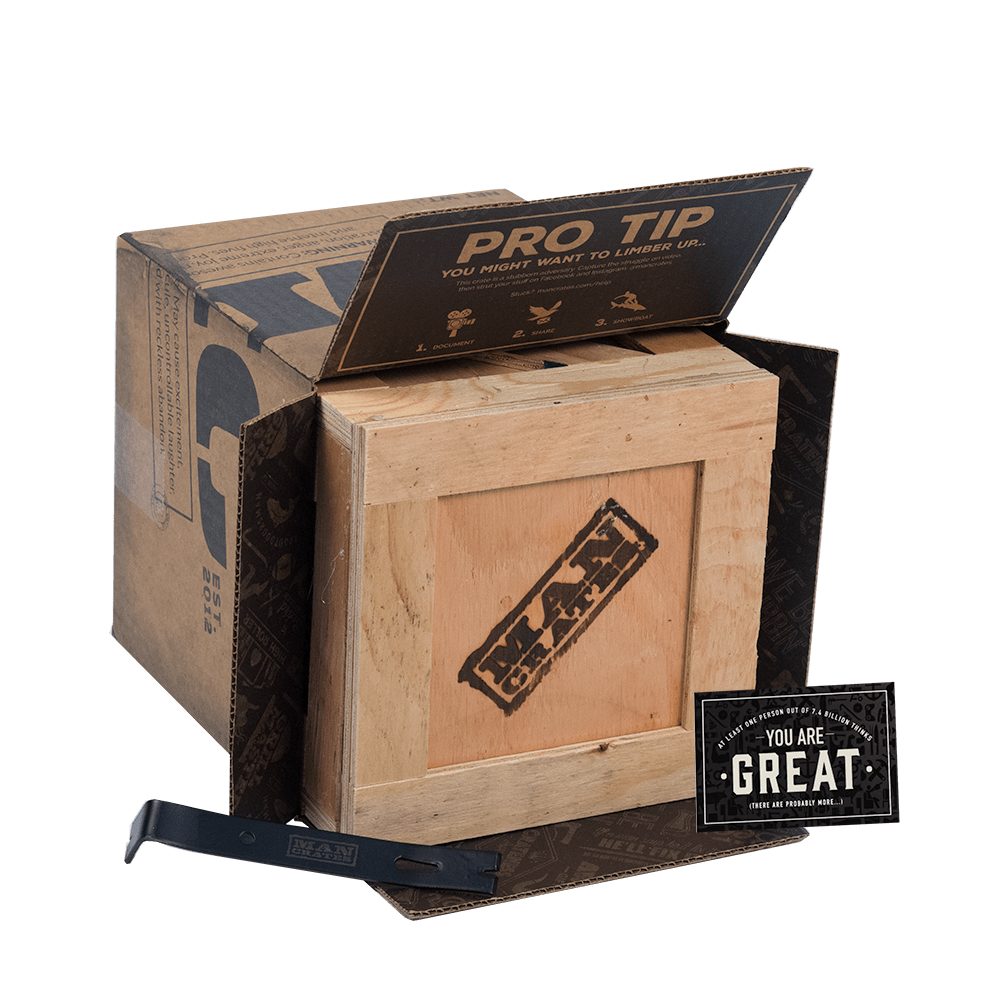 In a sealed wooden crate with a laser-etched crowbar.
---
Order today and it ships the next business day

Choose your delivery date at checkout
100% Satisfaction Guarantee
We think our products are awesome, and we guarantee you will too. If you're unhappy with your purchase or experience for any reason, we'll make it right and give you the kind of service you'll want to high-five us for.
Seriously, just call or text us at (866) 902-7260 or shoot us an email at guys@mancrates.com.
Story
It's Just A Beard...
There's no denying the beard has become the top face accessory of the twenty-first century. Beards currently sit atop the mythos of masculinity right next to Zeus and Chuck Norris, both of which are only there because of their beards.
But with this widespread reverence for rugged-chic has come a good deal of bad science about the benefits of beard growth. We're here to temper expectations and set the record straight:
Things Beards Will Not Do:
Make you utterly irresistible
Qualify you as an expert on politics, the economy, philosophy, etc...
Fell trees with a single stare
Legally serve as a motorcycle license
Things Beards Will Do:
Look good sometimes
Become dry and itchy
Smell, not necessarily good
Store crumbs for 'future face-follicle foraging'
Wash under waterfalls photogenically
Clean, Sheen, Facial Hygiene
Beards are natural; the most natural conclusion of the male condition. But some beards in their natural state look like a tangled monstrosity that could've been pulled out of a shower drain or coughed up by the neighborhood stray.
Renegade Shave rears even the most unyielding beards into their most presentable, pro-scentable form whilst still preserving the beard's rebellious strength and spirit.
Handcrafted in the USA with 100% natural organic oils and a satchel of various hippy seeds, Renegade's premium shampoo, beard oil, and beard balm will shape any nappy nest into a magnificent, moisturized face mane, sprightly to the nose and supple to the touch.
We've also included a shave towel which works for its exact opposite-stated purpose, and a boar-bristled brush that's excels in hair care because it is hair.
The beard doesn't make the man, but it is a literal extension of the man. Give some polish and poise to the furriest of face friends with the Beard Wrangler Mini Crate.
Customer Reviews
This is so cool!!!

I just received one of these from a very close friend of mine! He is my brother from another mother and is so darn thoughtful!!! I can't wait to try this out!!!

Every Holiday!

I ordered this for my dad for his birthday one year and he loved it so much that he literally said that I could buy this for him for every holiday and he would be happy for life. My dad is my papa bear and if it makes him happy, it makes me happy!

beard crate

got this for the hubby for Christmas and he LOVES it!! Is there anyway for us to order certain products separately?

Beard Crate

My hubs absolutely loves this stuff. I have bought several for him and he loves them all. Is there a way to get the products individually? He is in a panick!!! Thank you for great product he loves!!!!

HUBBY LOVES THIS STUFF!

I bought the mini create for hubby's Xmas gift. He was so curious since the packaging was interesting enough that I didn't have to wrap it. I tied a bow around it and stuck it under the tree. After he used the crowbar to open the wooden box (which he thoroughly enjoyed in itself, and was worth every $ watching him do so) 😂 He immediately started using it every day, he stores it right in the box it shipped in and comments about how much he loves the product. (And they say woman are bad) He spends more time in the bathroom than I do now, and he's already asking how to get the refills!
He had alot of trouble training his beard to grow one direction and this stuff just works, no other words for it, it just works and works well! I even love when he uses it!