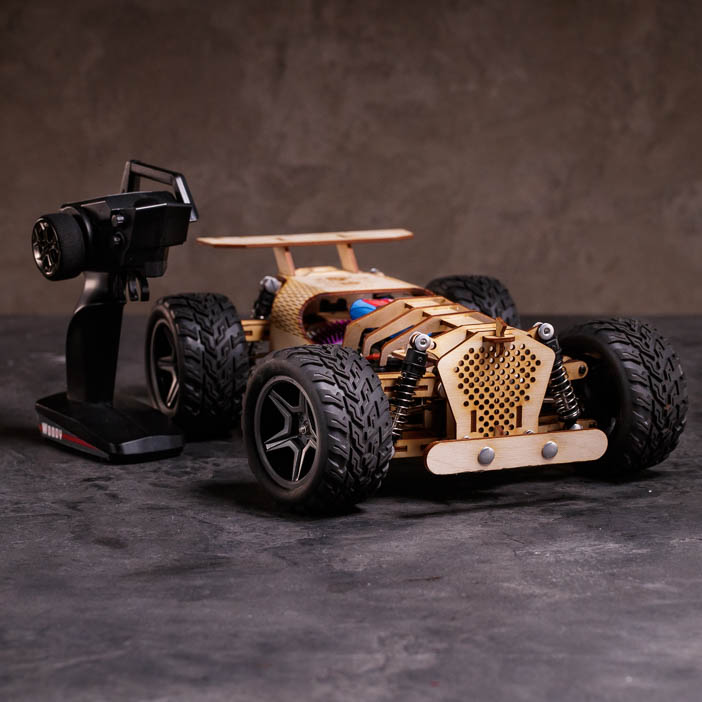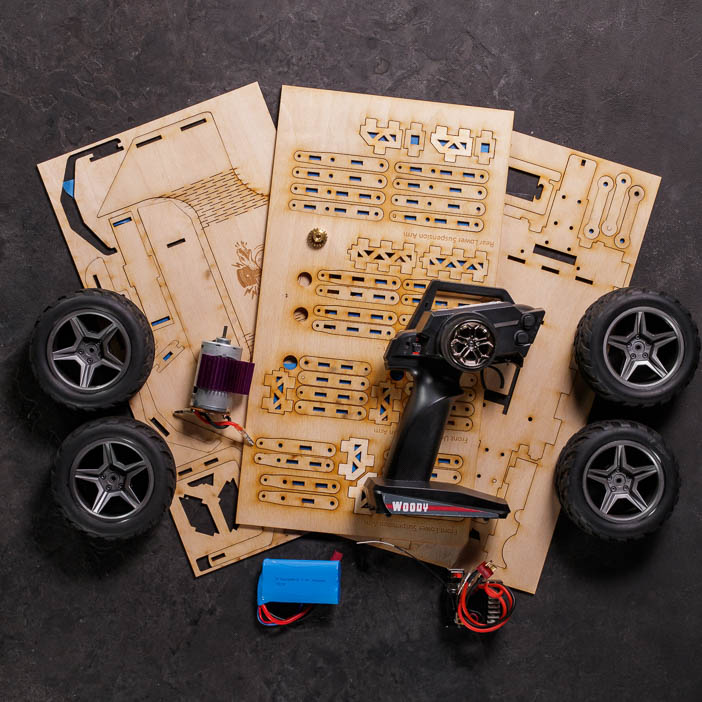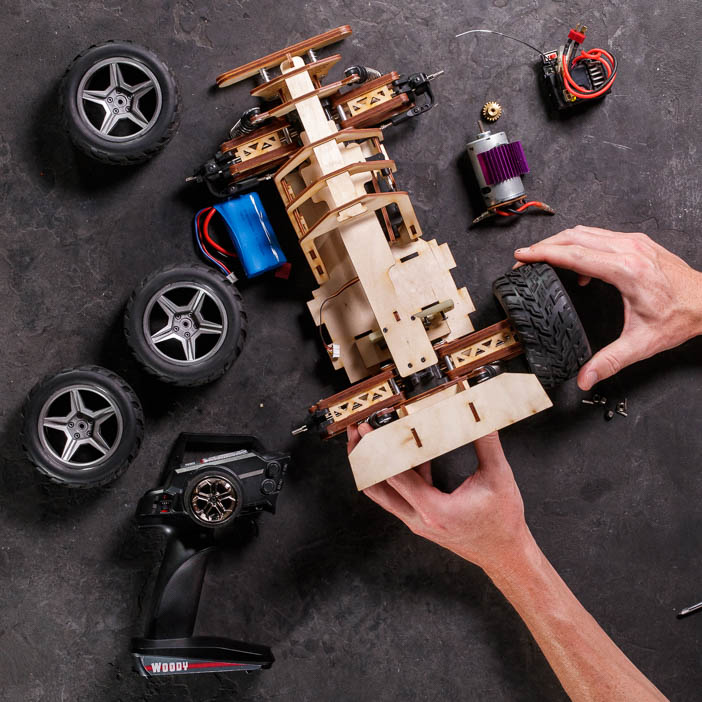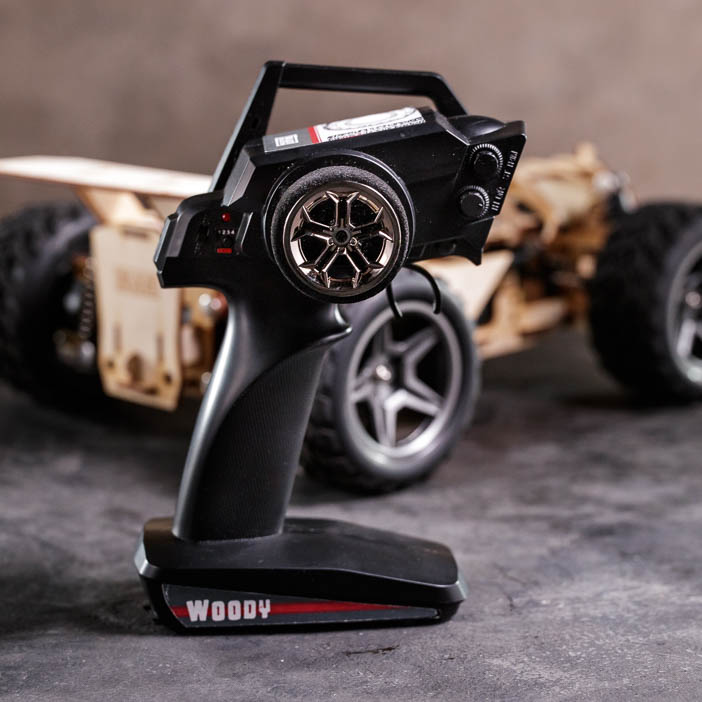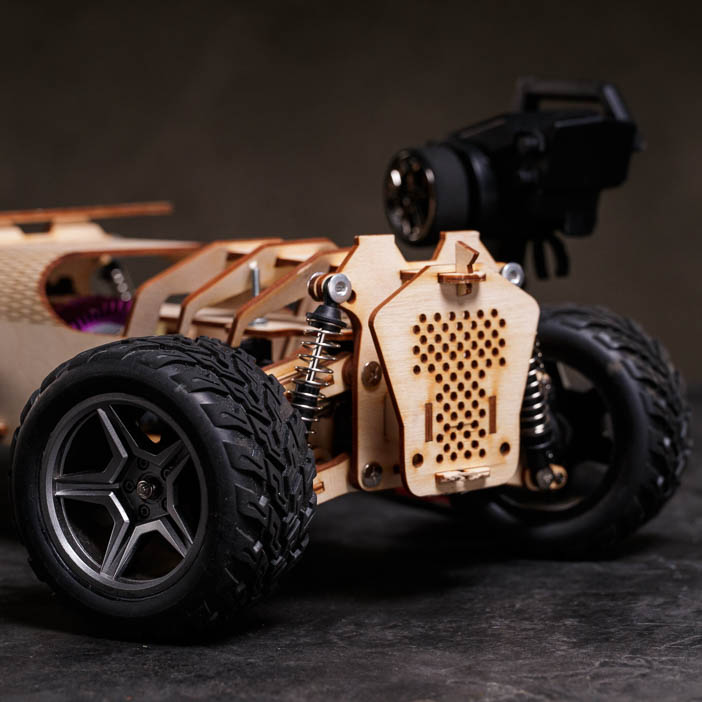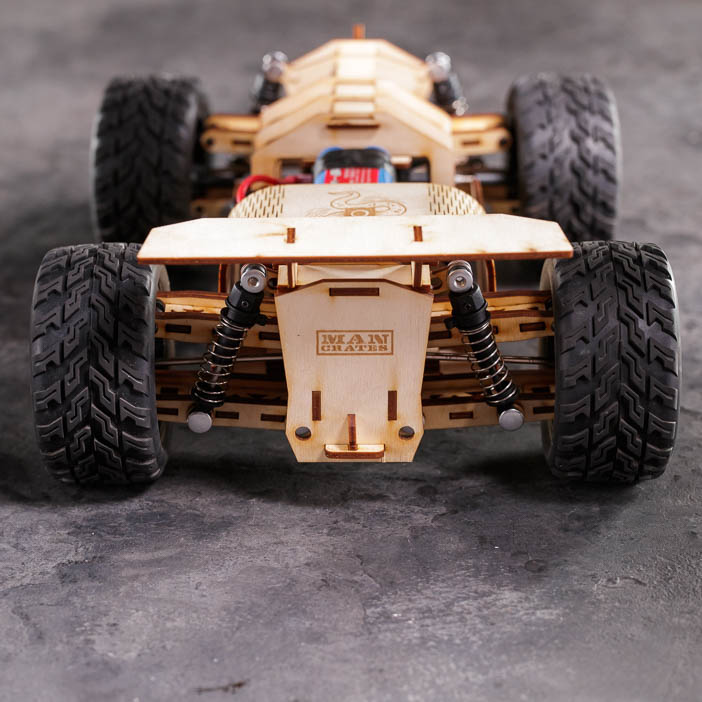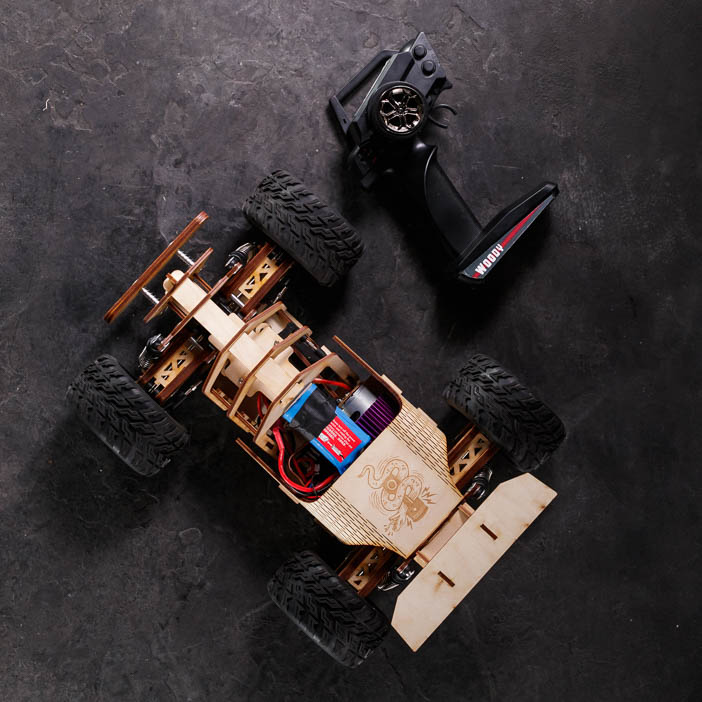 Oh no! Looks like Wooden RC Car Kit is out of stock
Click below to get notified when it's back in stock
Notify Me
In The Box
Wooden RC Car Kit

Lasercut Wooden Car Frames
Brushed Motor with Mounting Plate
Front & Rear Gear Box
Major Gear
Front & Rear Steering Cups
Connection Cups
Drive Shaft
Front & Rear Axles
Shock Absorbers
Steering Servo Assembly
Steering Assembly
Steering Rod
Short Rod
Rubber Wheels & Tires
Screws, Pins, Nuts, Binding Post, and Adapter Set
Combo Wrench & Screwdriver
Remote Control
Receiver & Switch
Lithium Ion Battery Pack
110 V Wall Charger

Instruction Booklet
How It Ships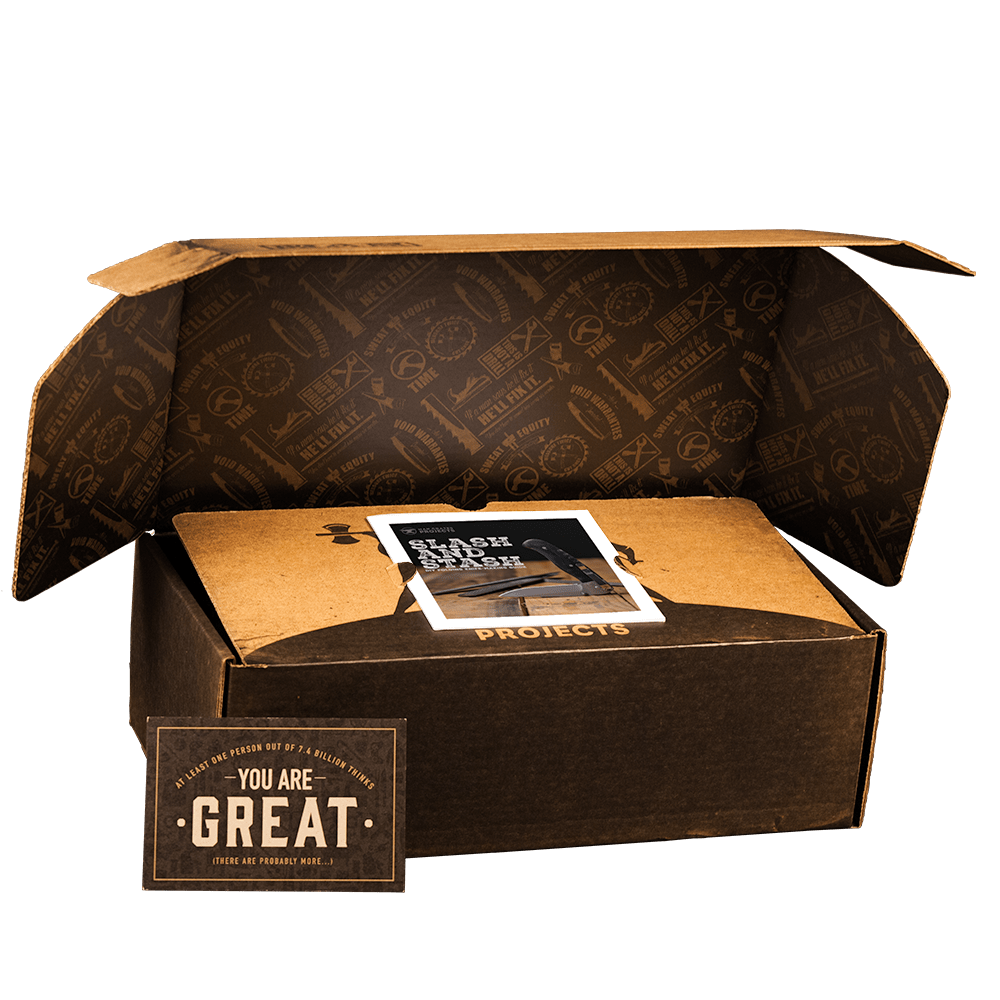 In an awesome cardboard box. Corrugated C Flute cardboard with regular slotted style... told you it was awesome!
---
Orders placed by noon PST will ship out same day

Choose your delivery date at checkout
Story
All Vroom, Less Room
Building a car from the ground up is a rite of passage for many men…if they're starring in a popular 90's sitcom. For the rest of us, it's expensive, time consuming, and takes up way too much space...at least it used to.
Scratch his fix-it itch with the DIY Wooden RC Car Kit. From the steel axles and drive rod, to the full-wooden frame and suspension system, this kit has everything he'll need to build a super-speedy RC Car from the ground up. No garage required.
Fuel his creative tank, and rev up his excitement engines with the DIY Wooden RC Car Kit.
Speed Bumps:
When fully assembled, this RC car can hit speeds up to 30 mph. When disassembled, it's pretty slow.
A rechargeable lithium ion battery ensures hours of RC fun.
The included remote control and receiver make agile handling a breeze, no matter the road conditions.
Comes with all the hardware he'll need and a detailed instruction booklet that'll have him putting the proverbial pedal to the metal in no time.
Each of the over 100 wooden pieces has been laser cut for maximum precision and easy assembly.
Customer Reviews
RC Car x 2

I enjoyed building the RC Car. Yes the instructions were limited but a photo tells a lot. All the wooden pieces were cut through and I finished the car. I does go about 30 mph. One problem, the gear stripped out. I noticed that while building the car, the motor and dive gear did NOT line up 1 for 1. After driving the car for a few hours, the gear stripped. Fortunately, my daughter who bought the car for me called the company and they sent me a few parts (but no gear). My daughter called again and the company sent me an entire new replacement kit, car and all. I am currently building the new car and I am making a few modifications to the motor and drive gears so that the alignment is much better. QC is great on both car kits.

Great gift, but a few improvements needed.

My wife got me this as a bday gift. I love Man Crates and have been very impressed with others she has got me. This car didn't disappoint, but I had a few issues.
The instructions could be more clear, but seeing how its a MAN crate, I figured it out. Jokes aside, I did get frustrated amd had to redo a couple things because it was clear. Also, adjusting the steering (mine pulls to the right and I haven't been able to fix it yet) is very hard. Could use some extra instructions like an "if this (issue), then that (solution)" book. It makes weird noise when I turn, I'm not sure if the wheels are supposed to move the way they do, etc. Some reassurance that these things are normal (or arent) would be nice.
Lastly, a could of my pieces on the wood sheets weren't laser cut all the way and needed some cutting to remove.
Overall, I'm satisfied, but there is room for improvement to make this even better!

Great gift but needs better instructions

I got this for my husband's birthday and he LOVED it! We have a 3 year old little boy who asks him everyday if he's done building it. I know they'll love playing with this together for a long time. The only thing is that my husband complained that the instructions aren't very detailed and he's already had to take a few parts apart to rebuild. Other than that, it's a great gift!!