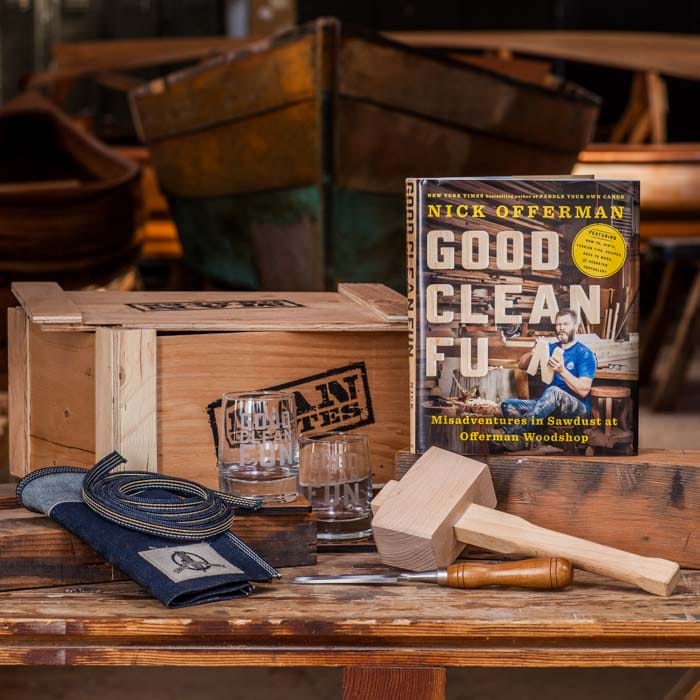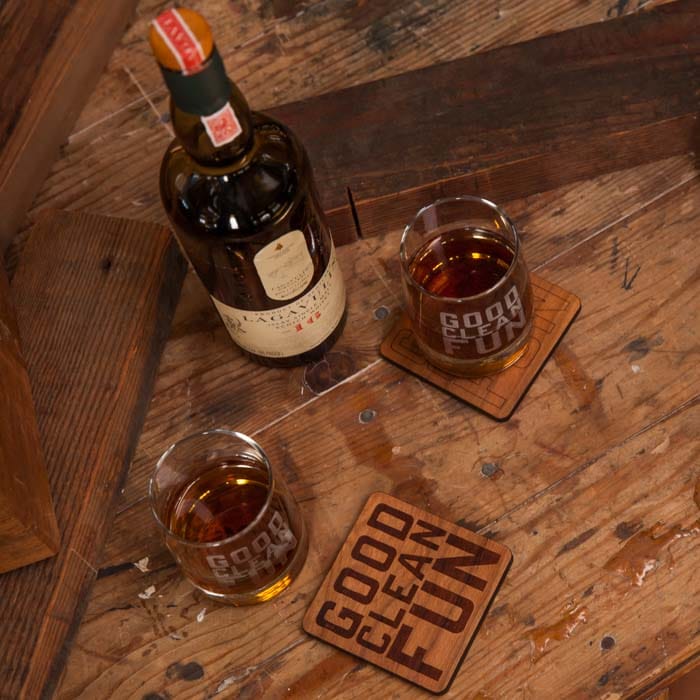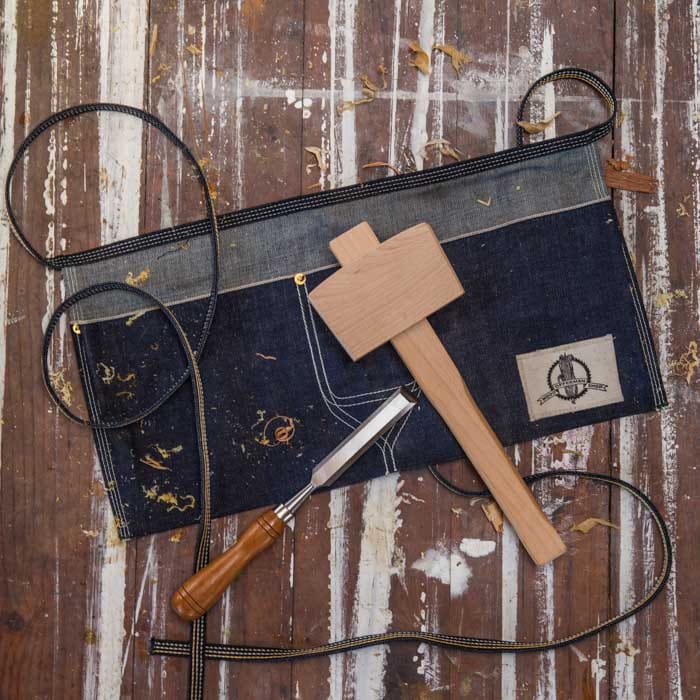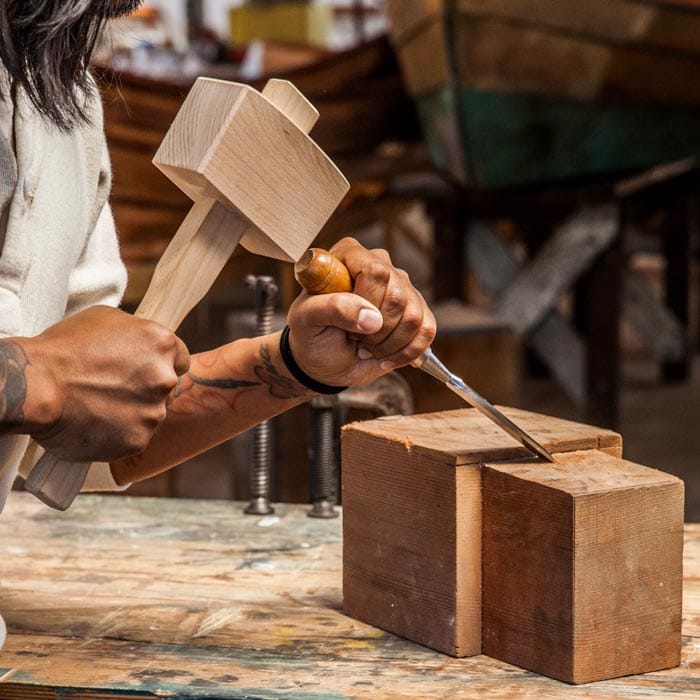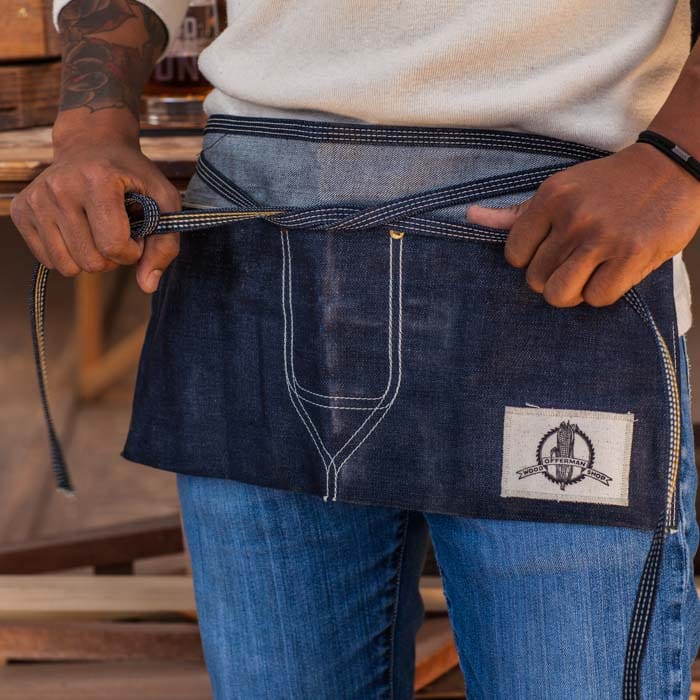 Whiskey and Woodworking Crate
Oh no! Looks like Whiskey and Woodworking Crate is out of stock
Click below to get notified when it's back in stock
Notify Me
In The Box
Good Clean Fun by Nick Offerman
2 Whiskey Glasses, 10 oz
2 Offerman Woodshop Coasters
Offerman Woodshop Denim Apron
Beech 4.5" Wooden Mallet
3/4" Wooden Chisel
How It Ships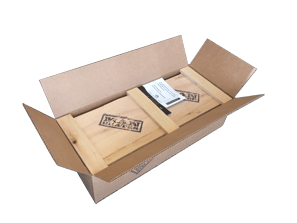 In a sealed wooden crate with a laser-etched crowbar.
---
Orders placed by noon PST will ship out same day

Choose your delivery date at checkout
Story
The Perfect Pairing
We don't pay much mind to the latest Hollywood trends. You won't see us rolling out celebrity-shilled juice cleanses or squeezing our thunderthighs into yoga pants for product testing anytime soon. Frankly, we don't want need some LA A-lister telling us what is cool.
But if a man earns our attention with his skill for woodworking and just so happens to be an accomplished Hollywood actor/comedian/mustache ambassador, we won't hold it against him.
While you may know Nick Offerman as Ron Swanson, the deadpan show-stealer of Parks and Recreation, he would prefer you know him as Nick Offerman, founder and resident beefcake of Offerman Woodshop...and official co-founder of the Whiskey and Woodworking Crate.
Good Clean Fun
Offerman Woodshop is a makers collective rebelling against the glitzy LA lifestyle with gritty, hand-crafted woodworking projects, and Good Clean Fun is Offerman's newest book documenting the finesse, friends, and fun of the woodshop. This tell-all includes tales of elbow grease, classic Offerman wisdom, not-so-classic Offerman odes to wood, and instructions for projects to try at home.
Chiseled and Chilled
Straight from Offerman Woodshop, the Whiskey and Woodworking Crate includes a denim carpenter pouch to "protect your tools and your family jewels." The wide-eyed woodworker should wear at least this much when working so he has a place to store the included 3/4" chisel and beech wood mallet.
Christen a successful masterpiece, or toast to failing forward while keeping all fingers with a few fingers of fine whiskey swirled in Offerman Woodshop whiskey glasses and matching coasters. It's as much fun as having a drink with Mr. Offerman, because Mr. Offerman does not talk or move when having a drink.
The Whiskey and Woodworking Crate shares the good, clean fun of whiskey and woodworking, though not necessarily in that order.
Customer Reviews
Sadistic Packaging

Very unusual gift. The packing crate was cool and would have been nice to keep, but I had to destroy it to get inside. Because a little crowbar was provided, I'm sure this was an intentional practical joker's idea of "Wouldn't it be funny if....". Yup- real funny whoever you are. I'd love to reciprocate!!! Following the drama of opening the crate I discovered an interesting woodworking book, mallet, chisle, apron and oddly... nice whiskey glasses with wooden coasters. Weird, but cool!