Personalized Mug Mini Crate
In The Box
Coffee Crew
Glacier Camp Mug, Black, 15 oz
Ultralight Java Drip Coffee Maker
Warrior Select Coffee Sample Pack, 2 oz
NOTE: Personalized items require two business days of processing time.
How It Ships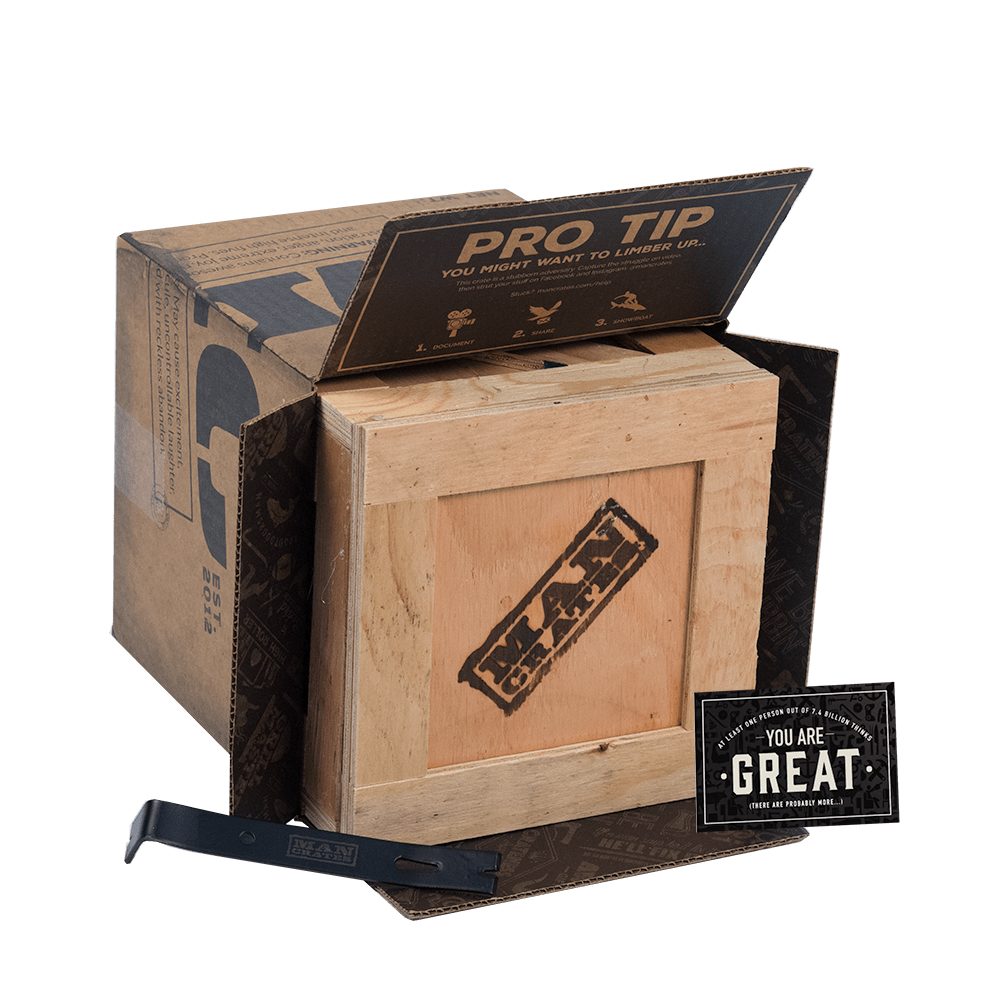 In a sealed wooden crate with a laser-etched crowbar.
---
Some shipping restrictions apply

Choose your delivery date at checkout
Story
Life of a Dripster
Some people wake up with coffee, and some people wake up for coffee.
With the former, coffee acts as a stable morning ritual: a caffeinated breakfast complement, or the patient carpool companion on the morning commute. With the latter, coffee is an all-encompassing religion: the ground of bean by which all existence and meaning flow.
These coffee-devotees are known as "dripsters," and they hold bean quality and brewing methodology to the highest possible standard. They refuse to compromise their values, and thus, the Personalized Mug Mini Crate is the dripster's dream come true.
Small Batch, Big World
No dripster has fully received coffee communion until they've drank from their very own personalized mug. This 15 oz. stainless steel mug proudly proclaims caffeine devotion to the world and can be laser-etched with the given family name or a newly christened dripster name.
Forever gone are the dark days of pouring commoner's caffeine from the office coffee pot. With the portable GSI Java Drip and Alpha coffee grinds, the dripster can now indulge in the perky perks of small-batch, pour over coffee anywhere.
The greater telos of coffee has been achieved in the Personalized Mug Mini Crate.
Customer Reviews
Shipping

Wow. For a custom item did not expect for my order to process and be delivered within 3 days from when I ordered. Very impressed and cannot wait for him to open this for Christmas. I will update/add another review of the product but I know there are plenty of reviews already that will support amd saw exactly what I imagine for us as well. :)

Shipping eta did not disappoint. It arrived a day early. AND I already thought the expected eta was pretty quick for custom around the holidays.

awesome!

This was my first time purchasing a man crate for my boyfriend. It was our one year of official dating and I stumbled upon "Man Crates." It was so much fun just watching him open the crate and he was super excited it came with a crow bar. He loved the cup and the quality of the product is amazing. I was surprised the engraving was as nice as it was, I thought it would just be printed on. I subscribed to the website because I definitely will be ordering more man crates in the future! I love that you can pick the date you'd like it delivered, which it was. We are new man cave fans! Thank you for whoever invented this idea- genius!

Nice

I bought this mug for a guy friend and he loves it. He says the coffee taste better. Which I thought was cool.

Absolutely worth it

I bought this gift for my boyfriend, although the shipping takes a few days and some of the crates seem a bit pricey, this crate was absolutely worth the wait and the money. Very unique and fun way to gift, and surprise your significant others. And you get to personalize!! So awesome. Thank you to the owners

The best gift ever.

So my GF gives me this shipping box and says here's your present. Ok piece of cake. Open the cardboard and inside is another box. Completely wrapped in duct tape! Who the hell wraps an entire box in duct tape? Well no worries, I have my knife. Cut here cut there wa la, open. So now I'm facing a wooden crate with a small nail bar to pry it open. Hard as I looked, I could not find a place to start prying. Well I'm not the patient type so i promplty broke my knife tip trying to get a starting point. All the time I was cussing and messing with this crate she was giggling. Well I'd had enough! More power! I get my battery powered sawzall with the 12 in demolition blade and commence to open this crate. Remember I have no clue what's inside. She starts screaming me to stop before I destroy it. Whatever it was. So back to the little nail bar. Well even with a nice cut down the center of this crate it took me several minutes of prying and breaking to gain access to what turned out to be one of the coolest and most appropriate gifts I've gotten. A stainless steel coffee cup with my name engraved above a coffee and hate logo.
Now to further the explain my happiness of this product, and company. My GF is not a coffee drinker, and she knows that I would have used explosives has she given me this exceptionally well packaged gift in the morning. So after I finish this review I'm going to order the flapjack crate for her. ( my fat girl loves pancakes). Wait for some morning when she's hangry, then enjoy my fine coffee cup as she hates this company for holding up her breakfast! Thank y'all for the fun !