Personalized Bloody Mary Crate
In The Box
2 Personalized Collins glasses (10.5 oz)
Bacon Rimshot (4 oz)
Pepperoni Straws
Demitri's Classic Seasoning (8 oz)
Demitri's Chilies and Peppers Seasoning (8 oz)
Demitri's Extra Horseradish Seasoning (8 oz)
6 Clamato Tomato Juice Cans (5.5 oz)
How It Ships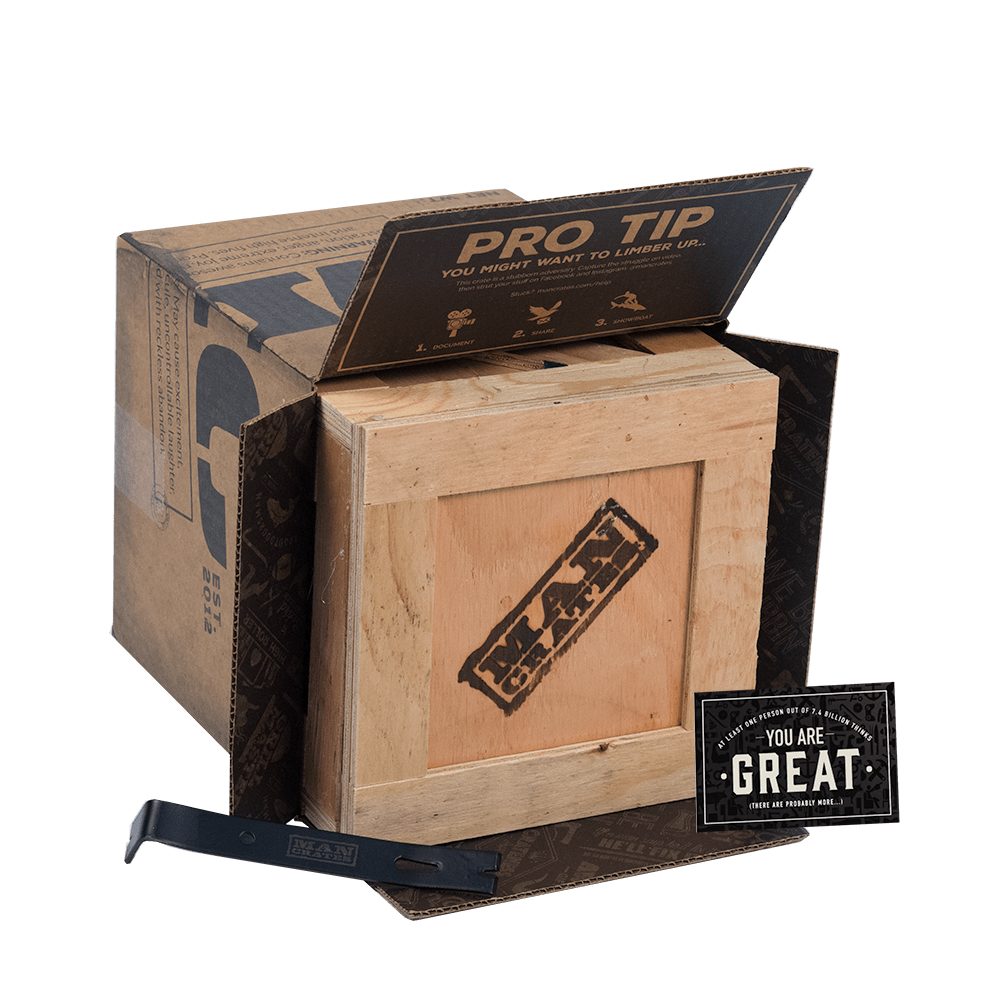 In a sealed wooden crate with a laser-etched crowbar.
---
Some shipping restrictions apply

Choose your delivery date at checkout
Story
THE DRINK YOU CAN EAT
Some drinks pair well with meat, like a single-malt scotch and lamb stew, tequila and tacos, or Pepto Bismol and Taco Bell.
But the Bloody Mary does more than pair well. It fully embraces the mighty flavors of meat, resulting in a delicious cocktail that doubles as a balanced brunch.
Build a beast of a brunch beverage with the Bloody Mary Man Crate.
BLOODY GOOD BRUNCH:
Skewering and stacking toppings is an art, and these two personalized Collins glasses are the perfect frame for your meat-infused masterpiece.
Demitri, the Marco Polo of Bloody Marys, has been boldly exploring the exotic world of spices: Classic, Horseradish, and Chilies and Peppers.
Upgrade your Bloody Mary from its lesser vegetarian form with Demitri's Pepperoni Straws and Bacon Rimshot. Slurp your cocktail through a literal sausage vortex, and accent the flavor with fanciful bacon crumbles.
Customer Reviews
Best Bloody Mary I ever had a re-evaluation

So after struggling trying to open the blasted CRATE. I needed a drink immediately. Honestly the combo of Clamato Juice, Vodka (of course), and a couple of dashes of the Demitri classic Bloody Mary seasoning this was the best BM I've ever tasted. Consider losing the silicon glue on the Man Crate and replace with easy opening hinges.

Awesome!!

My husband received it as a gift and i have continued to order refills on everything. Everyone comments on how great my bloody Mary's are, due to this crate😉

Loved it

Gave to my husband for our Anniversary and he loved all the items inside. The pepperoni straws were a hit. Had to get more of those for more Bloody Mary Sunday's. Took him a bit to get into the crate and used a hammer with the crowbar, so I say he cheated. He did work on it for like 15 minutes before the hammer came into play. LOL . Will definitely be back for other crates.

Fathersday

My dad absolutely loved his gift. I havent heard that man laugh so hard in years. He thought the duct taped box was hilarious and the crate was amazing. He loved the bloody mary set and said it tastes great. And was extremely excited by the "dad to the bone" glasses. I highly recommend this crate and it shipped extreamly fast.

Fabulous!!!

I bought this for my husband for Valentine's and Mardi Gras! He Loves it!!! His face was so super excited to open and the contents definitely did not disappoint!! I will order again for sure!