Personalized Bloody Mary Crate
In The Box
2 Personalized Collins glasses (10.5 oz)
Bacon Rimshot (4 oz)
Pepperoni Straws
Demitri's Classic Seasoning (8 oz)
Demitri's Chilies and Peppers Seasoning (8 oz)
Demitri's Extra Horseradish Seasoning (8 oz)
6 Clamato Tomato Juice Cans (5.5 oz)
How It Ships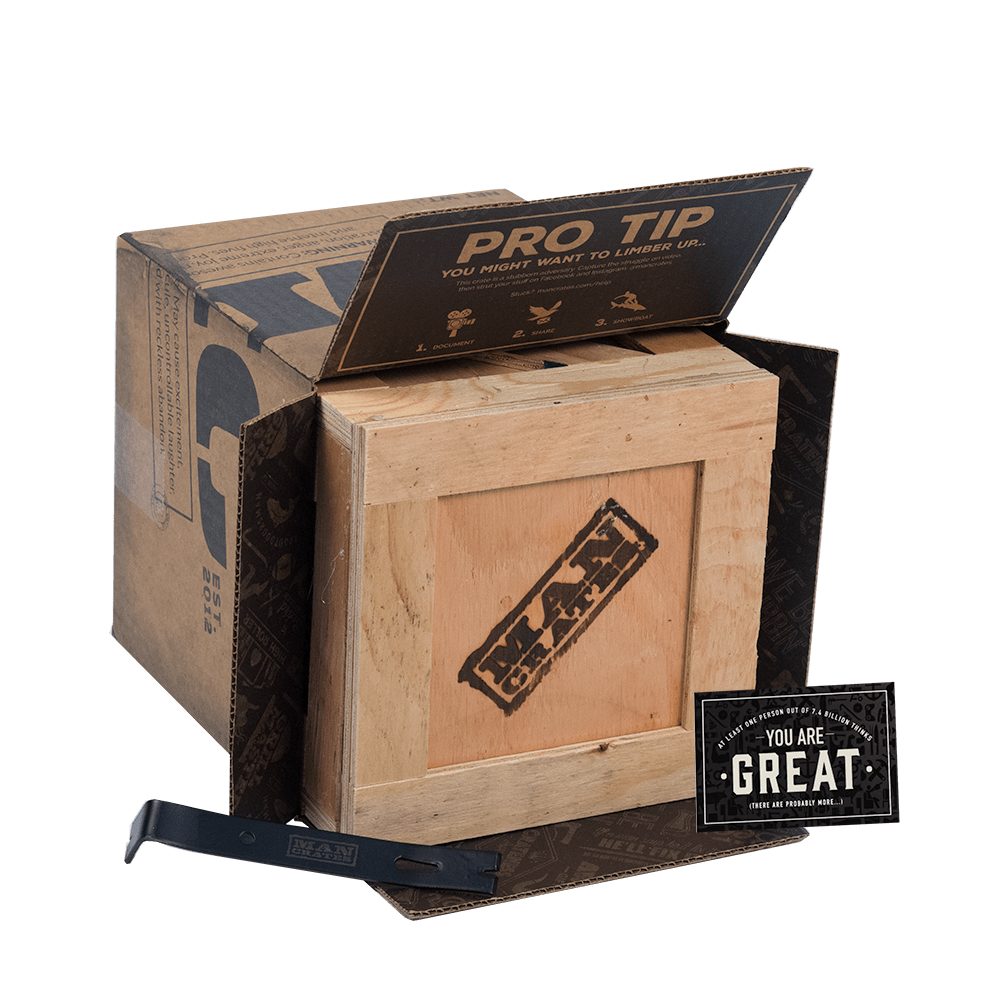 In a sealed wooden crate with a laser-etched crowbar.
---
Some shipping restrictions apply

Choose your delivery date at checkout
Story
THE DRINK YOU CAN EAT
Some drinks pair well with meat, like a single-malt scotch and lamb stew, tequila and tacos, or Pepto Bismol and Taco Bell.
But the Bloody Mary does more than pair well. It fully embraces the mighty flavors of meat, resulting in a delicious cocktail that doubles as a balanced brunch.
Build a beast of a brunch beverage with the Bloody Mary Man Crate.
BLOODY GOOD BRUNCH:
Skewering and stacking toppings is an art, and these two personalized Collins glasses are the perfect frame for your meat-infused masterpiece.
Demitri, the Marco Polo of Bloody Marys, has been boldly exploring the exotic world of spices: Classic, Horseradish, and Chilies and Peppers.
Upgrade your Bloody Mary from its lesser vegetarian form with Demitri's Pepperoni Straws and Bacon Rimshot. Slurp your cocktail through a literal sausage vortex, and accent the flavor with fanciful bacon crumbles.
Customer Reviews
Outstanding!

My husband got this as a gift from my daughter (his stepdaughter) and he said "She won Christmas for me!" It meant more to him than a typical gift card because it put a lot of thought in to the gift and it was personalized...he is a huge bloody Mary/Cesar fan! Thank you for offering wonderful products for those who think outside of the box (pun intended)! 😂

I hope you can notify me when this crate becomes available because we are interested in more glassware!

Bloody Mary Crate

Got this crate for Christmas! Fabulous gift, crowbar and all! Had a difficult time opening the crate though, consider losing the glue, otherwise the product is WAY COOL!

One of a kind

I'm a huge Bloody Mary guy and when I saw this wooden crate under the Christmas tree I thought what the heck is this. So I take the fine mini crow bar out and proceeded to dismantle the crate. I had to try all the mixers . Now half in the bag I must say was the best present I got this year. I will be ordering these for others in the future. Very pleased

For the Dad Who Has Everything

My dad is one of those men who buys what he wants, when he wants it so it leaves us scratching our heads at gift time. I came across Man Crates and knew immediately he was going to receive one.

My son was just as into it as my dad. Both are very intelligent men, however could NOT figure out where to put the crow bar. I eventually Googled instructions for them... to say this was a hit is an understatement. I'm back now for my 3rd and 4th crate.

My son, his family and I even gave his dad one and had a ball watching him get into it last Christmas! Keep up the great work!

Simply the Best!

Received as a gift. How did they know? Demitri's is simply the best! You can mix with Pepper Vodka to up the flavor. The bottle spices make it a no brainer to great flavor and taste.