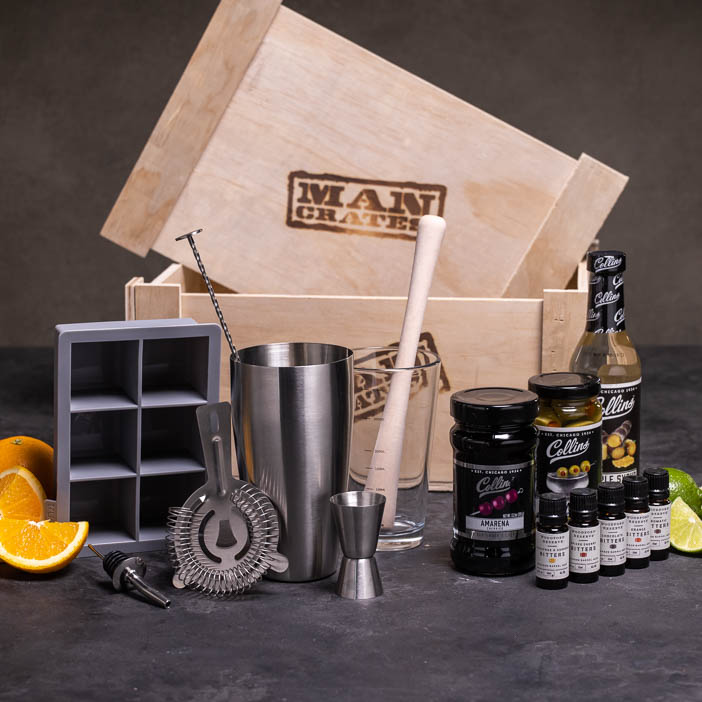 Mix Master Cocktail Crate
In The Box
7 Piece Barware Set

Boston Shaker Metal Tin
Glass with Measurements
Muddler
Pourer
Strainer
Double Jigger
Spoon

Colossal Ice Cube Tray (Makes Six 2-Inch Ice Cubes)
Collins Simple Syrup, 12.7 oz
Collins Vermouth Martini Pimento Olives, 5 oz
Collins Amarena Cherries, 13.5 oz
Collins Orange Twist in Syrup, 10 oz
Woodford Reserve Bitters Gift Pack, Set of 5 (0.34 oz each)

Chocolate
Orange
Aromatic
Sassafras and Sorghum
Spiced Cherry
How It Ships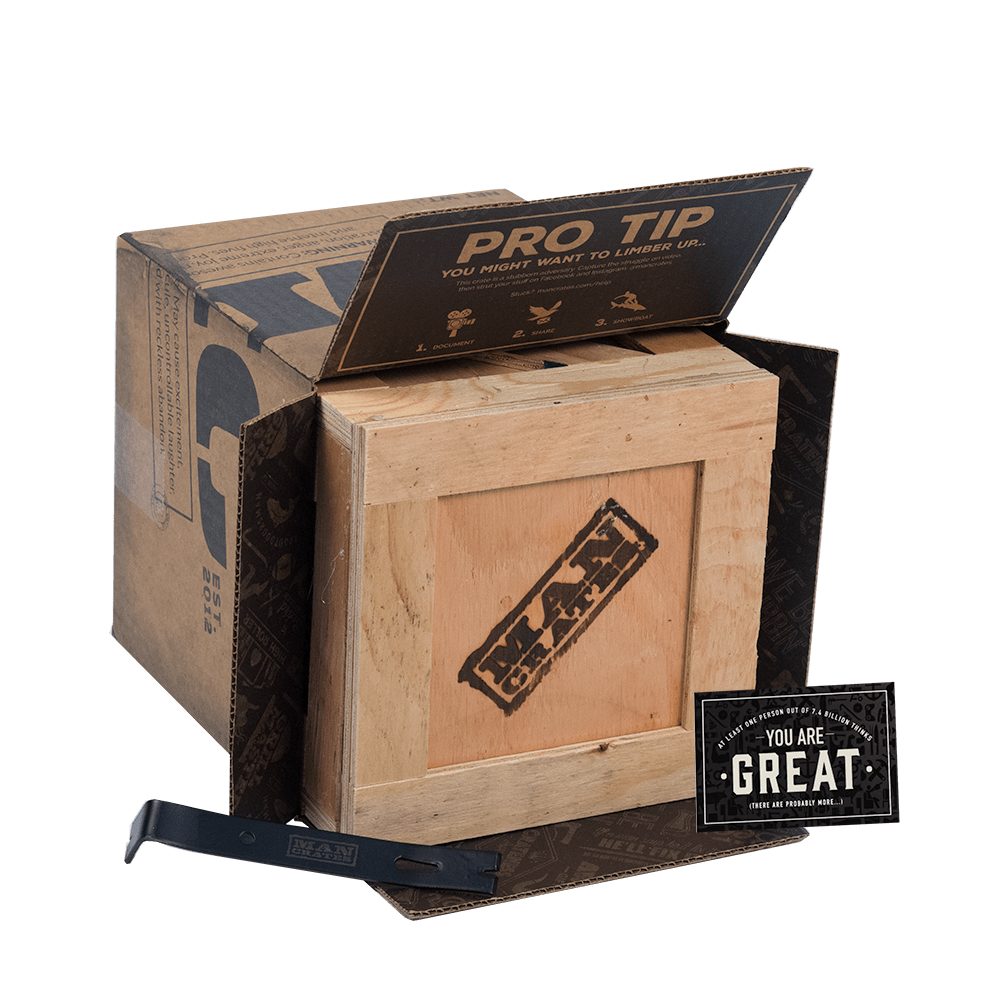 In a sealed wooden crate with a laser-etched crowbar.
---
Orders placed by noon PST will ship out same day

Choose your delivery date at checkout
Story
The Man, The Mix, The Legend
Anyone can make a decent drink, but who strives for decent? Every empty glass is an opportunity to shake up the status quo and fill with full-fledged flavor. To achieve that level of greatness, he'll need quality mixing supplies.
The Mix Master Cocktail Crate features a high-quality, seven-piece barware set with a personalized shaker, as well as an arsenal of artisanal mixers, olives, and drink-cessories. It's everything he'll need to evolve from an ordinary dispenser of drinks into a certified master mixer.
Bolster his home bar, and class up his cocktail game with the fun and unique Mix Master Cocktail Crate.
Drink Details:
This seven-piece bar tool set includes a muddler, pourer, strainer, double jigger, spoon, measuring glass, and personalized Boston shaker metal tin, so he can prepare the perfect cocktail exactly to his specifications.
A perfect sampling of flavors, this set of 5 Woodford Reserve Bitters bottles is ideal for cocktail experimentation.
Make his classic cocktails even cooler with this colossal ice cube tray. Larger ice cubes melt slower, ensuring his drink will stay as strong as his thirst.
Customer Reviews
No reviews yet. Be the first!