In The Box
Shawnee Skinner Blade (Knife tang may vary slightly from photo.)
Maple Handle Scale Set
Brass Bolster Set
Leather Pouch Sheath
Mosaic Pins
Man Crates Knife Making Guide
2-Ton Syringe Epoxy
Rasp & File Set
Graded Sandpaper Set
Bench Vise
Wood Finish
NOTE: Knife Making Kit does not ship in a crate.
How It Ships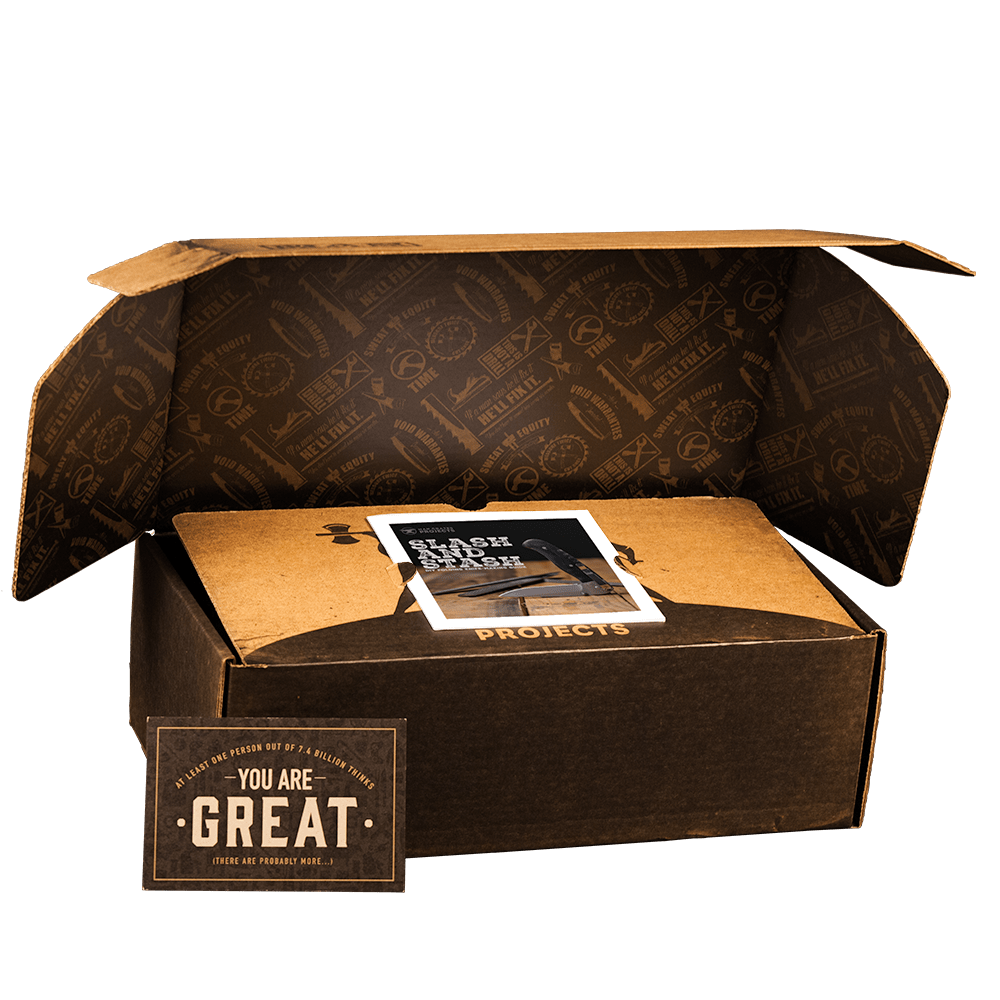 In an awesome cardboard box. Corrugated C Flute cardboard with regular slotted style... told you it was awesome!
---
Orders placed by noon PST will ship out same day

Choose your delivery date at checkout
Story
The Knife Life
We don't know much about the guy who wrote, "the pen is mightier than the sword," except that he probably wasn't using his sword right.
Ask any honest farmhand, Japanese chef, or the two most dangerous ninja turtles, and they'll tell you a sharp blade is the most virtuous and versatile tool a man can wield. A trusty, fixed blade won't bend, break, or stray from its owner's side; when the going gets tough, the tough get cut.
But unlike men and Socialist paychecks, not all knives are created equal. We've found that the knives guys trust the most are ones they make themselves. The Knife Making Project Kit gives every guy the opportunity to design, craft, and perfect his new best friend.
Shanks For The Memories
The Knife Making Kit is fronted by a 440c stainless-steel Shawnee Skinner blade crafted in Japan, home of the samurai. This hollow ground blade features a thumb notch for comfortable handling and easy maneuverability, and is manufactured with the durability to outlast its maker.
We've blurred the line between trendy, polished tools and dangerously sharp fashion accessories by including curly maple handle scales, classy brass bolsters, ornately-designed mosaic pins, and a top-grain, vegetable-tanned leather sheath. The knife will develop its own unique character through the process of shaping and staining.
Handle With Care
A dependable knife should instill fear and apprehension into its foes, not its handler, so we've included all the tools needed to rid it of stray splinters and extraneous wood.
Like the chisels of Michelangelo, a gamut of rasps and files, graded sandpapers, and a portable bench vise will give birth to a precision carved masterpiece. And for final touches, a wood finish to pull out the unique grains of the maple burl handle.
The Knife Making Kit contains everything needed for hours of knife crafting in the garage, and a lifetime of handling out in the world.
Customer Reviews
Knife

Son gave for Christmas present. Great gift. I've got the handle on now and have it in the shape it will remain. Lots of sanding and polishing ahead. 90% of the work is the last 10% of the finishing!! Great idea and project.

Shawnee skinner knife

Got one for Christmas. Got right on it and finished in three days. Did not like the maple so I used some hedge. Also called Osage Orange. Very hard wood. Knife was very sharp right out of the box. Used my wood burner to monogram the handle and sheath. Used some power tools to shape and saved some time, but final finishing was hand rubbed. Gonna get another.

Perfect gift for the crafty guy

Got this for my 14 year old who collects knives. He wants to be a farier and lives working with metal and wood. This knife was a great project to put his workshop to use and hone his skills! He wants 5 more to give to friends! Thanks man crates!

Beautiful kit, what a nice project

My son gave me this for my birthday, I was busy for several weeks, then I opened the box and really looked at what was inside. The blade was of such quality it was a pleasant surprise. Years ago I built a 50 cal. Percussion cap pistol, so I was excited to do another project from a kit. I have a full workshop in my home so I have a lot of power tools, makes the job a little easier. Two days of hard work and I have the finished project. Thanks for a great kit.

Mom for the WIN!!

Got this for my son last Christmas. Biggest hit EVER. He had bought other kits but they did not include everything and he couldn't figure them out and threw them to the side. This kit has EVERYTHING! He made this beautiful knife and learned what he needed for the others. Mom for the WIN! THANK YOU!!!