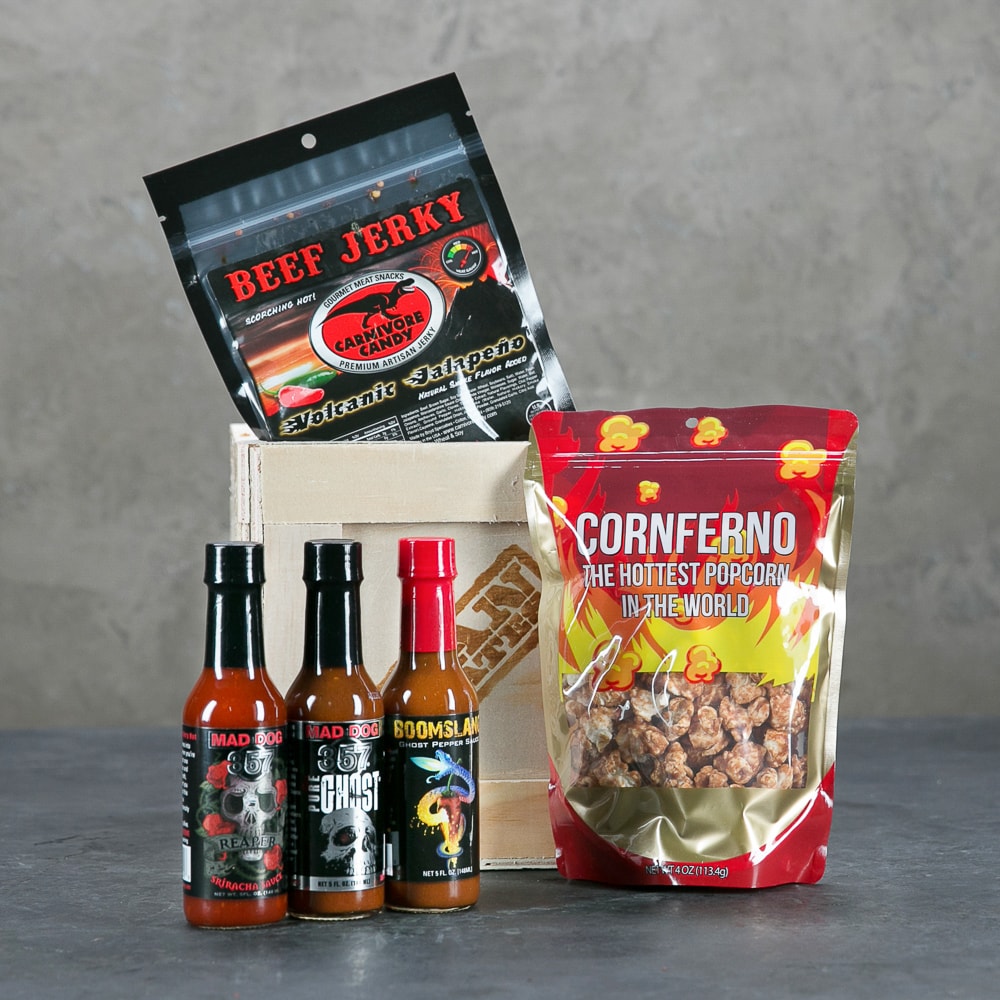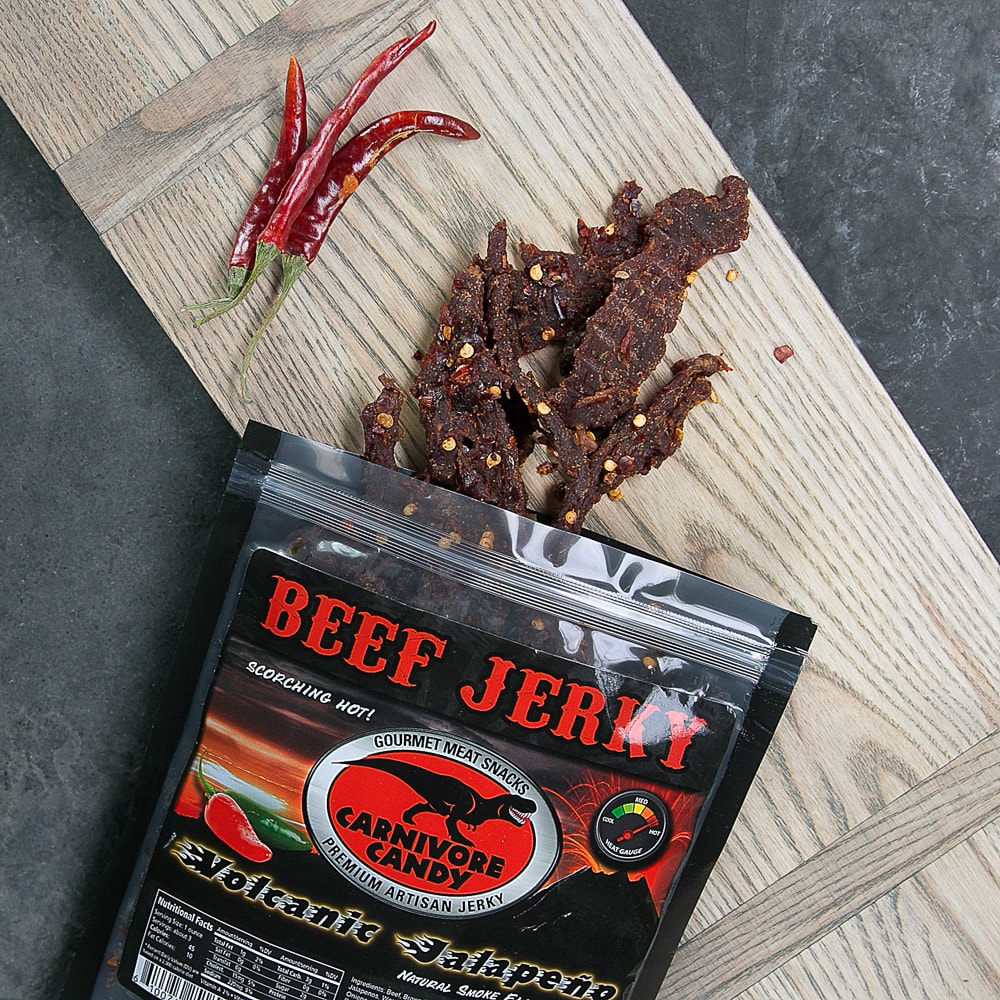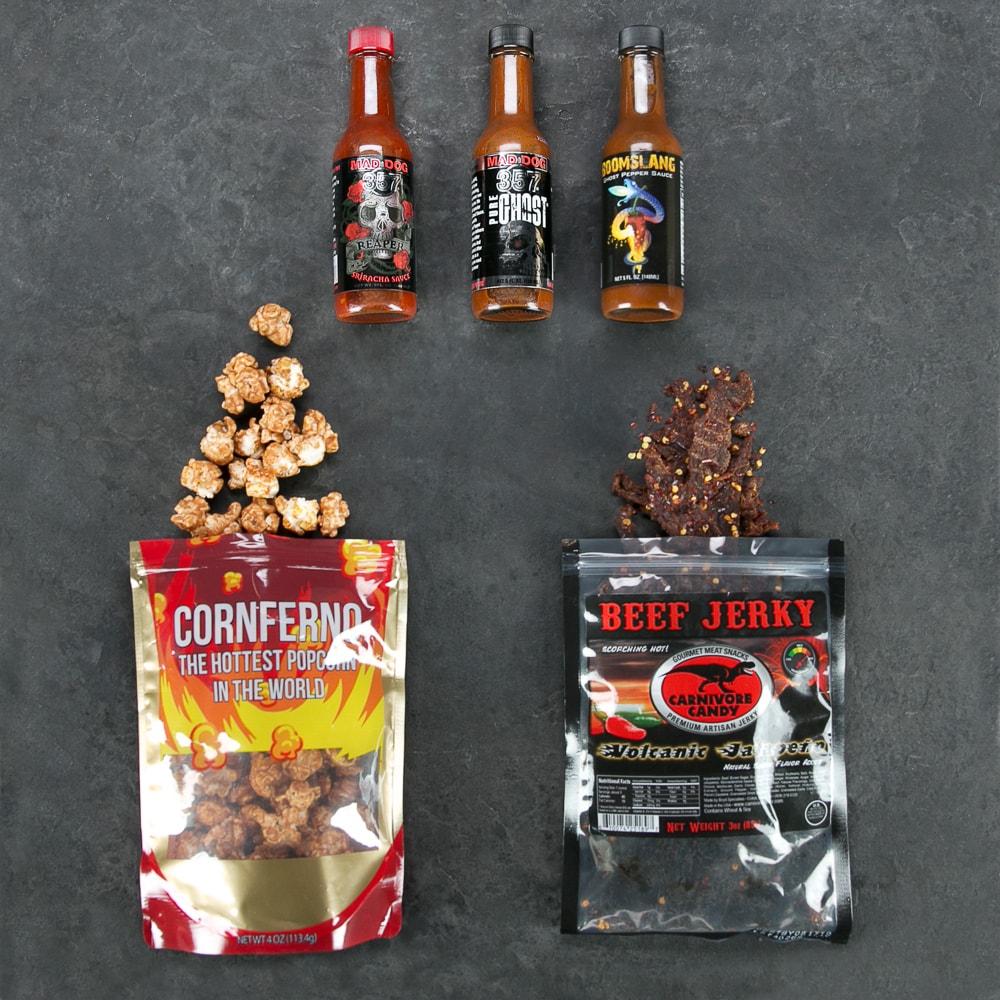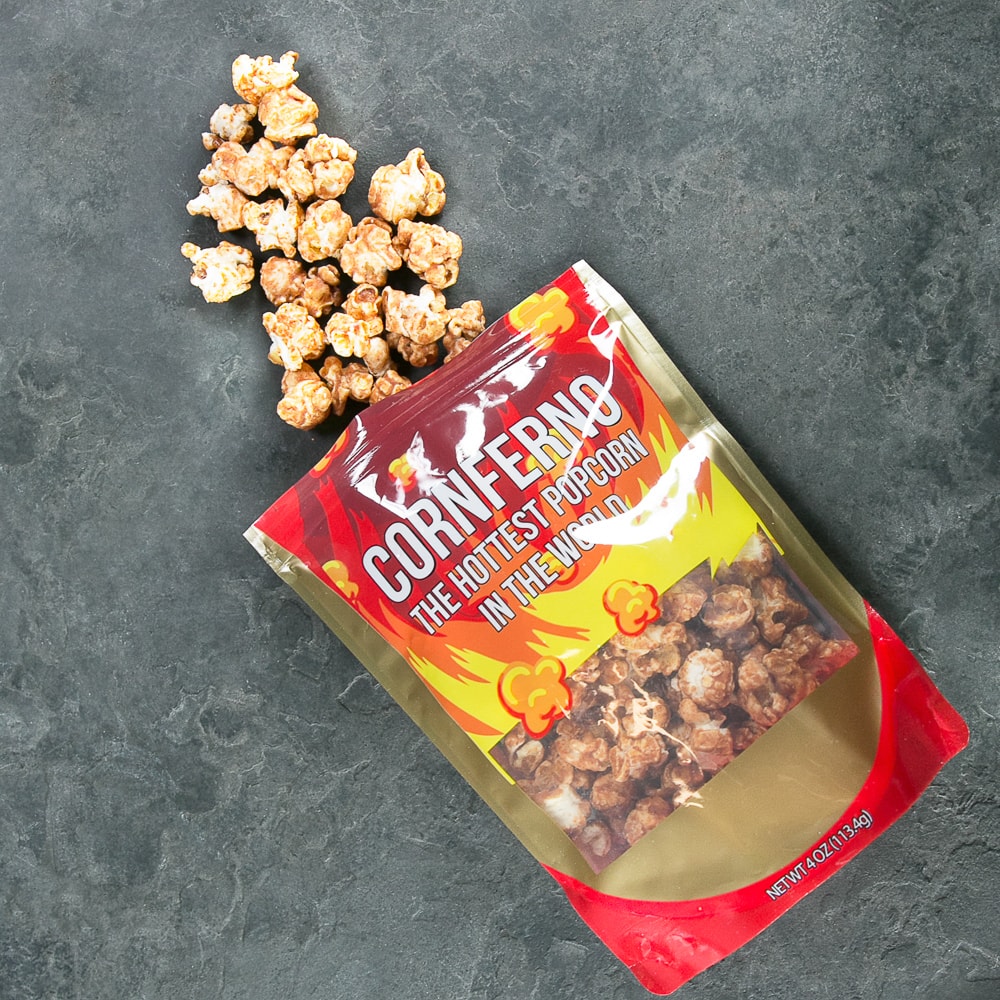 Oh no! Looks like Hot and Spicy Crate is out of stock
Click below to get notified when it's back in stock
Notify Me
In The Box
Consumable Lava
Boomslang Ghost Pepper Hot Sauce, 5 oz
Mad Dog 357 Sriracha Reaper Sauce, 5 oz
Mad Dog 357 Pure Ghost Hot Sauce, 5 oz
Palate Melters
Cornferno Popcorn, 4 oz
Carnivore Candy Jerky: Volcanic Jalapeno, 3 oz
How It Ships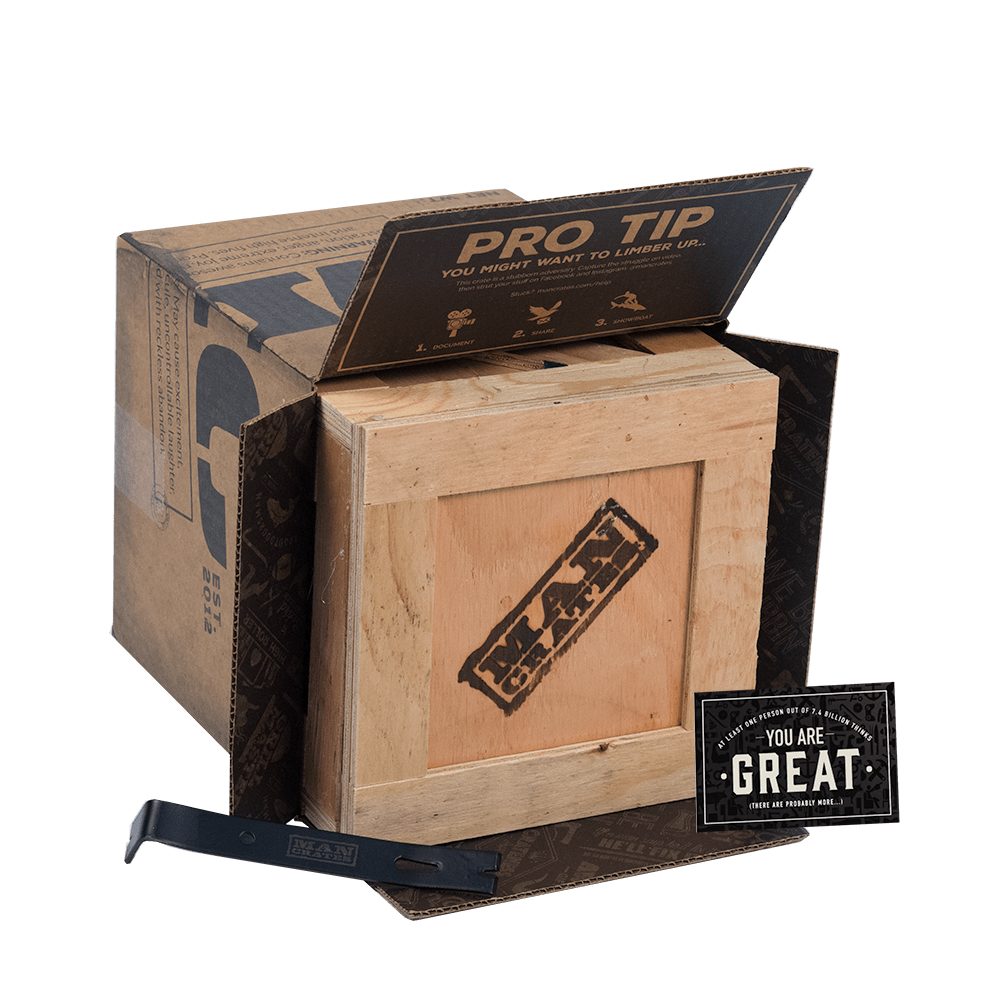 In a sealed wooden crate with a laser-etched crowbar.
---
Some shipping restrictions apply

Orders placed by noon PST will ship out same day

Choose your delivery date at checkout
Story
Everything You Know is Wrong
Maybe you know spicy. Maybe you're in the 1% of pilgrims that have actively sought out the most painful, deliciously masochistic foods to sample, but we're betting you're not.
Smart money says this crate is going to put a welcome-to-the-NFL, Dick Butkus hit on your tongue. Proceed with caution.
Only the Strong Will Survive
Some people just want to watch the world burn one tongue at a time, like the team over at Mad Dog 357 who specialize in delivering an unforgettable lesson in life-affirming pain.
This fierce collection of hot sauces is an unforgettable intro to the delightful world of flavor-love through pain:
Boomslang Ghost Pepper Hot Sauce
Toss out the Tabasco. This sauce combines the unforgiving bite of Africa's most lethal snake with the relentless heat of the infamous Ghost Pepper. Great for concocting extremely dangerous homemade chili, tacos, and tuna salad.
Mad Dog 357 Sriracha Reaper Sauce
Summon the savory pangs of sriracha at your next barbecue. This truly hot sauce will raise eyebrows and burst wide the floodgates of persistent perspiration. Add to eggs, pizza, or nachos for familiar sriracha flavor and uncontrollable eye-watering.
Mad Dog 357 Pure Ghost Hot Sauce
Deemed the Spectre of Spice, even the slightest drip of this extremely hot sauce will haunt tongues and imaginations for years to come. From tamales to tikka masala, a dab of this all-purpose sauce will raise the stakes and the average body temperature of any meal.
The Peak of Heat
You've got to get into some deep psychiatry to uncover a reason why anyone would willfully snack on fire. And yet we do. Carnivore Candy's Volcanic Jalapeno Jerky is the highest peak, the temple on top of the mountain in the pilgrimage for pleasure through pain.
It's put up or shut up time. This crate separates the men from the boys faster than your tastebuds can fire an all-points-bulletin, full-volume S.O.S.
Must be shipped to a US address
Customer Reviews
Best. Gift. Ever.

Not a man, but like to eat spicy stuff and bust stuff open like a man. My best friend got me this crate for Christmas. Let me tell you, not only was the stuff inside awesome, but the whole experience of getting the sucker open was awesome too. We laughed, I yelled, I cussed a little, and finally I was able to pop it. It was the most fun I've ever had opening a gift. Highly recommend for the person in your life who loves to tear stuff up.

Great fathers day gift!!!! My husband loves it.

I purchased the hot and spicy crate for my husband for Father's Day. I found this website on Google from the search phrase "gifts for husband for Father's Day". He is a huge spice fan and a "manly man" so I thought the mancrate would be a sweeeeet idea. He was SO shocked and loved it! I will definitely be back for gifts in the future. Thanks guys

Perfect

Got this as a birthday gift for my dad, and he loved it. When they say the spice level is extreme, they're not lying!

Fantastic gift

I bought this for my boyfriend who is one of the hardest people to shop for. He is very picky and hard to please when it comes to gifts. He loves anything spicy, popcorn, and meat, so obviously this was perfect and I never thought I'd find those three things in one box. Watching him struggle to open the crate made it all worth it to me and then seeing his face light up with excitement when he saw what was inside made it 10x better. Thank you guys for making his birthday a great one and also for having me covered for all his birthdays to come!

Hot and Spicy Crate

This package arrived in a box that was unique, the crate was well packed and all products were intact. This was a Fathers day Gift for my 28 year old son, LOVED, LOVED it!! My son was smiling from ear to ear the whole time he was opening them (well until he sampled all the "flavors" as he opened them then it was more of a lopsided drool). The popcorn was hands down the best!!! Will definitely be recommending and ordering from MAN CRATES again!!!