Grilled and Stuffed Crate
In The Box
Stuff-A-Burger Press
Chili Pepper Rack
Pepper Coring Knife
Stuffed Burger Recipe Book
A-burger-ham Lincoln Seasoning
Dwight D. Fries-enhower Seasoning
2 Freedom Baskets
24 USA Basket Liners
How It Ships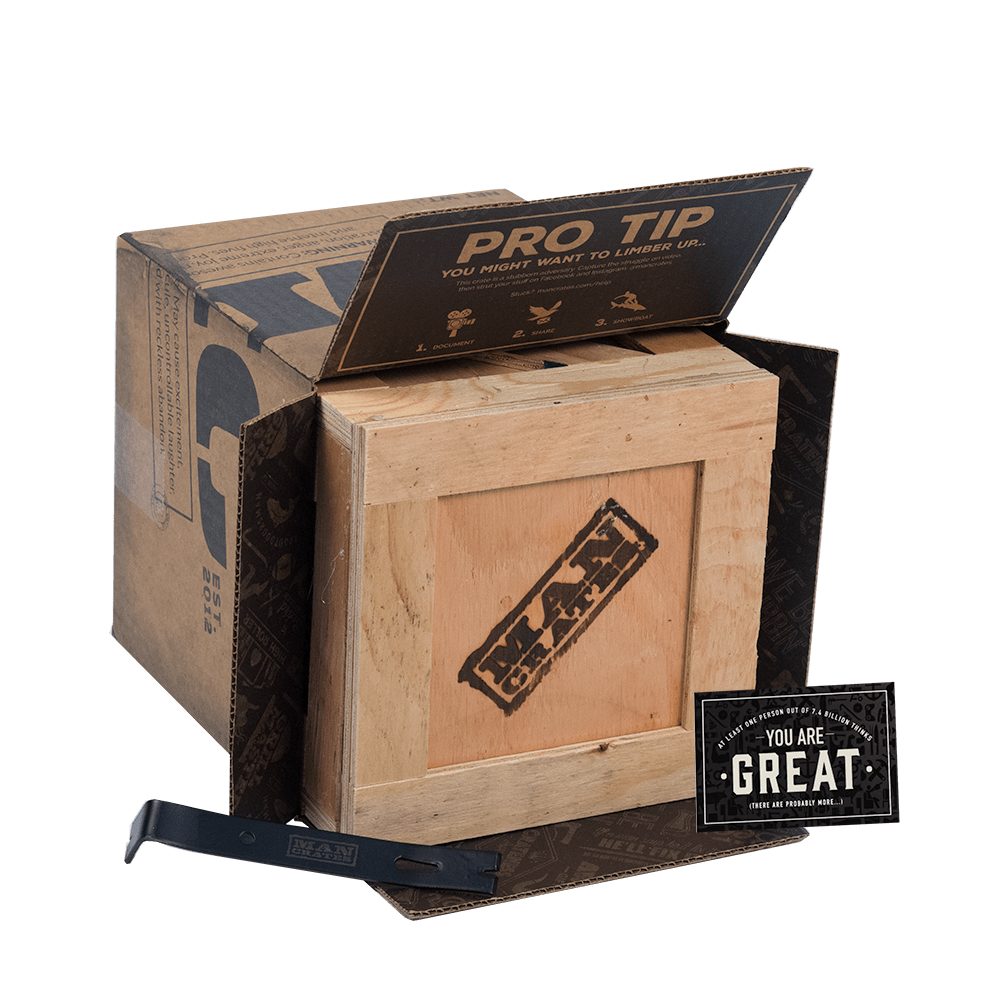 In a sealed wooden crate with a laser-etched crowbar.
---
Orders placed by noon PST will ship out same day

Choose your delivery date at checkout
Story
The Stuffing of Legend
Our forefathers united the nation by railroad, jet-packed a man to the moon, and commissioned peak-80's Hulk Hogan to clobber the Iron Sheik, all in fierce pursuit of the American Dream. But the greatest feat of ingenuity was far and away the invention of the stuffed burger.
Stuffed burgers would have leapfrogged Democracy as America's chief export if not for every burger being inherently stuffed with Freedom. Domestically, any man with a grill could now participate in the esteemed lineage of Great American Innovation alongside the likes of Edison, Ford, and the Merage Brothers.
The American Dream is alive and well today, sizzling on the grill, oozing opportunity for all.
A Fuller America For All
Despite the Kardashians' best efforts, America still believes it's what's on the inside that counts, so we're packing peppers and patties with the precision and vigor of a train-hopping vagabond loading up his knapsack bindle at a Sizzler buffet.
The Stuff-A-Burger Press and Pepper Rack/Corer Set are the dynamite duo for cramming meat baskets and pepper casings with more cheese than a Keanu Reeves movie marathon. Let ingredients abound as you dream up signature concoctions of meats, veggies, spices, and whatever else your stomach desires. We recommend stuffing a few cheeseburger sliders inside for instant Burgerception!
Executive Order Up!
We recruited the world's leading/only histori-culinary expert to help create delicious seasonings inspired by the greatest proponents of the American Dream. A-burger-ham Lincoln and Dwight D. Fries-enhower are Man Crates spice exclusives, and these POTUS will put your tastebuds on notice.
The classy American flag liners and freedom baskets transform every day into the 4th of July, or at least that can be your excuse when neighbors complain about all the backyard fireworks.
Upgrade any cookout to All-American status with the Grilled and Stuffed Crate.
Customer Reviews
Fantastic Gift

Fantastic gift for the man that loves burgers. I bought it for his birthday and he loved it! The burger baskets and liners were a great addition and the spices were delicious. I will definitely be purchasing from man crates again!

I mean.....

I got this for my husbands fathers day. Downfall it came early, but he still loved it. I'm just not sure whether it's for him or the 13 year old that wanted for him. Either way he loved it and the thought behind it.

Awesome!!!

Just received this box yesterday for my birthday/father's day, I had seen them on Facebook before and thought they were cool but it didnt do justice to actually getting one!!! Definitely one of the most unique, useful, well thought,and cool gifts I have ever gotten. I love it and cant wait to gift some out in the future ! Amazing product!

Awesome

What a pleasant surprise when it arrived. Received this as a anniversary gift The mini crow bar adds to the gift. Just be careful when opening the crate if you wish to reuse the box. planning on getting hinges to allow for reuse of the box.

Best gifts ever!

Have a favorite manly man in your life? Then here is your one stop shopping site! Quality products, generous amounts in the crates, and the best customer service. From Birthday to Christmas....find it all right here!