In The Box
Whiskey Hill Smokehouse Bison Jerky (2.5 oz)
Chef's Cut Beef Jerky (2.5 oz)
Field Trip Turkey Jerky (2.15 oz)
Crockett Creek Venison Jerky
Butter Toffee Almonds (4 oz)
Chili Citrus Cashews (4 oz)
How It Ships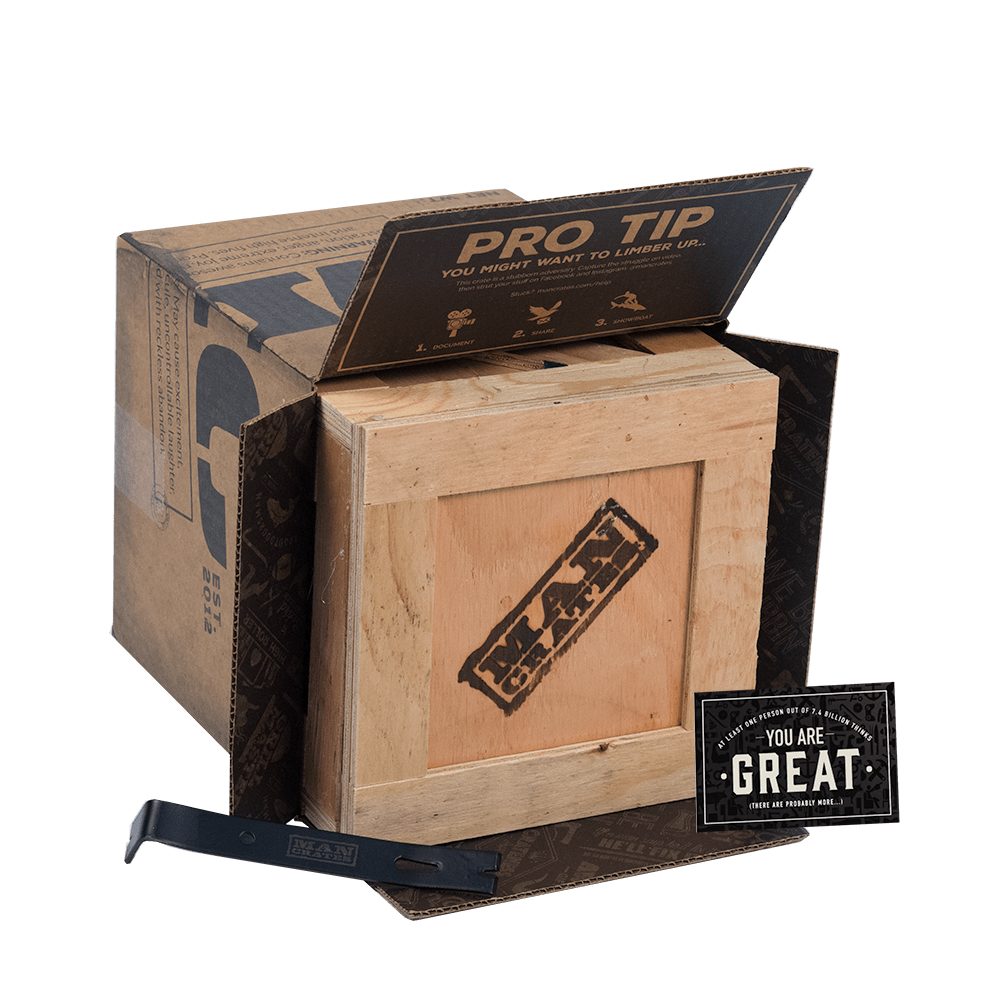 In a sealed wooden crate with a laser-etched crowbar.
---
Some shipping restrictions apply

Orders placed by noon PST will ship out same day

Choose your delivery date at checkout
Story
The Fathers of Flavor
The mainstream media and its biases toward hygiene, clear articulation, and pants have always been a bit harsh on our cavemen ancestors. So their cave paintings weren't intentionally "abstract", and sure, they couldn't count past five without setting down their club, but cavemen weren't the total, no-brain nitwits they're constantly perceived to be.
The Caveman Crate celebrates our foreheaded forefathers' finest food contributions to modern humanity: the discovery of nuts and meat.
Prehistoric Taste Test
There's a reason humans don't eat anything and everything in existence, and it's not for lack of trying. It's because those "crude, lumbering" cavemen of old performed a thorough, detailed taste-analysis on every species and substance on the planet: sorting the good from the gross, the safe from the poisonous, the tasty from the soy-based, gluten-free vegan alternatives.
The neanderthals were our nutritional trailblazers, hunting and sampling every creature to ensure no taste was left untested. The best of beasts became the jerky bedrock for the developing civilization, namely: buffalo, cattle, turkey, and deer.
We've hand-selected four quality packs of seasoned jerky meat from these delicious species to demonstrate how far mankind has progressed in flavor and to instill gratitude toward the brave cavemen that brought us here.
Nothing But Nuts
Besides meat, our paleolithic parents also consumed wild almonds and cashews, with "wild" being a flavor dependent upon the nearby water, weeds, and waste. While sending these same primitive "flavors" would be the best way to fully appreciate the sacrifices our cavefathers made, for safety and satisfaction reasons, we've opted to instead include the best of the modern nut spectrum: Toffee Butter Almonds and Citrus Chili Cashews.
The Caveman Crate is our best way of paying homage to our food roots, the original sustenance explorers that became our fathers of flavor.
Customer Reviews
Great taste, but missed the mark

I loved the crow bar and crate idea, but was disappointed in the price I paid for the amount of food received. I sent this as a thank you gift, and I was a bit embarrassed once the guy actually opened the crate. All that excitement for such a tiny amount of gift. For $96 I could have made a huge basket of jerky and nuts, and delivered myself.

Husband loved it

I wanted to make sure his first experience was opening a package ina crate. That's a cute idea and the crow bar it comes with is cute. Husband and kids loved the food inside. This was a wonderful father's day gift and I look forward to buying many more from man crates.

For The Man Who Has Everything

Bought for my " difficult to buy for " son. Took him awhile to open. Great to film. Son and everyone loved it. Will definitely be buying others.

Easy to get into

The products inside the crate are amazing. Only took me 6 seconds to get into the crate. My mother in-law and wife video it and where blown away how quickly I was able to get into the box. They got 2 other ones and it took the people longer than 6 seconds to get into their crates.

Great gift

Bought this for my dad for christmas and he loved it! Hes normally the hardest to shop for because he has everything and is picky but he had never received a man crate until from us.