In the Box
Mid-Range Warpig
Shallow-Water Pitbull
Trusty Worm Blower
6-pack Neoprene Insulated Cooler
Portable Dial Scale
Needle-Nose Pliers (Black or Red handle)
Sunflower Seeds
How It Ships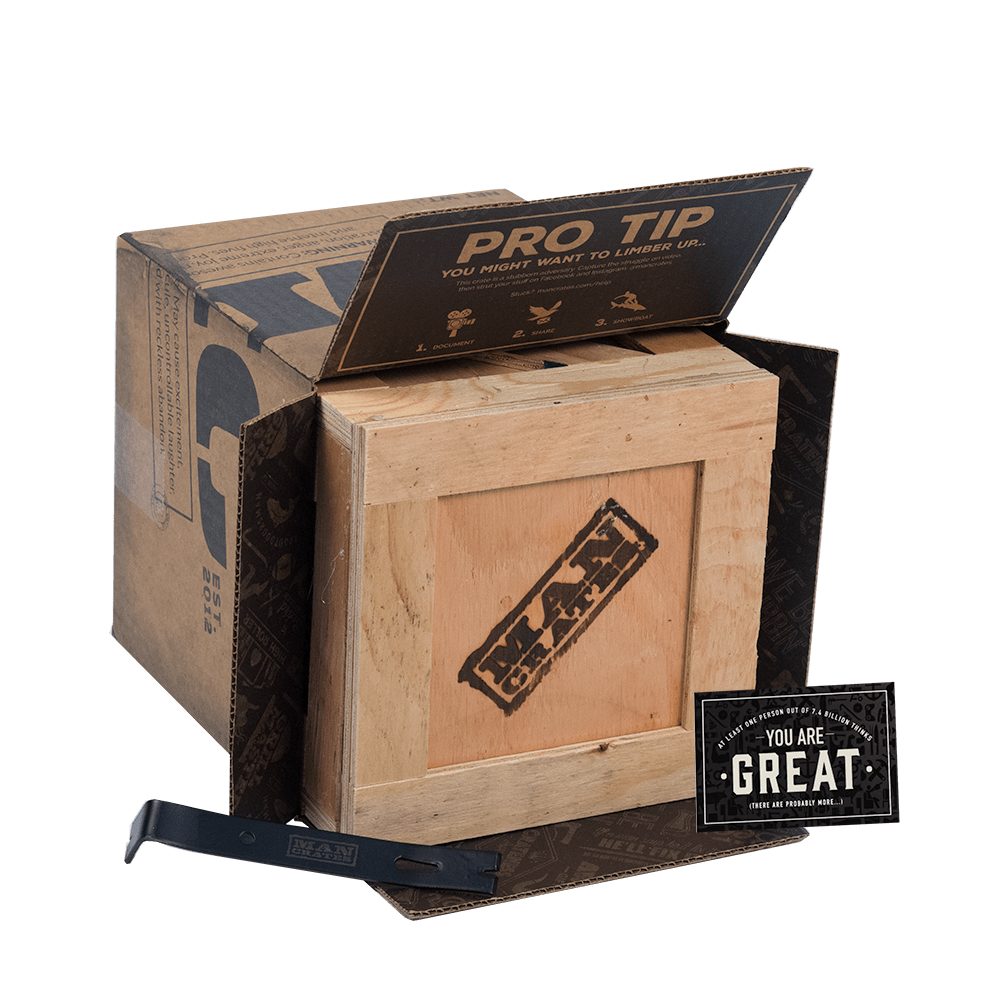 In a sealed wooden crate with a laser-etched crowbar.
---
Orders placed by noon PST will ship out same day

Choose your delivery date at checkout
100% Satisfaction Guarantee
We think our products are awesome, and we guarantee you will too. If you're unhappy with your purchase or experience for any reason, we'll make it right and give you the kind of service you'll want to high-five us for.
Seriously, just call or text us at (866) 902-7260 or shoot us an email at guys@mancrates.com.
Story
One Fish, Two Fish, Impending Doom Fish
In all the years mankind has waded through water, no man, woman, or child has ever been eaten alive by bass—and we intend to keep it that way.
Bass are devious creatures, scheming insidiously in their watery depths. We don't know why they're so hell-bent on consuming human flesh or how they're melting the ice caps to sink our planet into their watery ambush. All we know is they're up to no good.
While we would never stoop to their lowly level by feasting on them, we want them to know we could. With every catch and release, we whisper in their scaly little fish ears, "Go tell your friends there's a new sheriff in town."
We are the Bass Whisperers, humanity's last line of defense against mass bass digestion.
Hook, Line, and Sucker
Power and precision are useless against these murderous sea-beasts. You can only catch a bass with a swift angling of poetic justice. This lure set capitalizes on the insatiable gluttony and cowardice of these greedy sons o' fishes by feigning helplessness, then executing a strong left jab with a sharp right hook.
The Warpig emits a seductive Siren-song in the mid-range waters and the Pitbull will skim scour the surface with the reckless fury of Liam Neeson if a largemouth bass had just kidnapped his daughter.
Nightcrawlers are usually easy-pickings due to their docile nature and lack of limbs, but give your worms the Schwarzenegger Treatment with a good, ol' fashion worm blower, and those pumped up water pythons will be armed with irresistible allure and unyielding strength.
Sentry of the Sea
The bass whisperer is a lonely, thankless role, but a band of bottles always make for good spirits. The neoprene-insulated cooler ensures your drinks stay as cold as the blood coursing through your veins.
Eternal vigilance is the cost of liberty. Equip your vessel to record the growth of these water-breathing death bringers: a portable dial scale for science reasons and a good pair of needlenose pliers, because they don't need to keep the hook to get the point.
Keep your loved ones safe and those savage bass at bay with the Bass Whisperer Crate.
Customer Reviews
Bass Whisperer Crate

Got my Bass Whisperer Crate for Father's Day. Had the best time getting it open, total fun! Will use everything in the box very soon. Keep up the good work.

Cool Gift

I just received one for Fathers Day Very Cool I am impressed with the Qaulity of the Products inside,. ALL GOOD!! Also Make Us work too Open it , That's what makes it Fun.

The "Bass Master" loved the Bass Whisperer

I purchased this crate with the additional duct tape for my husband for Valentine's Day. The crate came on time and wrapped with care. When I gave the gift to my husband who calls himself the "Bass Master" he was ecstatic. While opening it he kept saying "no sh**?, bad a**, this is cool, hell yeah"... etc. I can tell you in previous attempts over the last 8 years he has never been that excited or happy over a gift. Additionally, he thought the gift was an awesome idea and very thoughtful. I will be a repeat customer!

BassCrate

Received from my partners as i was departing for 6 weeks of fishin, golfin & relaxin in Marco Island. Great gift but i hope the video of trying to open from the top is lost. Secret is try the bottom. Roll Tide Champion.

The Perfect Gift

I got this for my boyfriend, who is a great bass fisherman, loved the challenge of opening this crate. Everything inside was exactly what he liked and needed.